It seems to have become significantly colder around here over the last week as I'm finding myself needing to wear double layers of pants (tights under pants makes such a difference!), double mittens, and double scarves, along with my big winter boots. Sometimes I feel like a walking snowman, but it's worth it! I'm sure people up farther north in Canada would laugh at me; today's afternoon temperature here in southern Ontario is -10°C but -19°C (-2°F) with the windchill, but out in places like Thompson, Manitoba, the afternoon temperature with windchill is a freezing -39°C (-47°F)! I'm pretty sure I would never leave my house if I lived there!
Needless to say, I'm sure we're all craving warm comfort food as the evenings get chillier, and these potatoes fit the bill!
I love potatoes in all forms – French fries, mashed potatoes, roasted baby potatoes, skillet hashbrowns, and baked potatoes are all favourites of mine.
I usually don't experiment with stuffing potatoes often as I love potatoes on their own so much, but a while back Food Network Magazine included a little booklet with
50 Stuffed Potatoes
that I've been meaning to take a second look through for a while now.
I finally got around to it the other week and the first version I tried was these French onion soup inspired ones, and I've since made them twice already!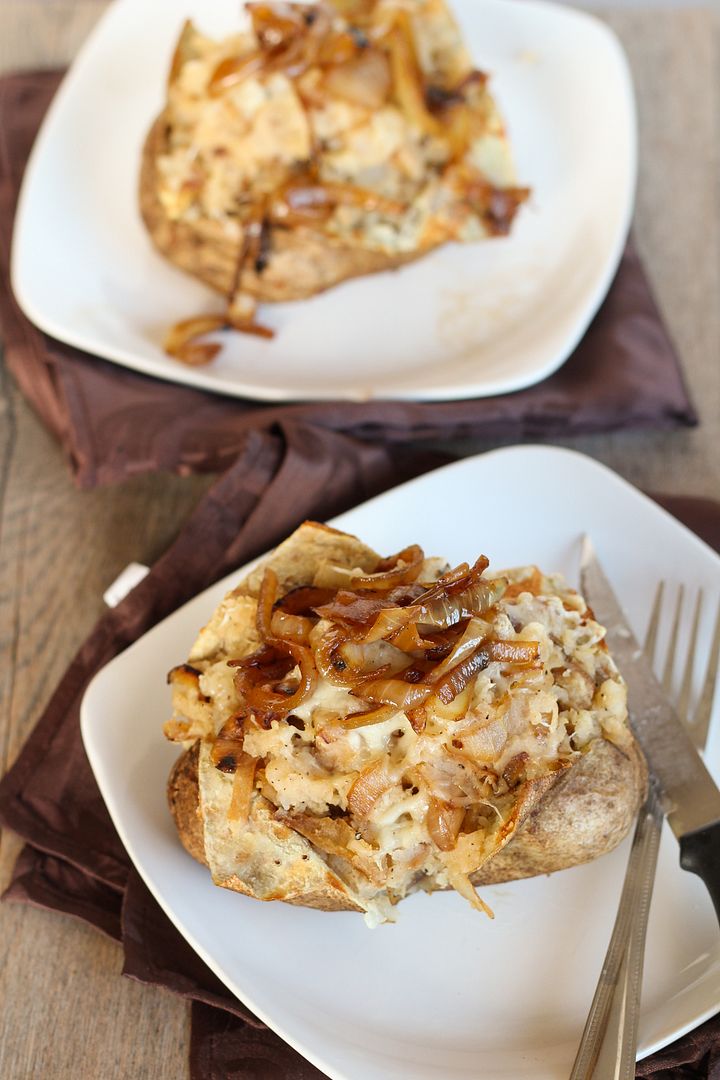 These take a little while to be ready, as all baked potatoes do, but they're really easy to make. You just bake a potato, and meanwhile caramelize an onion or two on the stovetop. When the potatoes are cooked through, scoop out the flesh and mash it with the onions, some beef broth (though I'm sure you could use vegetable broth for a vegetarian version), cheese, and a little seasoning, then spoon it back in and broil the potatoes until the cheese melts. All the flavours of French onion soup, but in potato form! These end up being huge, so half a potato was fine for us a side dish with some chicken, or you can enjoy a whole one for a light lunch like I also did.
Hope you're all staying warm and cozy out there!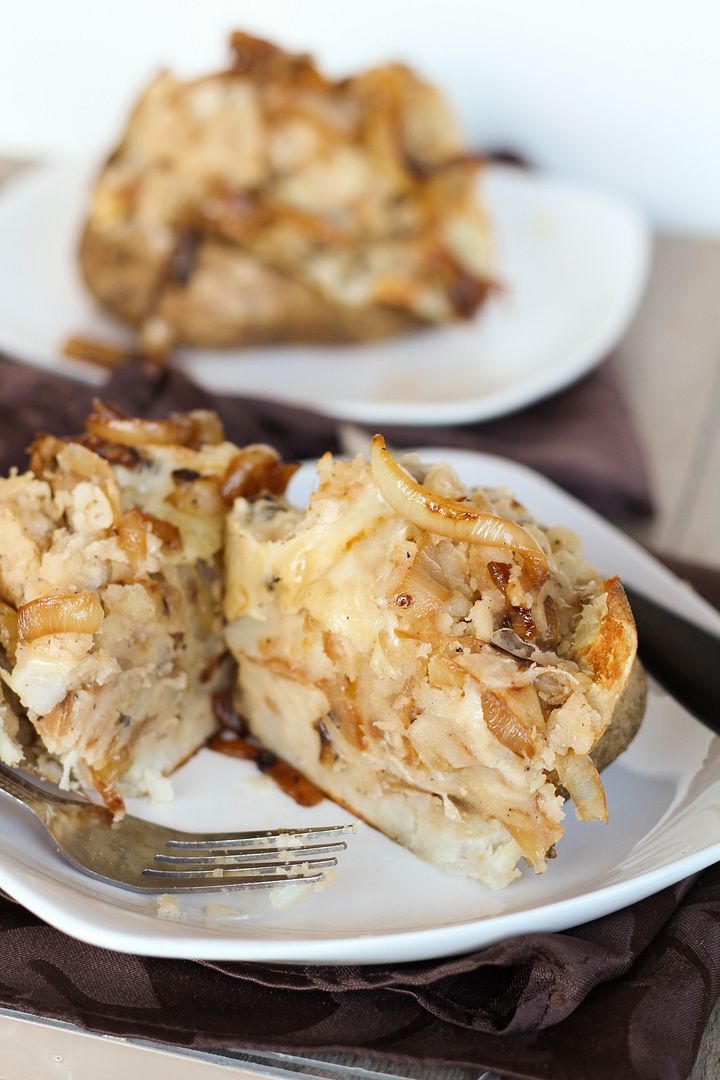 French Onion Stuffed Baked Potatoes
Makes 2 stuffed potatoes; serves 4 as a side dish (half a potato each)
Ingredients:
2 russet potatoes
1 tablespoon + 1 teaspoon olive oil, divided
1 large sweet onion or two medium yellow onions, thinly sliced
Salt and pepper
1/2 teaspoon dried thyme
1/4 cup beef broth
1/4 cup + 2 tablespoons shredded gruyere or swiss cheese (I used swiss because it was cheaper but either should work)
Directions:
Preheat oven to 400°F.
Scrub potatoes and prick all over with the tines of a fork.
Rub lightly with a teaspoon of olive oil.
Place on a baking sheet and bake in preheated oven for about 1 hour, or until tender.
Meanwhile, heat remaining tablespoon of oil in a large non-stick skillet over medium heat.
Add onions and stir to coat with oil.
After about 5 minutes, season with a bit of salt.
Spread onions out evenly across the pan and let cook, stirring about every 3-4 minutes, until caramelized, about 20-30 minutes total.
Save a small amount of onions to top the potatoes later, if desired.
Transfer the rest to a large bowl.
Once potatoes are ready, remove from oven and let cool slightly. Move oven rack to top third of oven and preheat oven to broil. Slice potatoes crosswise, peel back skin on top of the potato, and scoop out the insides, leaving a thin layer of potato attached to the skin so it remains intact.
Add the scooped out potato to the bowl with the onions, season generously with salt and pepper, and add the thyme, beef broth, and 1/4 cup of shredded cheese.
Mash together, then spoon back into the potatoes to stuff them.
Top each potato with about a tablespoon of remaining cheese.
Return to oven to broil until cheese is melted and potato is heated through, about 3-5 minutes.
Serve hot, seasoned with additional salt and pepper if desired.