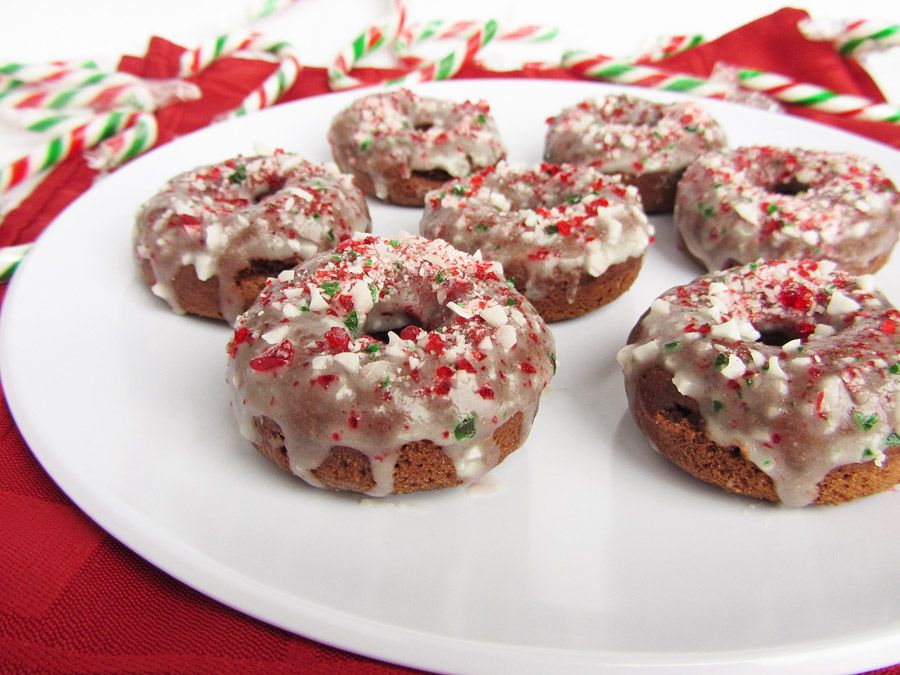 First I made
cheesecake bars
, then there were
shortbread cookies
, and now here I am with another peppermint holiday dessert, this time doughnuts! For those of you who hate peppermint, I promise this is the last one (at least for a little while)!
These go a step further than basic peppermint by adding chocolate and coffee flavours to resemble one of my favourite Starbucks' holiday drinks, the peppermint mocha. (Although I've since discovered white peppermint mocha frappucinos and that is now my new favourite drink – try it!)
Though I don't often make doughnuts because they're better eaten fresh and I don't usually have a big group of people to feed fresh doughnuts to, I do love them because they're so cute and easy to eat, plus they're a little better for you than their full-sized, fried counterpart.
These little guys have a coffee chocolate base covered in a peppermint white chocolate glaze with a sprinkle of crushed candy canes on top. They're so festive looking and reminded me a lot of a peppermint mocha!
These had just the right amount of subtle coffee flavour for me, but you could add more coffee or espresso powder if you want a strong coffee taste. Or you could eliminate it and just go with a chocolate base if you don't like coffee. Similarly, you could eliminate the peppermint extract from the icing if you're not into minty things – I know some people who tried these weren't really a fan and I assume it's because they either don't like coffee baked goods or minty baked goods or the combination of the two. If you're not sure if you do, just leave out the coffee and peppermint and you'll have a chocolate doughnut with a little crunch of candy cane that will be just as good!
In other news, my holiday preparations are in a lot better shape than the last time I wrote – all but one of my gifts I ordered online have now arrived and I've finished my shopping for all but two people. I'm sure people who finished their shopping in November would scoff at that, but it's pretty good for me! I'm also done with school for the semester (though I'll still have work to do from home over the holidays) and am looking forward to spending lots of time with my family and boyfriend and doing lots of Christmassy activities over the next week!
Mini Baked Peppermint Mocha Doughnuts
Idea inspired by Starbucks' peppermint mocha; glaze recipe my own; chocolate doughnut recipe adapted from
Buns in My Oven
For the Chocolate Coffee Doughnuts:
1/4 cup + 2 tablespoons sugar
1 teaspoons baking powder
1 tablespoon instant coffee
1/2 cup buttermilk (or regular milk with a teaspoon of white vinegar added)
1/2 teaspoon vanilla extract
1 tablespoon vegetable oil
For the White Chocolate Peppermint Glaze:
1/4 cup white chocolate chips
1/2 teaspoon peppermint extract - optional for peppermint flavour, but you could leave out and just use the candy canes if you like
Crushed candy canes (about 1/4 cup total)
Preheat oven to 325°F.

Lightly spray a mini doughnut pan with non-stick cooking spray.
In a large bowl, whisk together the flour, sugar, baking powder, cocoa, salt, and instant coffee.

In a medium bowl, whisk the egg, then whisk in the buttermilk, vanilla, and vegetable oil.

Add the wet ingredients to the dry ingredients and stir with a wooden spoon or spatula until just incorporated.

Transfer mixture to a ziplock bag, snip off the corner, and squeeze the batter into the doughnut pan, only filling each mold halfway full (they will puff up when baking). It's a lot easier to fill the molds by squeezing it out of a bag, trust me.
Bake in preheated oven for 6-8 minutes, until cooked through and the top springs back when touched.

Remove from pan and let cool on a wire rack.
Prepare icing by melting the chocolate chips in a small bowl in the microwave, then stirring in the icing sugar and peppermint extract (if using).

Add 1 tablespoon of milk, stir, and add up to 1 additional tablespoon of milk until desired consistency is reached (I used the full 2 tablespoons, which makes a thin glaze).
Once doughnuts have cooled, dip the top of each doughnut in the icing, then set back on the wire rack, which should be placed over a baking sheet or sheet or parchment paper to catch drippings.

I like to coat each doughnut twice to ensure there is enough glaze.

Only coat a few doughnuts at a time the second time, then sprinkle crushed candy cane over the top while the icing is still wet so it sticks.
These are best served immediately and eaten on the same day, but note that after about half a day, the candy canes may start to melt into the icing.