Now that summer is almost officially over, and I haven't written a blog post since the beginning of summer back in May, I thought it's about time that I shared some of the meals I've been enjoying over the last few months! Summer - as with every other time of year lately - was super busy for me, so not only did I not have time to post, but I didn't have a lot of time for cooking. I stuck to mostly easy meals and standbys, like vegetable quinoa or pasta, sandwiches, and salads. But with fresh, local vegetables available, simple meals are all you need!
Here's a little recap of some of my favourite dishes from this past summer. And don't forget you can follow along a little more frequently with me over on
Facebook
or
Instagram
!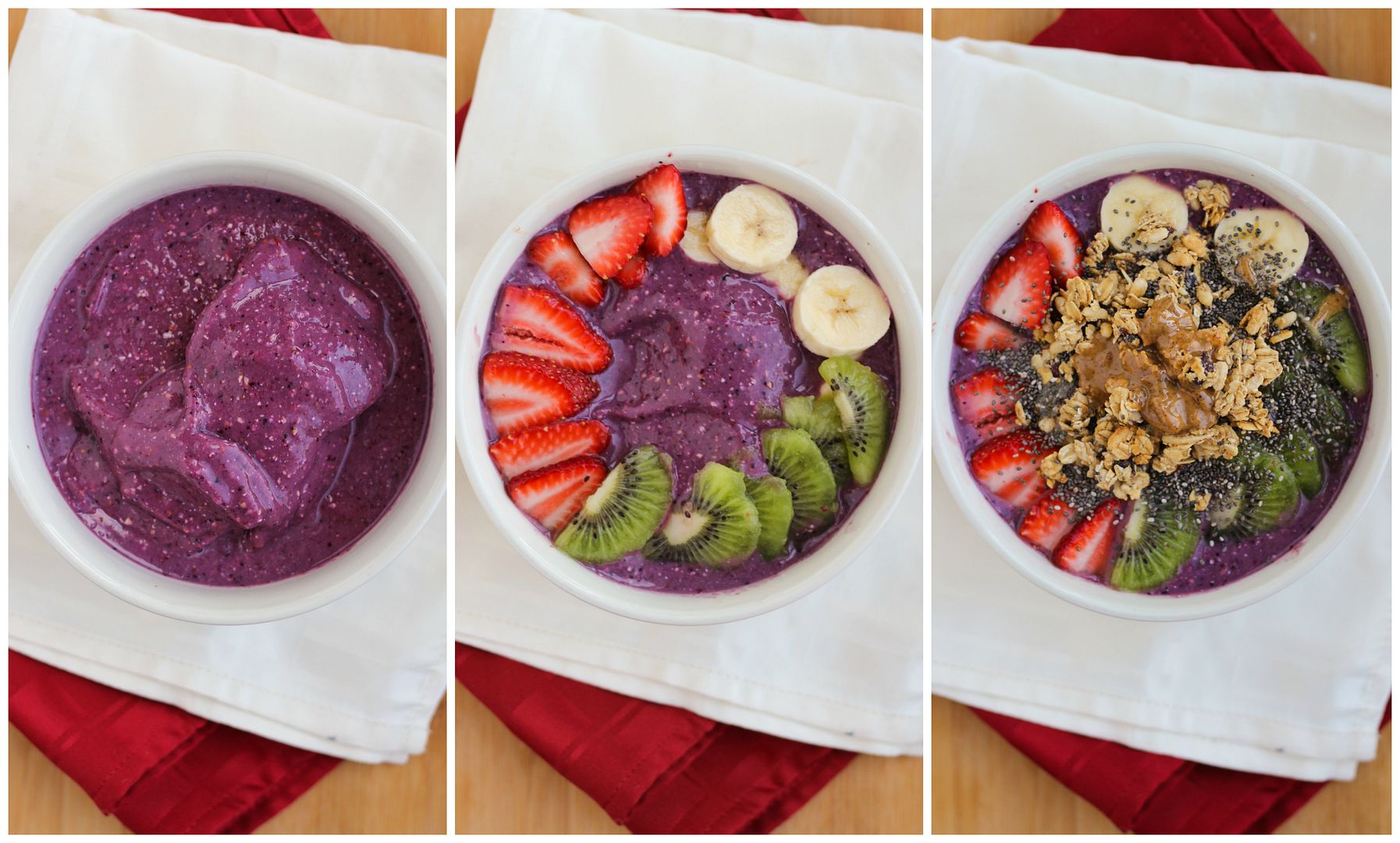 I finally started trying smoothie bowls for the first time and love them, though I've been lazy lately and haven't made one in a while. The version pictured above had a base of frozen mixed berries and bananas, almond milk, oats, and flax seed, and was topped with strawberries, bananas, kiwi, almond butter, berry granola, and chia seeds!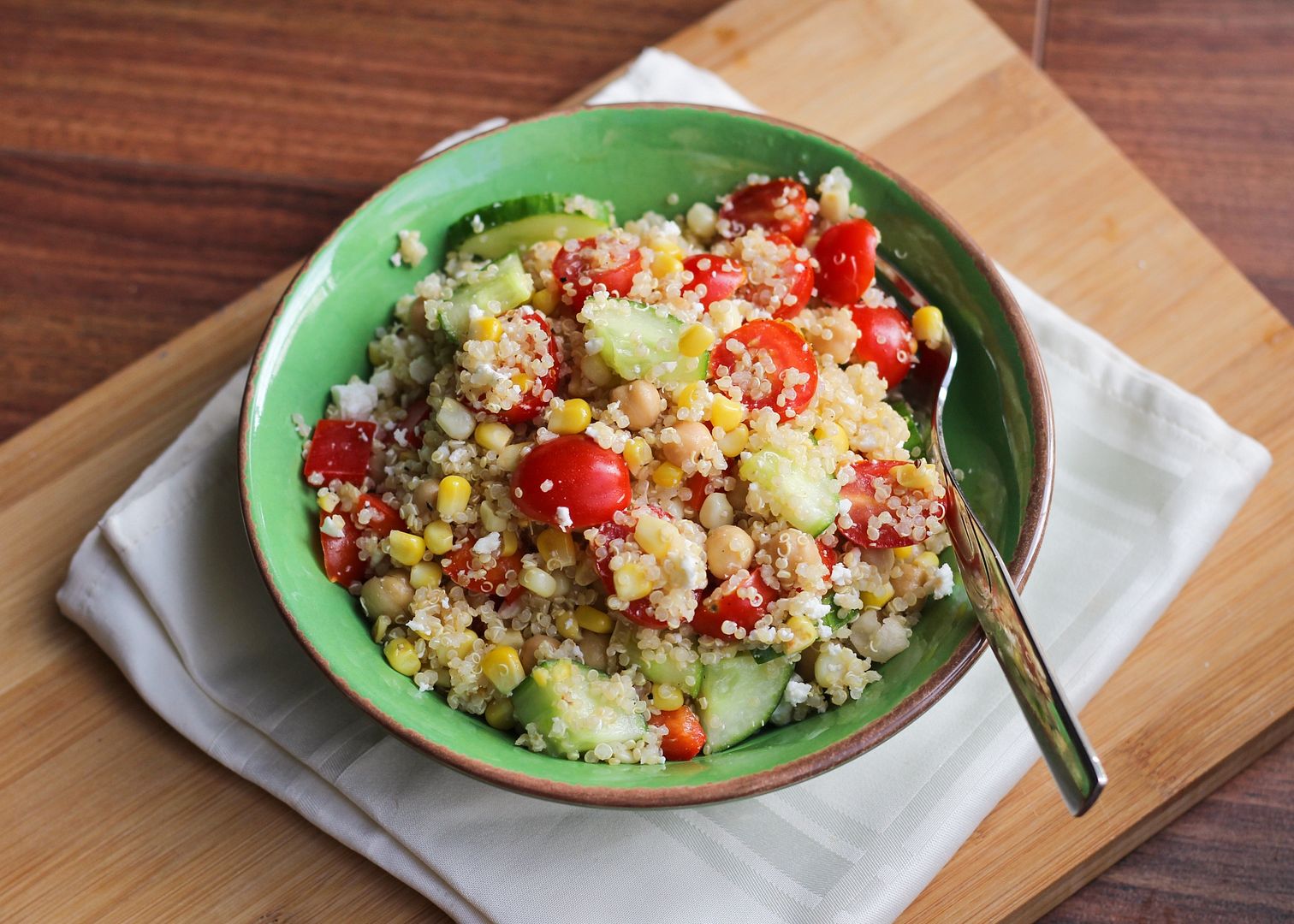 Quinoa is always a staple around our home. In the summer I love using fresh vegetables like cherry tomatoes, red pepper, corn, and cucumber, tossing the quinoa with a bit of lemon juice and olive oil, and adding some feta and fresh pepper.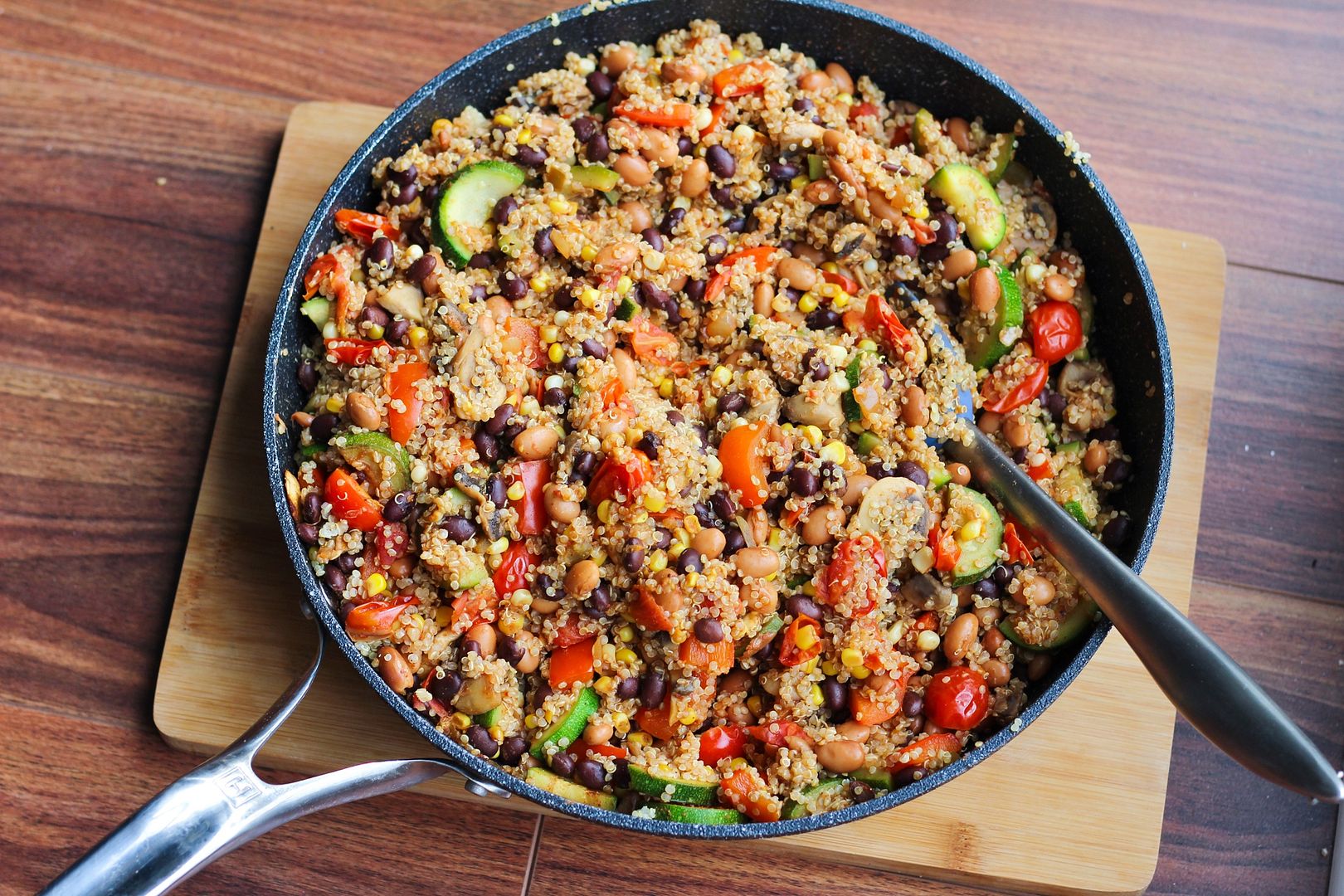 The other version of quinoa we make all.the.time. is this southwestern version with black beans, pinto beans, chile powder & cumin, sauteed veggies (zucchini, red pepper, tomato, corn, mushrooms), and a little salsa and cheese. We never get sick of it!
I also tried a new version this summer with this
grilled bbq chicken, zucchini, and corn quinoa salad recipe
from Closet Cooking. I loved the addition of barbeque sauce, and we loved it even more with shredded cheddar instead of feta the next day!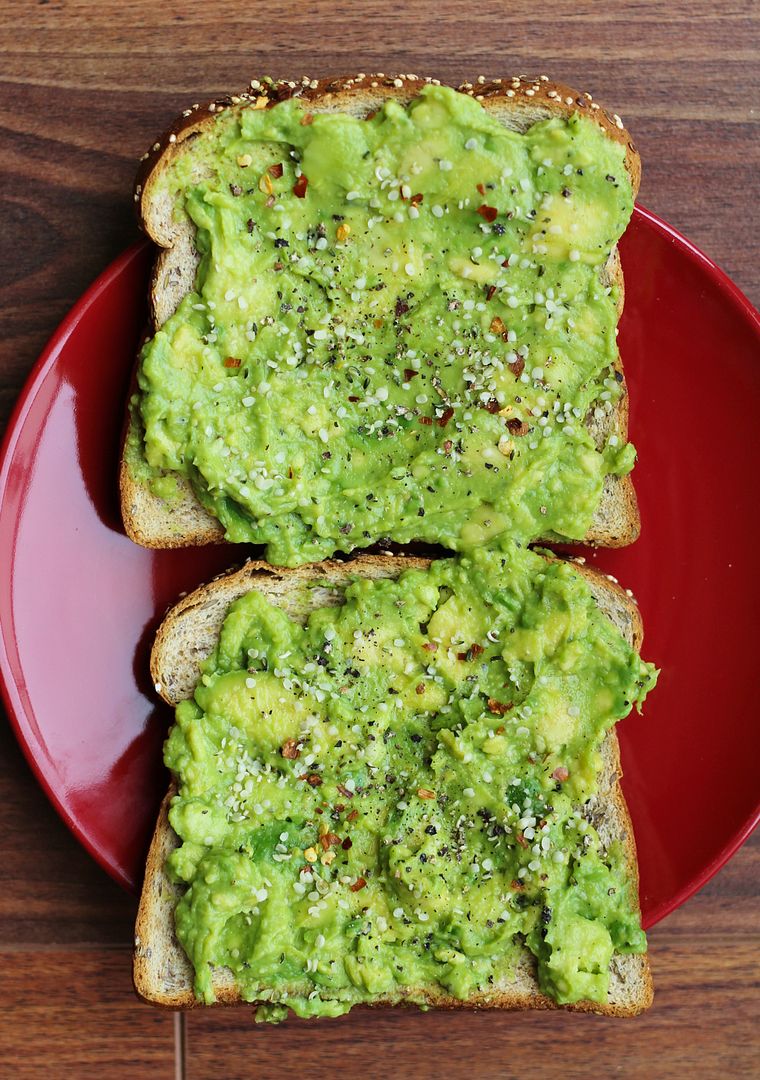 Avocado toast is always a staple when I'm pressed for time (and willing to splurge on avocados)! I finally bought hemp seeds recently and love sprinkling them on everything!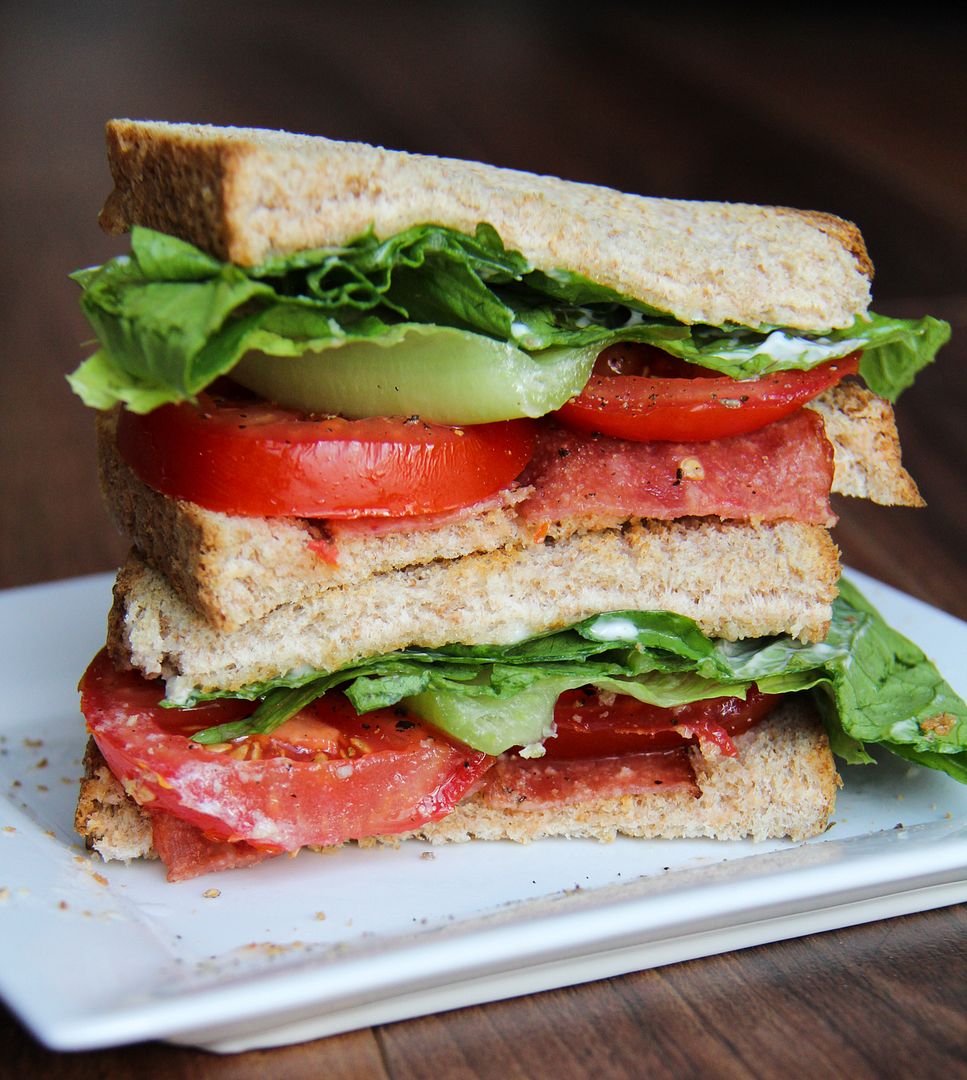 Also super easy were these turkey bacon BLTs we had a few times. I wish I made them more; I feel like I hardly had any fresh tomatoes this year!
This gnocchi was the result of grabbing whatever I could find at the market one evening, and I ended up loving it! I just cooked some storebought gnocchi and tossed it with sauteed zucchini, tomatoes, corn, onion, and garlic, and topped it with some parmesan cheese. Easy and tasty!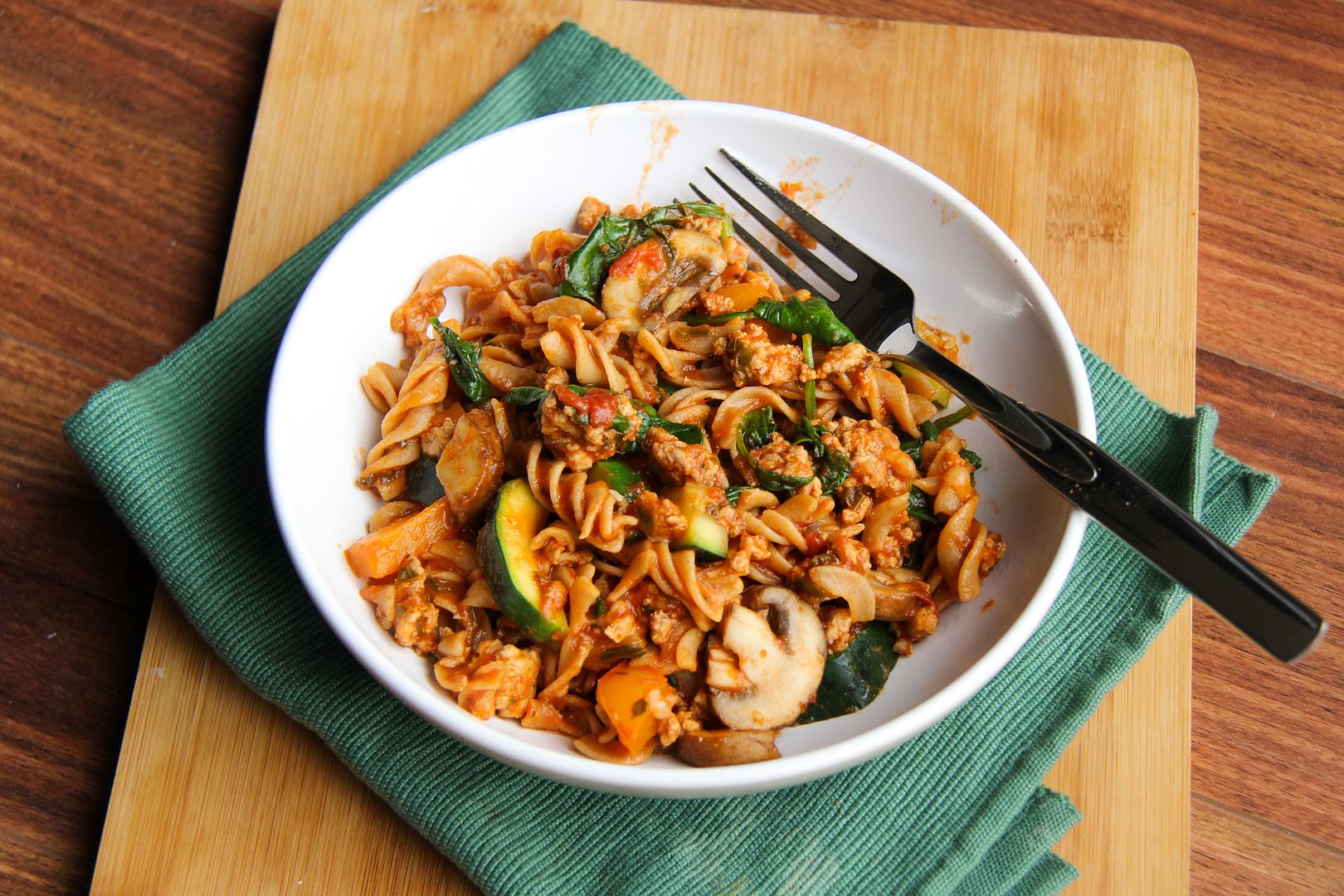 The other pasta recipe I tend to make all the time when I can't think of anything else is whole wheat pasta with sauteed vegetables (in this case zucchini, mushrooms, and spinach), ground turkey, and storebought pasta sauce. It's healthy, filling, and makes great leftovers!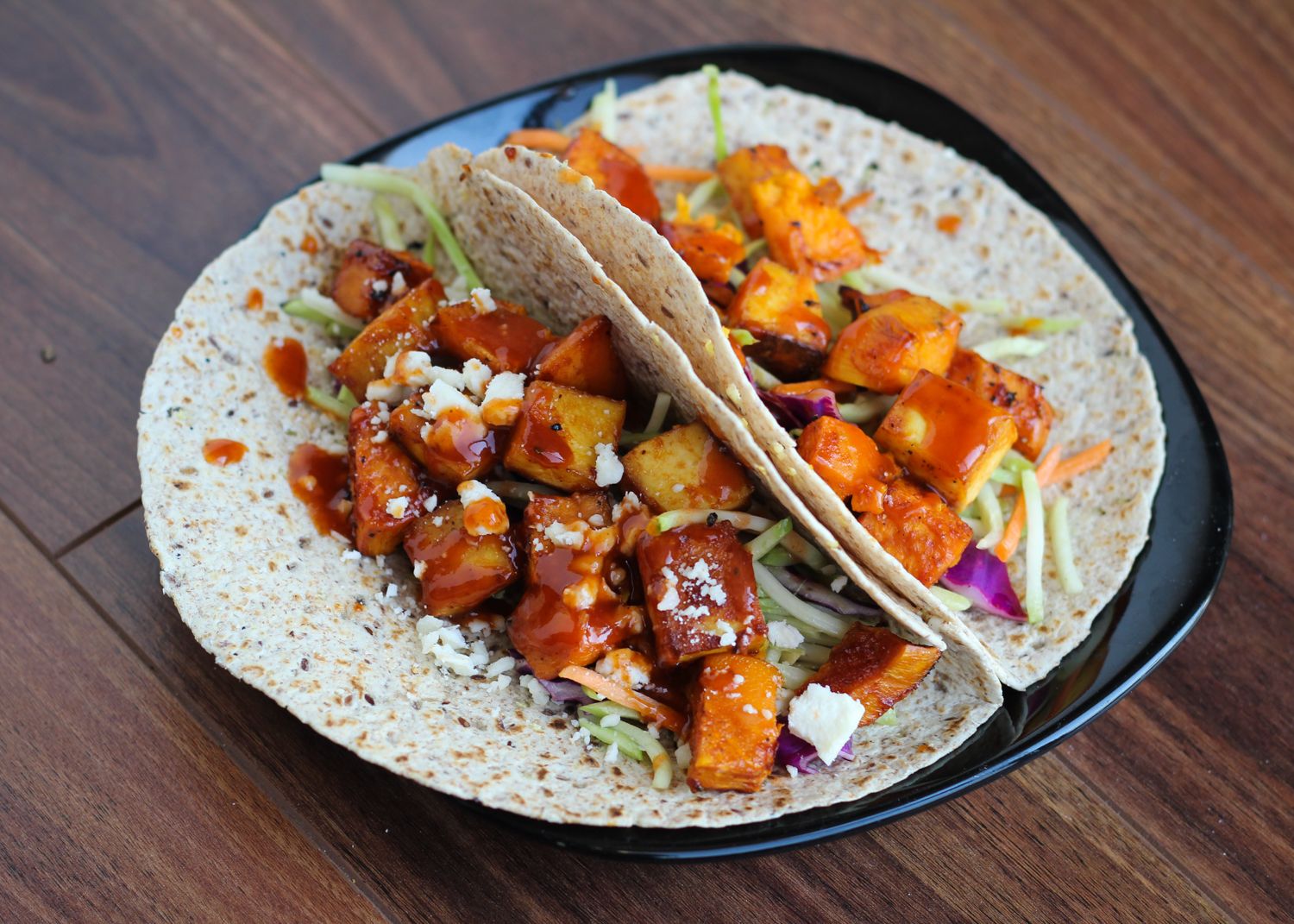 Tacos are another fun and easy meal to throw together. We enjoyed these
sweet potato tofu tacos
from Vanilla & Spice as a vegetarian version...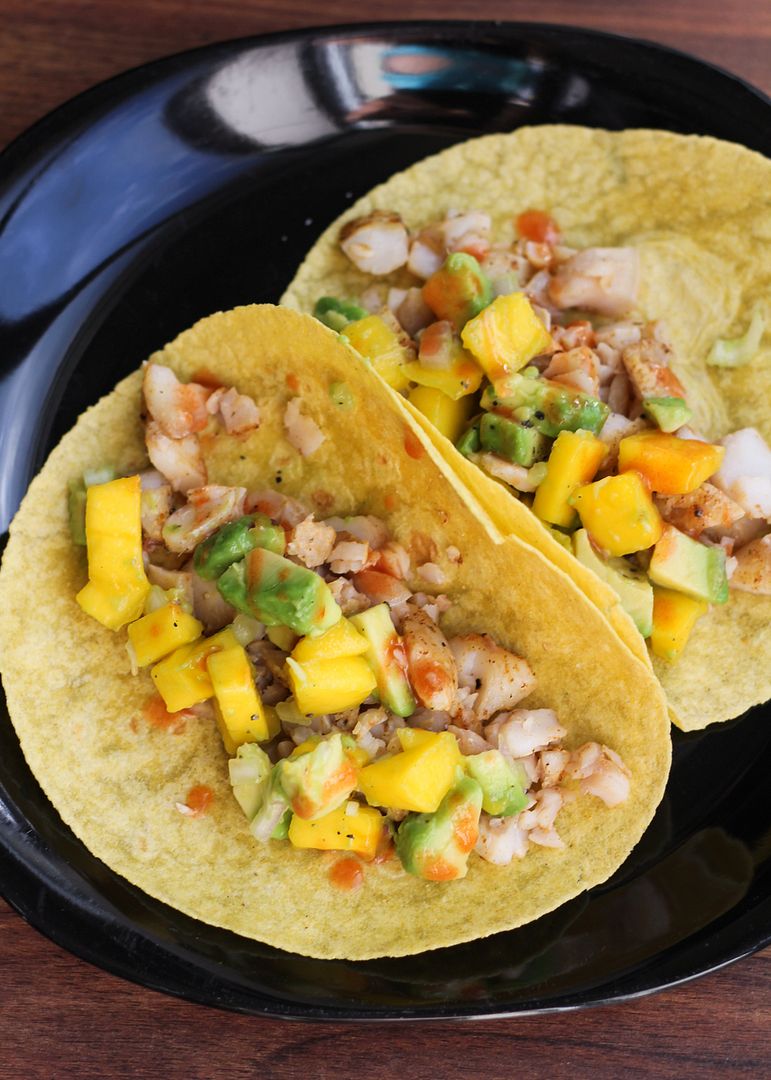 ... As well as fish tacos with avocado mango salsa (and a little hot sauce)!
I've made these
chipotle chicken enchiladas
from Skinnytaste a few times before and we always love them! I just poach the chicken beforehand and put most of the cheese inside the enchiladas rather than on top.
This
baked pesto whole wheat pasta
from Pinch of Yum is another summer favourite of ours. It's easy to throw together is a great way to pack in lots of greens.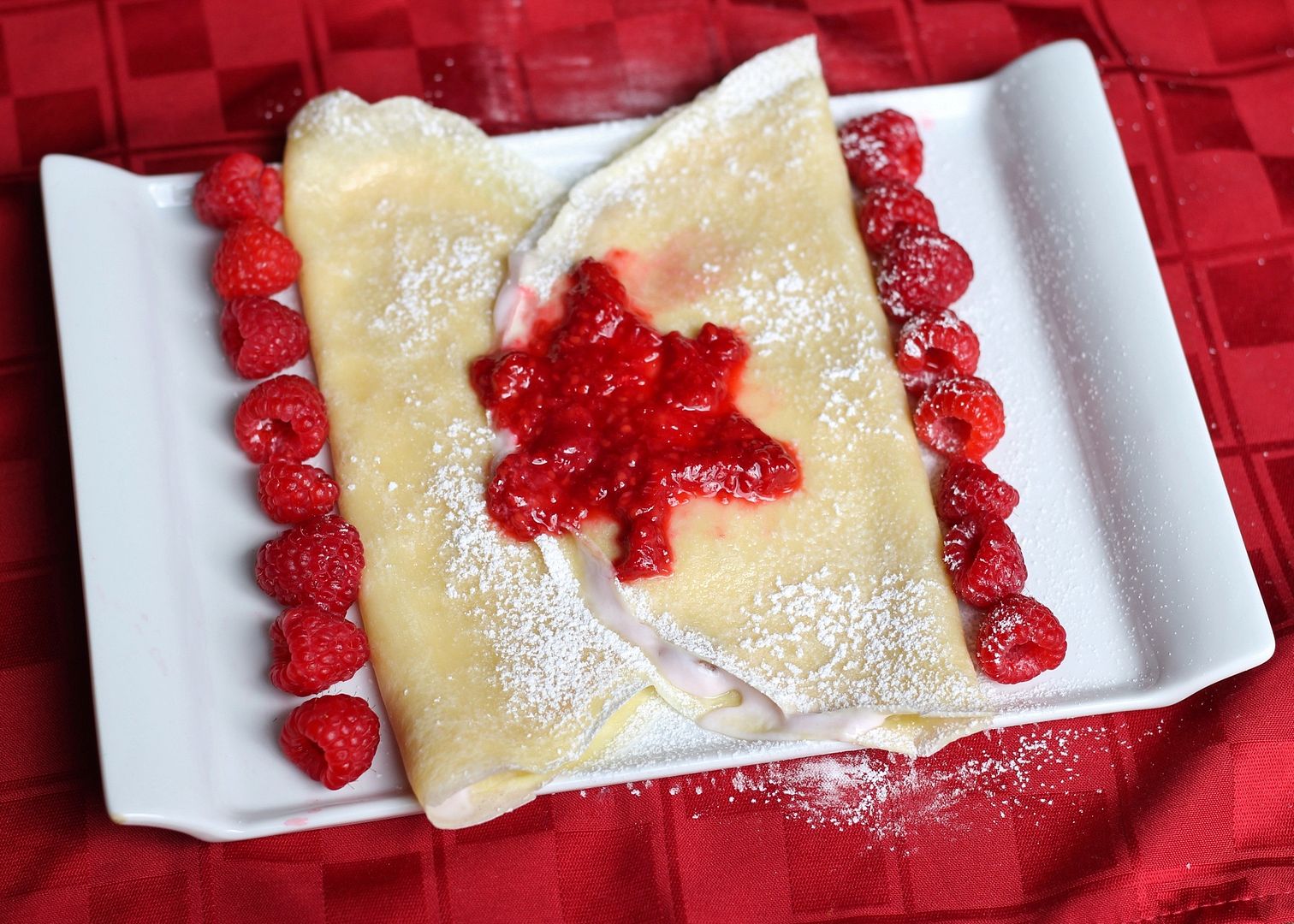 On Canada Day, I made a festive breakfast for us by cooking up a batch of
vanilla crepes
, filling them with yogurt, and topping them with some cooked and fresh raspberries to form a Canada flag!
Later that day, I extended the theme with Canada flag-inspired appetizers. Pictured above are simple skewers made with grape tomatoes, marinated bocconcini, basil, and a balsamic reduction. The colours (ignoring the green) were meant to resemble the flag, but everyone liked these so much I made them for non-Canada related gatherings too!
My other, perhaps less obvious, flag-themed appetizer were these watermelon, feta, and mint skewers, also with a balsamic drizzle. These are one of my favourite summer appetizers that are always a hit!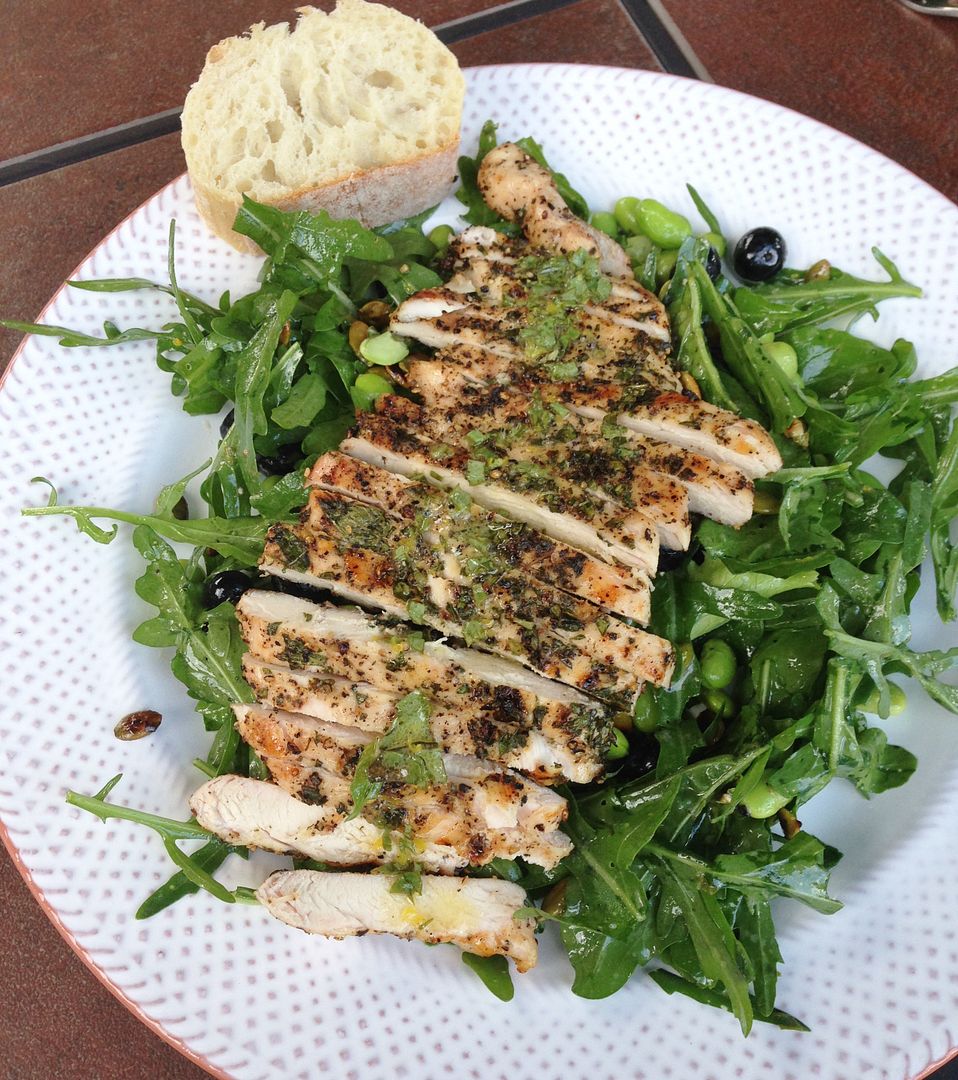 This
edamame and blueberry arugula salad with herbed chicken
was one of my favourite dishes that my parents made for me this summer!
I didn't do a lot of baking this summer but one of my favourite baked goods was this
low-fat cinnamon peach banana bread
from Ambitious Kitchen. I replaced half the flour with whole wheat and the butter with coconut oil but you wouldn't know it was healthy!
I also love throwing together crisps in the summer. And it can't get better than enjoying them with the sunset and a good book...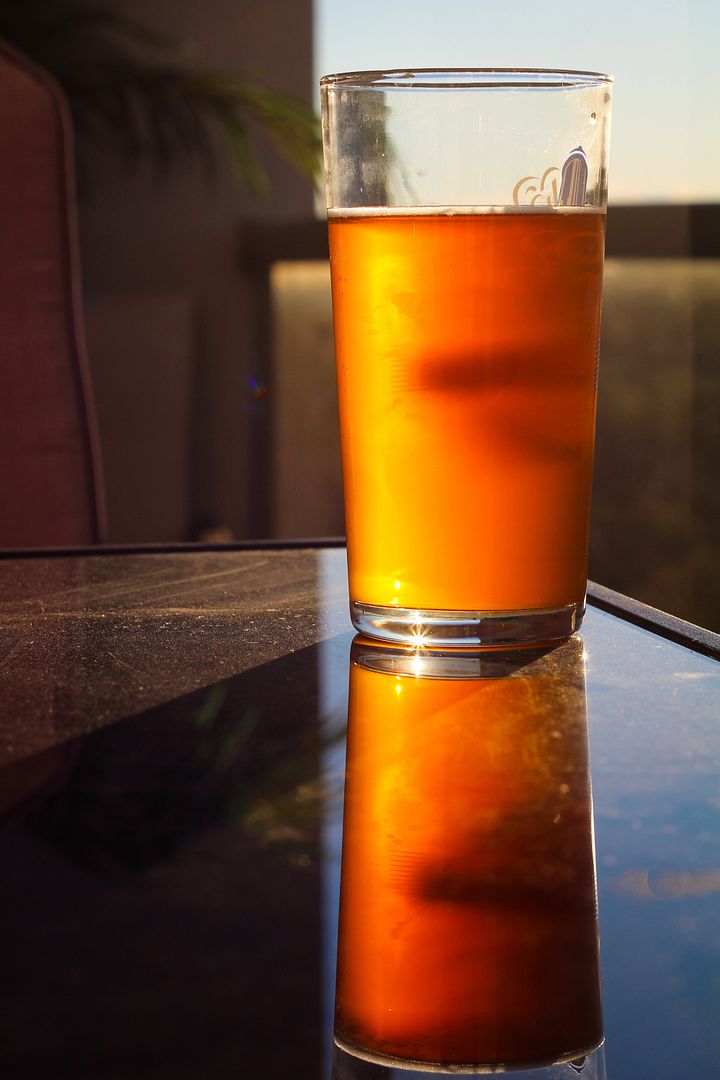 ... Though beer doesn't hurt either ;) Cheers to summer 2015!