I'm happy I decided to try to
start posting recipes again
just in time for Easter. I love all food-related holidays but Easter is especially nice because after the heavier meals at Thanksgiving and Christmas, we now get to celebrate bright and fresh flavours that go along with the start of springtime.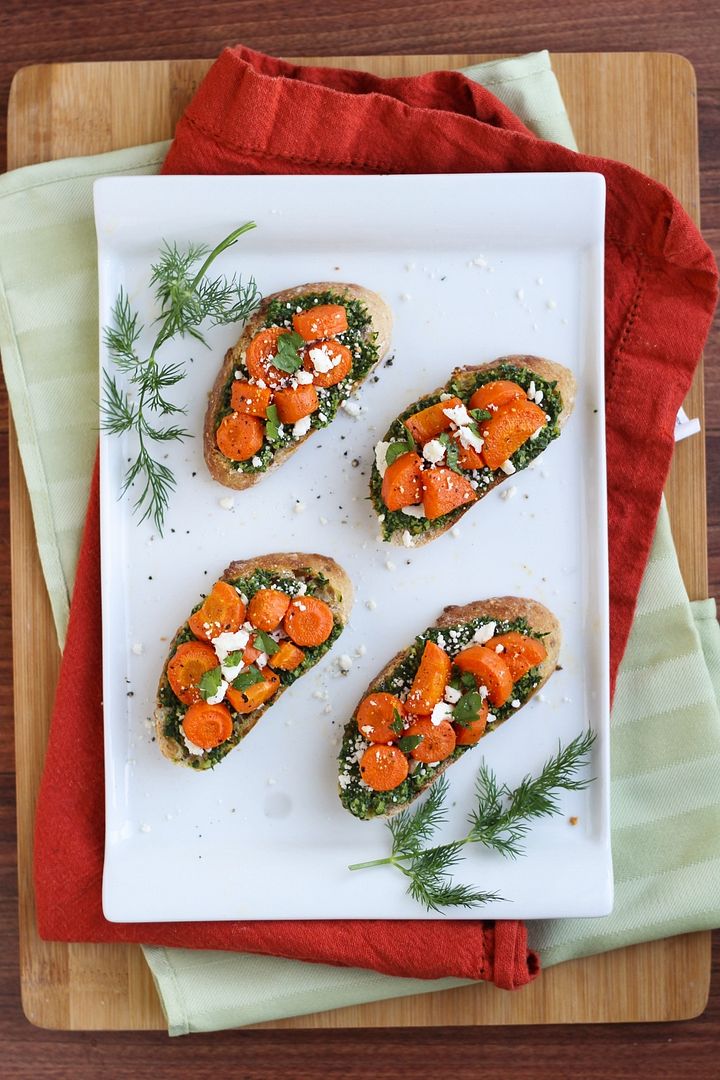 Whenever I try to think of Easter recipes my mind always goes straight to carrots. As part of our
Easter dinner last year
, my sister made roasted carrots and radishes with a lemon dill pesto (inspired by
With Food + Love
) and the flavours worked really well together. So I decided to turn that concept into an appetizer, with the addition of feta because feta makes everything better!
This dish looks a little fancy but is really easy to prepare. I just chopped and roasted some carrots in the oven, then whipped together a lemony dill pesto in the food processor. I toasted some whole wheat baguette slices, spread some of the pesto on top, then topped them with the carrots and feta. I loved how the bright flavours of the pesto balanced out the earthy carrots and salty feta.
I'm in charge of apps for our family's Easter dinner this year so I think I'll be making these again! I hope you all enjoy the long weekend and have a happy Easter if you're celebrating it!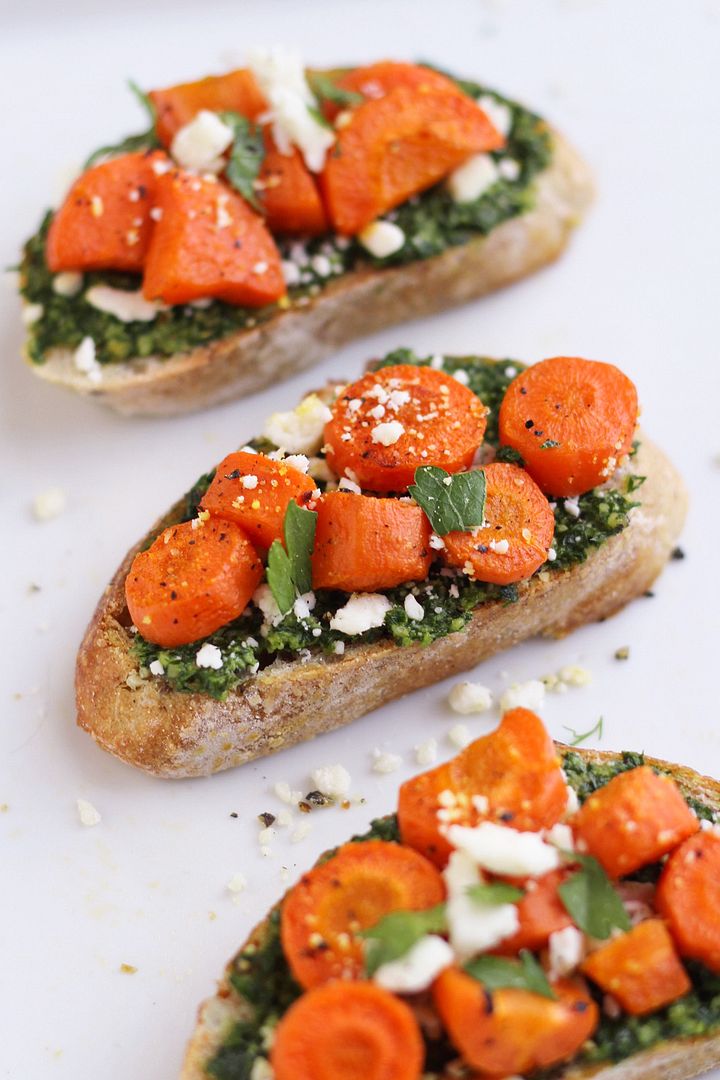 Roasted Carrot Crostini with Lemon Dill Pesto & Feta
Serves 10-15
Ingredients:
For the carrots:
1-1/2 lbs carrots, peeled and chopped into small, about ¼-½" pieces
1-2 teaspoons olive oil
Salt and pepper
For the lemon dill pesto:
1-1/2 cups packed fresh dill
1/2 cup packed fresh parsley leaves
2 cloves garlic, minced
1/4 cup chopped walnuts
2 tablespoons fresh lemon juice
2 tablespoons extra virgin olive oil
1/4 teaspoon each salt and pepper
Other:
1/4 to 1/3 cup crumbled feta
1 large baguette, sliced diagonally into thin slices (I used a whole wheat ciabatta loaf)
Directions:
Preheat oven to 400°F. Toss carrots with olive oil, season with salt and pepper, and spread on a foil-lined baking sheet. Roast in preheated oven for about 30 minutes, tossing halfway through.
Meanwhile, prepare dill pesto. Place all ingredients (dill, parsley, garlic, walnuts, lemon juice, oil, salt, and pepper) in the bowl of a food processor (I used the smaller bowl) and process until the pesto is as smooth as you can get it. Taste and adjust any seasoning or amounts to your liking if necessary.
When carrots are done, leave oven on, and spray baguette slices with cooking spray. Set on baking sheet and let toast in oven for about 3-5 minutes, until toasted.
Prepare crostini by spreading pesto on baguette slices, top with crumbled feta and roasted carrots, and garnish with chopped parsley if desired. Serve while carrots are still warm.