I've been so focused on the Super Bowl lately that I completely forgot that two of my other favourite occasions (food-wise anyway) are fast approaching: Pancake Tuesday and Valentine's Day!
I know that some people feel strongly against Valentine's Day as a holiday, but I love any chance to bake adorable treats as a way of showing my love toward my family and friends.

So even though I just wanted to sit down when I got home from a long day yesterday, instead I baked you some heart-shaped cookies!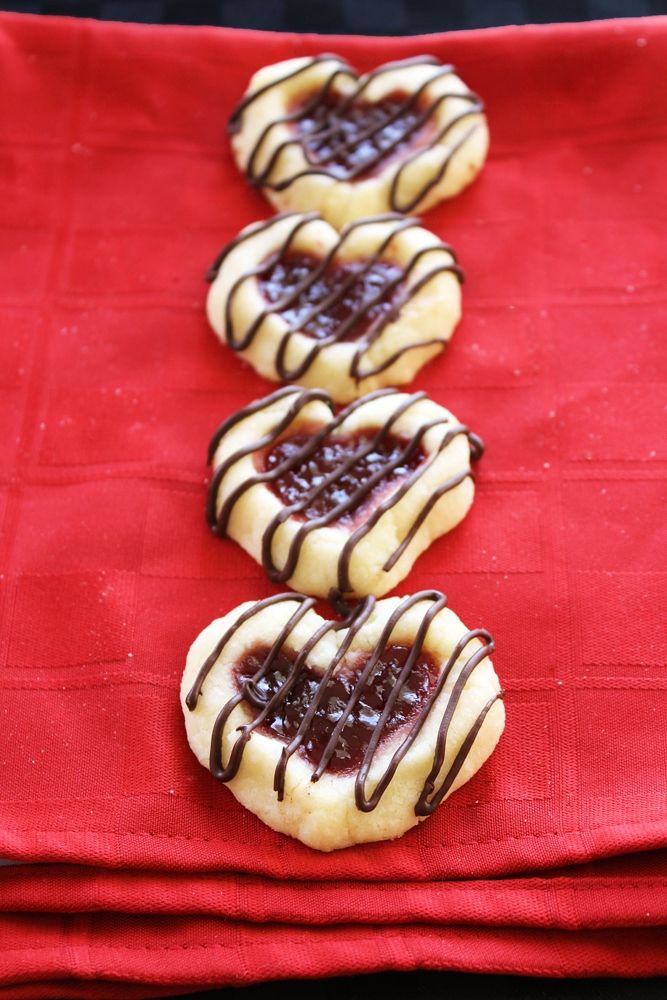 I first saw these double thumbprint heart cookies from Better Homes and Gardens on Munchkin Munchies and thought they were such a great idea.

Surprisingly, I haven't seen them anywhere else on the web, so I wanted to share my own version of them!
I ended up using a shortbread thumbprint cookie recipe from All Recipes instead of the original cookie recipe from Better Homes & Gardens because I've tried this one many times and know that it turns out well.
These are really easy to make – they're just like regular thumbprint cookies but instead of making one thumbprint, you make two to shape the cookie into a heart!

Then you just fill each heart shaped indentation with jam and bake them – I like to add the jam before baking so it cooks down a little and stays put in the cookie, but you could try adding it afterwards if you like the looks of fresh jam better.
I left a few cookies plain, as you can see below, but decided to add a drizzle of dark chocolate to most cookies to make them extra pretty!

And it turned out that I also preferred the taste of the cookies that had the chocolate – it was just enough to provide a nice complement to the shortbread and raspberry jam.
Even if you're one of those Valentine's-hating people, you can't possibly hate heart-shaped cookies, can you?

Just give these to your friends as a way of showing your appreciation toward them, or keep them all to yourself if you like, I won't tell!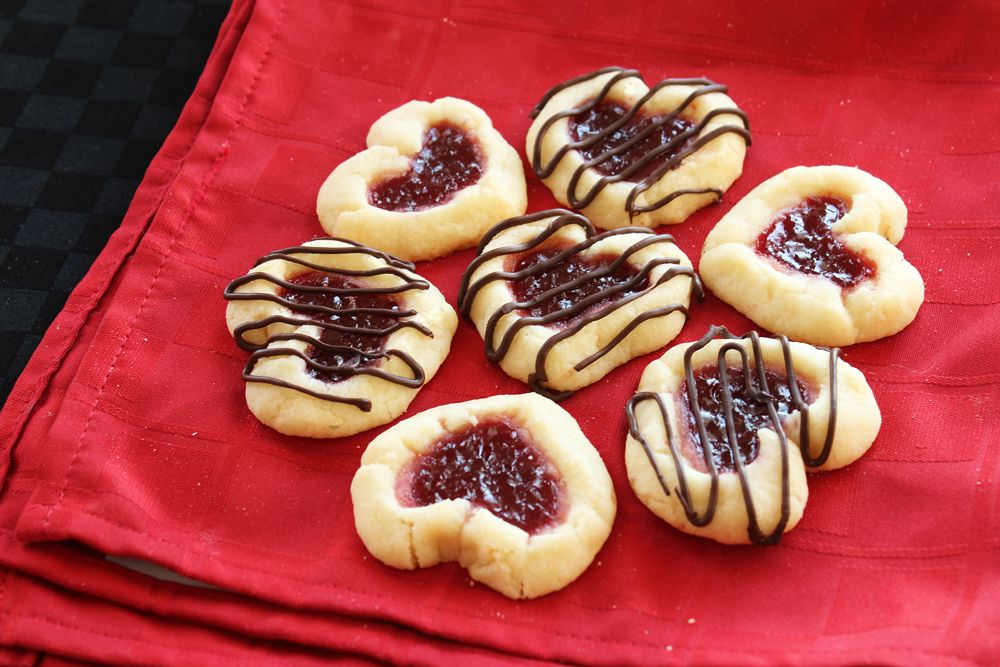 Raspberry Shortbread Heart Cookies
1/2 cup unsalted butter, softened
1/4 cup seedless raspberry (or strawberry) jam
1/4 cup dark or semisweet chocolate chips
In the bowl of a stand mixer (or a medium bowl), cream together the butter and sugar until smooth.

Mix in the vanilla extract until combined.

Mix in the flour until dough comes together.

Roll dough into 3/4-inch balls, and place pairs of balls side by side (touching) on a parchment-lined cookie sheet.

Use your thumbs or fingers to press two indentations in each pair of doughballs, pressing in the center to form a heart shape.

You will need to shape the bottom of the cookie to form a perfect heart.

Once all pairs of cookies have been formed into hearts, space them about 2 inches apart.
Transfer jam to a ziplock bag and snip off the corner.

Use bag to pipe jam into each heart-shaped indentation, filling the indentation to the very top (the jam will cook down a little when it bakes).

Transfer cookies to the freezer for about 10-15 minutes – this step is important because the cookies will have warmed up from being handled and could spread too much in the oven unless you cool them down.

Meanwhile, preheat oven
to
350°F.
Bake cookies in preheated oven for 14-16 minutes, until bottoms are light golden brown.

If they have spread too much after baking, you can try to gently push them back into a heart shape immediately after removing from oven.

Let cool 2 minutes on cookie sheet, then transfer to a wire rack to cool completely.
Once cookies are cooled, melt chocolate chips in microwave and transfer to a ziplock bag.

Snip off a very tiny corner, and use to drizzle chocolate over the cookies.