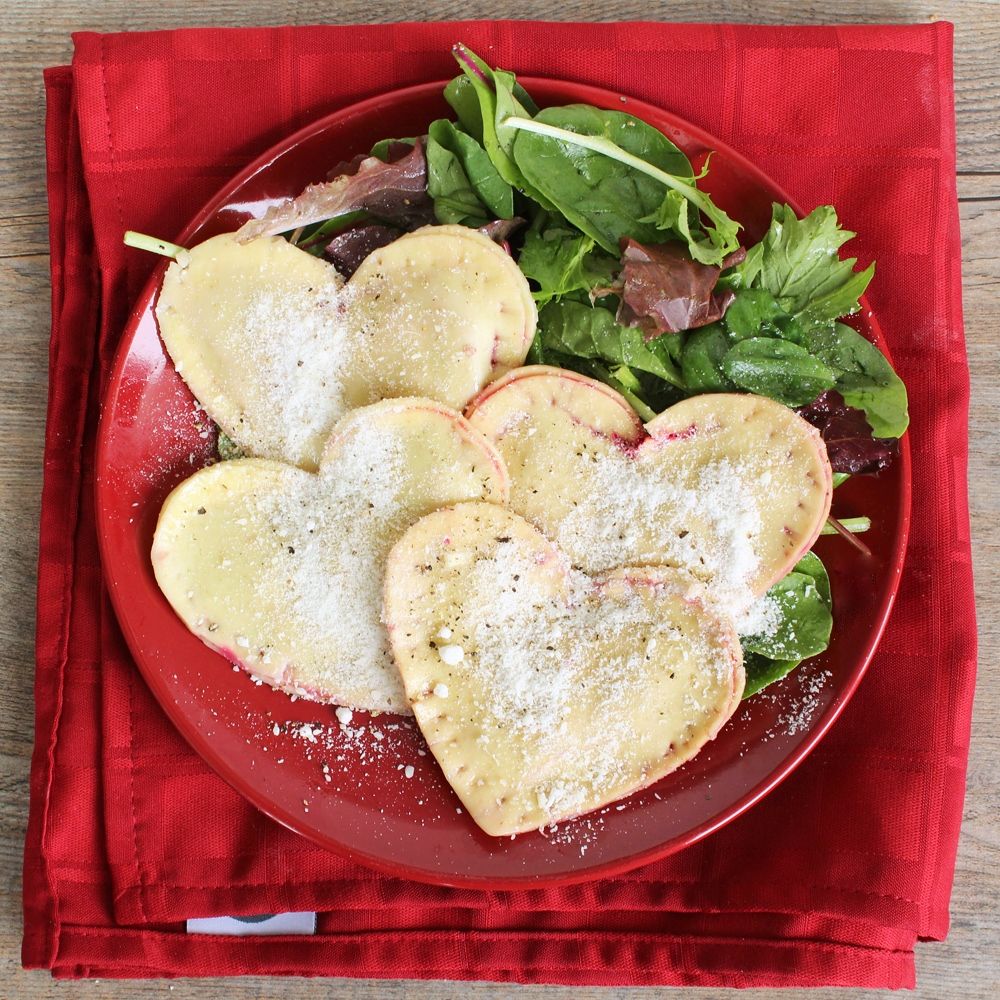 As I mentioned on Facebook yesterday, much of Ontario had a snow day yesterday, including Waterloo region, where we got an estimated 30cm (1 foot) of snow.

Not nearly as bad as what areas like Connecticut are currently facing, but still one of the biggest snowfalls we've seen here in a while!

I was happy to stay home and make myself a warm lunch and decided to use the time I saved not going into school to put a little time and effort into something extra special – these heart shaped ravioli!
I had wanted to make heart shaped ravioli for Valentine's Day anyway but I knew I would want it to have beets in the filling for their gorgeous colour, and since my boyfriend isn't particularly fond of beets, I decided to just go ahead and make them for myself.

We don't give each other Valentine's gifts anyway, so I thought it was perfectly acceptable to give myself an early gift!
Now I won't lie and say that these are super easy and you should all make them for Valentine's Day dinner because they'll take no time at all.

Maybe that would be the case if you're an expert ravioli maker, but this was only my second time making ravioli and it was definitely frustrating at times and took more time to prepare than an average dinner.

But I will honestly say that in the end it was totally worth it!
I did make a few mistakes that you can learn from so you won't run into as many issues as me:
1)
Keep your pasta sheets damp so they don't dry up and harden – that will make it very difficult to form the ravioli!
2)
Figure out how much filling you can comfortably fit in a ravioli by doing a practice one before you go and spoon all the filling out only to realize you used too much and have to go back and redo it.
3)
Make sure you completely seal the edges of the ravioli so that the filling doesn't seep out while boiling!
I used storebought fresh pasta sheets to save time, but if you are really ambitious you could make your own pasta -
Reclaiming Provincial
even makes a beet pasta dough, which makes the end product so gorgeous!
The filling is a simple mixture of roasted beets and herbed goat cheese with a splash of lemon juice, and while it takes some time to wait for the beets to roast, the filling is super easy to make and is delicious even on its own!

So if you don't feel like making ravioli but love beets and goat cheese (two of my favourite ingredients!), you could just make the filling and use it as a sandwich or pizza spread, on crostini, or even as a dip!
If you do go ahead and make the ravioli, I highly recommend serving it with a side salad.

I kept the ravioli 'sauce' very simple (just olive oil and parmesan cheese) to let the filling shine, but without a lot of sauce, I find that ravioli on its own can be a bit boring, especially when you get the edge parts without the filling.

I still loved the ravioli, but when I ate it overtop a salad it was so much better – the vinegar in the dressing really brightened things up and the salad added flavour and texture so you don't get bored eating the parts that are just plain pasta!
And of course, these don't have to be for just Valentine's Day (this goes to those of you who don't care much for the "holiday") – they are a great way to show your appreciation to someone (or yourself) on any special occasion, snow days included!
Oh and if any of you pros out there have other tips for making the ravioli process easier, feel free to share them!
Heart Shaped Beet & Goat Cheese Ravioli
1/2 lb red beets (1-2 medium beets)
1/2 tablespoon fresh lemon juice
8 fresh lasagne sheets (9x6") or equivalent homemade pasta sheets
First prepare the ravioli filling.

Preheat oven to 400°F.

Scrub beets and pierce all over with the tines of a fork.

Wrap in aluminum foil and roast in preheated oven for 45 minutes to 1 hour, until tender.

Let cool slightly, peel and roughly chop, then add to a food processor.

Add the goat cheese and lemon juice and process mixture until smooth. Season with salt and pepper to taste.
Next prepare the pasta.

I used fresh lasagne sheets from an Italian market, which saved me lots of time, but if you want to make your own pasta, follow either the recipe from
Annie's Eats
for plain pasta or
Reclaiming Provincial
for a beet pasta dough.

While you're working with the pasta, it's important to keep the sheets you're not using covered with a damp cloth so they don't dry out and harden.

I let that happen with some of mine and it cracked when I tried to work with it later.

Use a heart shaped cookie cutter (mine was about 3" wide) to cut out heart shapes from pasta dough.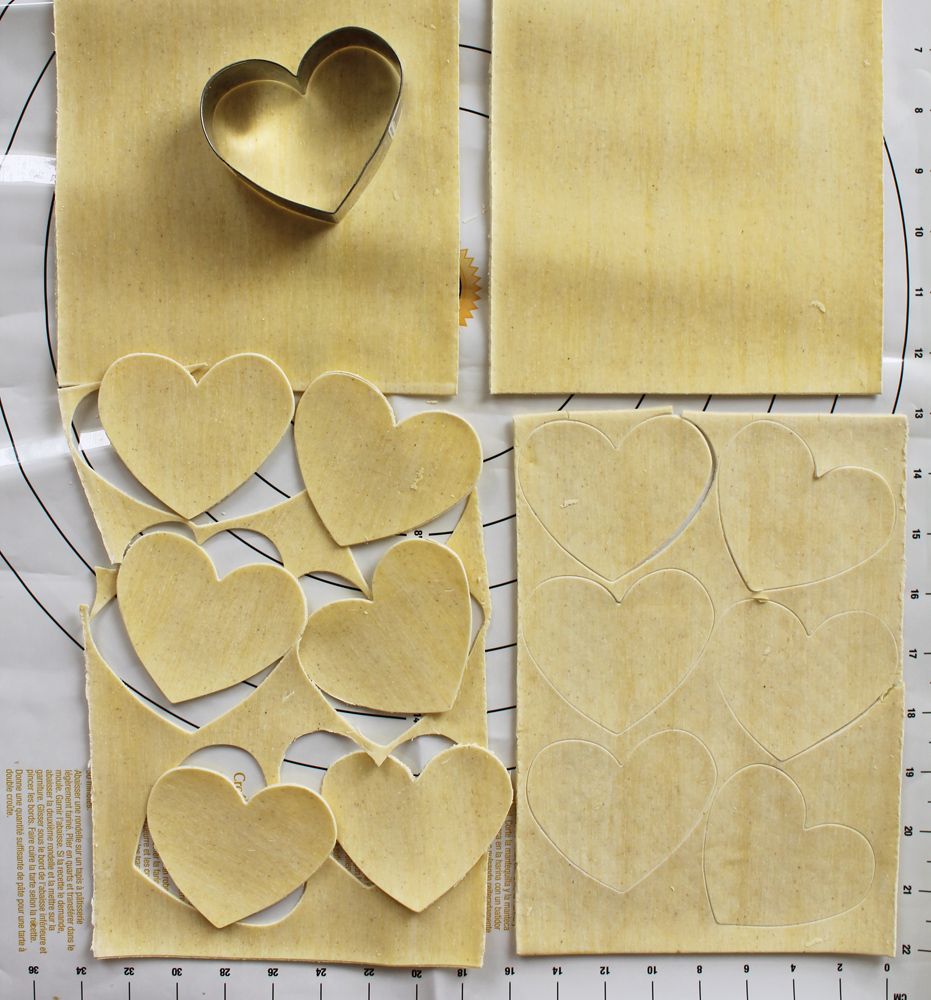 Spoon a small amount of filling into the center of half the hearts.

The amount you need will depend on the size of your cookie cutter.

I started with about 2 teaspoons (pictured) but realized that was too much when I started to try to form the ravioli, so I removed some (after the picture) and was left with about 1 teaspoon of filling for each heart.

I highly recommend only filling one to start and proceeding with the next step of shaping the ravioli to get an idea of how much filling is needed before you fill the rest.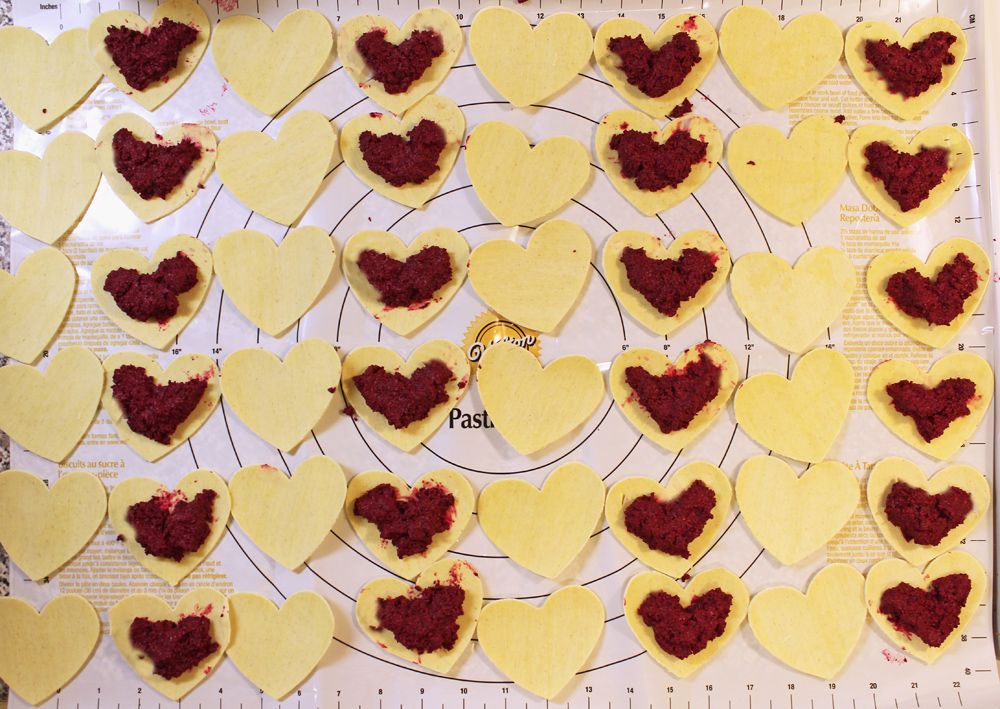 Use a pastry brush or your finger to wet the edges of each heart and place a plain heart on top of the filling.

Press the edges together with your fingers to seal, then go over the edges pressing with the tines of a fork, on both sides of the ravioli, to ensure the filling is really sealed in there.

You don't want it to leak out when you're boiling them!

This happened to a few of mine that weren't properly sealed.
Bring a large pot of salted water to a boil.

Cook the ravioli in the boiling water until al dente, about 3-5 minutes.

I did this in batches of about 5 ravioli as I filled them so they didn't sit out too long.
To serve, toss desired amount of field greens with a bit of red wine vinegar, olive oil, and salt and pepper.

Toss desired amount of ravioli (4-5 per person should be a good amount) with a drizzle of olive oil.

Serve ravioli overtop of salad and sprinkle with parmesan cheese.