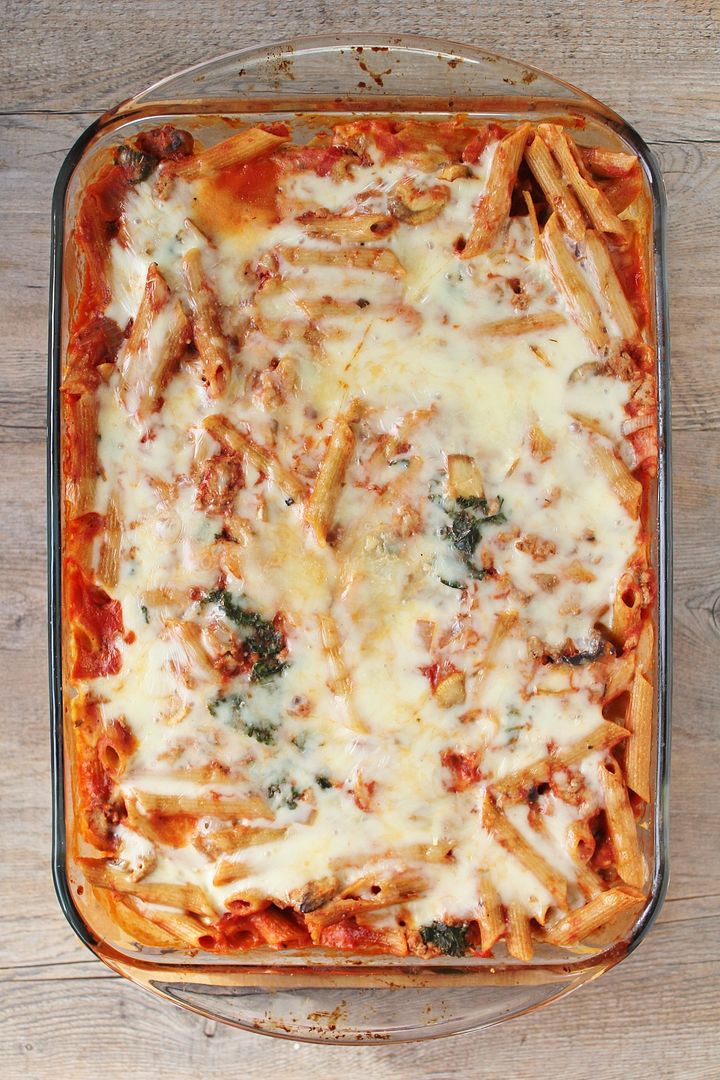 I mentioned in my most recent
monthly recap
that I've been having to make a lot of quick and easy meals lately, often just throwing together whatever I can find in my fridge or pantry. This sometimes means that my meal is missing a key component though, like a protein or vegetables.
But when I know I have a busy week ahead and I actually take the time to make sure I have something more substantial but also healthful around to eat, this turkey and vegetable pasta bake is usually my go-to meal!
This easy pasta dish is made by tossing together some whole wheat pasta, sauteed veggies (including onion, mushrooms, and kale) and seasonings, lean ground turkey, canned tomatoes, and just enough cheese, then baking it in the oven, which is the most time consuming (but hands-off) part.
You end up with a well-balanced meal with plenty of whole grains, fiber, protein, and nutrients, that's hearty and filling! I've reduced the amount of cheese that I used when I first made this dish (so it has much less than many baked pasta dishes) and find there's still plenty of cheese to satisfy me. And if you're vegetarian, I think you could easily throw in some black beans or chickpeas instead of the turkey for added protein.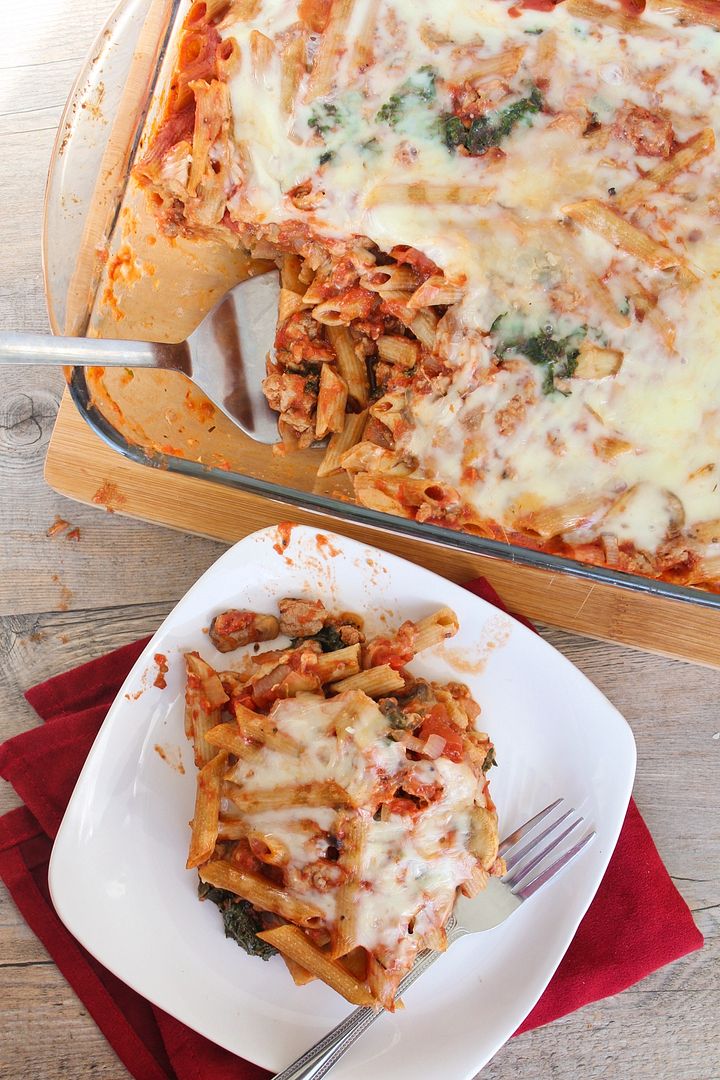 I love that this is a baked pasta because I can just cover the dish with saran wrap and throw it in the fridge, then I can easily cut out a square of pasta to throw in a container for lunch the rest of the days of the week. The pictures I took here were right after this pasta came out of the oven; it does firm up afterwards.
I've made this many times already and I'm sure I'll make it many more times until I get sick of it :) If you have any great go-to meals to have around for busy weeks, feel free to share as I'm finding I need them more and more!
Turkey & Kale Whole Wheat Pasta Bake
Serves 6-8
Ingredients:
1 (375g or 13oz) box of whole wheat penne, rotini, or fusilli
1 teaspoon olive oil
1 lb lean ground turkey
2 cloves garlic, minced
1 yellow onion, chopped
2 cups sliced white or cremini mushrooms
4 cups (packed) chopped kale
1 (28oz) can crushed tomatoes (I don't use the whole can; maybe around 3 cups)
OR
1 jar of your favourite pasta sauce (I've used
this one
)
1 (14oz) can diced tomatoes (I usually use a seasoned variety)
1 tablespoon Italian seasoning
Salt and pepper
1/2 teaspoon crushed red pepper flakes
2 cups shredded part-skim mozzarella cheese
1/4 cup grated parmesan cheese
Directions:
Preheat oven to 375°F.
Bring a large pot of water to a boil and cook pasta to al dente, according to times on package directions.
I've used penne, rotini, and fusilli for this before and all work fine. Drain when finished.
Meanwhile, heat oil in a large saucepan over medium-high heat.
Add turkey, season lightly with salt and pepper, and use a wooden spoon to break it up as you cook, letting cook until evenly browned (around 5 minutes).
Remove turkey and set aside in a bowl.
Using the same saucepan, add your garlic and onion and cook until slightly softened for a few minutes.
You can add a small amount of oil to the pan first if needed.
Add mushrooms and continue to cook until mushrooms are browned, another 5-7 minutes.
Add the kale and cook until wilted, stirring often.
Add the cans of tomatoes, Italian seasoning, red pepper flakes, a pinch each of salt and pepper or to taste, along with the turkey and the cooked pasta to the pan.
Stir and let cook over low-medium heat for a few minutes.
Add half of the mozzarella cheese (1 cup) and all of the parmesan cheese and stir.
Spray a 9x13 glass baking dish with non-stick cooking spray.
Pour the pasta mixture into the pan and top with remaining mozzarella cheese (1 cup).
Cover with aluminum foil and bake in preheated oven for 25-30 minutes.
Remove foil and bake for another 3-5 minutes.
Remove from oven and let sit for at least 5 minutes before serving (this is important!).
*Note: If you want to use spinach instead of kale, use about a 5oz container of baby spinach and stir in to the mixture when you add the turkey and pasta.