I'm a bit late in posting this, but here's my February recap for those who want a little extra Sunday light reading! :)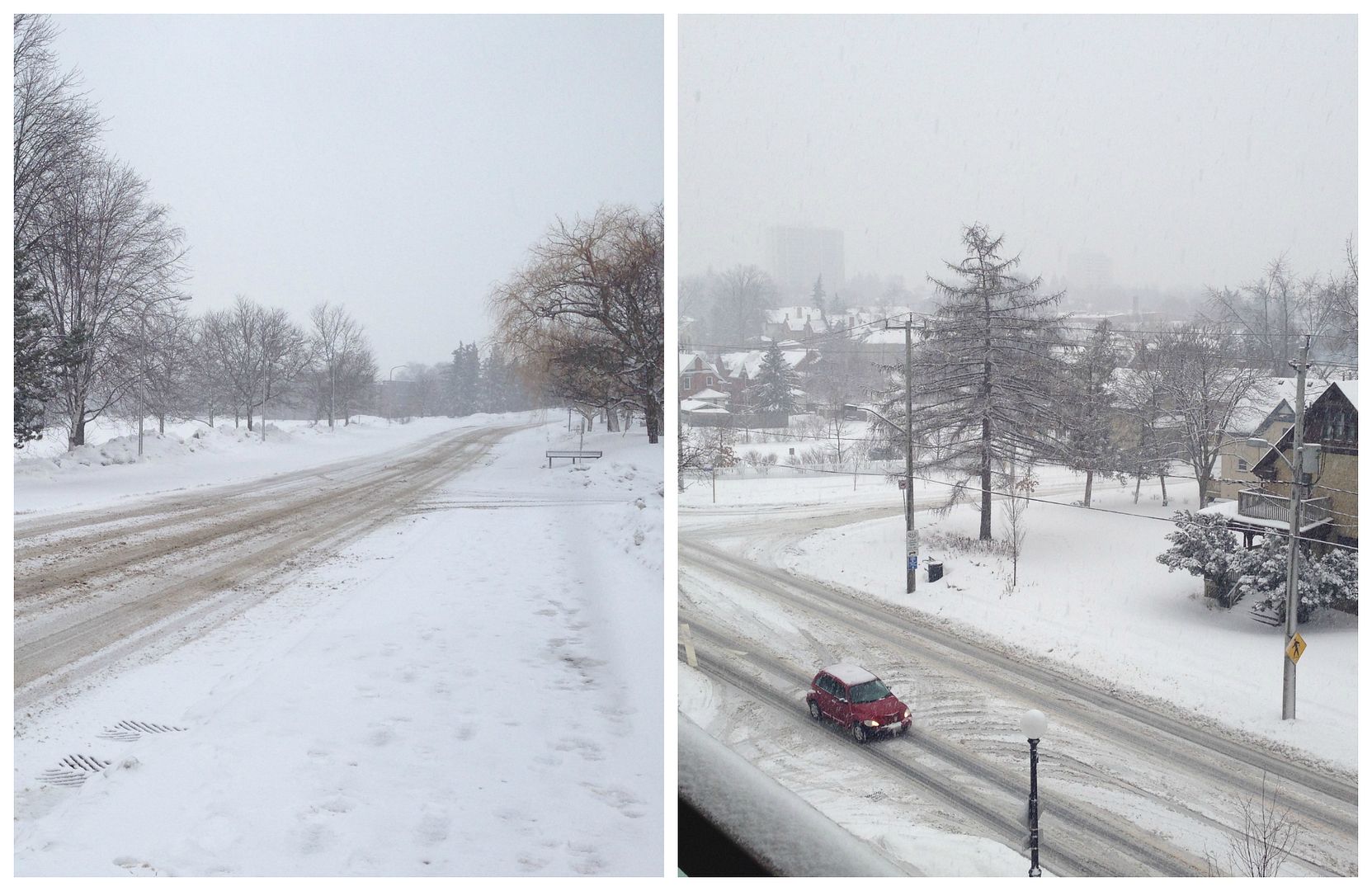 February has been pretty snowy and cold here in Ontario, as it has in most places, I'm sure! I hate the days like the ones pictured above where driving becomes very difficult - I would love to be in one of those cities that shuts down when the weather's like this, almost every day would be a snow day! :)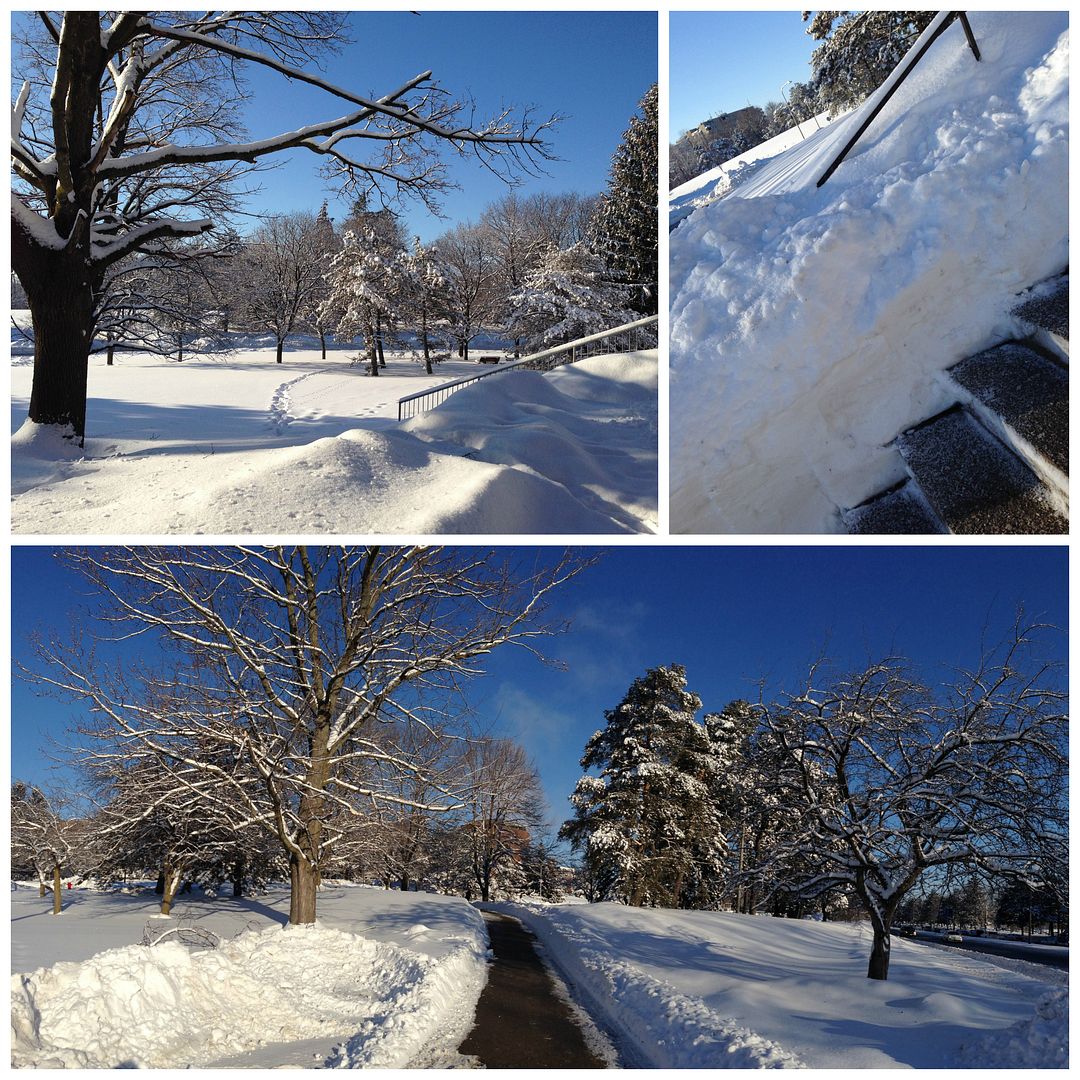 Days when the sun is shining and the sky is blue are much easier to tolerate though!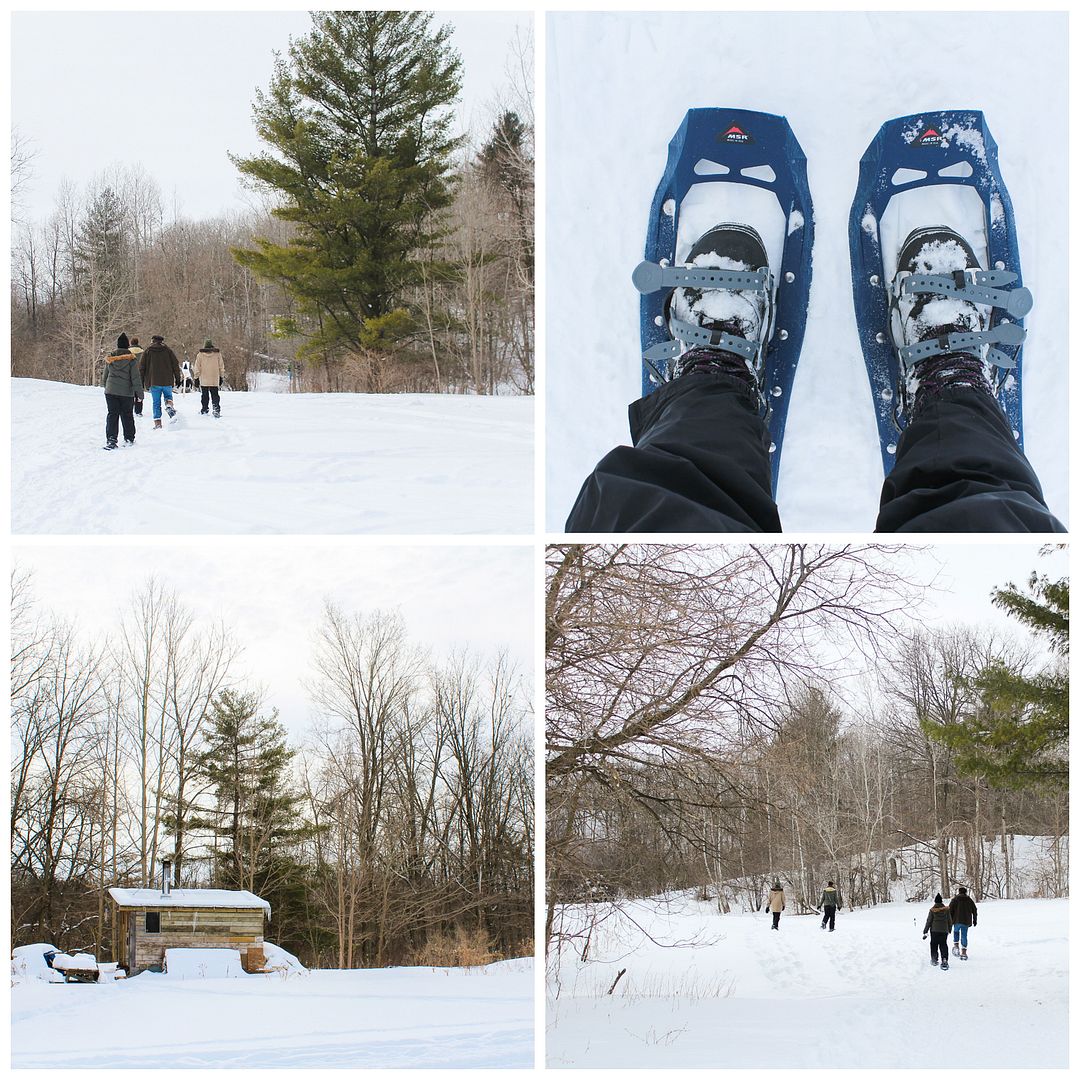 On Family Day (a holiday in many parts of Canada), my family decided to enjoy the outdoors with some snowshoeing. It was my first time snowshoeing and while I didn't just float atop the snow like I'd imagined, it was still fun!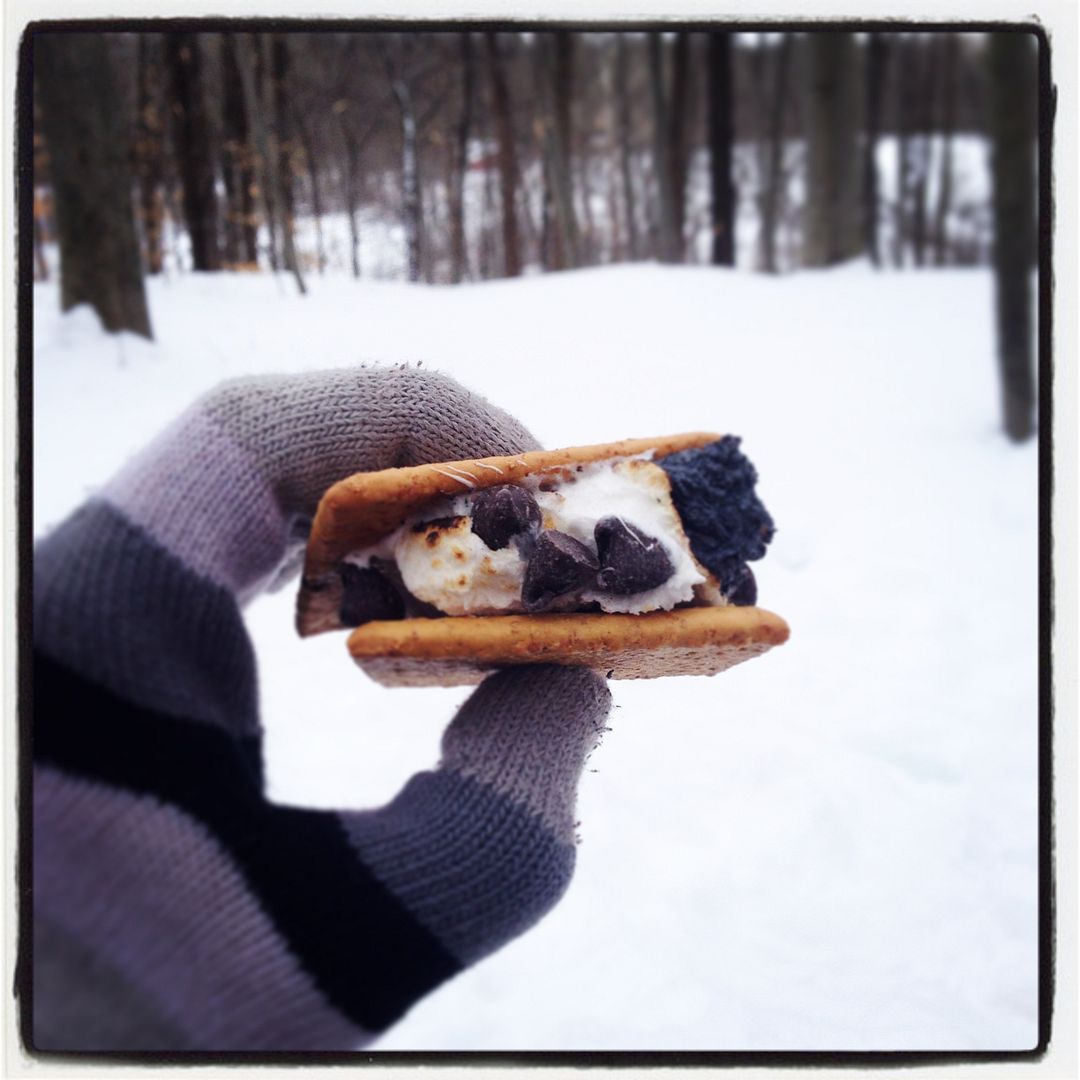 The place we went had a free s'mores setup by a fire so we treated ourselves to a couple of s'mores and hot chocolates afterwards!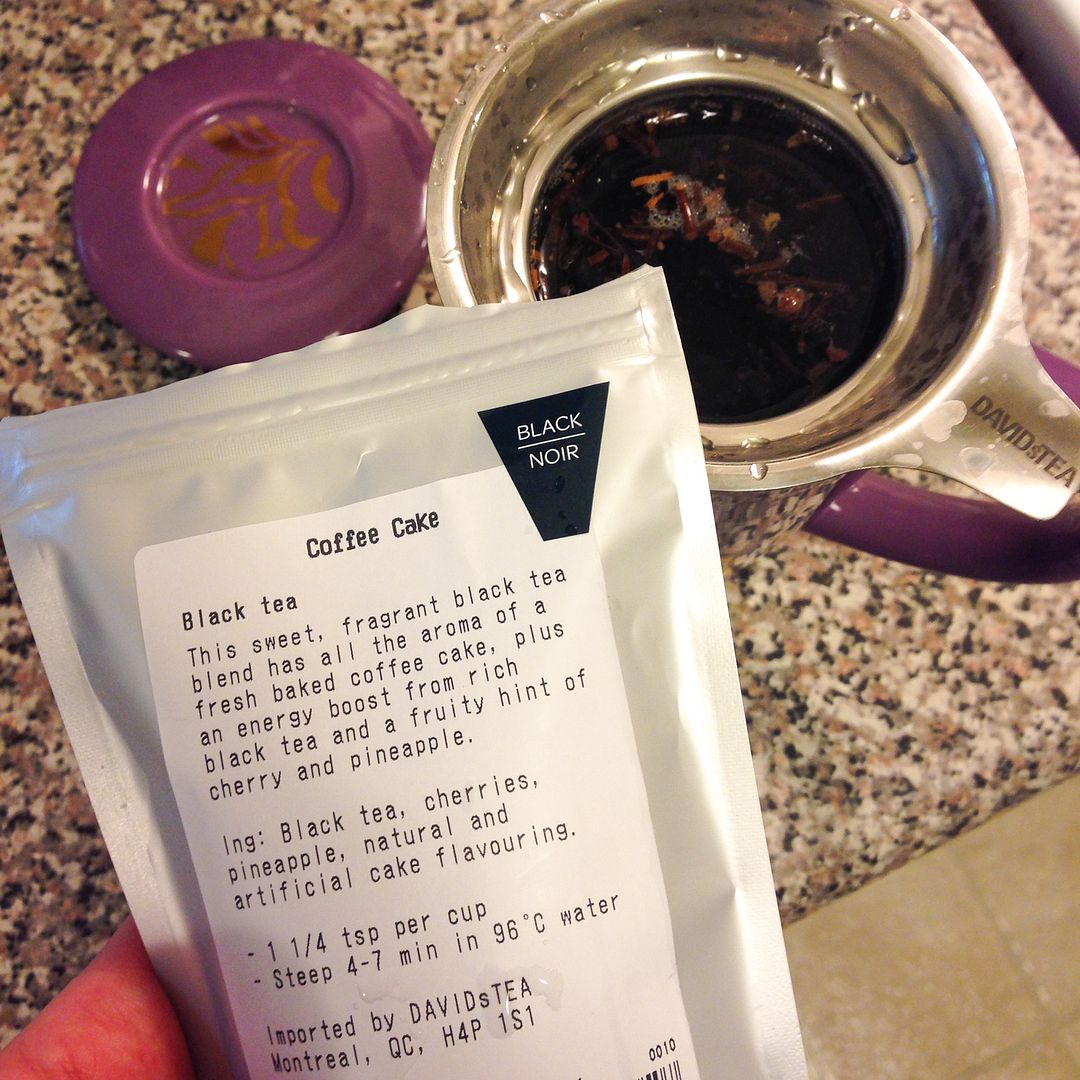 I've also been spending plenty of time staying warm indoors, and drinking this coffee cake tea from
David's Tea
's winter collection, which is amazing - it smells just like coffee cake!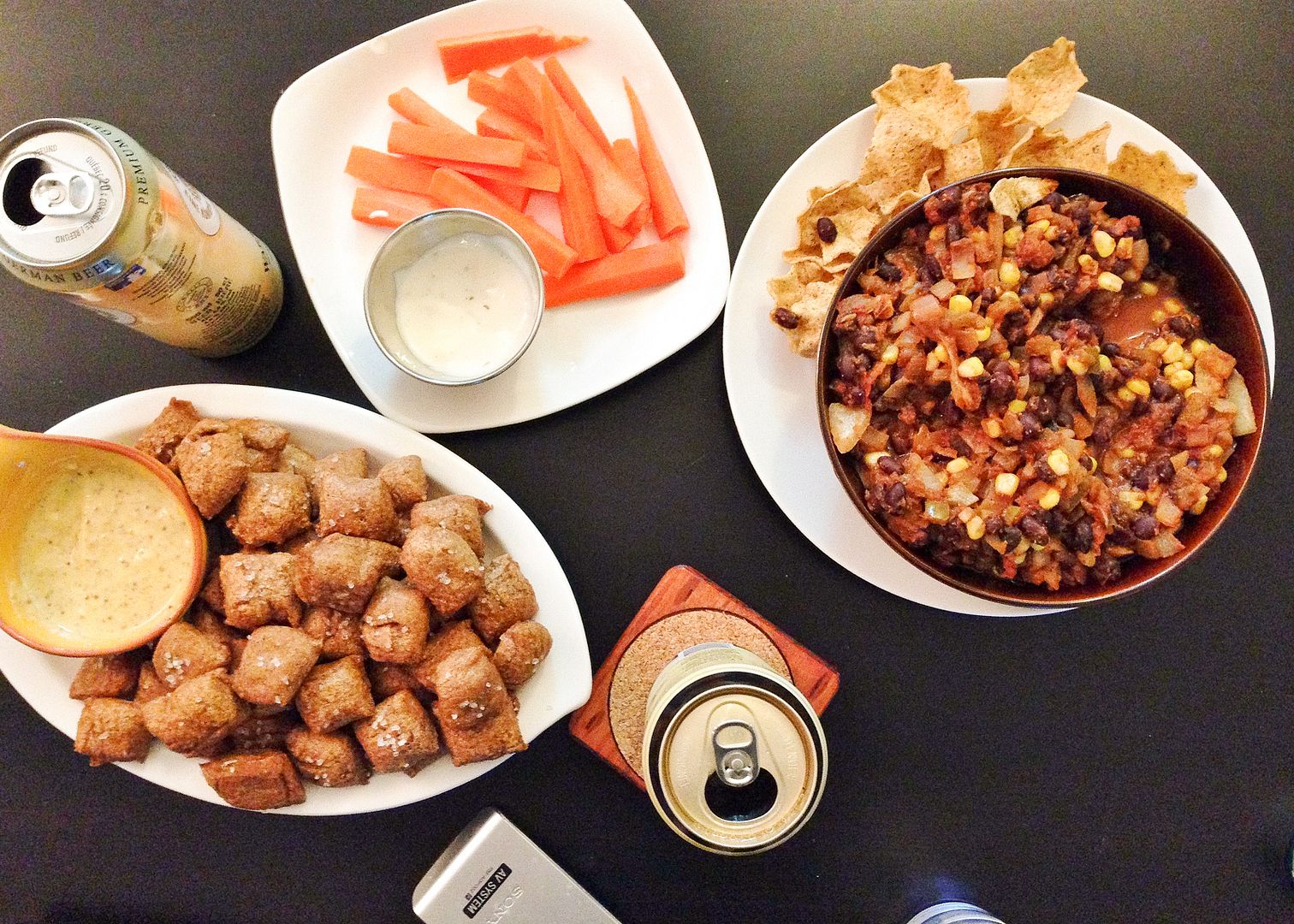 It's hard to believe the Super Bowl was this month; it seems like so long ago already! For our little gathering to watch the big game, my sister made some whole wheat pretzel bites with mustard sauce, we threw in some veggies and dip for light snacking, and I made Oh She Glows'
black bean chili dip
which was super easy and made a lot! We used the leftovers in wraps afterwards which worked out well!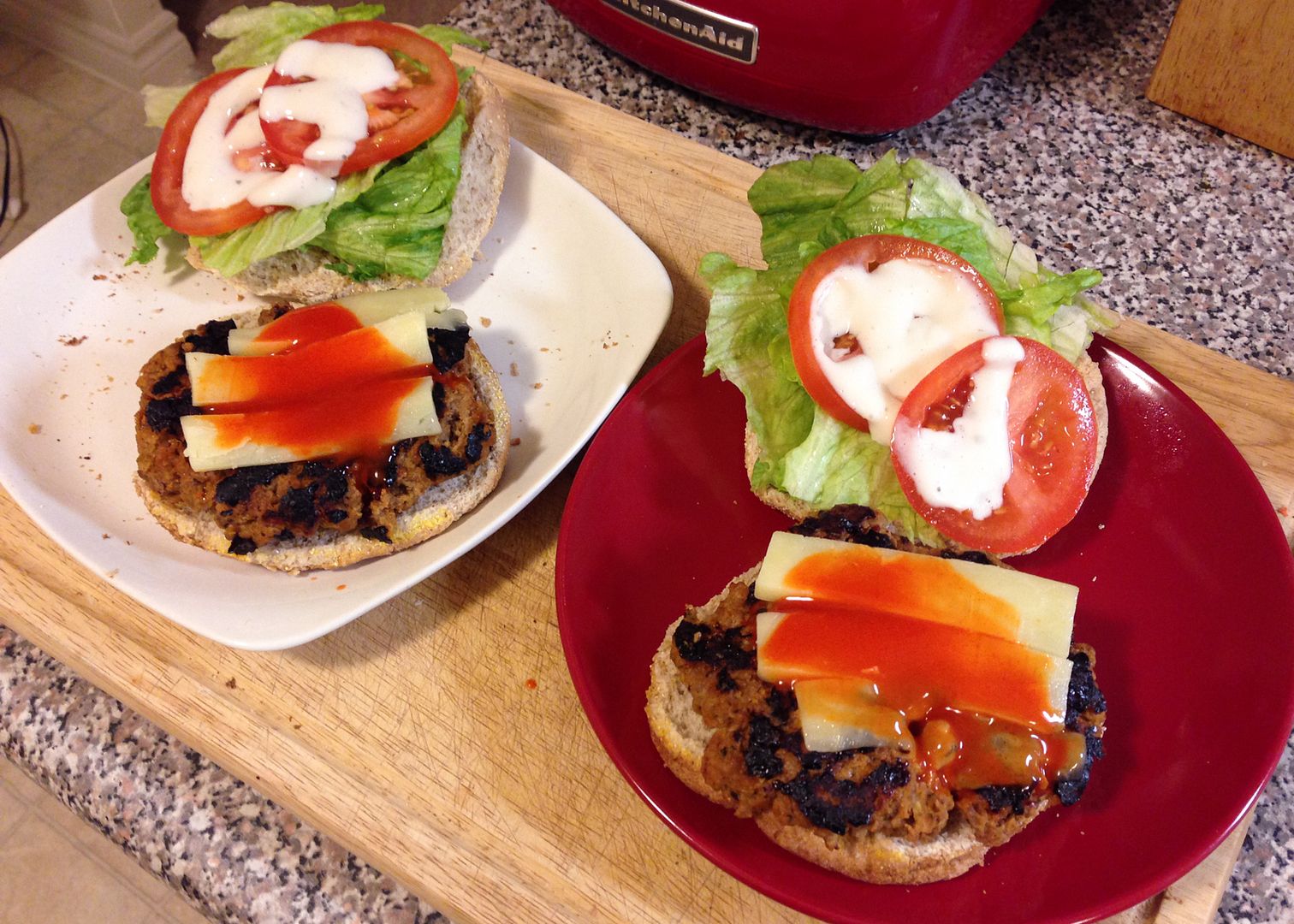 For our main course I made buffalo turkey burgers using my favourite
buffalo chicken burger recipe
but with ground turkey instead of chicken. My phone pictures don't make any of these dishes look appetizing but they were all so good!
These are some of the treats I got to enjoy on Valentine's Day! My dad got me the flowers and the amazing selection of desserts in the top right corner, including cinnamon heart macarons, tiramisu truffles, chocolate covered strawberries, and eclairs, all from the market. The half of the shortbread jam cookie was from my sister who made a batch and shared - they were so good! My fiance got me the bouquet of chocolate covered strawberry 'roses' which I loved, and in return I made him stuffed chicken with wine sauce and a strawberry arugula salad for dinner. So much goodness for love day!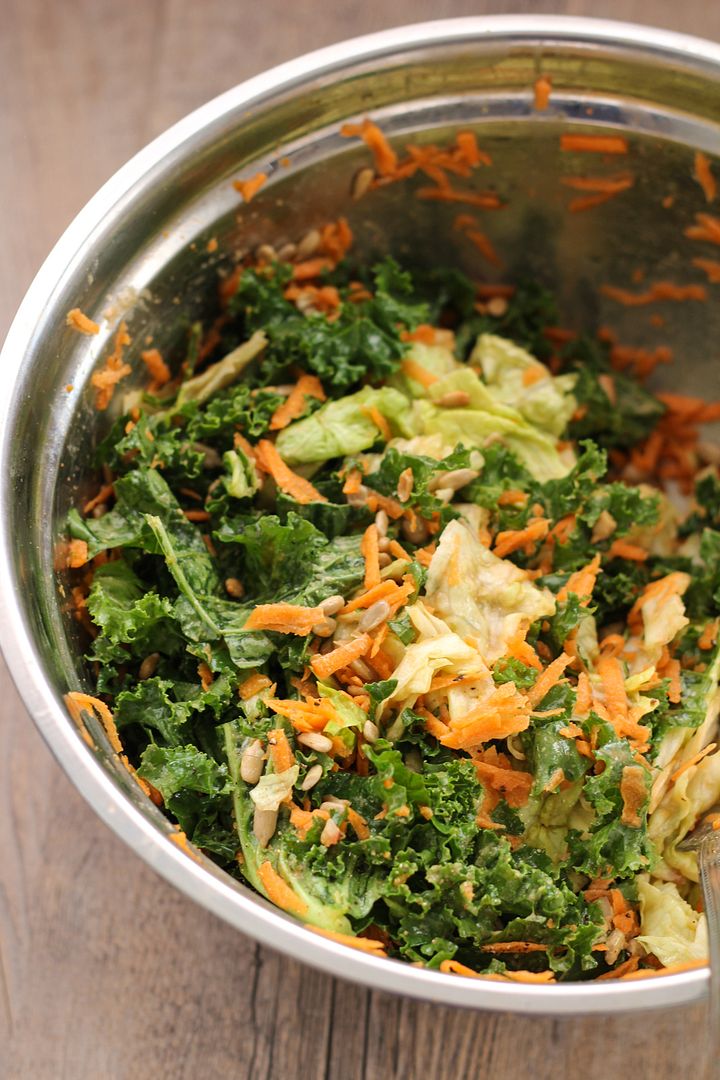 Dinners this month have often been things I've thrown together quickly after getting home late, using whatever I can find in my fridge. I actually really enjoyed this salad which contained massaged kale, lettuce, shredded carrot, sunflower seeds, and a homemade vinaigrette.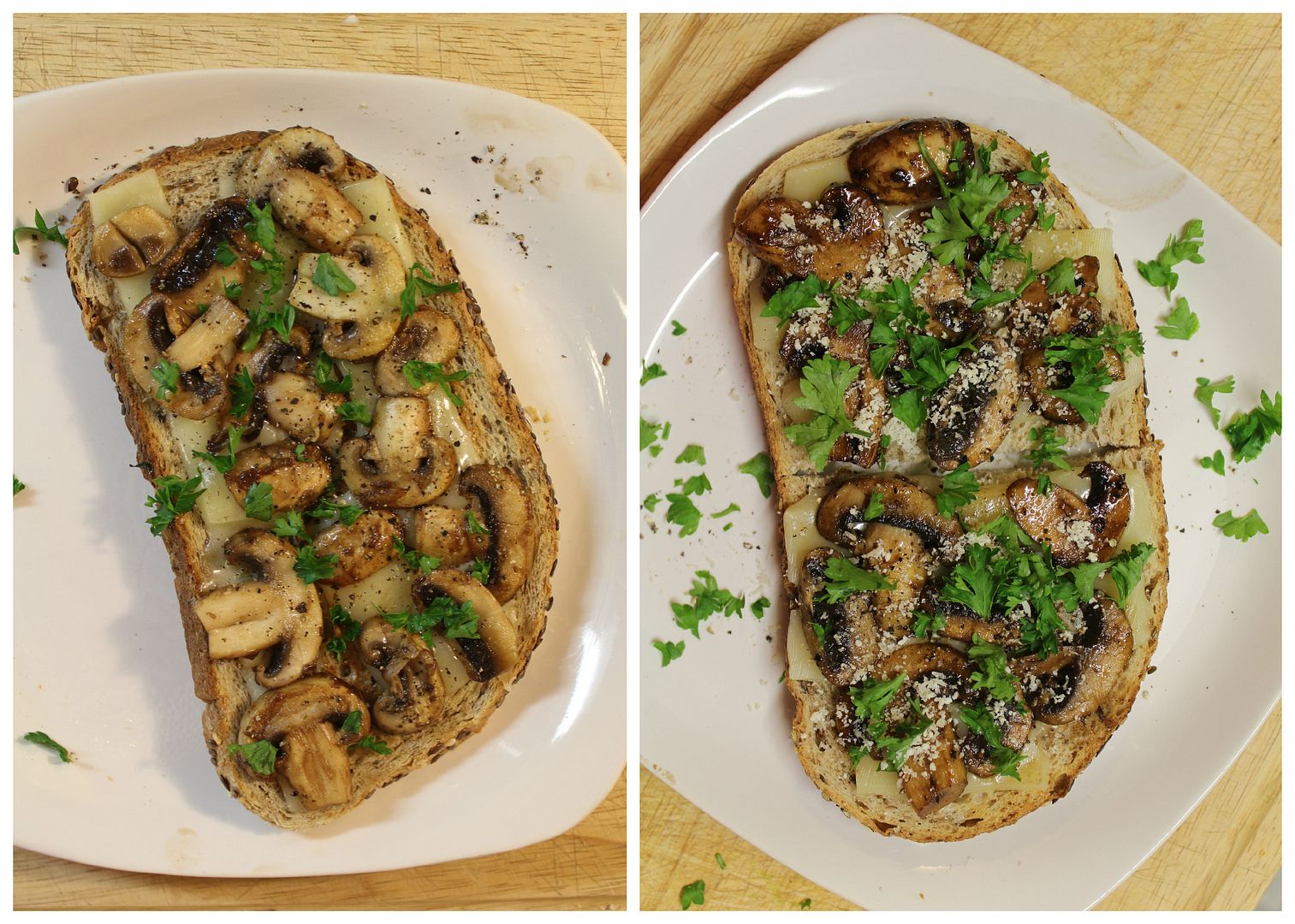 I've also been on a bit of a mushrooms-on-toast kick lately. I love sauteeing sliced mushrooms in olive oil then adding a splash of balsamic vinegar, and spreading them on some toasted multigrain bread with cheese, salt, and pepper. So good!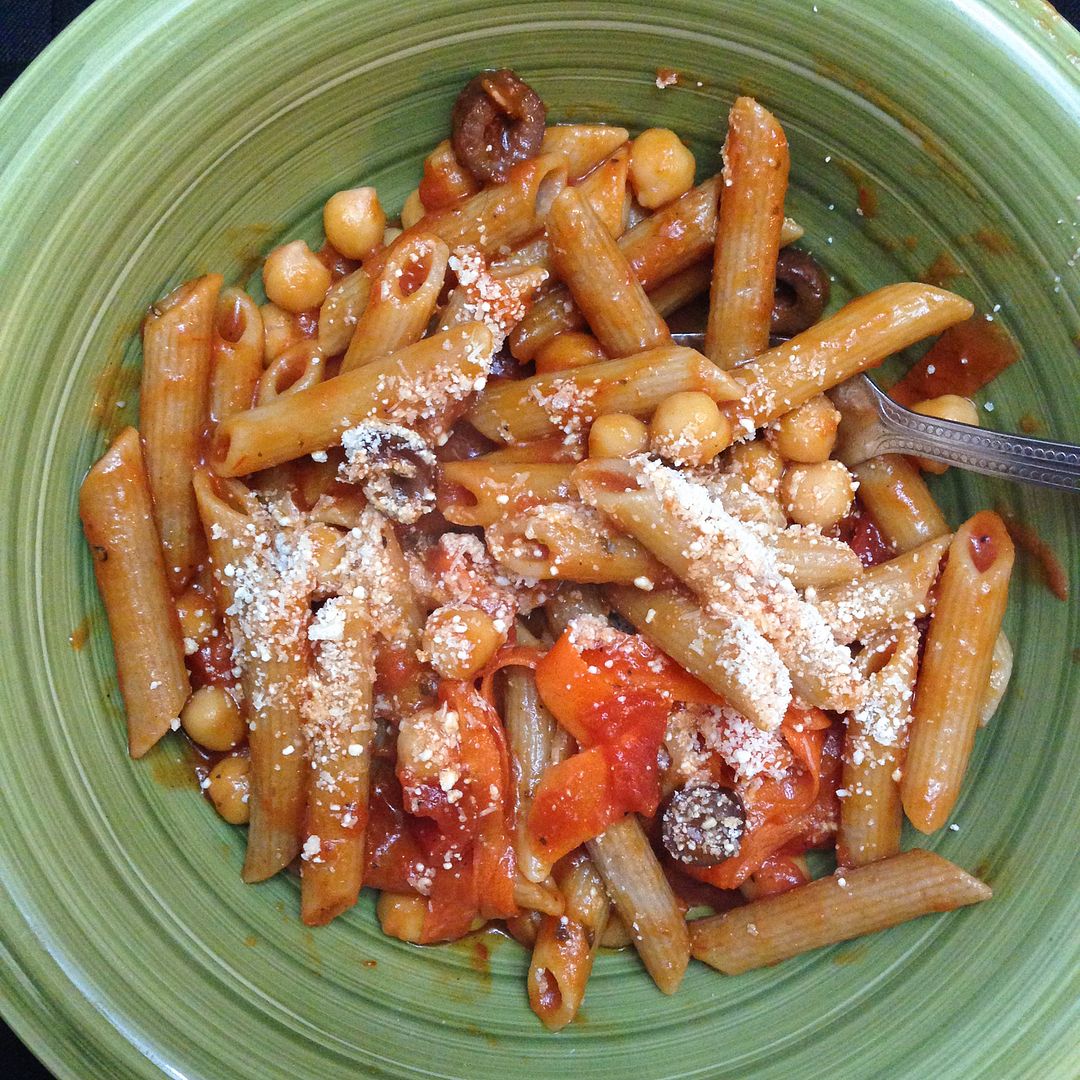 Pasta is another dish I make often when I have no time or groceries in my fridge. This pasta dish had whole wheat penne, storebought pasta sauce, carrot ribbons (the only veggie I had in the fridge), olives, parmesan, and chickpeas for protein. It was actually pretty good!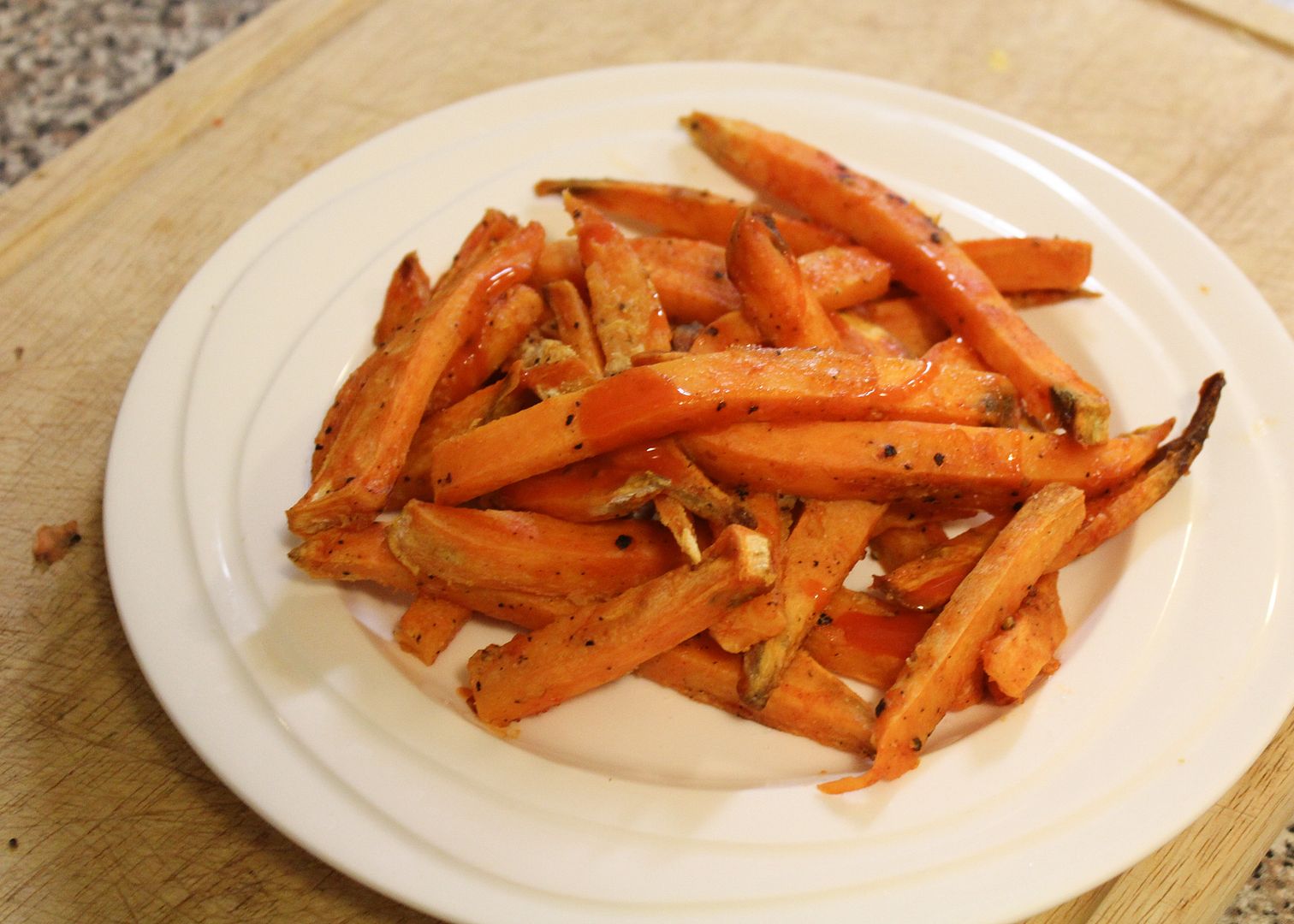 I tried making buffalo sweet potato fries for an easy dinner one night too, but I think I used too much buffalo sauce, and without some blue cheese to balance it out, they were a bit too spicy! I want to try
these buffalo sweet potato fries
some time soon though!
This
President's Choice pumpkin filled ravioli
was another quick and easy dinner one night. We just boil the pasta and toss it with a little bit of olive oil and parmesan cheese. Not the healthiest dinner but a nice treat!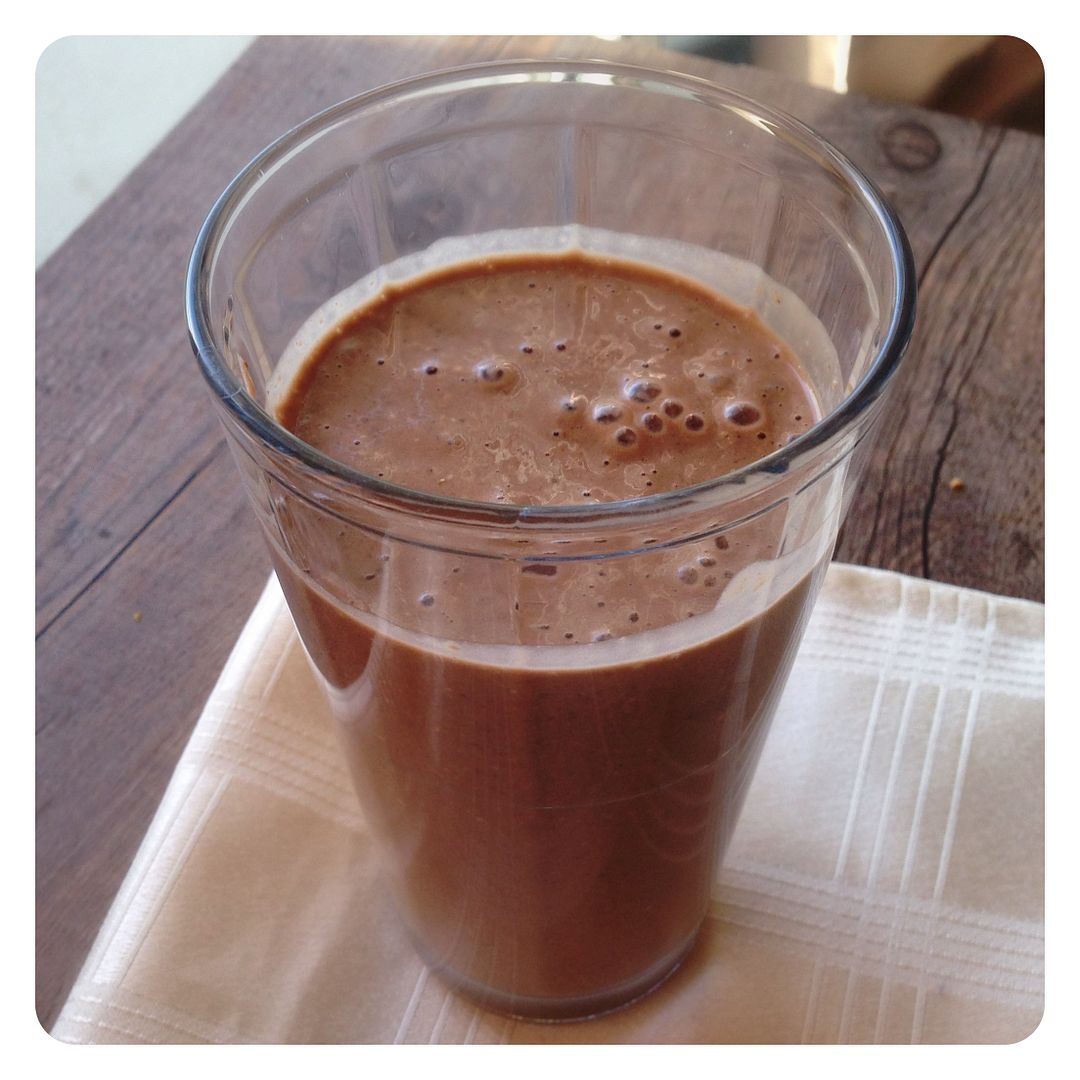 This smoothie was one of my favourite breakfasts this month - it had almond milk, a frozen banana, cocoa powder, instant coffee, oats, and a spoonful of peanut butter. When I know I won't have time to drink my morning coffee for a while after waking, I love throwing a scoop of instant coffee into a smoothie or oatmeal for breakfast to give me a little caffeine boost until I can have my much-needed morning coffee!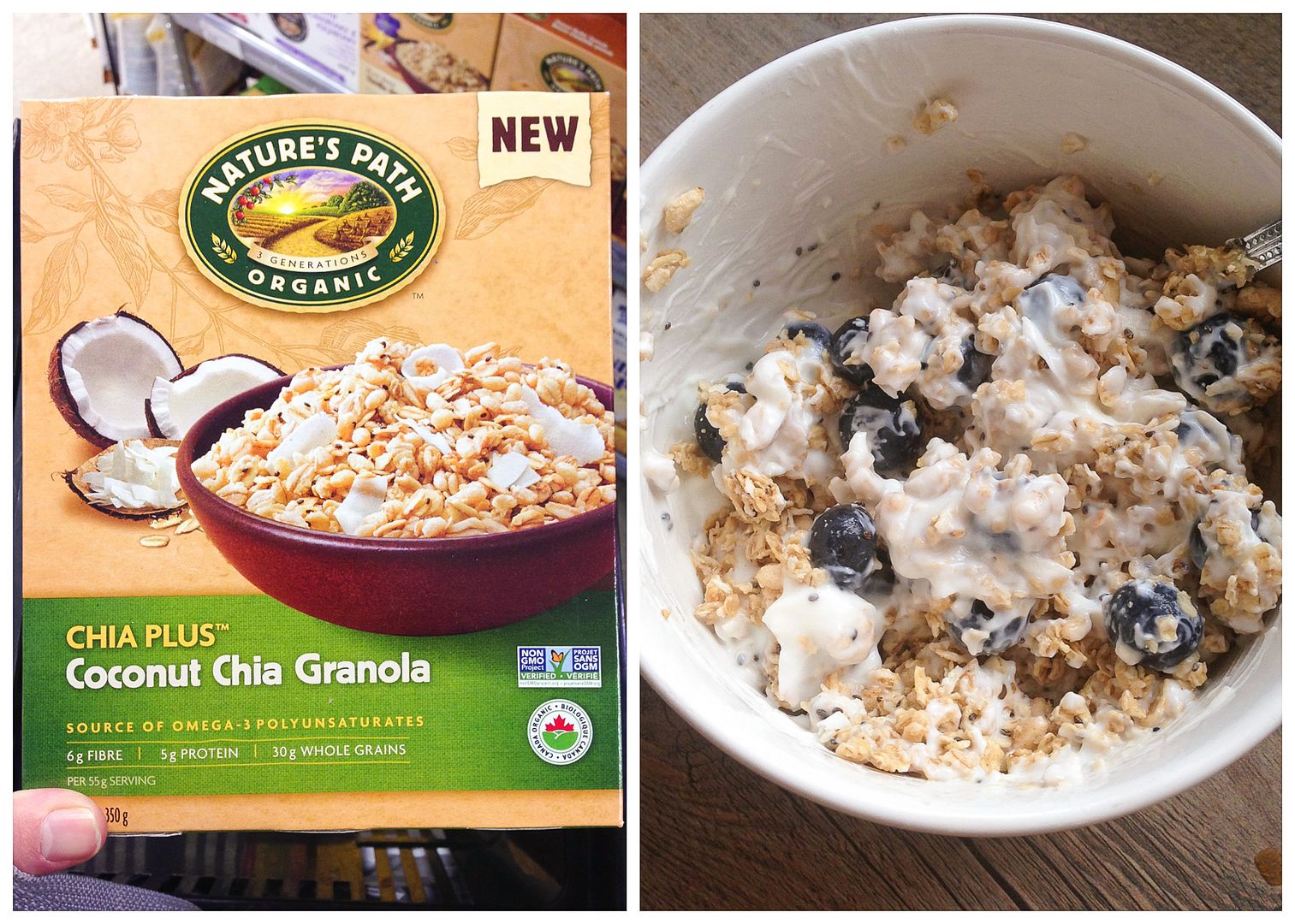 I also absolutely loved this
coconut chia granola
I found at the grocery store. Mixing it with coconut Greek yogurt and blueberries makes for a fantastic combination!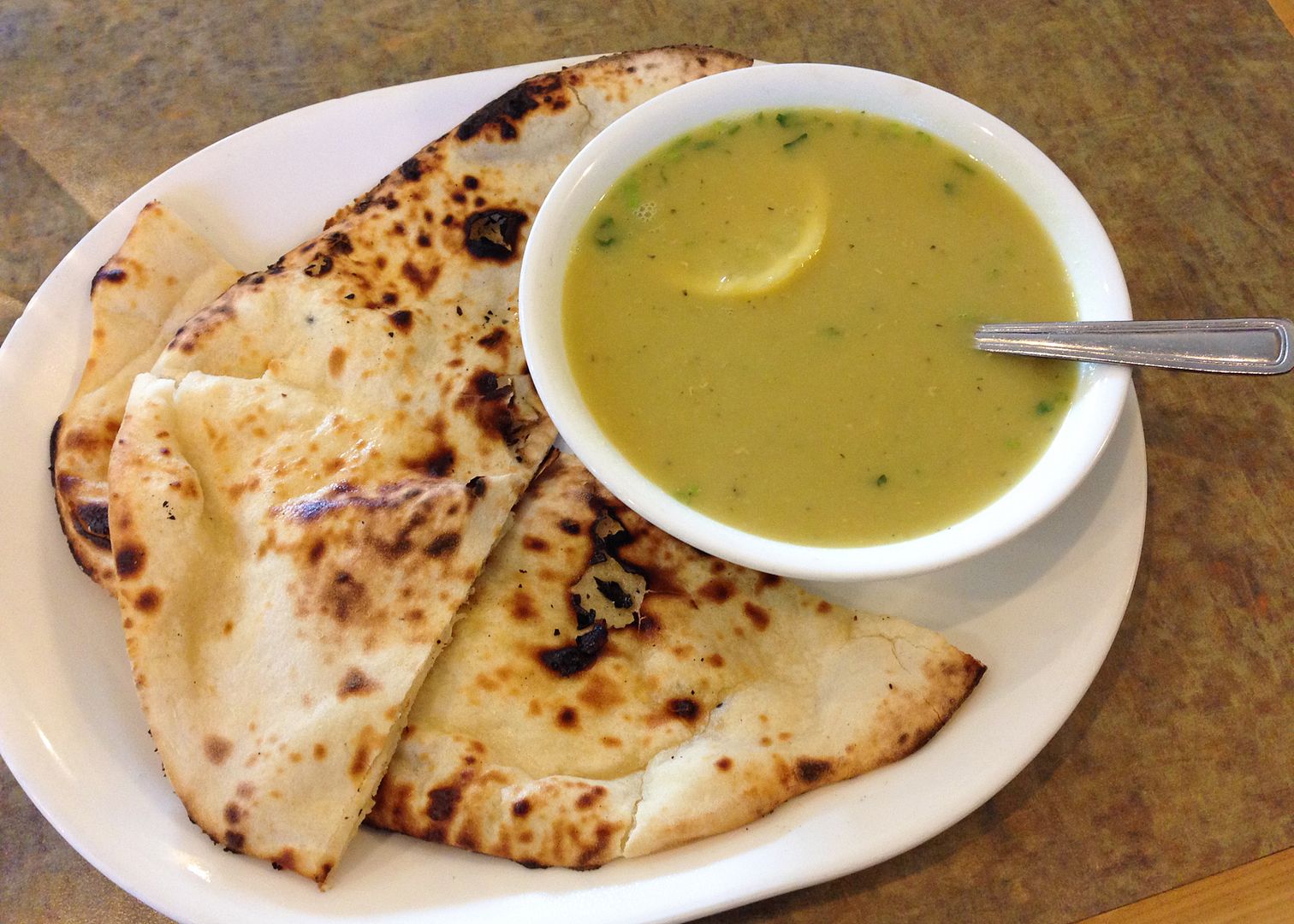 I ate out a couple times too this month, with one of my favourite lunches being this yellow lentil soup with naan bread from a small Bangladeshi and Indian restaurant. Perfect for this winter weather and really filling!
My other favourite lunch out was at
Jack Astors
, where I enjoyed this quinoa bowl with black beans, pick de gallo, shredded cabbage and cucumbers, avocado, tortilla strips, cotija cheese, and a chipotle dressing. This is definitely a meal I'll have to try to recreate at home!
Of course, the highlight of my month was my trip to Seattle, which I wrote about
here
if you missed it!
And the last thing I want to share with you from February is that I finally joined Instagram! My username is
onceuponacuttingboard
if you want to follow along!