I had a great long weekend this past weekend, including a Canada Day party, fireworks, plenty of time in the sun relaxing with family and Ryan, and lots of great food! The best thing I ate this weekend had to be these buffalo chicken burgers that are one of Ryan and my favourite meals. And with 4th of July barbecues likely in store for many of my American readers tonight and tomorrow, I thought this would be a great recipe to share today!
These are ridiculously easy to make, and Ryan and I always love them every time we make them. We're both big fans of anything buffalo wing flavoured, so infusing that flavour into a juicy homemade chicken burger with fresh toppings and lots of sauce makes for a pretty amazing dinner, and so much better than any storebought frozen chicken burgers, which we have not had good experiences with!
I know the pictures of this burger don't do it justice, but this was one of those times when I just wanted to eat my dinner while it was still hot, without having to worry about styling it, finding good lighting to photograph it in, taking a million shots to get the best angle, and then reheating it before eating because by that time it would be ice cold. Instead, I took a few quick pictures right before I ate it, so they're not great but at least you know I didn't spend forever making my burger look as pretty as possible but not at all how it would look in real life. What you see is what you get! (Well, except that when I took the pictures, I'd forgotten to add the extra buffalo sauce, which for me is a must!)
If you're looking for a new and exciting way to eat chicken burgers this summer, or a healthier alternative to a beef burger, give these a try! If you're a buffalo wing fan, you won't be disappointed!
And happy Independence Day to my friends south of the border!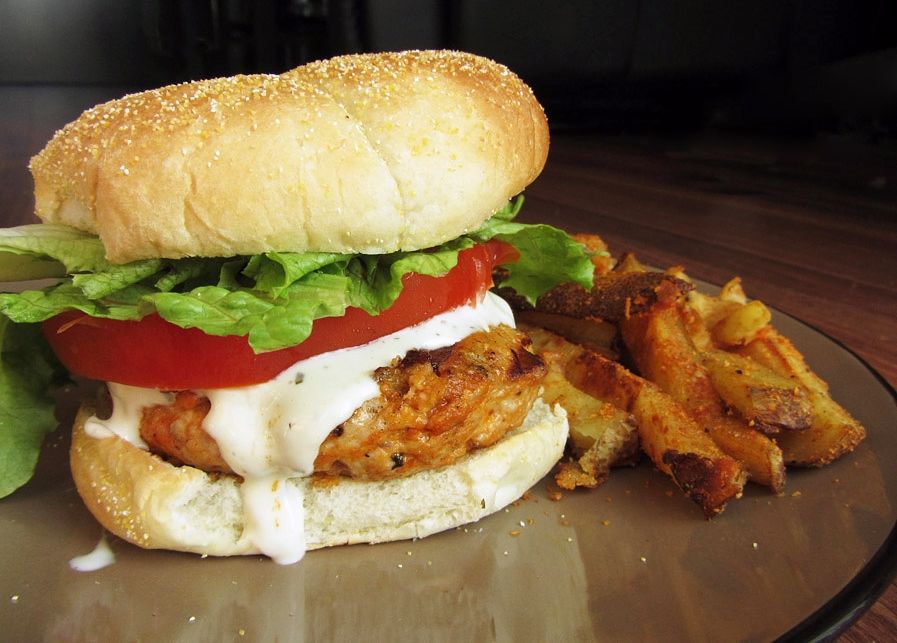 Buffalo Chicken Burgers
1 lb (450g) ground lean or extra-lean chicken
1/2 teaspoon italian seasoning
1/4 cup buffalo wing sauce
1/4 cup grated parmesan cheese
For the rest of the burgers:
4 whole wheat burger buns
Low-fat ranch or blue cheese dressing
Cheddar cheese (optional)
Mix up all ingredients for the chicken patties in a large bowl (using a fork, potato masher, or clean hands) until well blended, being careful not to overmix. Form into four patties and press a small indentation in the center of each patty.
If cooking on the barbecue: Preheat grill to medium to medium-high heat and lightly oil or spray. Grill for 4-5 minutes per side, or until the internal temperature reaches 165
°
F. In the last couple minutes of cooking, place cheese on burger to melt, if desired.
If cooking on the stovetop: Preheat two large non-stick skillets over medium-high heat. Cook the patties in the skillets for about 8-10 minutes total, flipping halfway, until cooked through. In the last couple minutes of cooking, place cheese on burgers to melt, if desired.