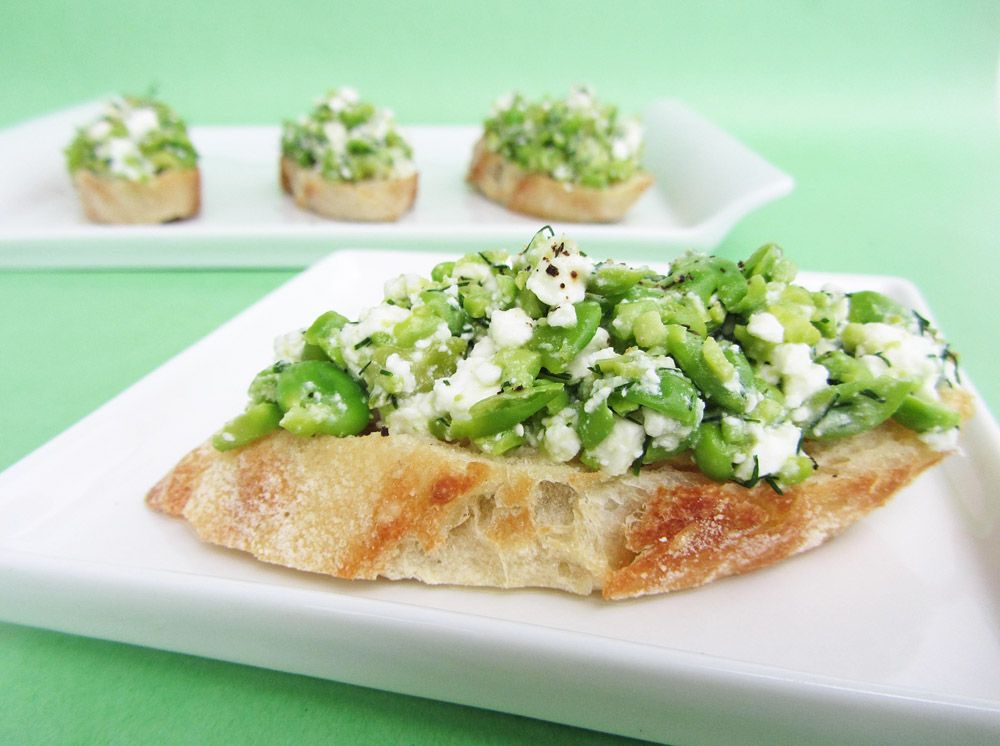 Don't you hate when a book (or cookbook) you've heard great things about and decide to shell out the money for ends up being a disappointment? I don't often purchase books to own because I'm always worried I'll waste my money on something I don't like. Instead, I usually borrow books or end up taking risks picking up books in clearance sections, figuring that if I don't end up loving them, it won't be such a big disappointment. Sometimes, these books are in the clearance section for a reason, but other times the risk pays off with a big reward, as was the case when I picked up The Modern Vegetarian. It's a vegetarian cookbook that has some of the most unique and creative recipes I've ever seen, like watermelon curry with black beans and paneer, or lemongrass, ginger, and lime leaf chocolate tart. It's definitely a great example of how vegetarian food doesn't have to be boring!
I started off with one of the easier recipes in the book, this smashed pea, dill, and feta crostini, because fresh peas are in season in Ontario right now (June-July), and I'd been wanting to make a pea crostini for a while!
This turned out wonderfully. Fresh sweet green peas are combined with tangy lemon and dill and salty feta on a piece of toasted bread for a light and fresh summer appetizer that's bursting with bright flavour.
The original recipe didn't call for cooking the peas first, but if you've ever tried to smash a fresh pea, it's not easy! Every time I pinned a little pea under my pestle and tried to press down, it would invariably end up escaping and flying across the kitchen. So I decided to give the peas a quick blanch followed by a dunk in ice water so they'd maintain their bright green colour, and this made them much easier to smash! (sorry little peas, you can't escape me!) I also left out the parmesan from the recipe because I didn't want to overwhelm the peas' flavour too much, and made a few minor adjustments to some of the ingredient amounts.
This would make a great elegant appetizer to impress guests, even though it's so easy to make. Or you could just eat it all yourself for lunch like I did!
With the weekend coming up, and with peas in season (at least where I live), this is a perfect snack to eat while sitting outside on the patio - if you can handle the crazy heat outside! I'm loving the hot weather but hoping the suffocating humidity tones itself down a bit for the weekend!
Hope you all have a great weekend :)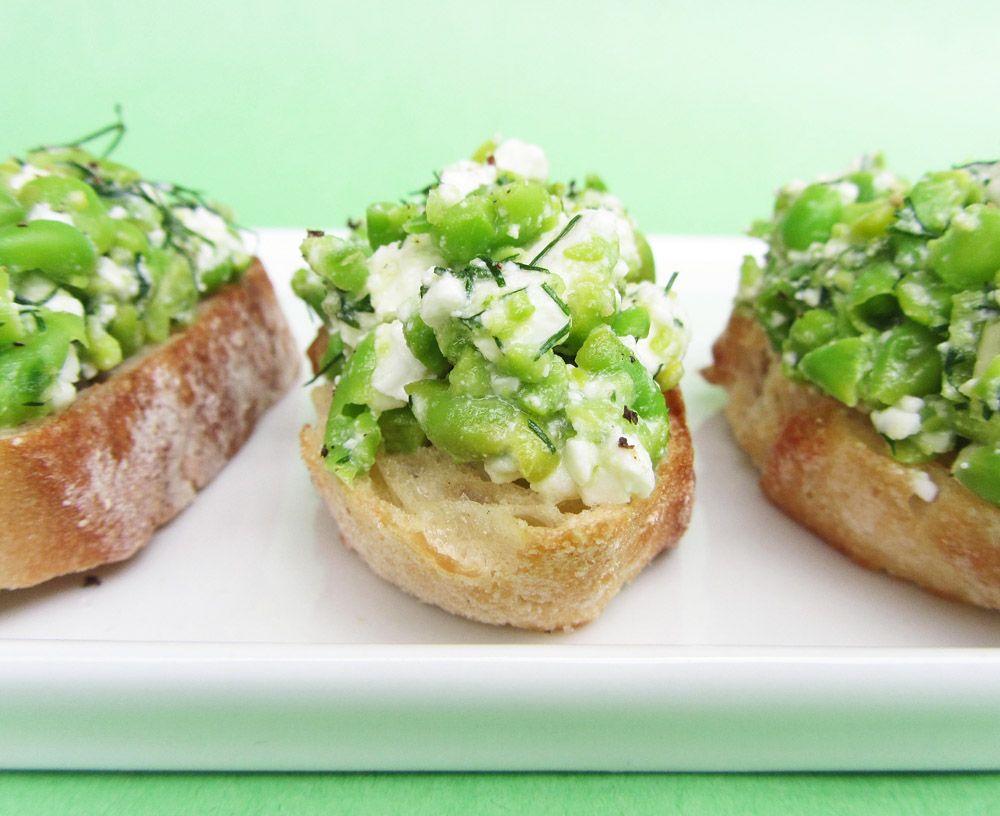 Smashed Pea, Dill, and Feta Crostini
Serves 4-6 as an appetizer
1 ciabatta baguette, sliced into thin (~1/2 inch) pieces (you probably won't use the whole loaf)
5 oz fresh shelled green peas (around 3/4 cup peas, from around 40 pea pods)
2 tablespoons fresh dill, minced
1-2 tablespoons olive oil
2/3 cup crumbled feta cheese
1 tablespoons fresh lemon juice
Preheat oven to 350
°
F. Brush ciabatta slices with olive oil or spray with cooking spray, place on a baking sheet, and bake for 5-10 minutes until toasted.
Bring a medium pot of water to a boil and blanch peas for 2-3 minutes. Drain into a colander or sieve, then place the colander/sieve in a large bowl of ice water to immediately stop the cooking.
Place garlic, dill, and a pinch of salt in a mortar and smash with a pestle until crushed. Transfer to a small bowl.
Add peas to mortar in a few batches (depending how big your mortar is), adding a small pinch of salt and drizzle of olive oil to each batch and smashing with a pestle.
Transfer smashed peas to a medium bowl and add the dill-garlic mixture, feta, and lemon juice. Mix with a fork and season with additional salt and pepper to taste, if desired. Top ciabatta slices with the smashed pea mixture and serve.