Ryan and I recently went to a barbecue and I wanted to bring a dessert that would feed about 50 people, didn't require plates or serving utensils, and was appropriate for summer. I've always wanted to try my hand at making mini pies but have been too intimidated in the past, so I decided that now was the time to finally give it a try, because I couldn't think of a dessert more perfect for the situation than mini pies!
I read a lot of recipes while trying to choose one to follow, and they all scared me off a little with people saying how difficult they are to make. But I soon realized that most of the problems seemed to stem from working with pie crust – either with problems keeping it cold enough, the bottoms not baking properly, or the lattice strips just not working. So I decided to try to prevent any such problems by using a simple cream cheese dough that I already knew worked well from my mini pumpkin tarts. It may not a traditional pie dough, but I knew it tasted good and was really easy to work with.
For the fillings, I decided to do two different types of pies to please everyone: strawberry and peach. We still have some local strawberries here in Ontario but we're not quite in peach season yet, but since I know many of you down in the States are already past strawberries and well onto peaches, this combo works out well! I decided to take a stab at doing lattice tops on the strawberry pies (my first time!) and stick to a simple crumble topping for the peach pies.
By now you're probably wondering how they turned out, and if you couldn't already tell from the pictures (which are a bit dull due to poor lighting, sorry!), they were amazing! I couldn't get over how adorable they were, especially the strawberry pies with their little lattice tops! The crust browned up perfectly, there was a good ratio of filling to crust, and each of the fillings was sweet and juicy. I couldn't decide which one I liked better - I loved the bright flavours of the strawberry pie and the warm spices in the peach pies.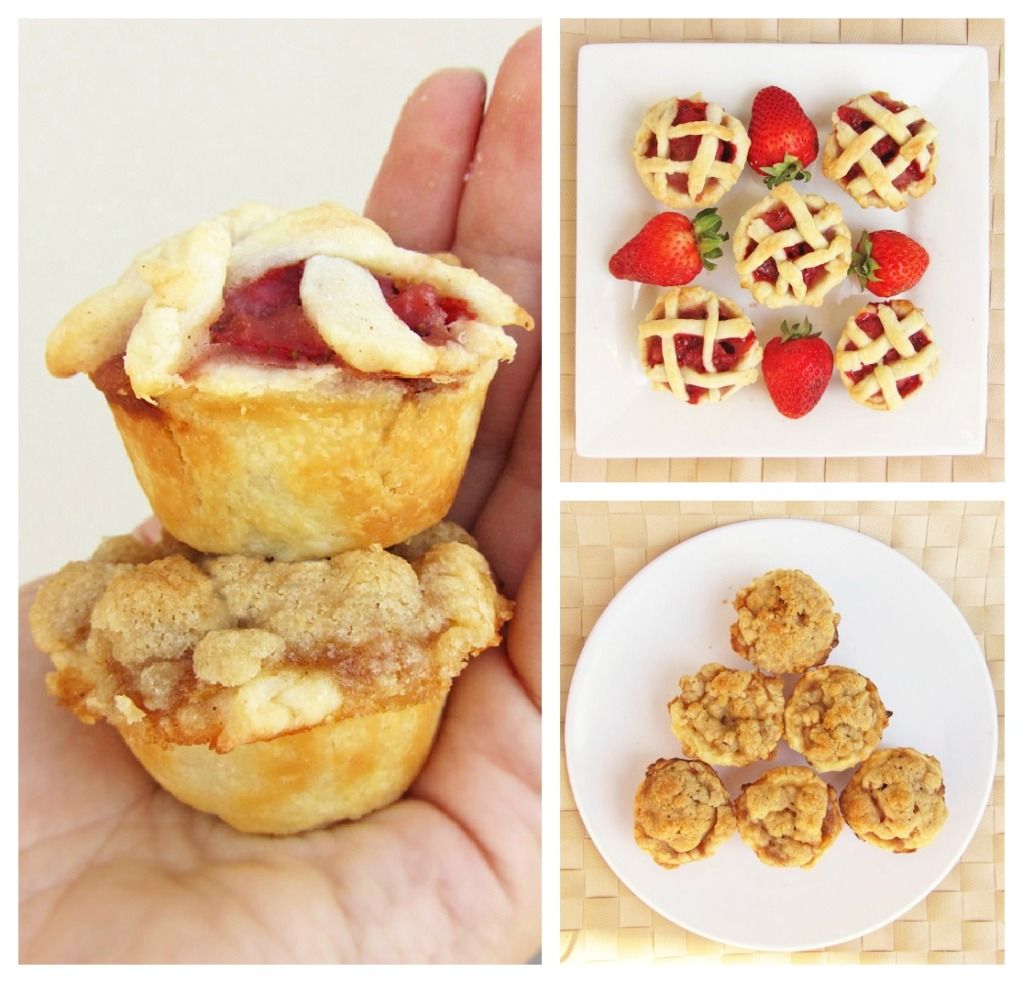 The downside is that even with my shortcut on the dough, these took a pretty long time to make! I think they took about three hours total from start to finish, although not all that time was actively spent in the kitchen. They're certainly not difficult to make, just time consuming, particularly with forming the dough and the lattice tops. Of course, I made a LOT of pies, and if you don't need to feed 50 people, you could easily cut the recipe in half and thus cut your time in half too. And if you decide to use a crumble topping on all your pies instead of doing the lattice top, you'd cut even more time off.
My suggestions to help the time go faster? First, don't get too caught up in measurements. I saw other recipes with strict measurements for the strips and circles of dough, but I honestly just used my best judgement for both and didn't bother measuring. It made everything much less stressful when I wasn't getting out a ruler and trying to precisely measure each piece of dough (and it still turned out fine)! Second, get yourself a helper! Having someone to help shape the dough and make lattice tops with you will make your life so much easier! Just try not to get too mad at them when they do it wrong :) Third, listen to some music or watch tv while you work - a lot of the steps are pretty mindless and it helps to have a distraction.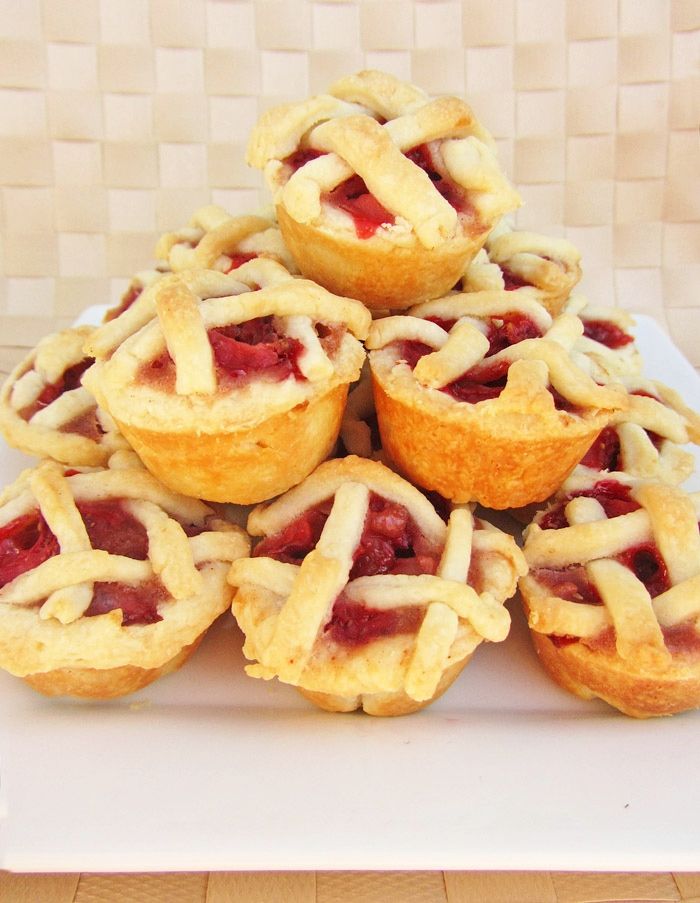 Now if I haven't scared you off yet, give these a try for your next gathering! They're a perfect little bite-sized treat to feed a crowd without the mess and dishes that full-sized pies would require, and they are so tasty!!
Mine were a big hit at the barbecue I brought them to - even though I thought I'd made way too many, they disappeared in probably under ten minutes! Seeing how much everyone loved them definitely made it worth the work :)
Mini Strawberry and Peach Pies
Makes at least 50 mini pies
For the Strawberry Filling:
4 cups diced strawberries (stems removed)
1/2 cup brown sugar (not packed)
1/2 cup all-purpose flour
1-1/2 cups diced peeled peaches
1/3 cup all-purpose flour
For the Peach Crumble Topping:
1/4 cup all-purpose flour
2 tablespoons unsalted butter, softened
1-1/2 cups unsalted butter, softened
12 oz cream cheese, softened
Mix all ingredients for the strawberry filling in a large bowl. Set aside.
Mix all ingredients for the peach filling in a second bowl and set aside.
Combine ingredients for the peach topping in a small bowl, using a fork or pastry cutter to mix ingredients until crumbs form.
Prepare the dough: Mix butter and cream cheese in a large bowl with a handheld mixer until smooth. Add flour in three additions, mixing slowly after each addition until a smooth dough forms.
Roll dough out on a flat surface (I like to use a sheet of parchment paper for easier clean up) as thinly as possible. To assemble the pies, I found it easier to just tear off a small piece of dough, flatten it between my palms so it's as thin as it can get without tearing, then press it into a tin of a 24-cup mini muffin pan, making sure it's pressed down evenly in the bottom and up the sides of the tin. Then I tear off any excess dough around the edges. If you like though, you could use a two-inch cookie cutter to cut out circles of dough and press them into the tins, then continue rerolling the scraps and cutting out more circles. I just found it easier without having to worry about getting the dough as thin as I could with a rolling pin and then cutting out exact circles. You should have enough dough to make at least 50 mini pies with lattice crusts.
First we'll do the strawberry pies. Spoon strawberry filling into each of the 24 pie crusts, trying to make sure you use plenty of strawberries and not just the liquid. Roll out some more dough as thinly as possible and use a pizza cutter to cut out thin strips of dough to form the lattice tops. Use four small strips of dough, about the length of each muffin well, and weave them to form a lattice crust over each pie. Pinch the edges of each strip into the base dough. This isn't difficult, but will take a long time, so try to find a helper!
Bake strawberry pies for 25-30 minutes, until crust is lightly golden brown. Remove from oven and let cool for just a minute or two, then use a butter knife to pop each pie out of the muffin tin and transfer to a wire rack to finish cooling. They should come out easily.
Wash and dry the muffin tin, then repeat the process of forming the pie crusts, but this time fill with the peach filling. Top each pie with the crumble topping, and bake for 25-30 minutes, following the same process as before.
At this point, I had leftover dough and some leftover strawberry filling. I would have had enough dough to form lattice crusts on the peach pies instead of using a crumble topping, but I found the crumb topping much easier and I thought it paired with the pies really well. Instead, you should have enough ingredients to make at least 12 more mini strawberry pies with lattice tops, if desired. I already had enough pies so I ended up just using my dough and strawberry filling to make a quick turnover instead, which was delicious!