If I don't go to the grocery store or market with a shopping list in hand, I always end up with something in my cart that I have no idea what I'll do with, but it was either on sale or looked pretty or was something I've never seen before and was curious about. The problem is that I always have so many recipes I plan on making, so by the time I get around to using the ingredient that I had no plans for, it has already gone bad (especially if it was fresh from the market).
When I saw key limes for sale at the grocery store a few weeks ago, I bought not one, but two bags. I had no idea what I would do with them, but they were so cute and little that I couldn't resist! My
sister
, who knows me well, thought I was crazy and that I would never use them, so I was determined to put them to use!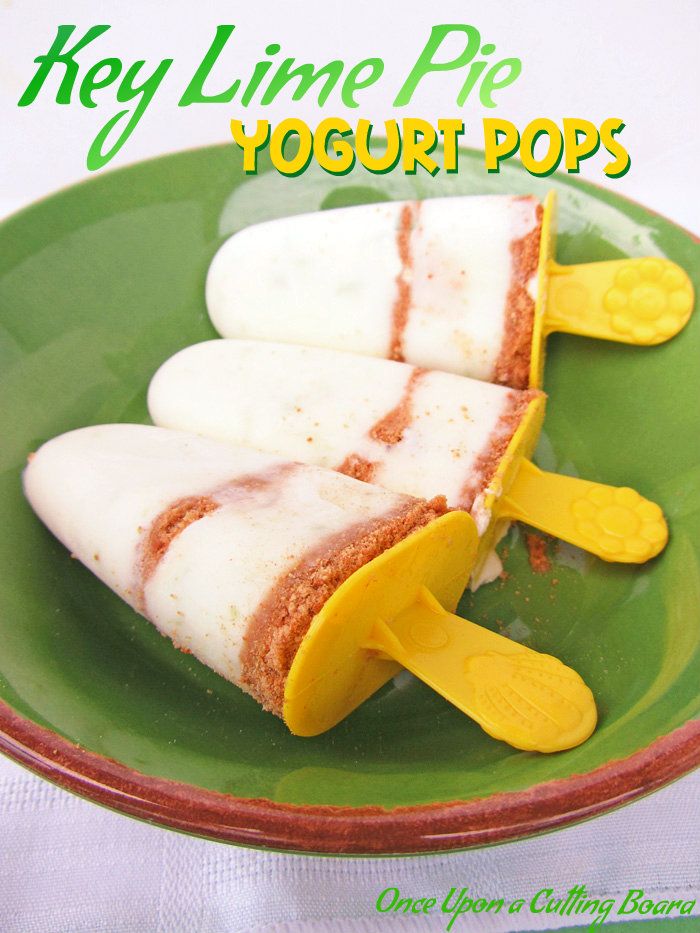 First I made a batch of key lime pie bars that I had intended on sharing with my lab at school, but they were a miserable failure and I had to throw the whole batch out (I HATE when that happens!!) This just made me even more determined to make good use of the remaining key limes, and I started thinking more creatively beyond key lime pie.
Because I've been loving making popsicles lately, I came up with the idea of recreating the flavours of key lime pie in a healthy popsicle! I looked for some recipes online, but the only ones I came across used heavy cream or sweetened condensed milk as the base, which wasn't exactly what I had in mind. So I decided to make a healthier version using yogurt as a base. I started with lime yogurt, added some key lime juice and zest, then in order to make it a key lime pie popsicle and not just a key lime popsicle, I added a couple layers of graham cracker crumbs!
I absolutely loved these! They were smooth and creamy from the yogurt, with a strong key lime flavour and a taste of graham cracker in every lick, which really reminded me of key lime pie! The graham cracker ribbons were actually my favourite part - I loved getting to the bottom of the popsicle and chewing the graham crumbs that were left!
At the time I made these, the only lime flavoured yogurt available in stores was Astro natural lime yogurt, which worked wonderfully. However, I just noticed the other day that we now have key lime flavoured Greek yogurt available (I can't remember which brand it was, but I believe it was Oikos). I haven't tested the recipe out with Greek yogurt, but I think it would work just as well! I know there are plenty of key lime flavoured yogurts available in the United States too, so give these a try with your favourite brand, and just be sure to taste the mixture before freezing, as you may need to adjust the amounts of added lime juice and zest depending on how tart or sweet your yogurt is.
I love that I'm getting so much use out of my popsicle mold this summer, first with these
banana date popsicles
, then the
strawberry pineapple lime popsicles
, and now these key lime pie pops, which may be my favourite yet! I do have another recipe coming up soon though which is just as good, so it's getting difficult to choose a favourite!
If you haven't bought a popsicle mold yet this summer, I highly recommend it! Have a great weekend! :)
Key Lime Pie Yogurt Pops
Recipe by Once Upon a Cutting Board
Makes about 4 popsicles (depending on size of popsicle mold)
Ingredients:
1 cup lime or key lime flavoured yogurt (I used Astro lime natural yogurt)
1 tablespoon + 1 teaspoon fresh key lime juice
1 teaspoon key lime zest
~1/4 cup graham cracker crumbs
Directions:
Mix yogurt, lime juice, and lime zest in a small bowl. Taste and add more lime juice or yogurt if needed.
Fill each popsicle mold halfway with the yogurt mixture, then sprinkle a spoonful of graham cracker crumbs on top, and fill the rest of the way with the yogurt. Finish with another thin layer of graham cracker crumbs, then insert popsicle sticks and freeze.