As I promised in my
last post
, I have another Canada Day recipe to share with you guys before the big day this long weekend (and to my American friends, don't stop reading - this recipe is still really good even without the Canada-themed frosting)!
I love making mini versions of baked goods, especially for parties where other desserts will be present, because they're a lot easier to eat and let people save room in their stomachs to try other treats! These mini strawberry vanilla cupcakes are a nice little bite-sized treat that won't leave you feeling stuffed and can serve a lot of people, so they're perfect for bringing to a Canada Day party!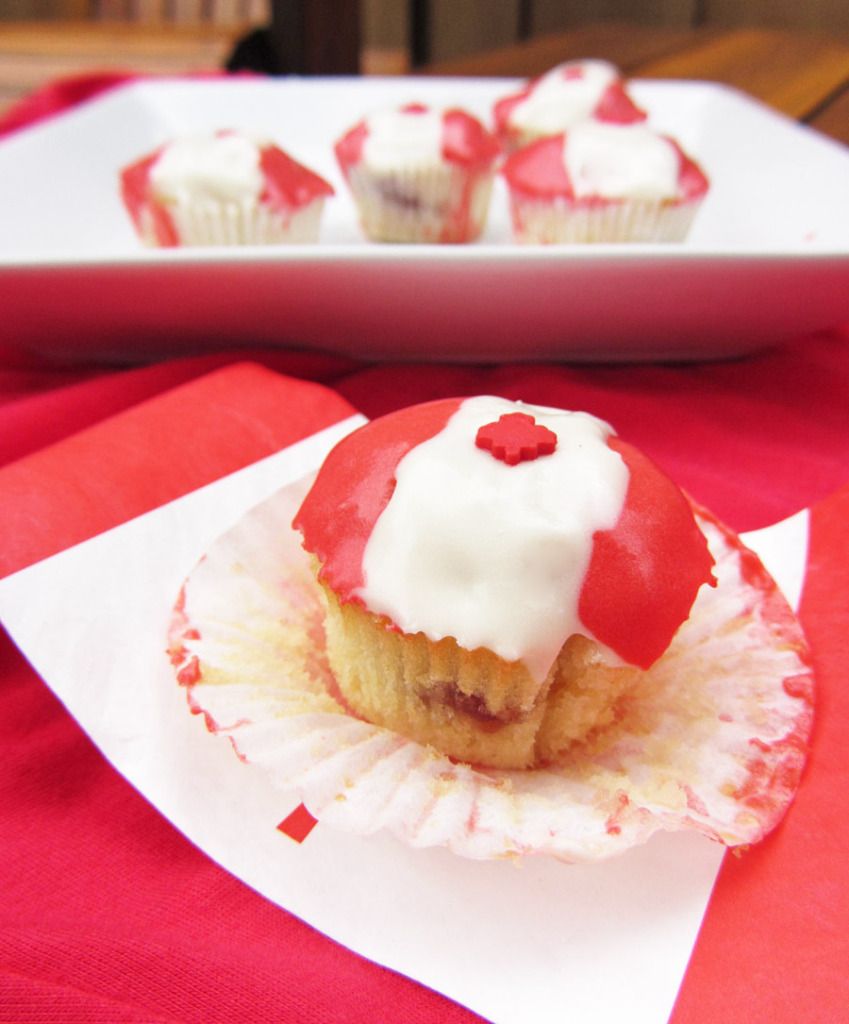 These are delicate little cupcakes with a light crumb and a nice vanilla flavour with a surprise burst of sweet strawberry jam in the middle. They're topped with a smooth and spreadable cream cheese frosting that pairs really well with the strawberry and vanilla flavours and works perfectly for transforming the cupcakes into festive mini Canada flags!
The lighting isn't great in these pictures, but here's a picture of a cupcake in my hand so you can see how little it is - isn't it cute?? I found those little maple leaf quins at Bulk Barn, but if you can't find something similar, you could probably use a toothpick dipped in some red icing to draw your own little maple leaf - it might not look perfect but I'm sure people will get the idea!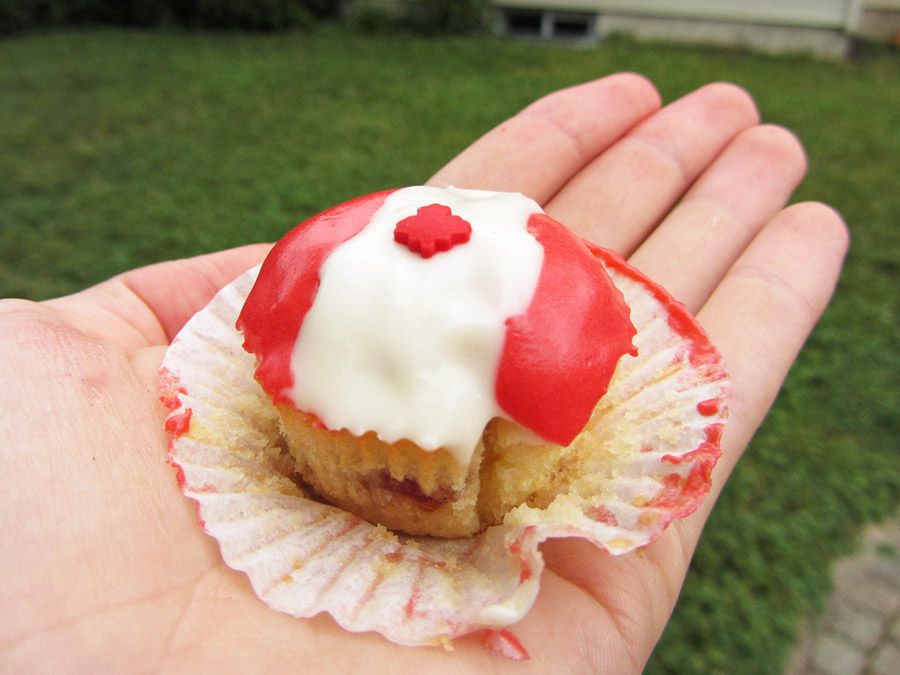 And here's a picture of the inside of a cupcake so you can see the lovely little swirl of strawberry jam inside. My cupcakes didn't look quite the same as the
original recipe
because I used a little less jam in the middle, but they still tasted great!
I hope all my fellow Canadians have a safe and happy long weekend!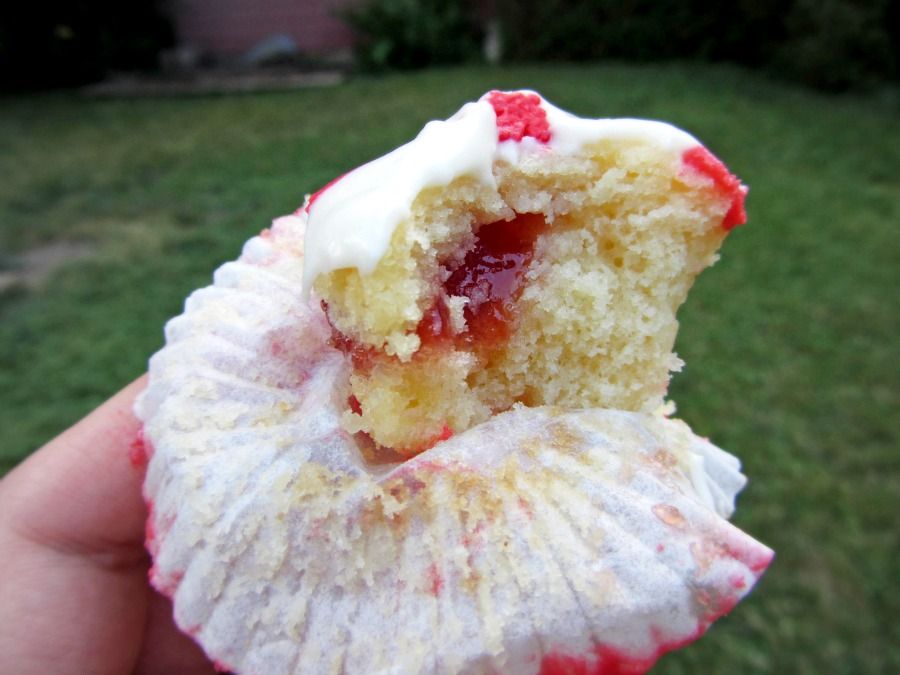 Mini Strawberry Vanilla Cupcakes with Cream Cheese Frosting
Makes 24-28 mini cupcakes
Ingredients:
For the Cupcakes:
1-1/2 cups all purpose flour
1/2 teaspoon baking powder
1/4 teaspoon salt
1/2 cup unsalted butter, at room temperature
3/4 cup sugar
2 eggs
1 teaspoon vanilla extract
1/4 cup milk
~1/2 cup seedless strawberry jam
For the Frosting:
4 oz (half a brick) cream cheese
2 tablespoons unsalted butter, at room temperature
1/2 teaspoon vanilla extract
1 cup icing sugar
Red icing colour
(I used this)
Canada Day (red maple leaf) quins (can be found at Bulk Barn)

Directions:
Preheat oven to 350°F. Line a 24-cup mini muffin pan with paper liners and lightly spray with non-stick baking spray.
Whisk together the flour, baking powder, and salt in a large bowl.
In the bowl of an electric mixer, beat the butter and sugar until light and fluffy. Add the eggs, one at a time, followed by the vanilla, beating until incorporated each time. Alternate adding the milk and dry ingredients to the butter mixture until fully incorporated.
Spoon a scant tablespoon of batter into each muffin liner. Drop about 1/2 teaspoon of jam into the middle of each muffin, then top with another scant tablespoon of batter, spreading it with your fingers if necessary to cover the jam.
Bake for 10-12 minutes, or until a toothpick inserted in the middle comes out clean (except for some jam!) Cool in the pan until cool enough to handle, then remove and place on a wire rack to finish cooling.
Meanwhile, prepare the cream cheese frosting. Beat cream cheese and butter in the bowl of an electric mixture until smooth and no lumps remain. Add vanilla and mix until incorporated. Add icing sugar and mix on low until smooth. Taste and add more icing sugar if you prefer a sweeter frosting.
Place 1/3 cup of frosting in a small bowl, and the remaining 2/3 cup in another small bowl. To the larger portion of frosting, add red icing colour using a toothpick to add a small amount at a time, and stir to completely incorporate the colouring after each addition. Repeat until you reach desired red colour. Cool frostings in the refrigerator for about 30 minutes so it's easier to work with.
To frost cooled cupcakes, place white and red frostings in two separate ziplock bags and snip the corner off each. Pipe a stripe of white frosting down the middle of each cupcake, then two stripes of red on each side, to resemble the Canadian flag. Use a small knife or spoon to spread the frostings around to cover the cupcake in three even stripes. Place a maple leaf quin in the center of the white stripe to complete the design.