As I mentioned in my last post, I recently had the opportunity to go to Seattle for about 4 days for a conference. It was my first time going anywhere on the west coast of the US so I was really excited to explore the city a little! I didn't have a ton of free time though, so because our hotel/conference center was downtown, I spent most of my free time running over to Pike Place Market. In fact, I think I went there every day, but I never got sick of it - so much to see there!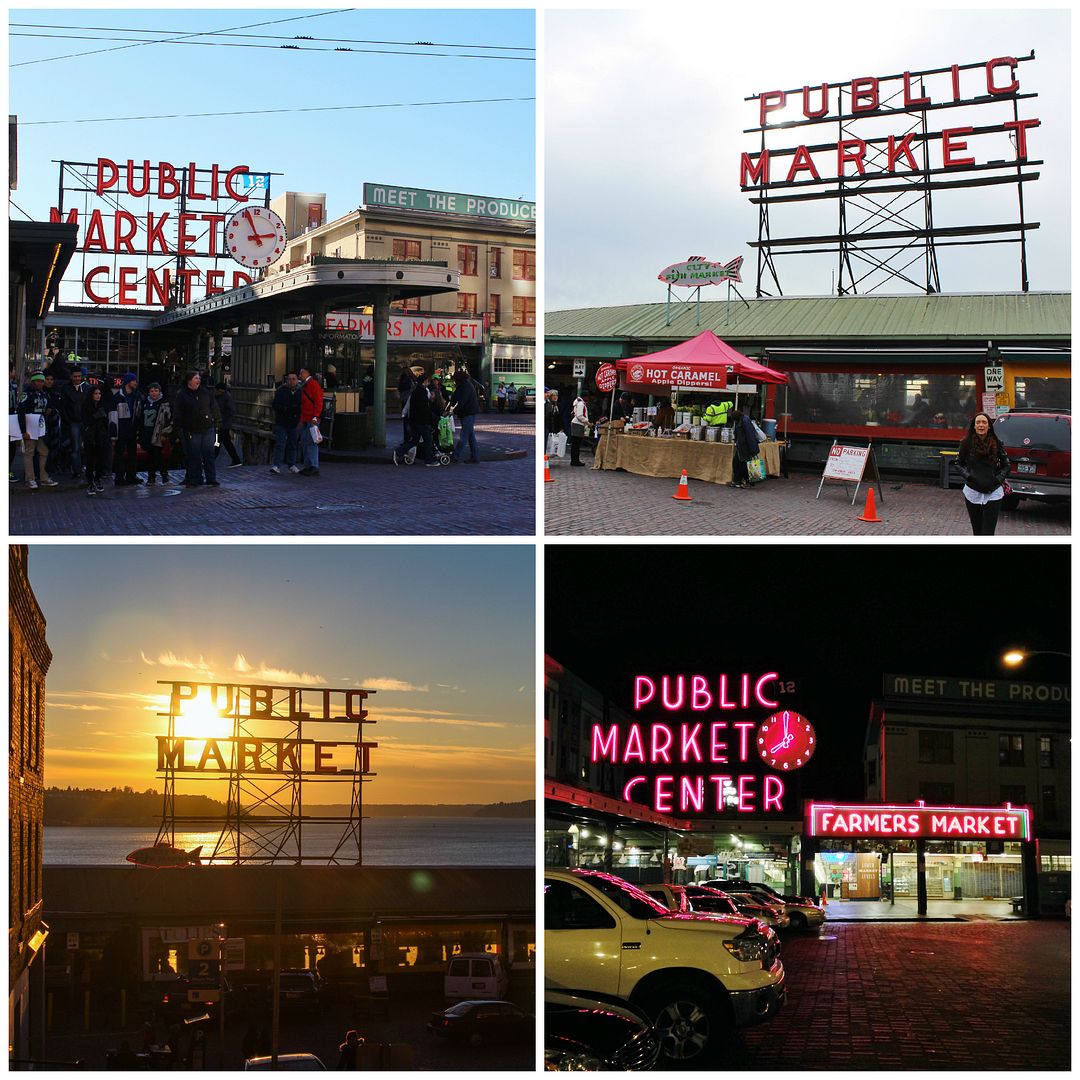 I couldn't get enough of the well-known market sign either; it made me happy seeing it day or night!
I also loved wandering around the inside of the market with all the fresh seafood, vegetables, crafts, and other typical market items that somehow just seemed better when located next to the water.
Right next to the market is the famous Market Theater Gum Wall in Post Alley, which is exactly what it sounds like - a wall covered in chewing gum. It's probably disgustingly germ-filled but something about all the pretty colours kept me coming back to take more pictures of it. And of course, I added my own gum to the wall (being careful not to touch anything else and to sanitize my hands after!)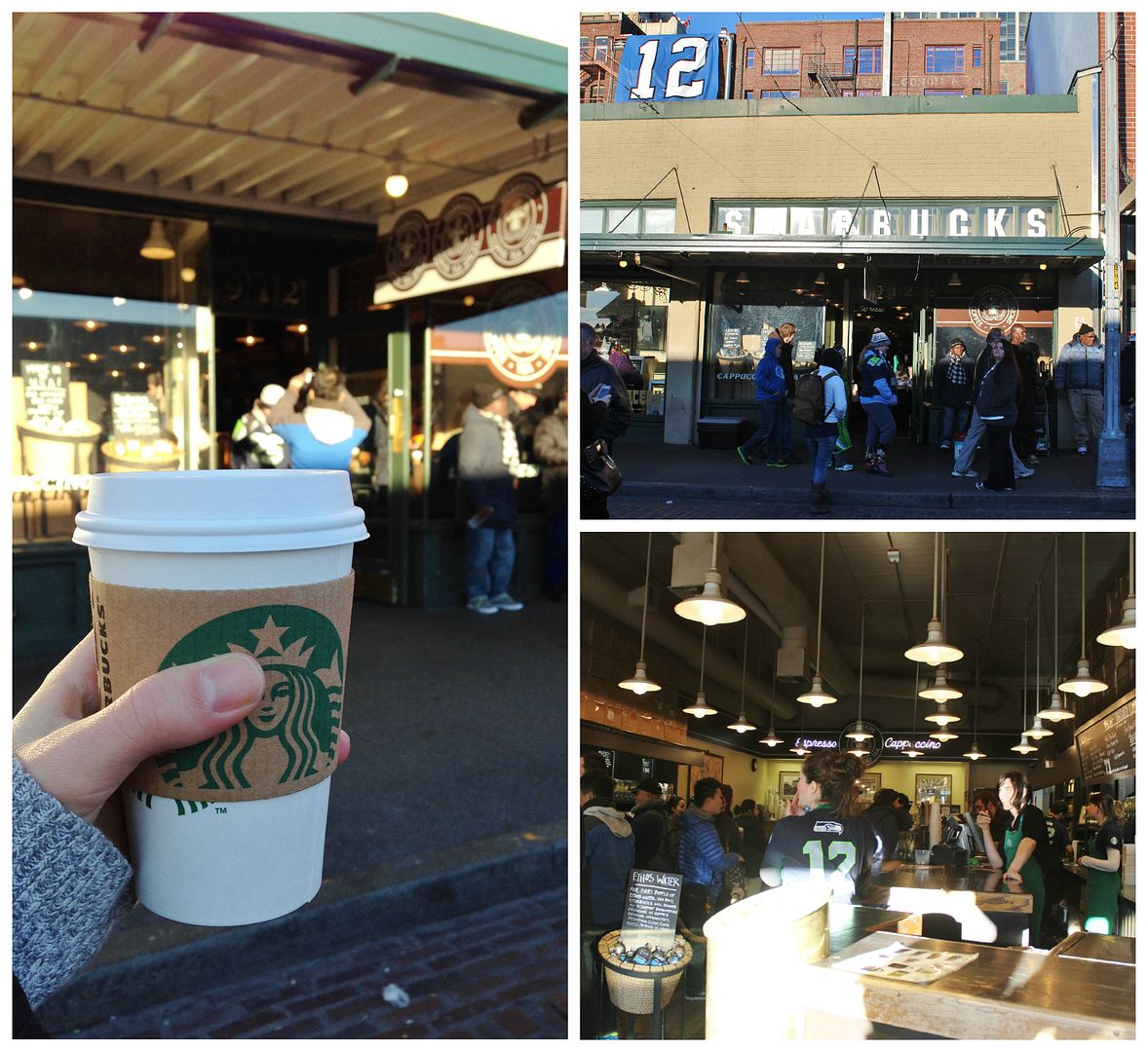 Another must-do in Pike Place Market is to go to the original Starbucks, where I bought some souvenirs and a coffee to go - it was way too small and crowded to stay in there! I think I was half expecting the coffee to be ten times better but it still tasted the same - which is still very good - but it was also fun to see the old sign and logo and listen to the fantastic guys singing out front.
Other things I ate in the market included:
Beecher's mac and cheese, which claims to have the world's best mac and cheese, in addition to making and selling some other great cheeses. I think I wasn't quite hungry enough to fully appreciate the mac and cheese, but it was really, really good and I'd definitely recommend trying it if you're a mac and cheese fan!
I had also heard that
Rachel's Ginger Beer
was a must-try. From their website, "Rachel's Ginger Beer is handcrafted in Seattle using fresh water, lemons, organic sugar and ginger." They had tons of flavours to choose from but I chose mango and it was delicious - I loved that you could taste the fresh ginger in it!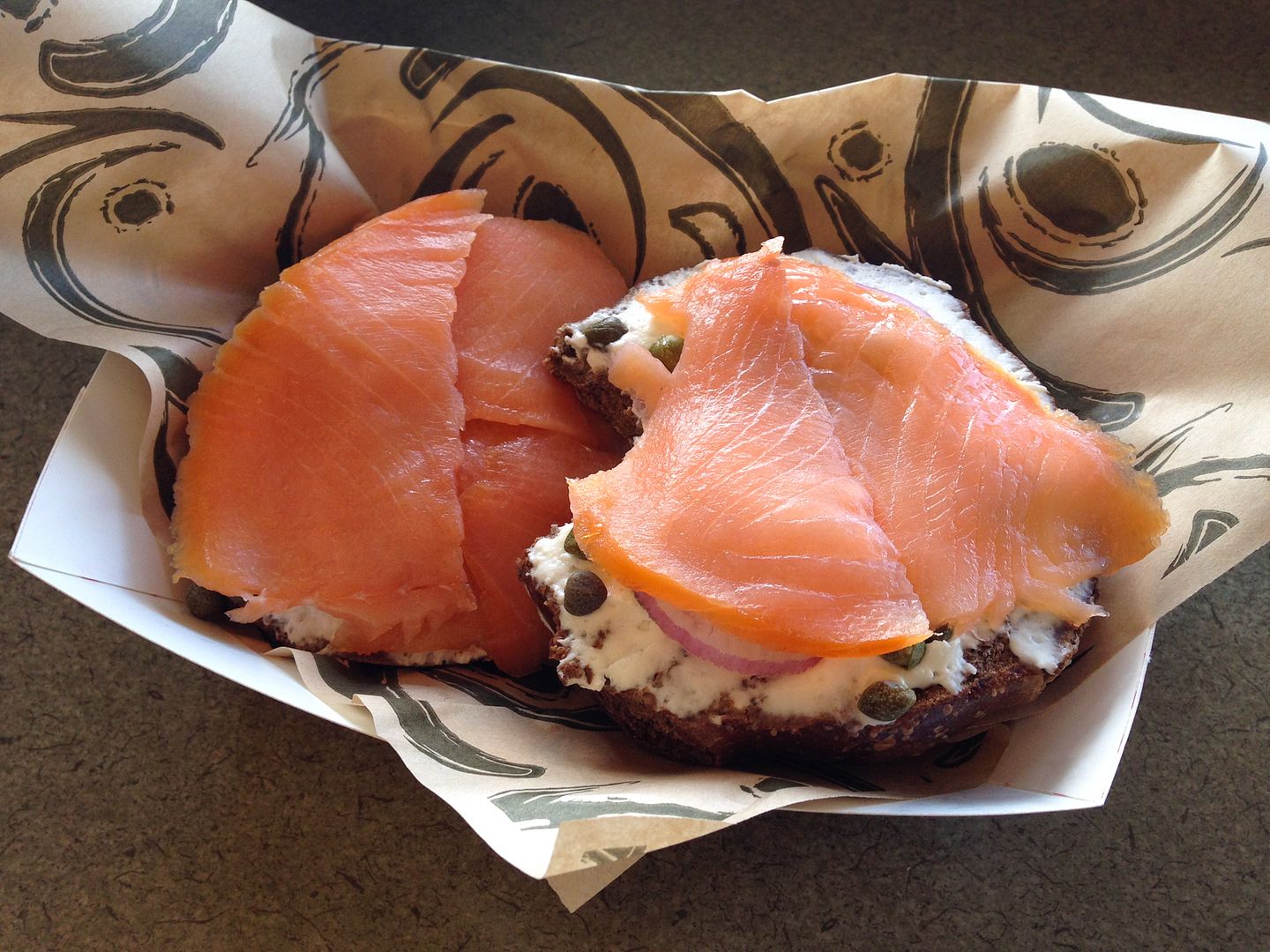 There are tons of choices for breakfast in the market too. One morning I ate this fantastic bagel and lox from
Pear Delicatessen & Shoppe
, which consisted of a pumpernickel bagel with cream cheese, red onion, capers, and smoked salmon. They have a great deli counter in there and I wanted to go back to try their grilled cheese with pears, swiss, and gruyere, which people seem to rave about, but I didn't have time. If you're looking for an affordable and delicious meal in the market though I recommend stopping in this place!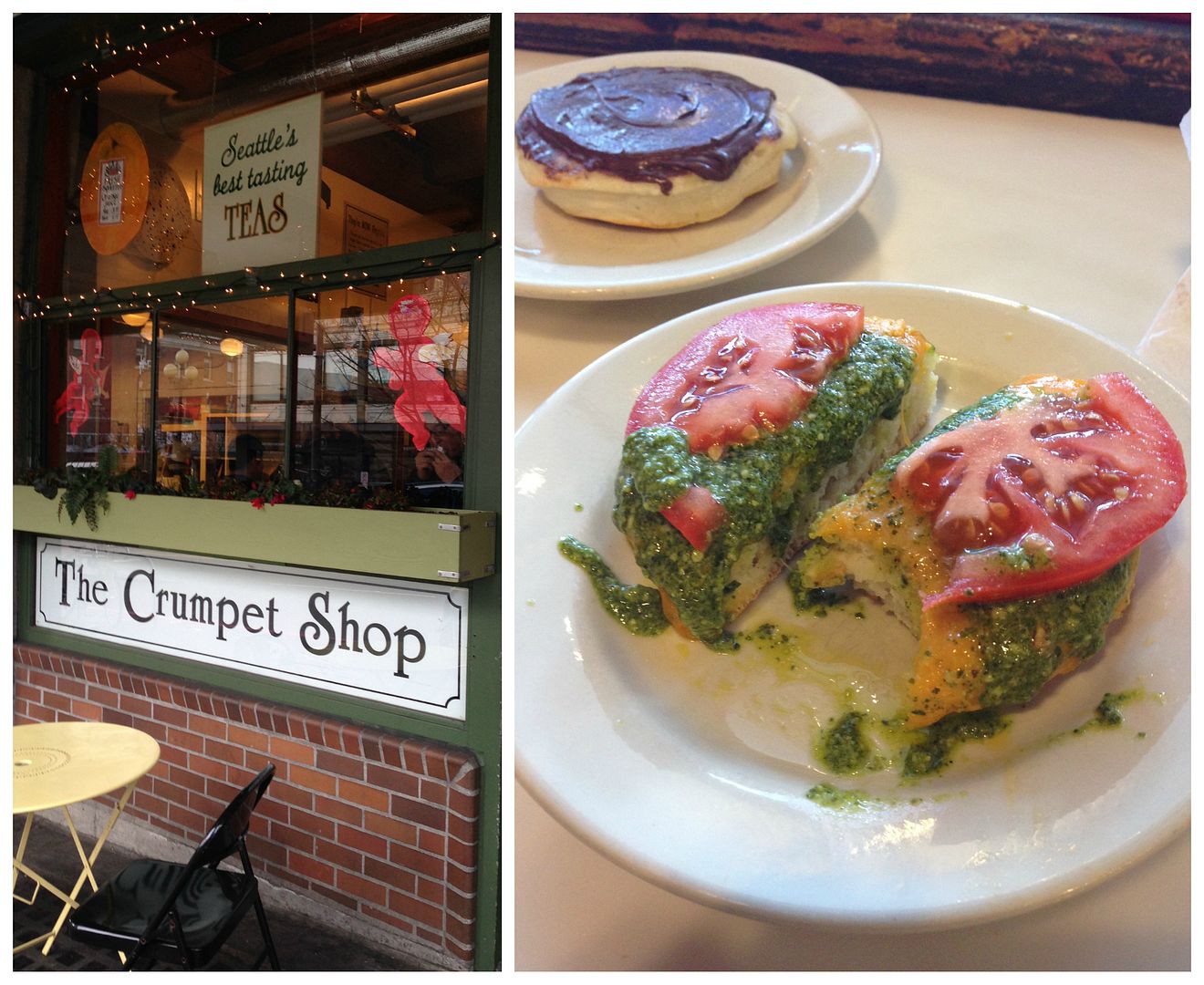 Another great breakfast choice is
The Crumpet Shop
, where you can get fresh crumpets topped with all sorts of toppings, both sweet and savory. I couldn't choose so I got both - one with chocolate hazelnut spread and one with pesto, cheese, and tomato - so good!
I think my favourite thing I ate in the market was this Greek yogurt from
Ellenos
. They make their own real Greek yogurt using milk from a local farm, and they present all their different flavours like a gelato bar. You can sample any of them before you make your choice - and it's a very difficult choice, with flavours like lemon cheesecake, mocha, cookies and cream, passionfruit, etc... I chose marionberry pie which was absolutely delicious. I didn't discover this place until our last day which made me very sad because I wanted to go back and try every flavour!
We also made the trek over to
Top Pot Doughnuts
one morning as we'd heard that they had the best doughnuts in Seattle. I loved the location with the huge windows and bookshelves, but the doughnut I chose (caramel old fashioned) was a little too sweet for my tastes. Next time I'd go with a standard old fashioned!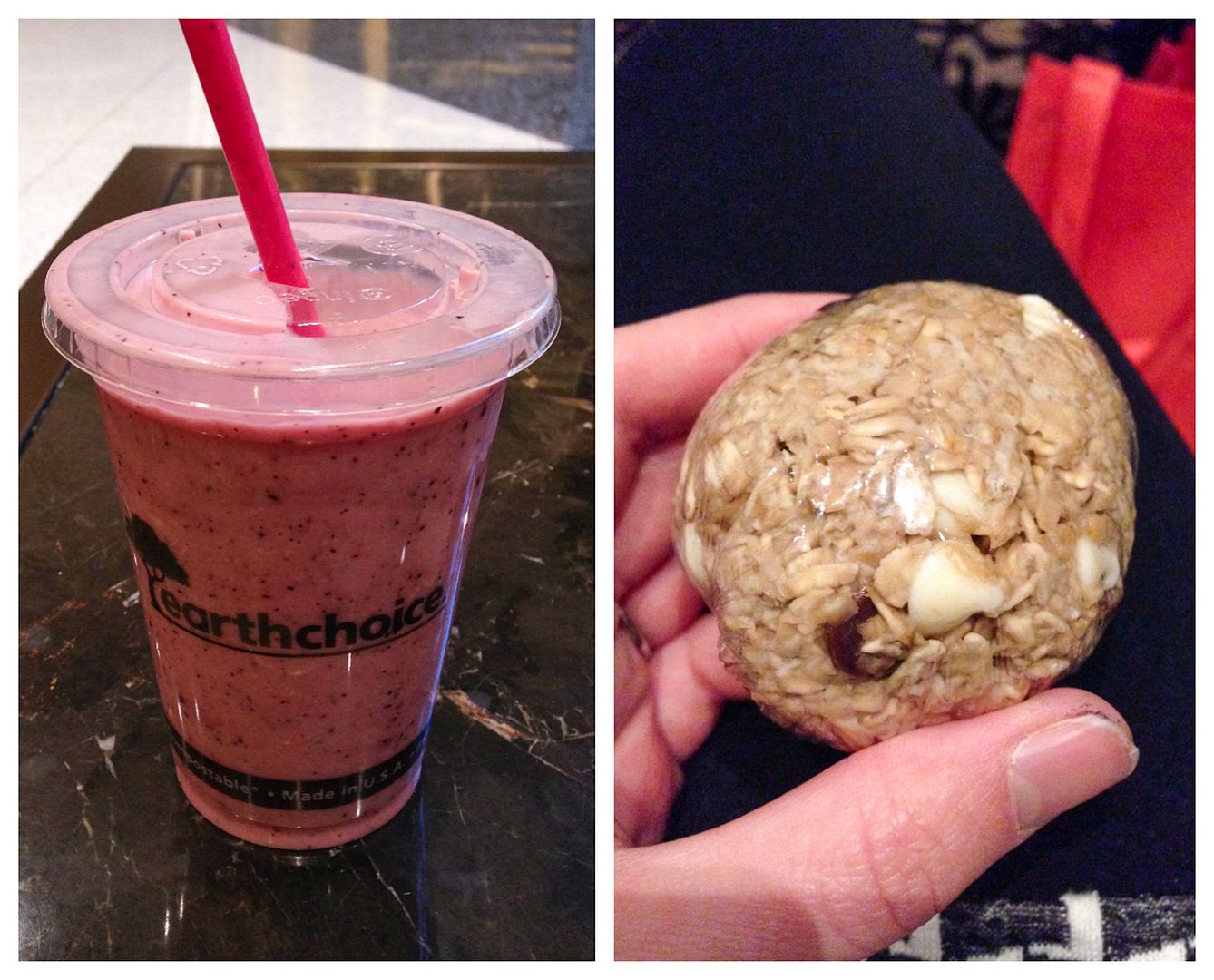 For a healthier breakfast, my sister and I went to
Juicy Cafe
in the convention center, which makes fresh and healthy juices, smoothies, salads, and lunches. I could have eaten every meal here and been in heaven (and probably would have felt fantastic by the end of the week!) but I only got to try one breakfast - it was great though! I had the morning chia sunrise smoothie with banana, berries, oats, rice milk, Greek yogurt, whey protein, and chia seeds, along with a 'monkey ball' which I believe was made with oats, peanut butter, banana, and chocolate chips.
For dinner, we tried a few different restaurants and I ate fish for almost every meal!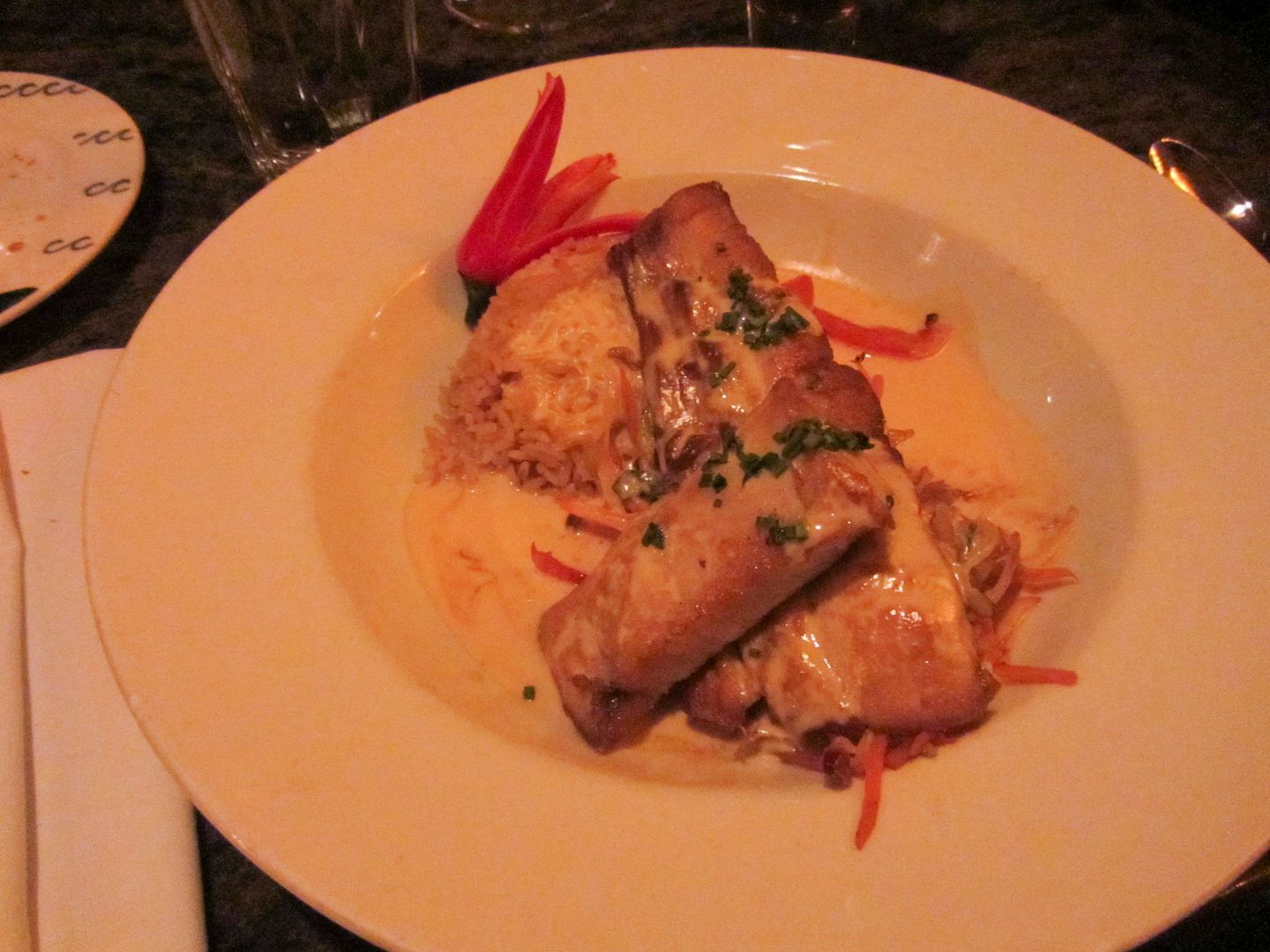 My most expensive meal at
Anthony's Pier 66
was actually my least favourite. I ordered the mahi mahi in Thai curry sauce but I didn't find it as flavourful as I expected and I guess I'm just not a fan of the texture of mahi mahi. Others enjoyed their meals though and we had a fabulous view of the water.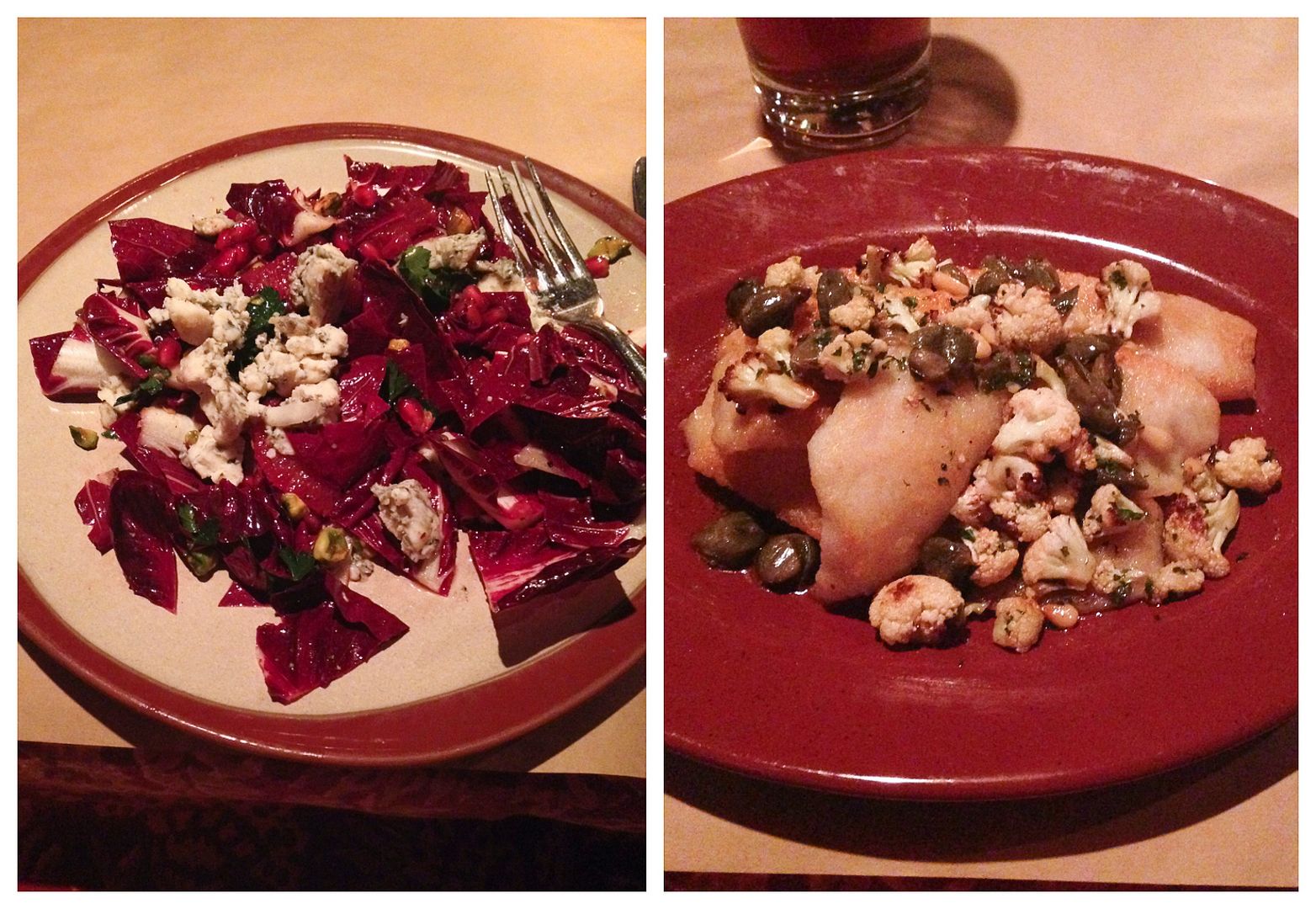 I loved my dinner at
Cuoco
, where I had a salad of treviso, pomegranate, pistachios, blood orange, and blue cheese, along with a main dish of broiled sole with capers, pinenuts, and cauliflower.
Cuoco is a Tom Douglas restaurant, who's an acclaimed Seattle restauranteur and James Beard award winner with 14 restaurants in Seattle. We got to try two of his fantastic restaurants, the second being
Serious Pie
, a more casual pizza place.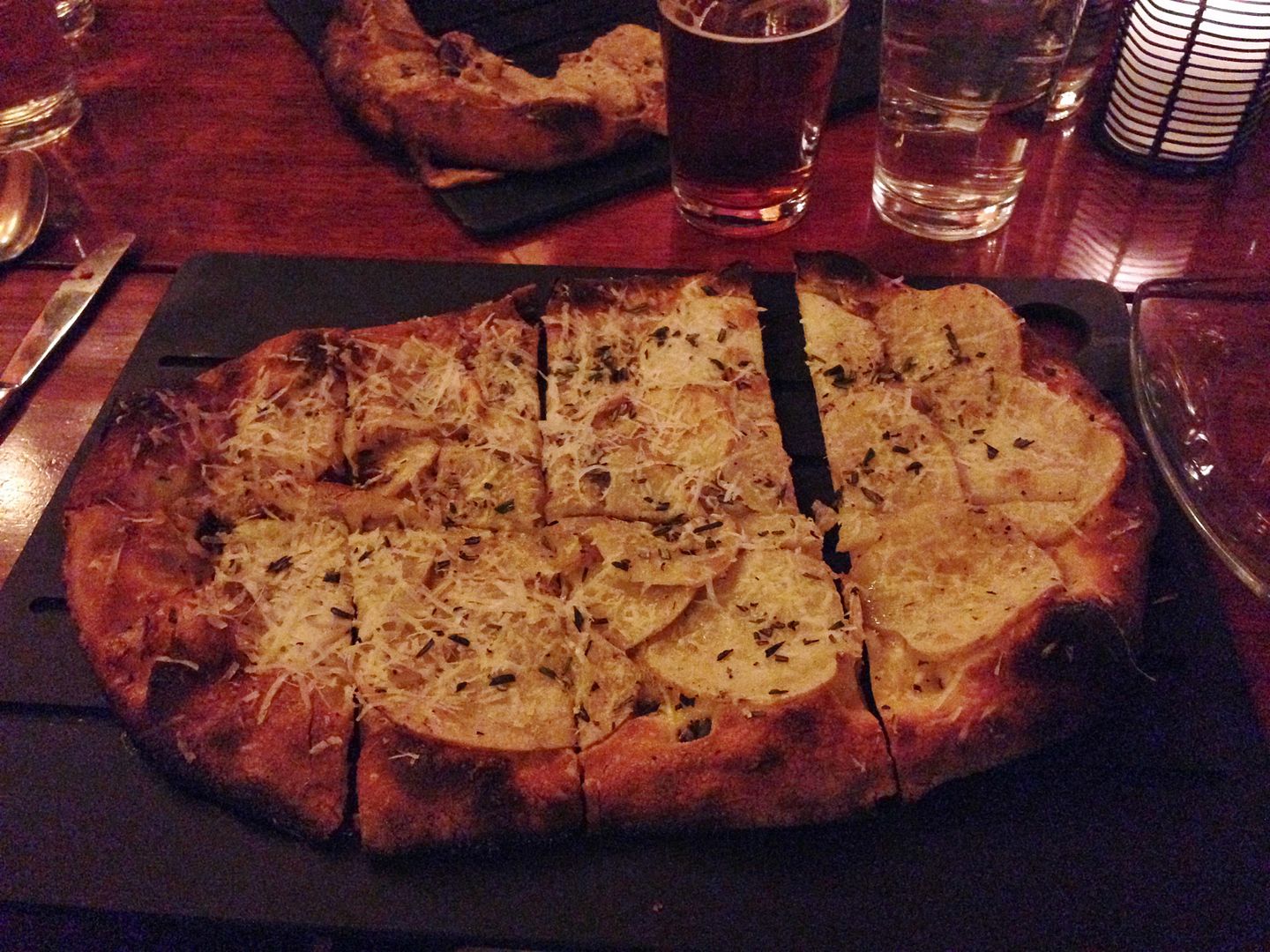 I chose the potato, rosemary, and pecorino romano pizza at Serious Pie, which was probably my favourite dinner of the trip - you can't go wrong with a pizza done well!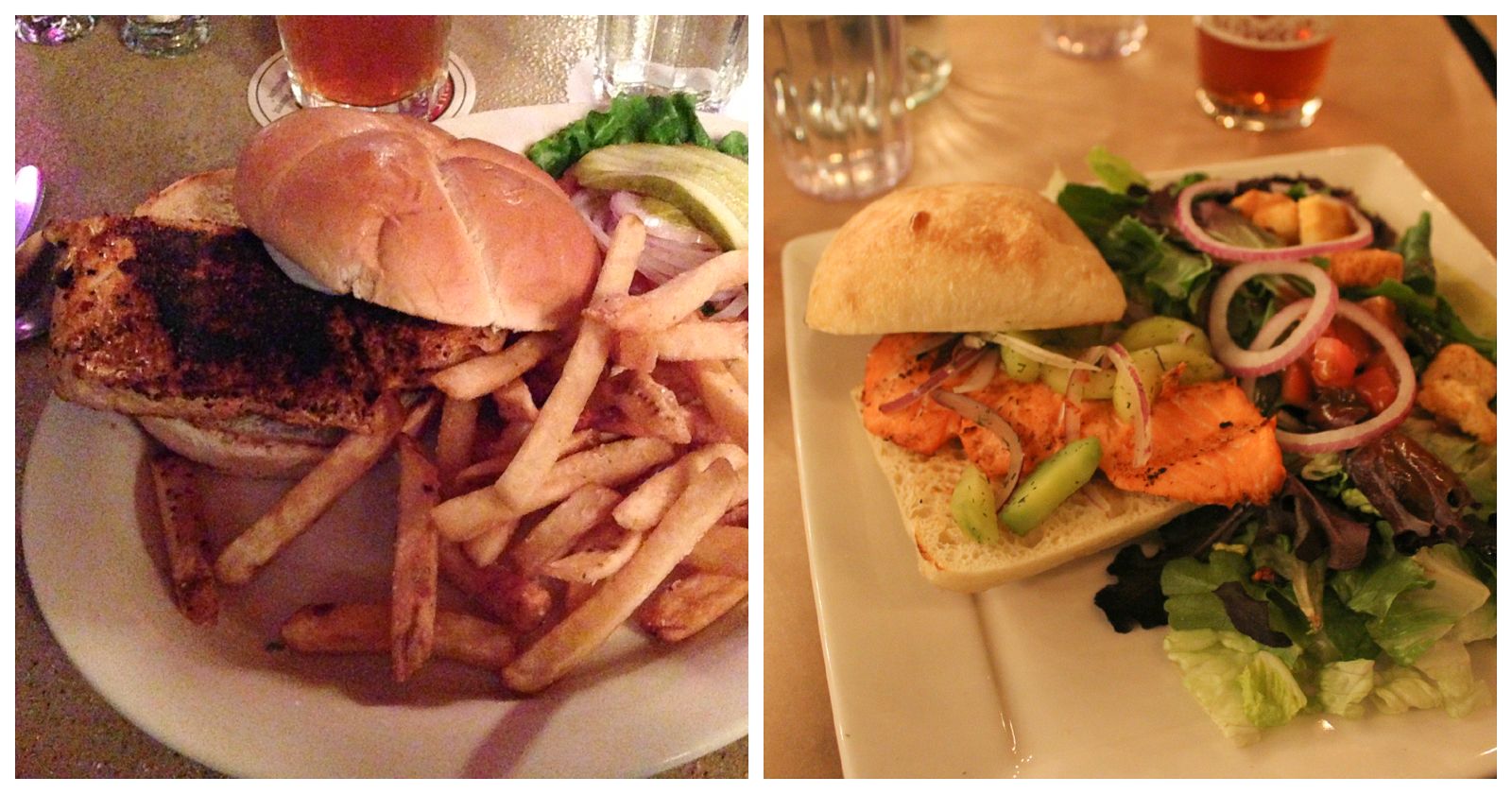 My other two meals were salmon sandwiches, which I had no complaints about!
Finally, I couldn't leave the west coast without trying some new beer!
I loved being able to try a few different local Seattle beers with my meals, and I brought back some souvenirs for Ryan too. The beer manager at
Pear Delicatessen
, which I mentioned earlier, was incredibly helpful for choosing beer and they had a great selection there if you're in the area looking for some craft beer! Ryan's favourite bottle I brought back was
Stone's Enjoy By 02.14.14
, which is, as it sounds, an IPA you should drink by Feb 14. The Enjoy By series is specifically brewed and distributed to be consumed in a short window of time for ultimate freshness, meaning we'll never get it over in Ontario, so it was nice to be able to try it!
That's it for my Seattle recap! Have any of you been to Seattle before? I'd love to hear your thoughts on sights you visited and food you enjoyed there as well!