So I realize this isn't the most attractive looking plate of food you've ever seen... I was cringing as I put together this post, wondering why I thought brown on brown on brown was a good idea for food styling, or why I didn't add a garnish on top for some colour. I will hopefully redo these photos in the future, but I wanted to make sure I shared this now while you're still in the mood for hearty winter comfort food. Not that winter seems to be showing any signs of ending soon!
Hopefully you're willing to get past appearances here because I promise the taste is worth it. And not only is this dish comforting, filling, and full of flavour, but it's also really good for you!
This stew is made with lentils (obviously), onion, garlic, mushrooms, carrots, vegetable broth, plenty of seasonings, and a splash of red wine for good measure. So you're getting a ton of vitamins, fiber, and protein to fill you up and keep you energized through the day or night. I love using lentils in meals because they're a great source of protein, they're easy to cook, and they're really cheap!
And to make this even more of a protein power bowl, I pureed white beans with cauliflower to serve as the base for the stew. Steaming and pureeing cauliflower is one of my favourite ways to eat it and I honestly like it even better than regular mashed potatoes. Sometimes I'll puree cauliflower with chickpeas or white beans and some flavourful mustard and just eat that for dinner on its own, but it goes even better with a hearty stew on top!
In case you're skeptical, or plan on serving this to picky eaters, I told Ryan that the cauliflower was just mashed potatoes, and after I'd finished watching him eat his meal while trying to hold in my evil grin the whole time, I told him it was really cauliflower and beans and he was completely surprised!
You can also eat the stew on its own if you prefer, and if your leftovers thicken up more than you like in the fridge, just add a splash of water or vegetable broth before you warm it up (this makes great lunch leftovers!)
It may not be pretty, but this is just what you need to get through these never ending winter days!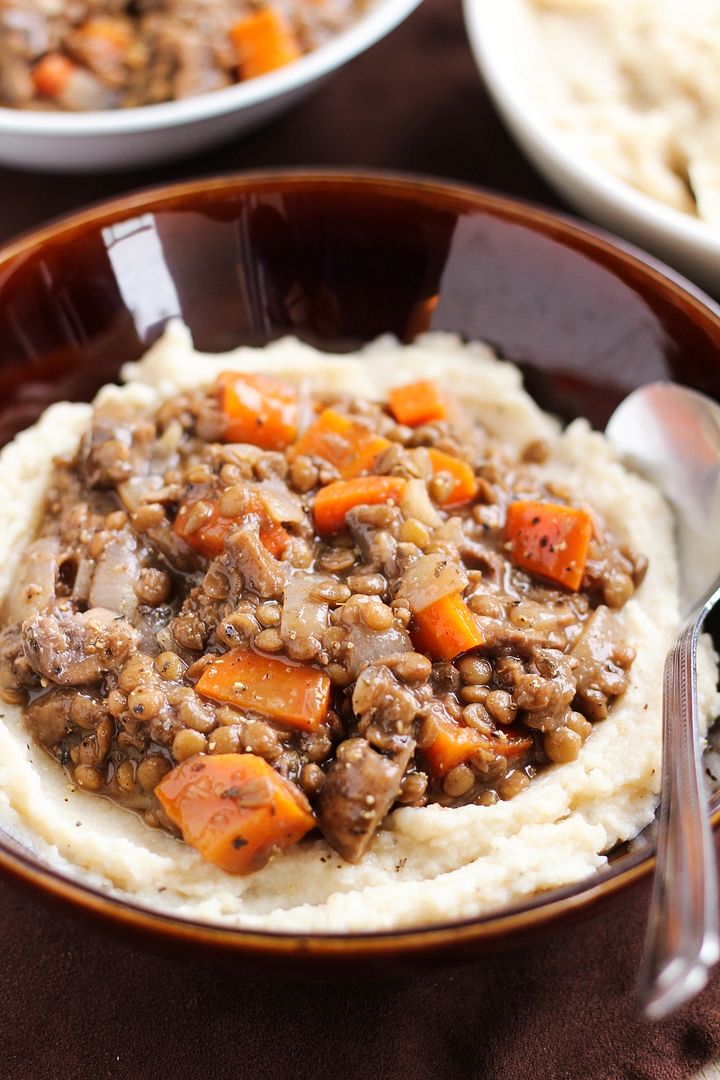 Lentil & Vegetable Stew with Cauliflower White Bean Puree
Makes about 4 servings
Ingredients:
For the Lentil Stew:
1 cup dry green or brown lentils
2 teaspoons olive oil
1 lb (two 8oz containers) white or crimini mushrooms, chopped (around 2.5 cups)
2 large carrots, peeled and diced
2 medium yellow onions, peeled and diced
3 cloves garlic, minced
1/2 teaspoon cumin
1/2 teaspoon dried oregano
1/2 teaspoon dried basil
1/2 tablespoon dried thyme
1 tablespoon tomato paste
2 teaspoons cornstarch
1/2 cup red wine
2 cups low-sodium vegetable broth
2 bay leaves
2 teaspoons Worcestershire sauce (use vegetarian Worcestershire sauce to keep this vegetarian/vegan)
Salt and pepper
For the Cauliflower:
1 large head of cauliflower, chopped into florets
3 cloves garlic, crushed
1 can white kidney beans, drained and rinsed
2 teaspoons extra virgin olive oil
~1/2 teaspoon each salt and pepper
Directions:
Bring 2 cups water to a boil in a medium saucepan.
Add lentils, reduce heat to medium-low, and let simmer uncovered for 20-30 minutes, until cooked through and water is absorbed. Set aside when done.
Meanwhile, in a separate large saucepan or dutch oven, heat olive oil over medium heat.
Add mushrooms, carrots, onion, garlic, and dry seasonings (cumin through thyme), stir, and let cook for around 5-7 minutes, stirring often.
Add tomato paste, stir to coat, and let cook for about a minute. Add cornstarch, stir to coat, and cook for another minute.
Add red wine and let simmer for about 3 minutes.
Add vegetable broth and bay leaves and lower heat to a simmer.
Add lentils and let simmer for at least 5 minutes.
Remove bay leaves, stir in Worcestershire sauce, and season to taste with salt and pepper.
While your lentil stew is simmering, prepare the cauliflower bean mash.
Add cauliflower and garlic to a steamer basket and steam over boiling water, covered, for about 10 minutes.
Transfer to a food processor, add white beans, and process until smooth.
Slowly add olive oil, then season with salt and pepper.
Serve lentil stew warm over pureed cauliflower.
Garnish with chopped parsley if desired.