The first month of 2014 flew by, which I'm happy about as it's mostly been just a blur of snow and freezing cold! Here are some of my (mostly food-related) highlights though!
As I mentioned, it's been pretty wintery this month. The good news is that walking anywhere in the snow/slush becomes an added workout in your day!
Above is what our view has looked like most days,
but when your window is covered in frost on the inside in the morning, the sunrise through it looks kinda pretty, I'll admit.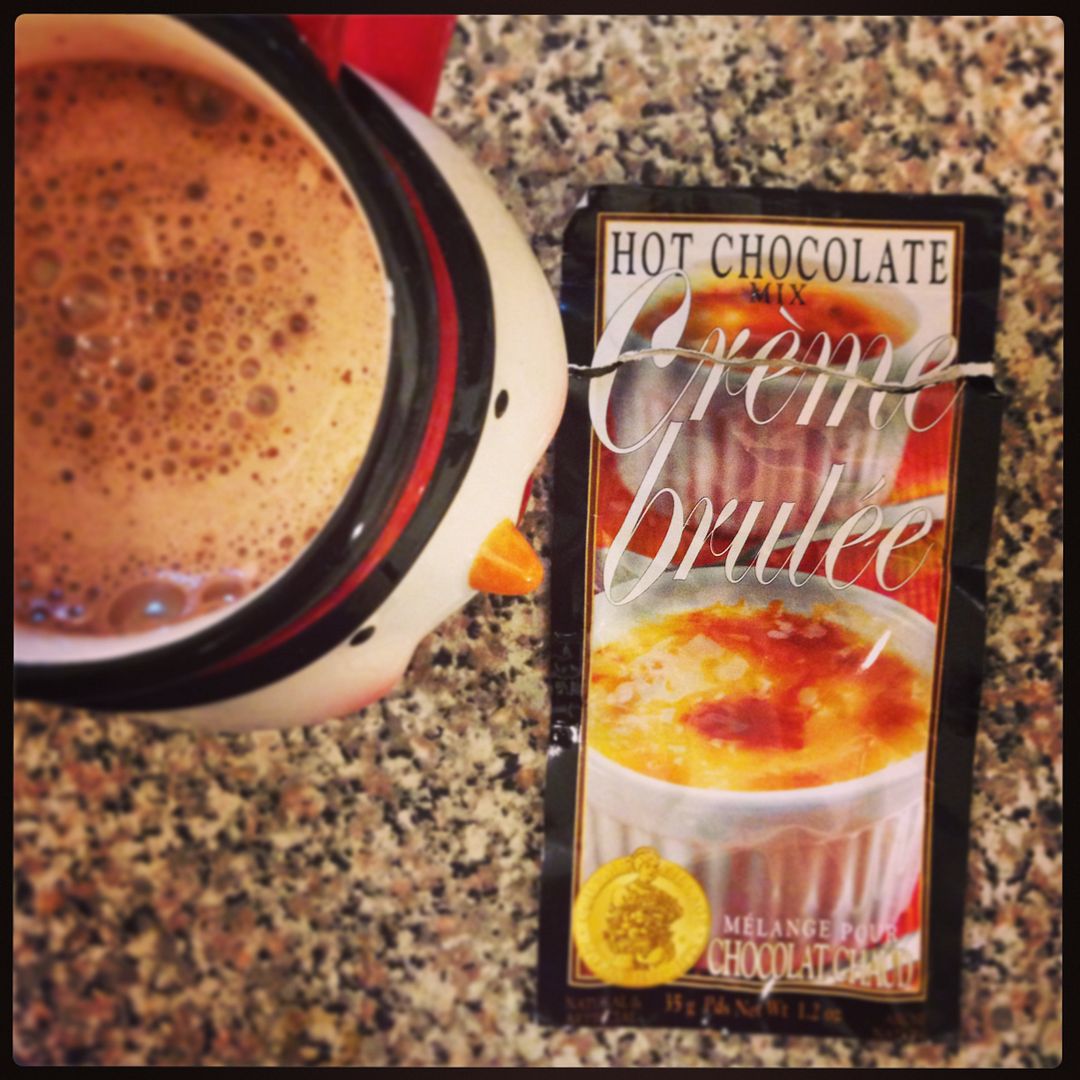 I try not to drink hot chocolate too often but sometimes it's the only thing you can imagine doing when you come inside from the cold. Creme brulee flavour was yummy!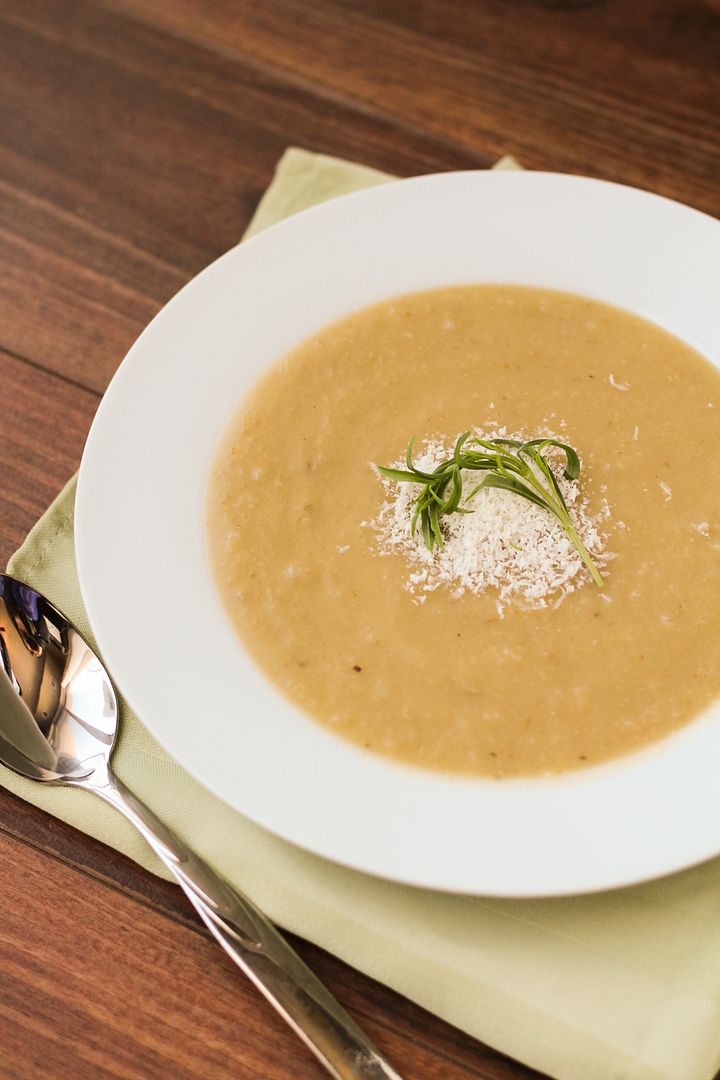 I've also been eating lots of soup lately. I remade this
roasted garlic & shallot soup
recently and really enjoyed it!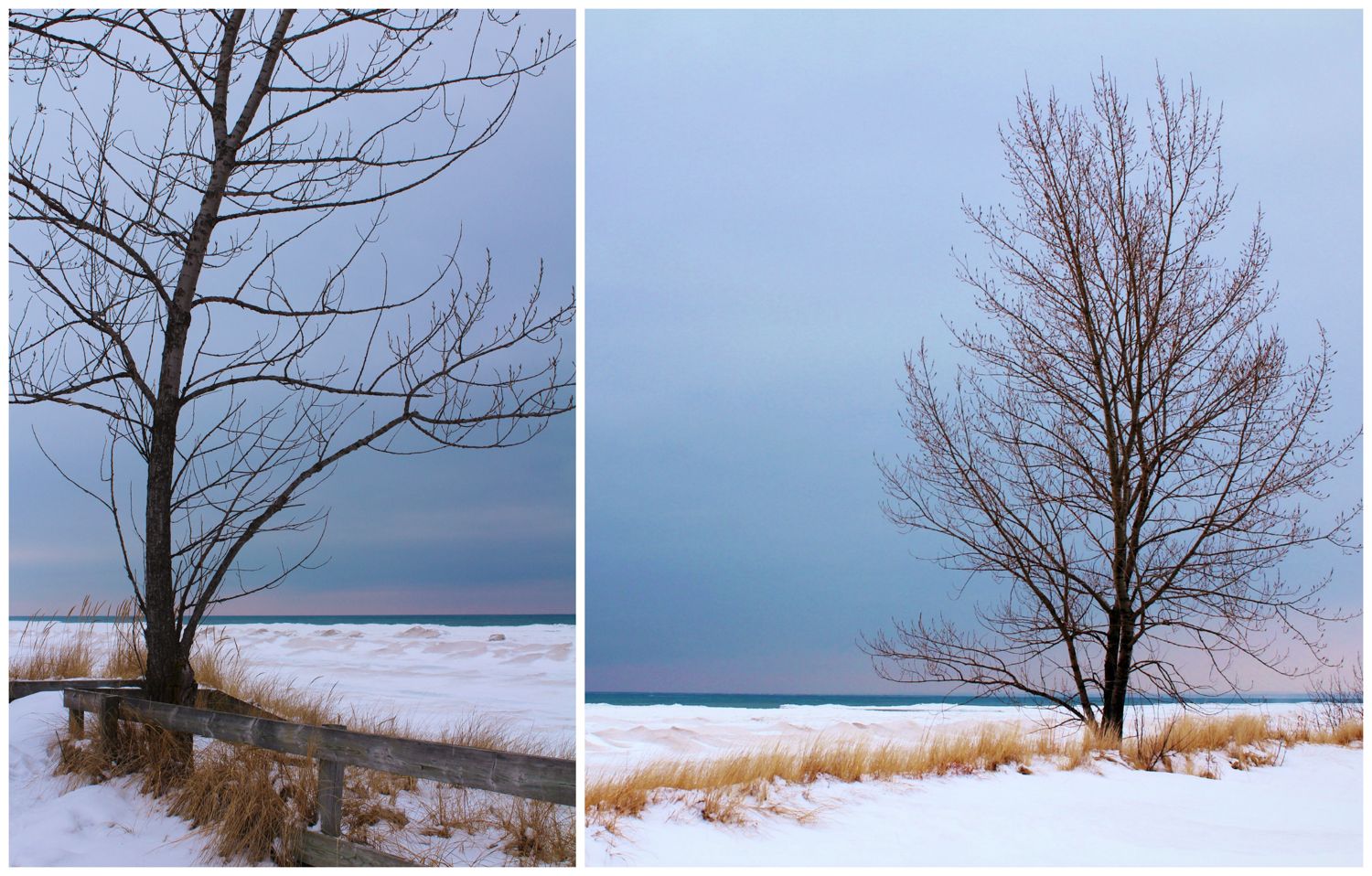 Our family embraced the outdoors one weekend and went up to a beach about an hour away. The water close to the shore was all frozen so you could walk out quite a ways on it. It was so cold but we embraced the ice!
Here we all are walking out over the frozen waves!
We've also done plenty of warm indoor activities, including attending the London Food and Wine Show where I sampled lots of delicious food from local restaurants along with several beers (I'm more of a beer than wine girl).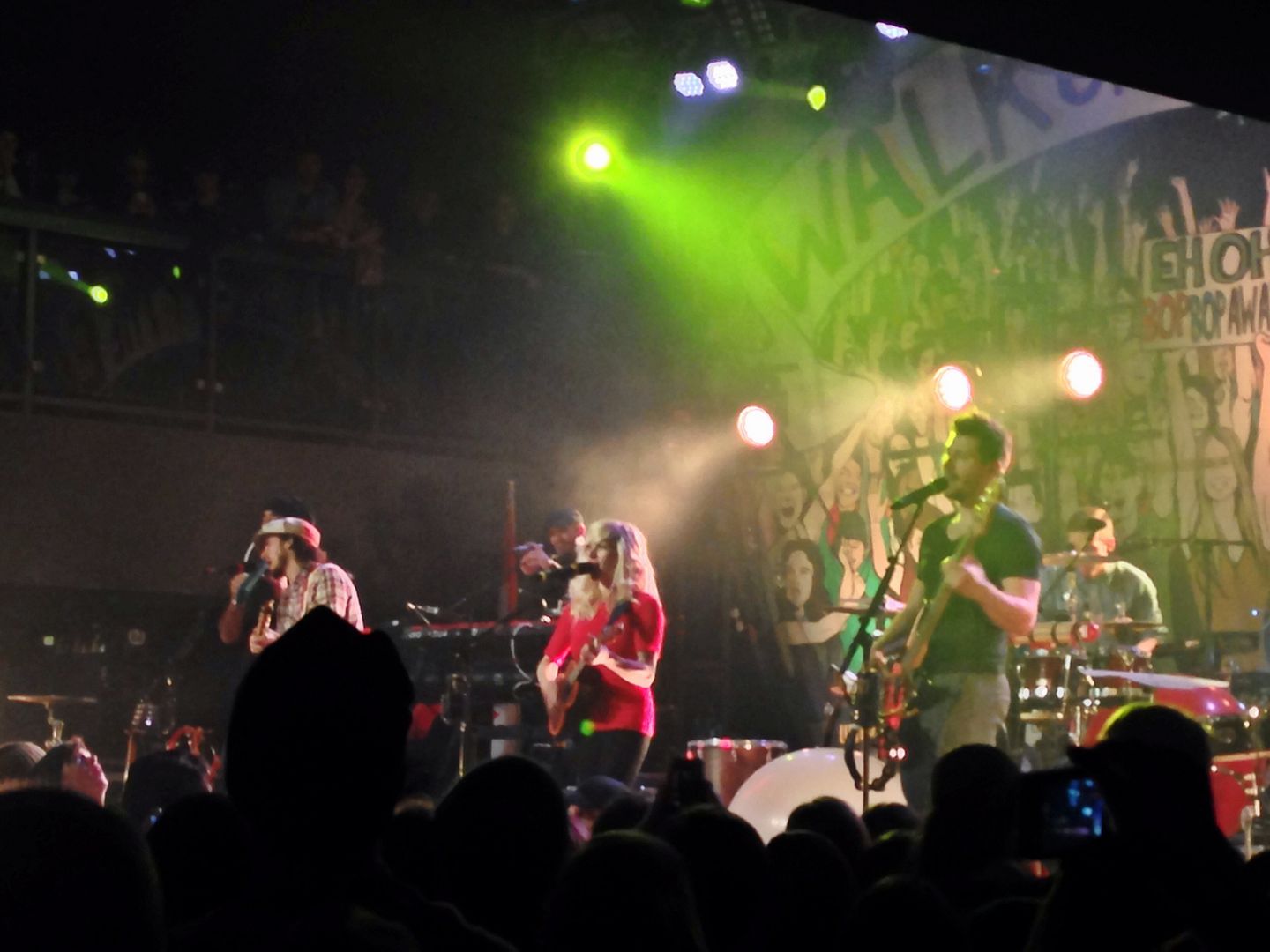 We also went to a Walk Off The Earth concert which was awesome. They're the band that did the popular 5 people on 1 guitar cover of Gotye's Somebody That I Used To Know, but they also have some great original songs, so you should definitely
check them out
if you haven't before!
Food-wise, I've been getting home so late from school/gym this month that I haven't been able to cook a lot of dinners. So there's been a lot of egg sandwiches! I've made egg sandwiches a thousand times before but I tried a new method this month for the '
best egg sandwich you'll ever have'
(pictured on left) and it was pretty good!
This was another easy dinner I had one night this month. I roasted brussels sprouts with potatoes and tossed them all in balsamic vinegar, salt, and pepper after. My idea of comfort food!
One of the few meals I took the time to make on a Sunday night was these
chipotle chicken enchiladas from Skinnytaste
. They're lighter than regular enchiladas with just poached chicken, onions, spices, and sauce in the filling, wrapped inside whole wheat tortillas, and topped with more sauce and a bit of cheese. We served ours with big servings of salad and they were so good! They also made a ton of leftovers for dinners through the week which I loved; I'll definitely be making these again!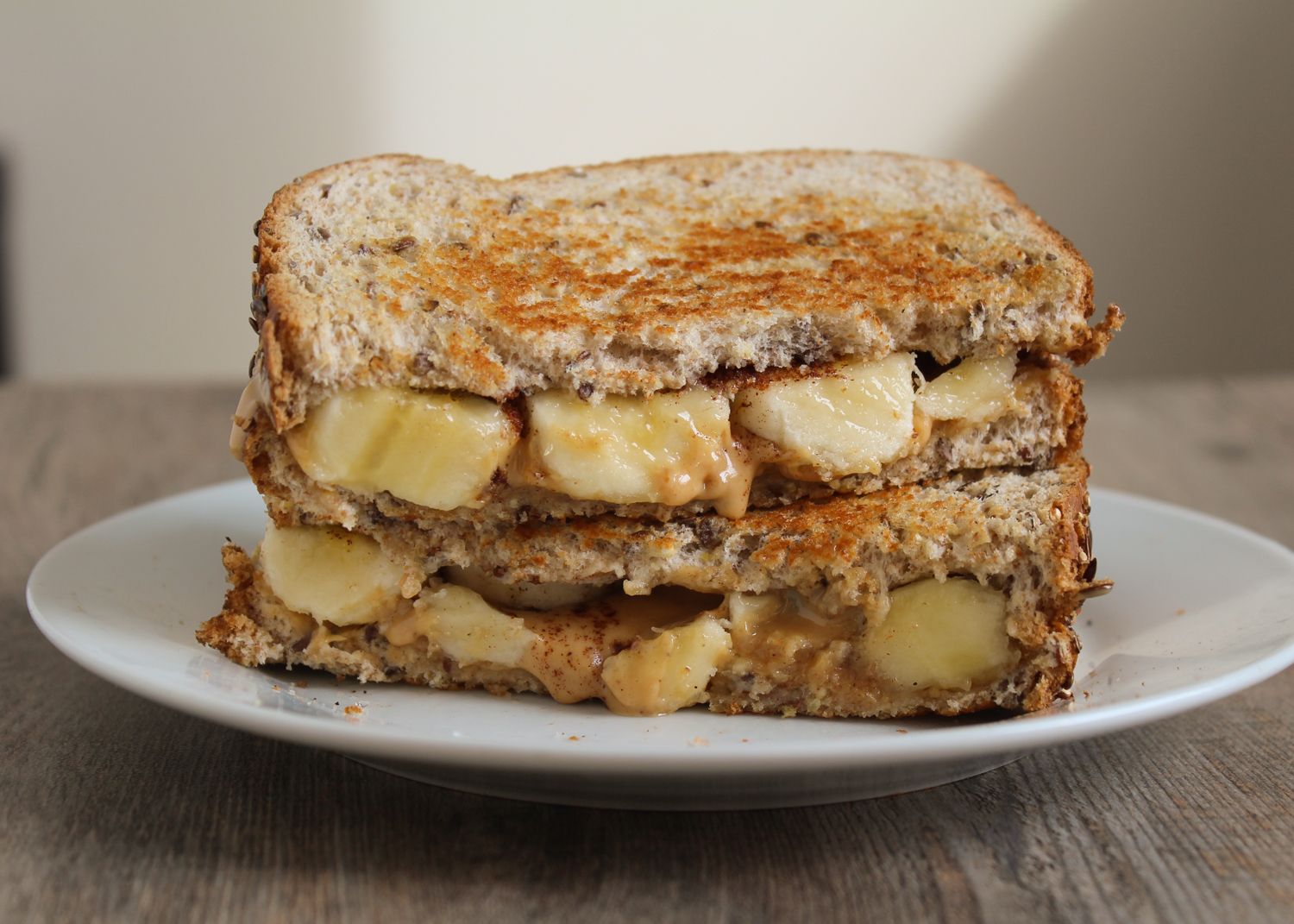 For lunch one day I made this grilled peanut butter and banana sandwich with a pinch of cinnamon. This used to be one of my favourite things to eat but I had forgotten how good it was!
Speaking of peanut butter, I made this
peanut butter banana breakfast pudding from Chocolate Covered Katie
one morning. It's basically peanut butter oatmeal where half of it is blended up with milk and a banana so it's creamier and lighter than regular oatmeal. I think I cooked mine wrong and used too much liquid so the texture wasn't quite to my liking, but Ryan really liked it!
I also made Chocolate Covered Katie's
one minute chocolate mug cake
when we were craving dessert one night. I added a swirl of peanut butter and topped it with some peanut butter frozen yogurt and it tasted just like real chocolate cake; I really loved the texture. It's not a healthy dessert, but it's a fairly small portion and is so easy to make that it's a great treat for when you're craving dessert but don't feel like making something!
On a slightly healthier note, I made these
soft baked sugar-free granola bars from Oh She Glows
for snacks this month. They are super healthy with no sugar, chocolate chips, flour, or other ingredients that are often in homemade granola bars; instead, they're packed with nuts, seeds, chia seeds, oats, and dates for sweetness. The texture might not be for everyone but I really liked these and as soon as I buy more chia seeds I'll be making them again!
That's it; hope you all had a great start to the year!