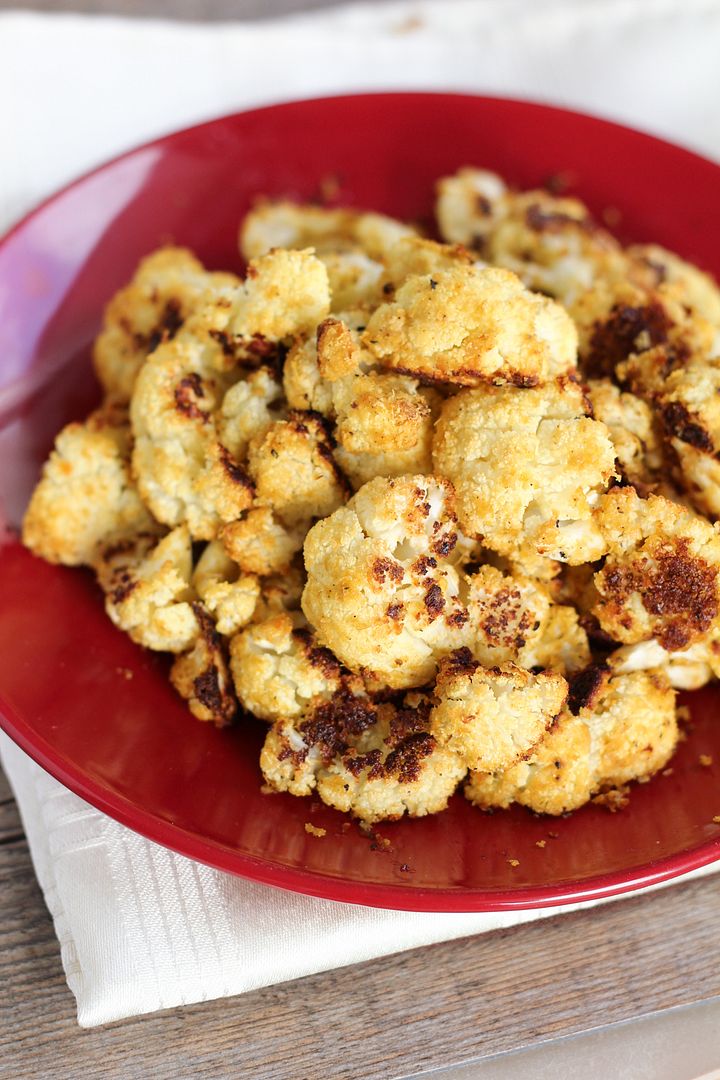 Even though my team didn't quite make it to the Super Bowl this year, I'm still looking forward to this Sunday, not only to watch some very talented players compete in what should be an exciting game, but also to enjoy one of my favourite parts of the big game – the food!
This year I'm going to try to keep things a little healthier than normal, though. I've been so busy with schoolwork over the past week that I feel like I haven't been eating nearly as well as I usually do. Case in point: last night's dinner consisted of peanuts, crackers, and a granola bar. Not the most nutritious meal I've ever had.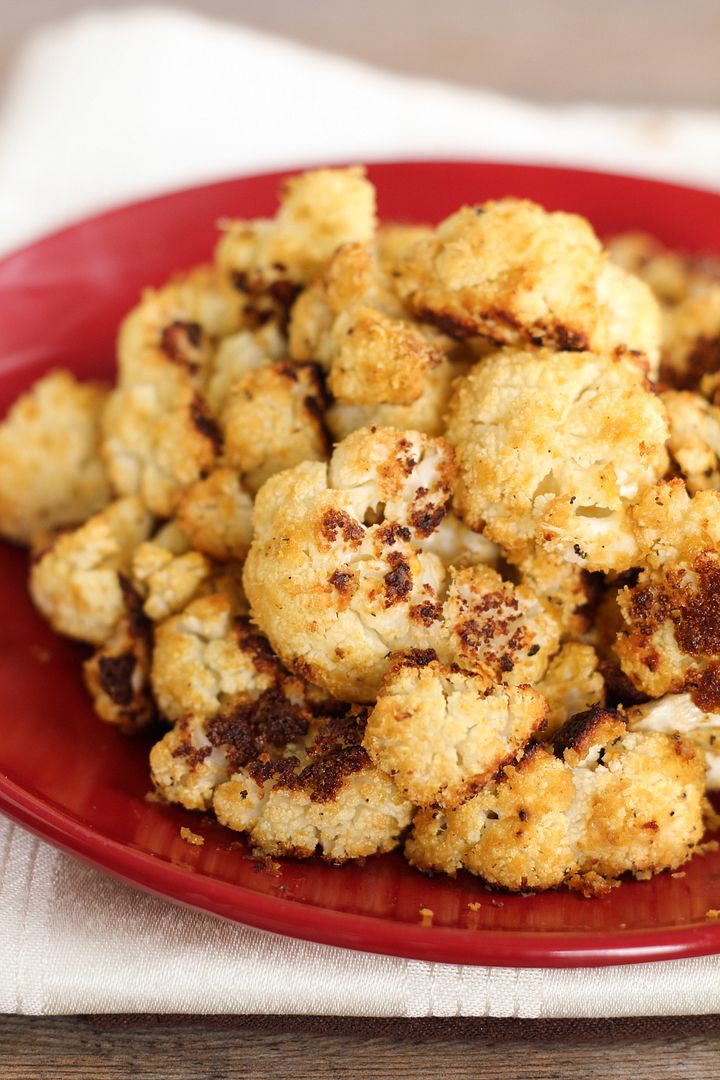 These cheezy cauliflower bites are the perfect healthy snack food to go with the big game, or to enjoy anytime! Throughout the football season we've been making roasted cauliflower tossed with buffalo sauce (in fact, this was how I finally got Ryan to admit that cauliflower can taste good), but I changed things up this time by going with a cheezy ranch type flavour. But without the cheese (hence the use of the 'z')!
Nutritional yeast (which indeed lives up to its name and is full of nutritional value, but with a cheesy nutty flavour) coats these cauliflower florets along with some mustard, seasoning, and a bit of olive oil, then they get roasted in the oven until they're slightly crispy and delicious.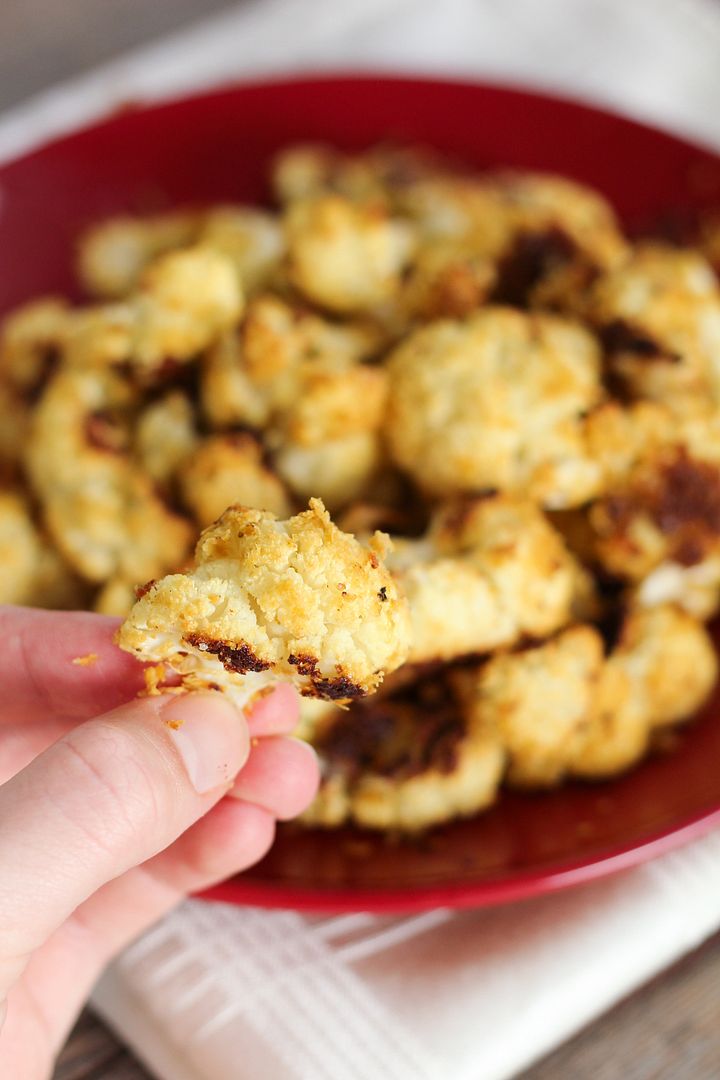 The original recipe is from
Clean Eating Magazine
, though I made quite a few changes like adding more spices, adding mustard to complement the cheesy flavour and decrease the amount of oil needed to get the spices tso stick, and rather than dipping each cauliflower in oil, I just tossed everything together with some oil to cut the amount needed in half.
You might end up with less of the coating sticking to each piece this way, but I still thought there was plenty.
There are other versions of this online that call this type of dish 'cauliflower popcorn', which I resisted because this really tastes nothing like popcorn, but it is still so tasty and will disappear quickly, so plan accordingly if making it for the game this weekend!
Cheezy Roasted Cauliflower
Serves 2-4, depending on serving size
Ingredients:
Non-stick cooking spray
1 head cauliflower
2 tablespoons olive oil
2 tablespoons Dijon mustard
1/2 cup nutritional yeast
1/2 teaspoon garlic powder
1/2 teaspoon onion powder
1/4 teaspoon mustard powder
1/2 teaspoon salt
1/4 teaspoon freshly ground pepper
Directions:
Preheat oven to 400°F.
Line a large baking sheet with aluminum foil and spray lightly with non-stick cooking spray.
Chop cauliflower into bite-sized florets and add to a large bowl.
Pour olive oil and mustard into bowl and toss until cauliflower is thoroughly and evenly coated.
In a small bowl, mix nutritional yeast, garlic powder, onion powder, mustard powder, salt, and pepper.
Pour mixture over the cauliflower and toss until evenly coated.
Spread cauliflower in an even layer on prepared baking sheet.
Sprinkle any leftover seasoning overtop.
Roast
in preheated oven for 20 minutes, remove from oven and turn cauliflower over, then roast for another 20-25 minutes, until browned.
Serve warm.