And just when we thought the worst of the cold weather was over, it came back this week to give us a reminder of why summer is so great!
I'd almost forgotten already what it feels like when your nostrils start to freeze up as soon as you step outside and your lungs hurt when you breathe in the cold air. Needless to say, I'll be spending as much time indoors as possible this week and enjoying lots of hot chocolate and soup!
I've actually been making a lot more soup than normal lately, not just because of the weather but because I received an immersion blender for Christmas that I've loved trying out! It makes pureeing soups so much easier than transferring it in batches to a blender, and more importantly it means a lot less dishes to clean up after, which is probably my favourite thing about it.
I have my eye on so many soup recipes I want to try now, but onion soup has stood out as the most comforting option lately, and it was an excellent choice!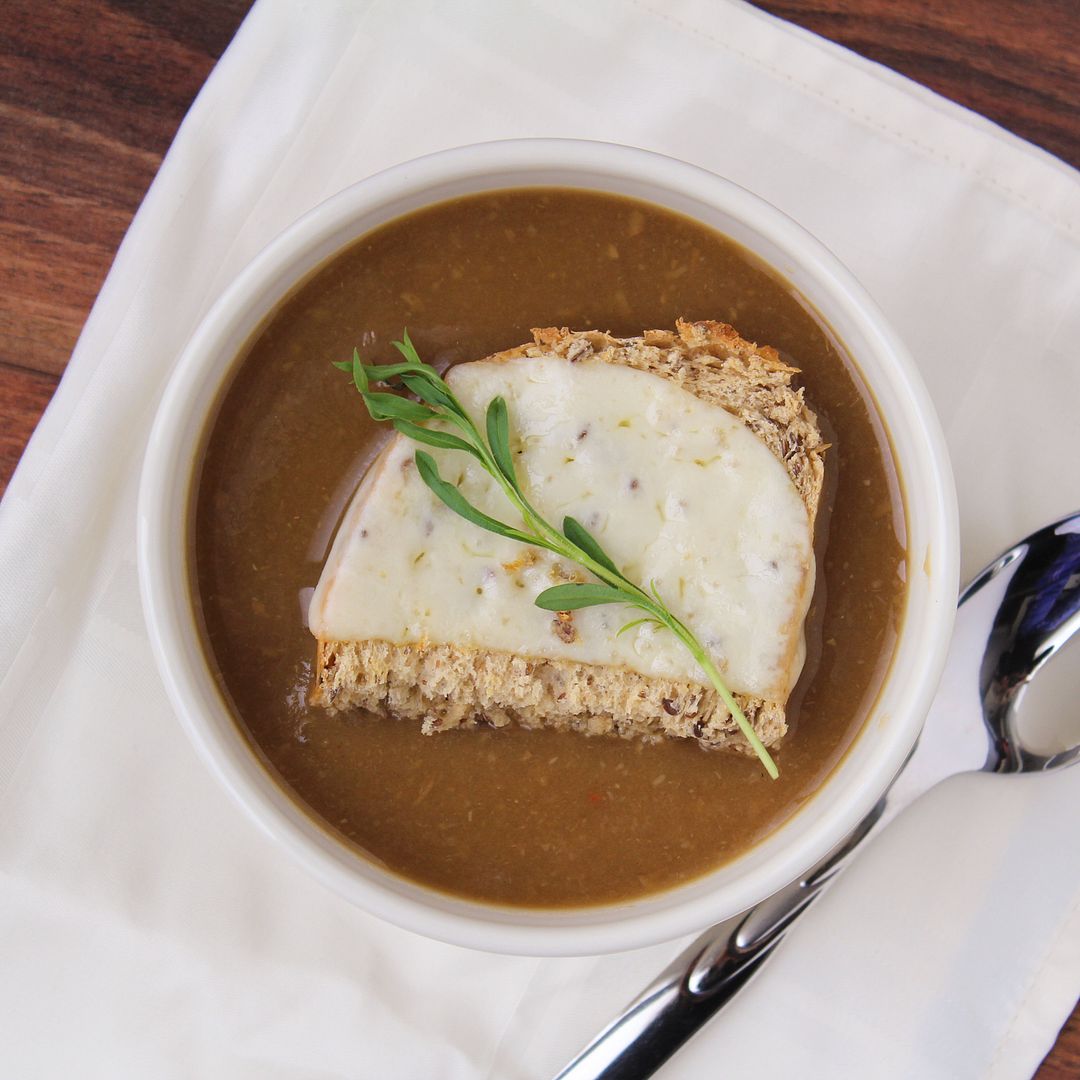 This caramelized onion and potato soup is very similar to a French onion soup, but easier and faster to prepare, and perhaps a little bit healthier. I didn't cook my onions quite as long as you would for a French onion soup - just long enough to give them that deep golden brown colour and rich flavour - and I also cooked them in just a bit of olive oil instead of tons of butter. The other main differences are that this version contains some garlic for flavour and potatoes for thickness, and that I pureed it all into a smooth soup (though next time I'll probably leave a few chunks in there for texture - I just got carried away with my immersion blender!). Then I topped it with a simple piece of toasted whole grain bread with some melted cheese instead of baking the whole thing in the oven (with a lot more cheese).
You end up with a rich but light tasting soup that's perfect for a cozy winter evening indoors!
Caramelized Onion & Potato Soup
Serves around 4 as main course servings; 8 as smaller side dish servings
Ingredients:
2 tablespoons olive oil or canola oil
6 medium yellow onions, peeled and thinly sliced into half moons (or 3-4 large onions)
4 cloves garlic, minced
Salt and pepper
1 tablespoon white wine vinegar
1/2 cup dry white wine
1 tablespoon all-purpose flour
8 cups (2L) low sodium beef broth
1-1/2 to 2 cups chopped yellow potatoes
2 bay leafs
2 sprigs of thyme
4-7 slices thick rustic whole grain bread
4-8 slices gruyere, swiss, or provolone cheese
Directions:
Heat oil in a large heavy-bottomed saucepan or Dutch oven over medium heat.
Add onions and garlic, stir to coat with oil, and let sit for about 5 minutes, stirring occasionally.
Season with salt and pepper and stir.
Cook for an additional 25-30 minutes, stirring occasionally, until softened and caramelized with a deep golden brown colour.
(Cook for up to 45 minutes if needed).
Add vinegar to deglaze the pan.
Add wine and stir, scraping up the browned bits from the bottom of the pan.
Let simmer until reduced slightly, about 2-3 minutes.
Sprinkle flour over onions and stir.
Add beef broth, potatoes, thyme, and bay leaves.
Bring to a boil, then reduce heat and let simmer, partially covered, stirring occasionally, until potatoes are softened.
Discard bay leaves and thyme sprigs.
If desired, puree soup with an immersion blender or by transferring in batches to a blender.
You may puree all of the soup if you want it to be smooth, part of the soup for some texture, or none if you want it to be chunky, depending on what you prefer.
Season with salt and pepper to taste.
Preheat broiler.
Arrange cheese on bread and broil until cheese is melted, about 1 to 2 minutes.
Serve alongside or on top of soup.