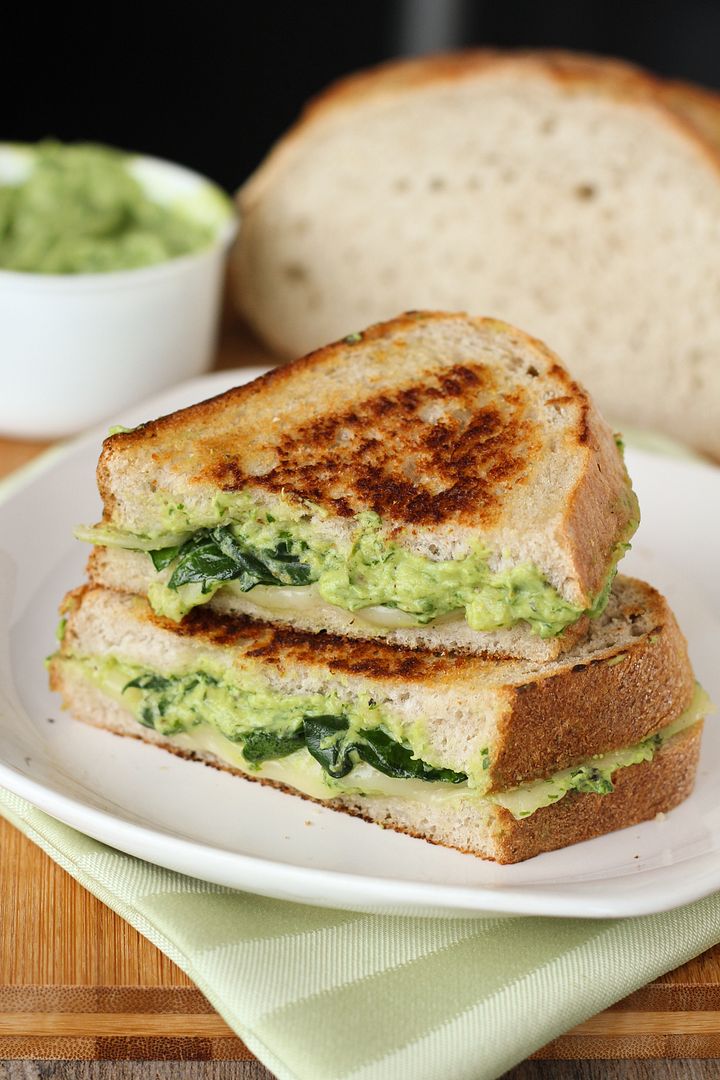 A simple grilled cheese sandwich with melted cheese oozing out of buttered toasty bread is pretty much perfection on its own, but sometimes it's also fun to get creative and mix things up a bit. I'm not sure where the line is drawn between grilled cheese becoming basically a grilled sandwich, but I think this version retains the key elements of a grilled cheese, just kicked up a notch!
In this version, I whipped together an avocado green goddess dressing, with a ripe avocado, a bit of light sour cream, and lots of herbs. You could stop right now and just use this as a veggie dip (and indeed you can do that with your leftovers!), but we're going to keep going...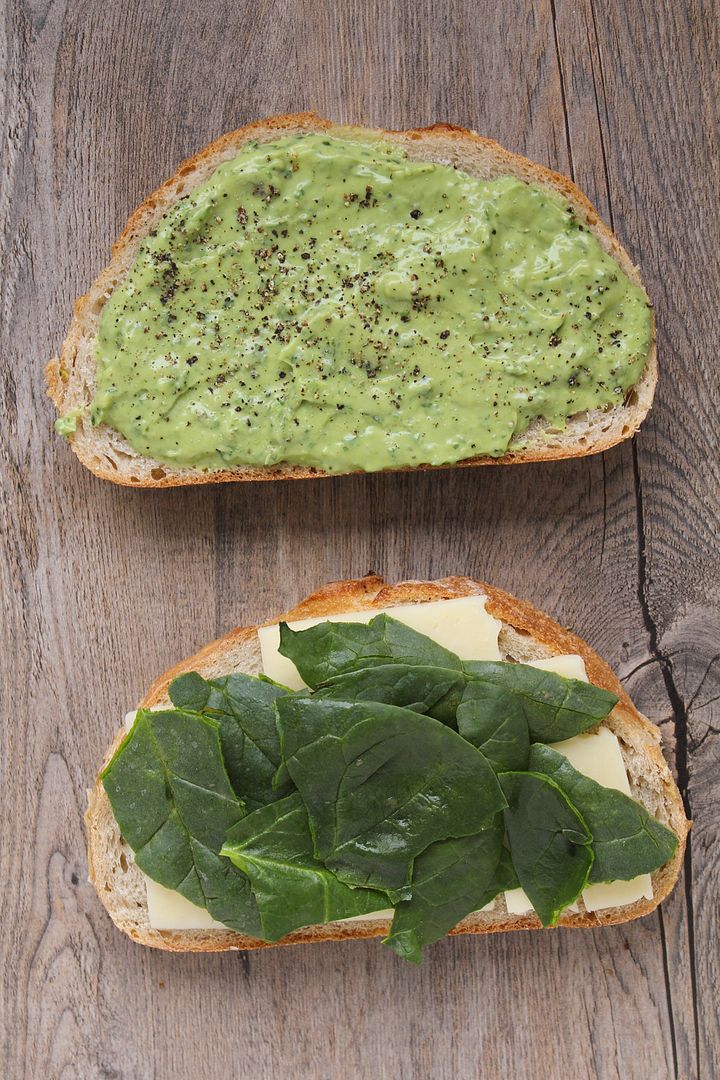 And spread that sauce on some fresh sourdough bread, adding sliced mozzarella cheese to a second slice and throwing in some spinach for some extra green colour and a boost of nutrition!
Then we put it all together and grill it up so everything gets warm and toasty, and we have our avocado green goddess grilled cheese sandwich ready to eat!
I loved the bright flavour of the herbs paired with the creamy avocado and melted cheese, and the sourdough bread was the perfect choice to sandwich it all together.
I used part-skim mozzarella cheese for its mild flavour, which let the green goddess sauce really take over, but if you want to be able to taste the cheese more, you could definitely use something a little stronger like a white cheddar, provolone, or maybe an herbed havarti. You could also leave out or increase the amount of spinach in this sandwich, or use something like arugula for a bit of peppery bite. There are so many ways to customize this!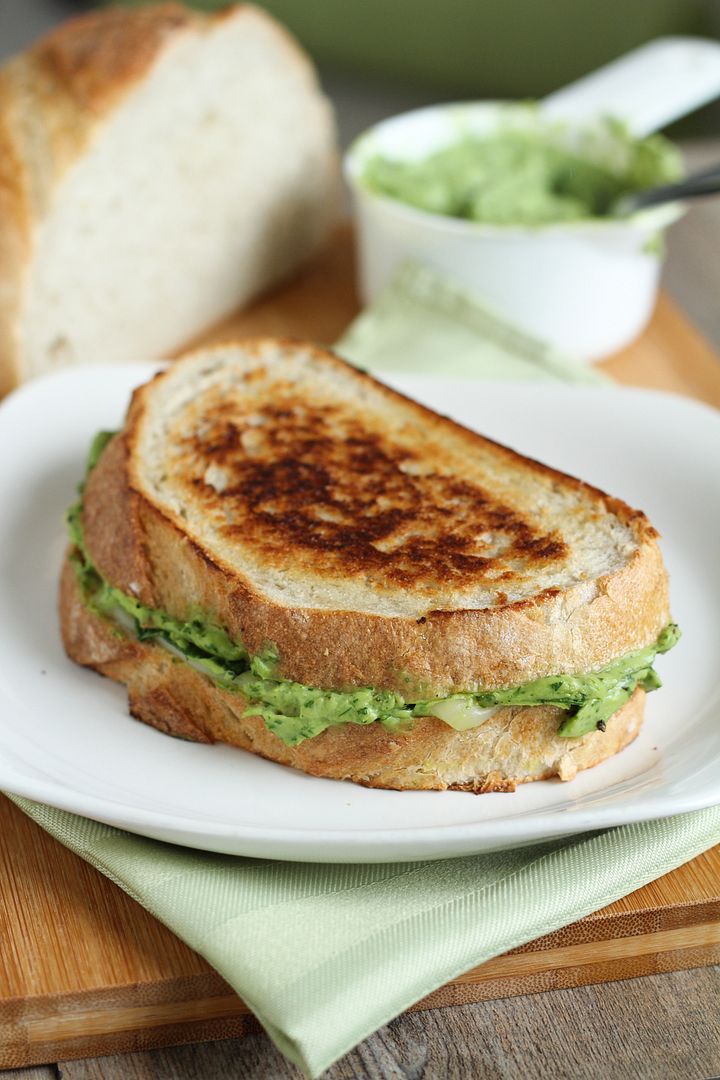 If you're into football, this would also make a great game day snack for this Sunday, especially if you'll be cheering for the 49ers along with me! I actually made this with San Francisco in mind, as it's the birthplace of green goddess dressing and is famous for its sourdough bread (and the 49ers mascot is named Sourdough Sam!).
But of course, if you don't care about or even hate football, you can still enjoy this for your Sunday lunch before you do something much more productive with your day than I will be :)
Have a great weekend!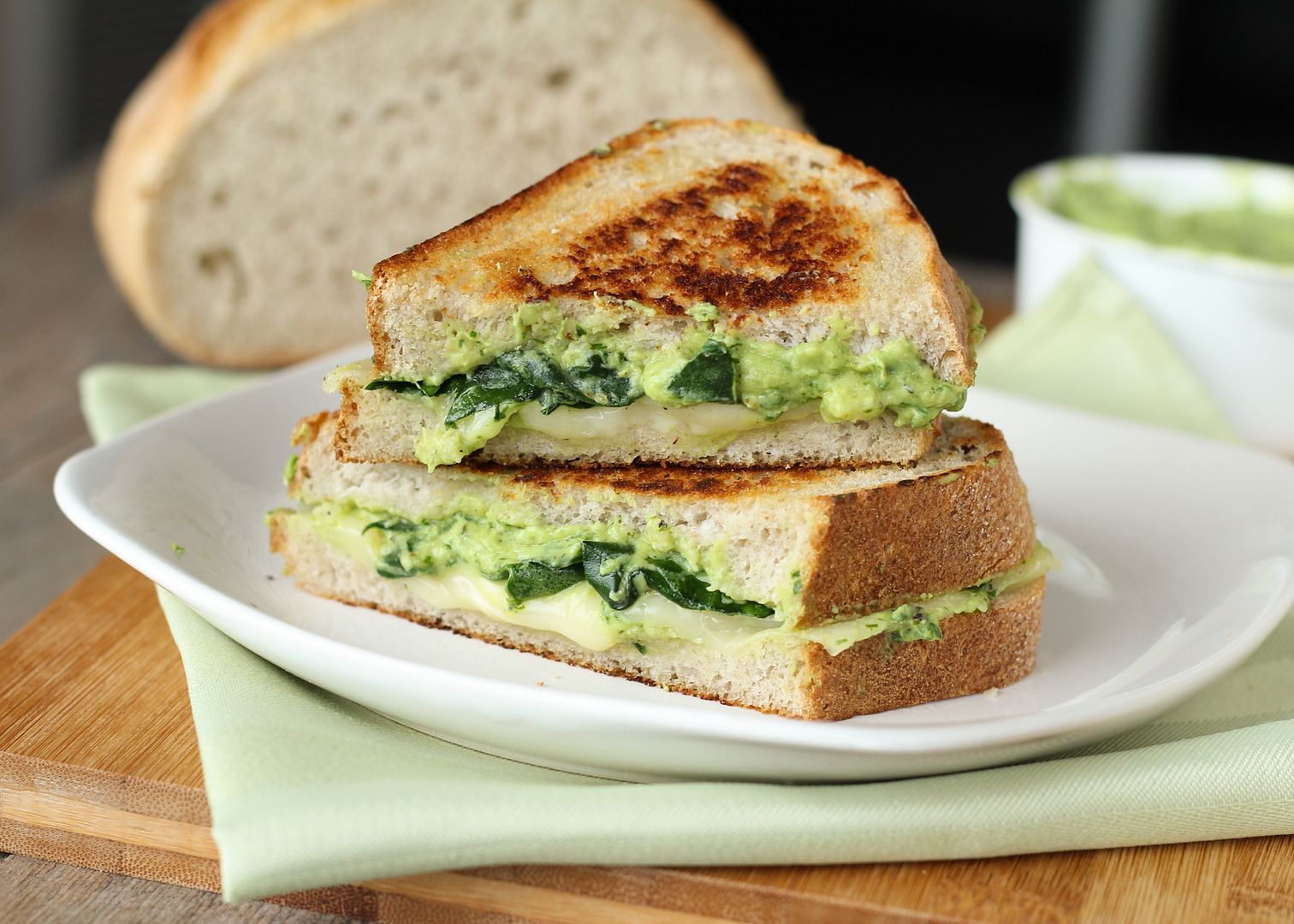 Avocado Green Goddess Grilled Cheese
Makes 4-8 sandwiches
Ingredients:
For the avocado green goddess sauce:
1 ripe avocado, flesh scooped out
1/4 cup light or non-fat sour cream
1/4 cup roughly chopped parsley
3 tablespoons chopped chives
1 clove garlic, minced
1/2 to 1 tablespoon fresh lemon juice
1/4 teaspoon salt
1/4 teaspoon pepper
Dash of Worcestershire sauce (optional, omit for vegetarians)
For the sandwiches:
8-16 slices of fresh sourdough bread, sliced about ½" thick
~4-8oz part-skim mozzarella cheese (or your cheese of choice, such as white cheddar, provolone, Havarti..)
Spinach – a few leaves per sandwich, depending on your preference
Margarine or butter for toasting the bread, if desired
Directions:
To make the sauce, add all ingredients to the bowl of a food processor or blender and mix until smooth.
Start with only 1/2 tablespoon of the lemon juice and add the rest after tasting, if desired.
Adjust other amounts as well, if desired.
Heat a large non-stick pan over medium heat.
Prepare sandwiches: Spread 2 tablespoons to 1/4 cup of sauce on a slice of bread, per sandwich.
I used 1/4 cup per sandwich which is a lot of sauce, so if you don't want the sauce to be overpowering, use only 2 tablespoons to spread a thin layer.
Note that there is 1 cup of sauce total, so using 1/4 cup per sandwich will allow for 4 sandwiches, and using 2 tablespoons will make enough for 8 sandwiches.
Season with a little extra salt and pepper, if desired.
Add desired amount of sliced cheese to other slice of bread and top with spinach leaves.
Combine two slices of bread to form a sandwich and very lightly butter one side of the bread.
Place that side face down in preheated skillet and cook until golden brown.
Butter other side of bread and flip until cooked.
Remove from heat and eat warm.