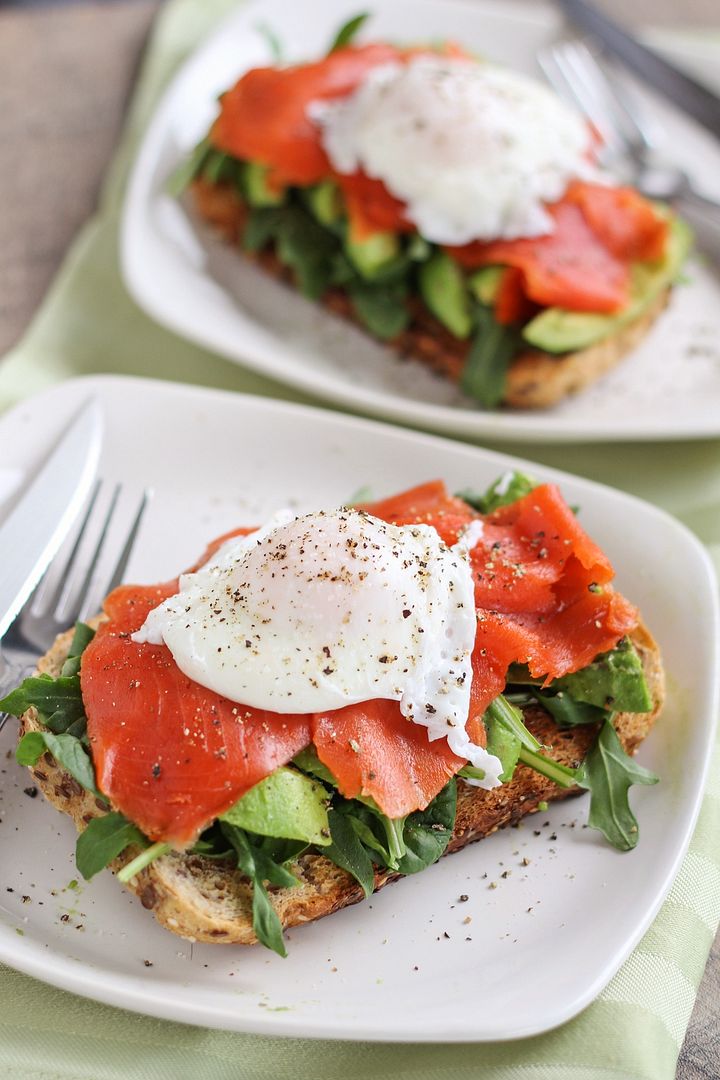 As I mentioned in my last post, I got to spend several days in Seattle last week for a conference. It was my first time there and I loved it - especially all the amazing food and west coast beer available! I will probably do a separate post on some of the things I tried in Seattle later this week for those who are interested, so I won't get much into it here, but the one thing I ate the most of was definitely seafood!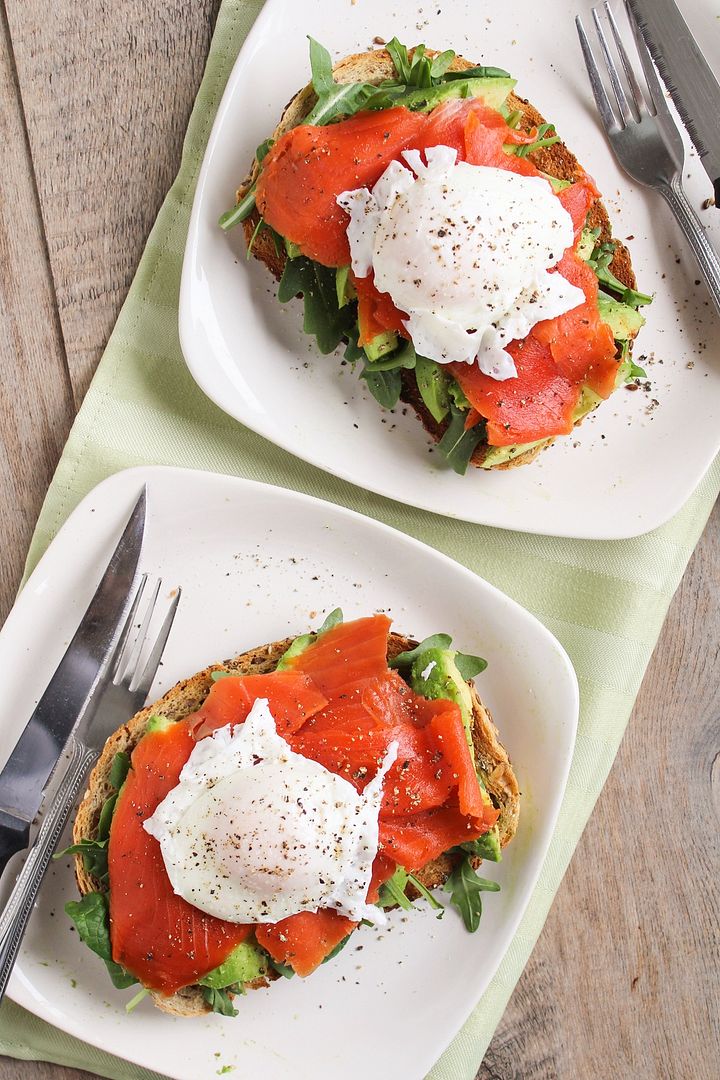 Without realizing it until later, I ate fish for dinner almost every night in Seattle, and even had it for breakfast one morning when I tried some bagel and lox (smoked salmon on a pumpkernickel bagel with cream cheese, red onion, and capers) in Pike Place Market. Smoked salmon isn't something I eat too often, but I had to try it in a place that's famous for it, and it was really good!
When I returned home I had to make my own version of a smoked salmon breakfast sandwich!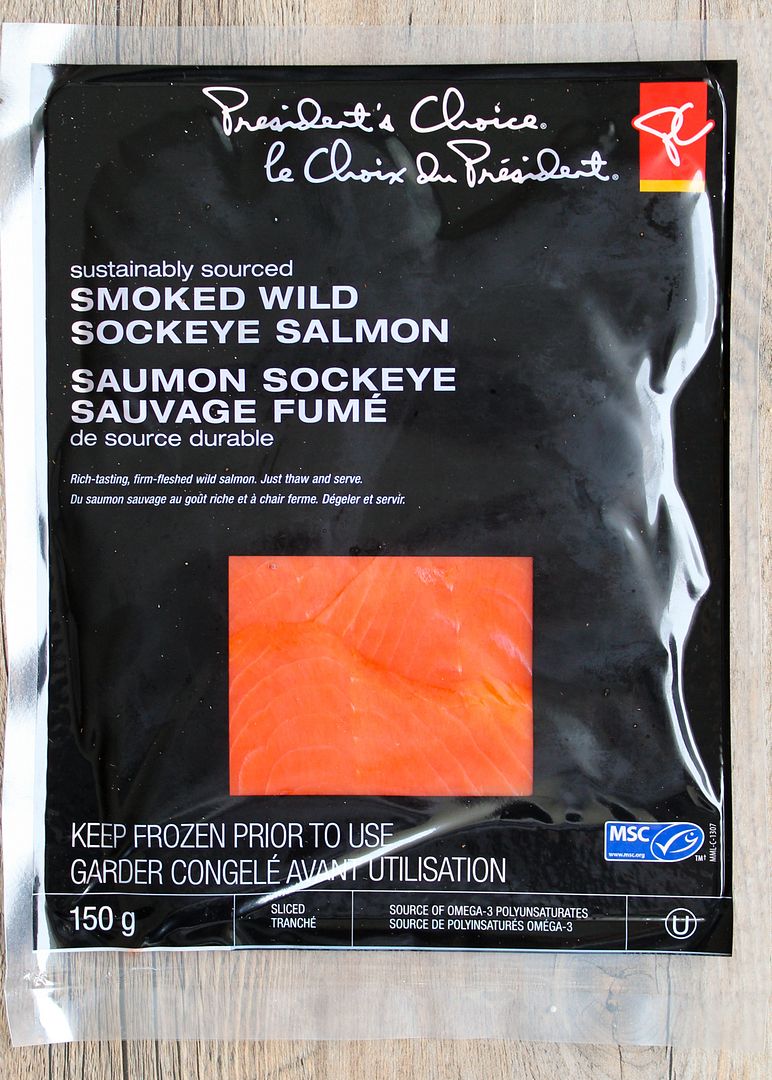 It's harder to find good smoked salmon here in Southwestern Ontario compared to Seattle where it was everywhere, but I managed to find this sustainably sourced smoked wild sockeye salmon from President's Choice. It was a bit expensive (like all salmon tends to be here), but worth it!
To make my sandwich, I replaced the cream cheese with creamy ripe avocado, left out the red onion because I don't like it, added some arugula for a fresh peppery bite, and topped the whole thing with a poached egg!
The salmon, avocado, and egg combine for a pretty rich sandwich, but I kept the portion fairly small so it wasn't overwhelming, and I found the arugula helped to balance everything out. And obviously this isn't something I'd eat for breakfast every morning, but it made a great weekend brunch!
You could also add red onion for some crunch or capers and dill to brighten up the rich flavours, I just didn't have any on hand. You could even leave off the egg if you want, but how can you resist that beautiful runny yolk!
Smoked Salmon & Avocado Egg Sandwich
Adapted from
Cooking Light
Makes 2 sandwiches
Ingredients:
1 tablespoon white vinegar
2 large eggs
2 slices whole grain rye bread, toasted
2 handfuls baby arugula
Salt and pepper
1 ripe avocado, sliced
1.5 to 2 oz thinly sliced smoked salmon
Directions:
To poach your eggs, heat a few inches of water in a wide saucepan. Add a splash of white vinegar (this will help the egg whites stay together). Crack your two eggs into separate small dishes. When the water is just at the point of starting to simmer (but bubbles are not breaking the surface yet), gently slide the eggs into the water. Use a spoon to nudge the egg whites closer to the yolk, turn off the heat, and let cook, covered, for 3-4 minutes. Gently remove eggs with a slotted spoon.
Smitten Kitchen
and
Simply Recipes
both have great tutorials on poaching eggs if it's your first time!
To prepare sandwiches, add arugula and avocado to toasted bread slices, season with salt and pepper, top with smoked salmon and poached egg. Feel free to add some chopped dill, capers, and/or red onion if you like! Eat immediately while egg is still warm.