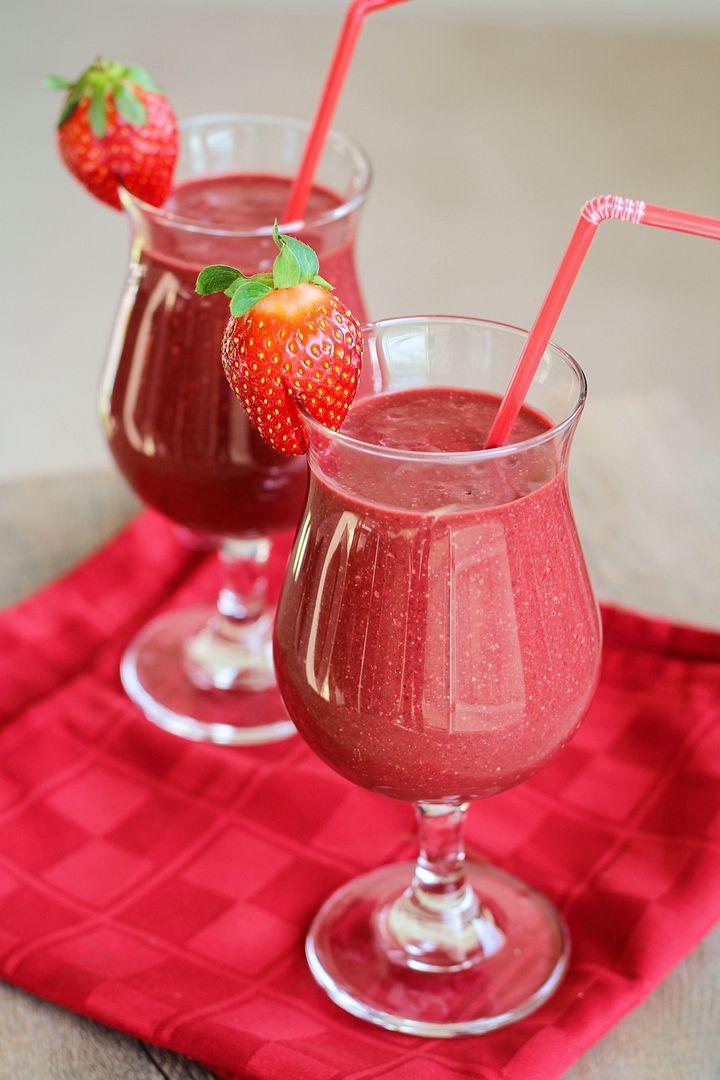 Happy Valentine's Day!
Whether you celebrate the occasion or not, today is a great time to remember to show yourself some love in addition to the love you give out to others either today or any/every other day of the year!
And what better way to treat yourself on Valentine's Day than with this festive red chocolate flavoured smoothie that will feed your body with some of the good things it craves, especially during a time of year when many of us (definitely myself included) are indulging in a few more desserts than usual!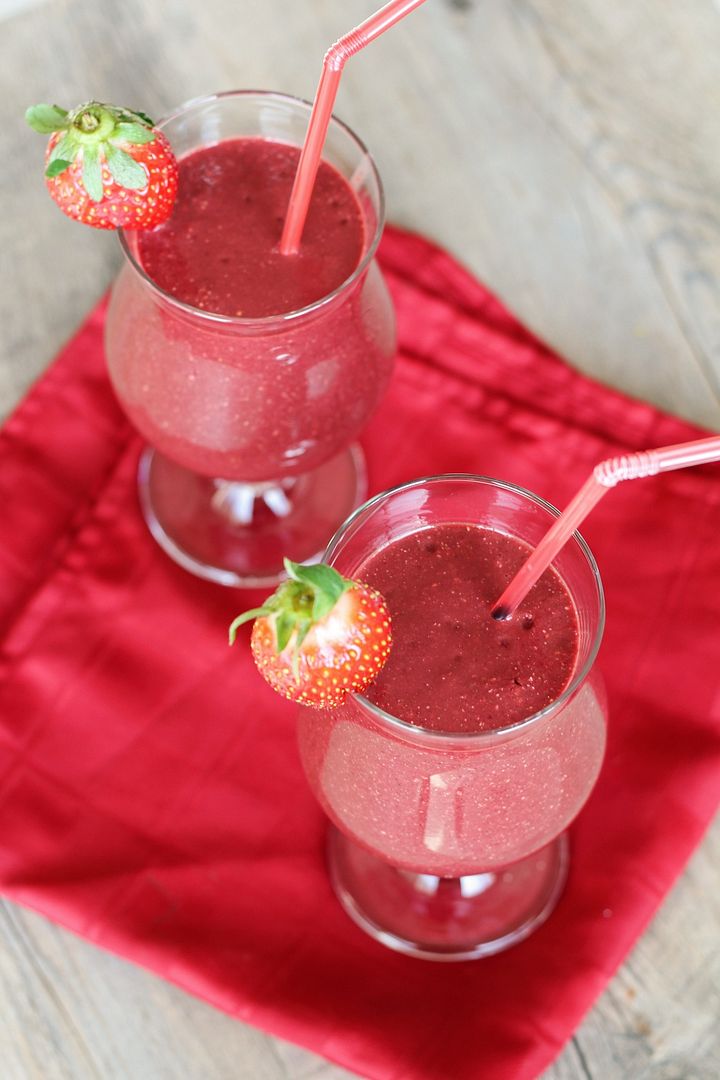 This smoothie gets its red colour from fresh strawberries and a roasted beet, darkened a bit by the cocoa powder which gives the smoothie a noticeable chocolate flavour that almost makes this feel more like dessert!
With the addition of chia seeds (aka little nutritional powerhouses), banana, almond milk, and oats, this is a great way to start your morning, or pick yourself up anytime of the day!
If you're worried about the beets, you could leave them out, but I gave one of these smoothies to Ryan when he woke up and he loved the strawberry and chocolate flavour, with absolutely no clue there were beets in it (which he claims not to like) until I told him after he drank the whole thing.
I love tricking him with vegetables!
I will make up for it tonight though by cooking a nice Valentine's dinner (which I still need to figure out!).
Hope you all have a great day!
Strawberry Beet Chocolate Chia Smoothie
Makes 2-3 smoothies
Ingredients:
1 medium beet, roasted* and chopped
2 cups milk of your choice – I used an almond/coconut milk blend
2 tablespoons chia seeds
1-1/2 cups chopped fresh strawberries
1 frozen banana, chopped
3 tablespoons cocoa powder
1/4 cup rolled oats
Directions:
*Before making this smoothie you will need to have a roasted or otherwise cooked beet on hand.
I roasted mine the night before: wrap the beet in foil, place on a baking sheet and roast in a 400°F oven for one hour or until tender.
Let cool then peel, chop, and transfer to refrigerator.
If you have a very powerful blender, you might be able to use the beet raw, but I haven't been able to try this with my blender.
If you don't keep frozen ripe bananas in the freezer (and you should, they are great for throwing in smoothies!), then be sure to put one in the freezer the night before too!
To make the smoothie, add all ingredients to a blender and puree until smooth.
Taste and adjust any amounts to your liking; you may wish to add a sweetener such as honey or agave depending on your tastes.
Pour into 2-3 glasses, garnish with a strawberry, and serve!