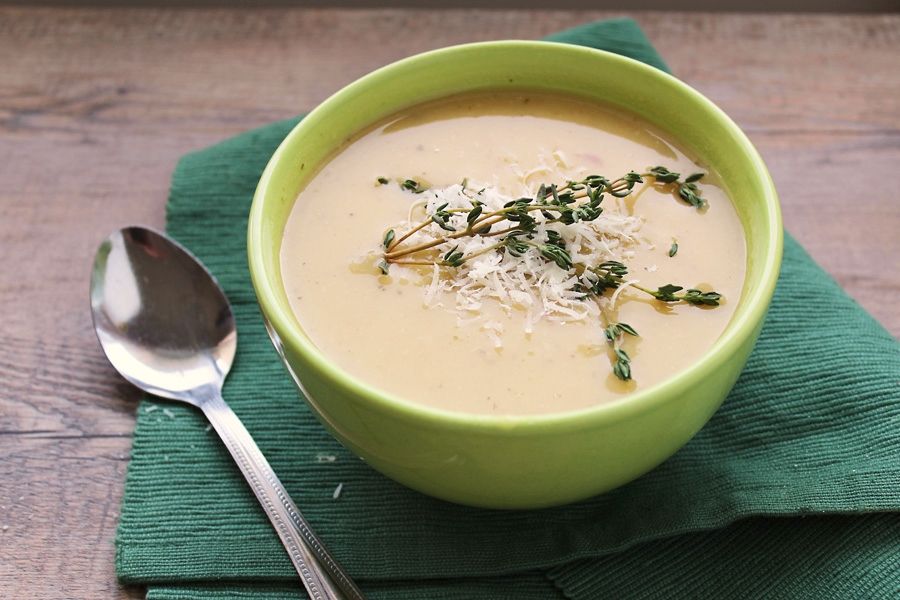 Since my cold doesn't seem to be going anywhere, I tried to help it along this week with a big batch of garlic soup! I remember reading somewhere that raw garlic is good for colds, and in the past I've tried horrible things like making garlic tea and scarfing down pieces of bread with raw cloves of garlic hidden inside. But since those things probably don't make a difference anyway, this time I decided to go ahead and roast the garlic and turn it into a warm and comforting soup so I could at least enjoy a delicious meal in my runny, stuffy, coughy misery!
Some of the reviews of the
original recipe
on Cooking Light said it had no flavour, but I don't know what they're talking about - I found that the roasted garlic and shallots provided so much flavour on their own, and then you add sauteed onions, white wine, vegetable broth, and fresh thyme - how much more flavour could you need? I also made a few changes to the recipe, like using yellow fleshed potatoes instead of Russets because I find they have better flavour, substituting the chicken broth for vegetable to make it vegetarian, eliminating the blue cheese croutons and just topping the soup with parmesan to make it easier, and using skim milk instead of 2% so it was even lighter.
Don't be scared by the amount of garlic in this - it all gets roasted, which I can testify is about a million times better than eating whole cloves of garlic raw! And while this may not have helped my cold at all, it still made me feel better to have this waiting for me for dinner every night this week!
*The above picture was taken in Jan 2014 - same recipe, just used savory instead of thyme as I didn't have any thyme (and used better lighting!).
Roasted Garlic & Shallot Soup
Adapted from
Cooking Light
Makes about 4 bigger portions or 8 smaller portions
Ingredients:
5 whole garlic heads, unpeeled (about 40-50 cloves) -
try to use good quality garlic if possible as it will have more flavour than the cheap packages of imported garlic - I've learned that lesson!
3 tablespoons olive oil, divided
1 teaspoon salt, divided
1 teaspoon freshly ground black pepper, divided
10 shallots, unpeeled (about 3/4 pound)
2 cups coarsely chopped onion (about 2 small yellow onions)
1 cup dry white wine (I used Sauvignon Blanc), at room temperature
3 cups vegetable stock
2 cups (1/2-inch) cubed peeled yellow-fleshed potato (about 3/4 pound)
1 teaspoon chopped fresh thyme
1 cup skim or 2% milk, at room temperature
Grated parmesan cheese plus extra thyme for topping (optional)
Directions:
Preheat oven to 400°F. Remove the outside layer of white papery skin from the garlic, cut the tops off each head, and place on tin foil. Drizzle with 1 tablespoon olive oil and sprinkle with 1/4 teaspoon salt and 1/4 teaspoon pepper. Wrap with foil and place on a baking sheet, then roast for 10 minutes in preheated oven. Meanwhile, prepare a shallot foil package by drizzling shallots with 1 tablespoon oil, sprinkling with 1/4 teaspoon salt and 1/4 teaspoon pepper, and wrapping with foil. After the 10 minutes have passed, add the shallots to the pan and continue to roast both the garlic and shallots for another 25 minutes. Remove from oven and let cool until cool enough to handle. Squeeze garlic out of the skins and peel shallots, discarding skins.
While garlic and shallots are cooling, heat 1 tablespoon oil in a Dutch oven over medium heat. Add onion, and cook for 6-10 minutes, stirring occasionally, until softened and lightly browned. Add garlic cloves, peeled shallots, and wine. Reduce heat and simmer uncovered for 5 minutes.
Stir in vegetable stock, potatoes, and thyme. Bring to a boil, then cover, reduce heat, and let simmer for 20-25 minutes, until potatoes are tender. Cool slightly, then puree in batches in a blender (I did mine in 3 batches), transferring pureed portion to a bowl each time. Pour pureed soup back into Dutch oven, stir in milk, 1/2 teaspoon salt, and 1/2 teaspoon pepper. Reheat for about 5 minutes, taste, and adjust any seasonings if necessary.
Top each portion with grated Parmesan cheese and a sprinkling of fresh thyme, if desired.