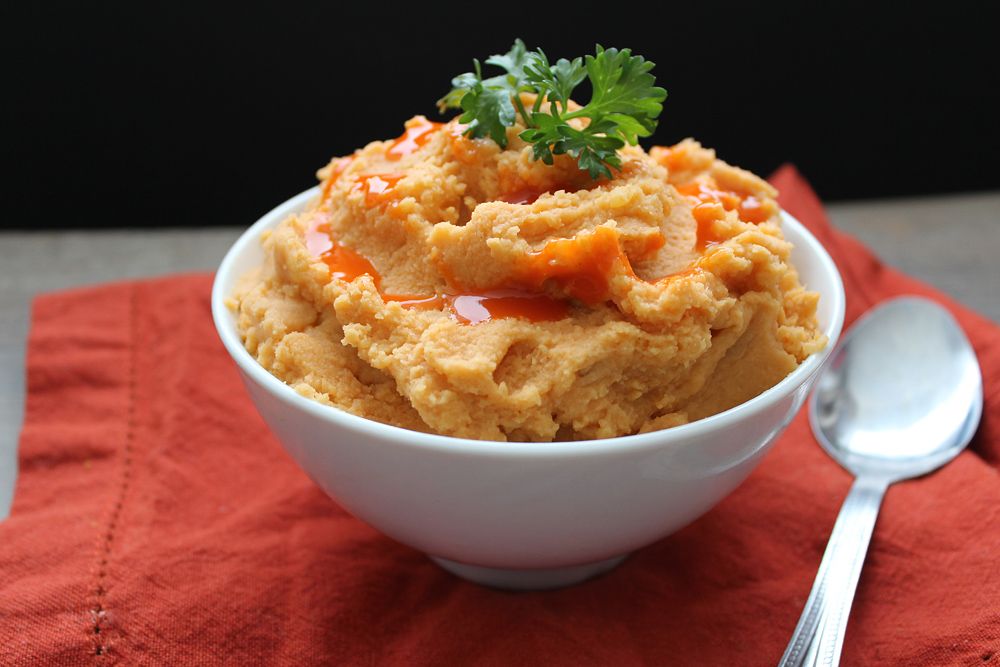 When I first saw hummus mashed potatoes on one of my favourite blogs, Gimme Some Oven, I thought it was such a fantastic idea – I love hummus and love mashed potatoes, so combining the two would not only taste great but would be a great way to healthify potatoes!
Of course, my mind starting immediately whirring with all the flavours of hummus you could use to change things up, and my first choice was buffalo.

If you love buffalo flavour and haven't tried this hummus yet, you need to do so asap; I eat a lot of hummus and this is definitely one of my favourites!
These mashed potatoes are super easy to make – first you have whip up a batch of buffalo hummus, but that takes only five to ten minutes max, and you can do it while you wait for your potatoes to

boil.

Then you simply mash the potatoes, stir in some hummus, season with salt and extra buffalo sauce for spice, and that's it!

There's no adding tons of butter and cream, and you still end up with smooth and fluffy mashed potatoes, but with the added benefit of protein and healthy fats from the chickpeas and tahini in the hummus.
If you're a fan of the buffalo/blue cheese combination, feel free to add some blue cheese in there - I didn't have any on hand but I think it would have made a great addition!

This would make a great side dish to some chicken and steamed broccoli for a complete meal, but I liked it so much I ate it all on its own before I had a chance to try it that way!
Update: I realized after writing this post that these mashed potatoes are also vegan (correct me if I'm wrong, but from what I've read online, Frank's buffalo sauce does not contain milk products), giving you all the more reason to like them! :)
Buffalo Hummus Mashed Potatoes
Serves 3-4 as a side dish (can easily be doubled to serve more)
1 pound Yukon Gold (yellow-fleshed) potatoes (about 2.5 cups peeled and cubed)
1-2 tablespoons buffalo sauce
Peel potatoes and chop into about 1" pieces.

Immediately transfer to a large pot and cover with cold water until potatoes are covered.

Bring to a boil, then reduce heat to a simmer and let cook 20-30 minutes, until potatoes are easily pierced with a fork.
Drain, then place potatoes back in the dry pot and let heat over medium heat until they appear dry, about 2-3 minutes.

Remove from heat and mash potatoes in the pot or in a bowl.

Add 3/4 cup hummus and mix.

Add 1 tablespoon of buffalo sauce, mix in, and add up to 1 additional tablespoon if desired.

Season with salt to taste.