So it looks like I chose a pretty good year to be a Niners fan! Let me rewind a bit .. With the NHL lockout earlier this year, my boyfriend decided to get into football more, and I decided it would be a lot more fun for me if I joined him. I always watch the Super Bowl and sometimes playoff games, so I knew the basics of the game and who all the teams were, but I had never payed much attention to the regular season or had a favourite team. So we each decided, before the season started, to choose a team to root for, and I chose the San Francisco 49ers. I watched (almost) every game of theirs this season and discovered that football is probably the only sport I can watch on tv and actually enjoy every minute - it's so entertaining!
This past Sunday was especially exciting with the 49ers in the NFC Championship game (which they won, yay!), so I decided to make some football food to go along with the game. Enter these pizza stuffed breadsticks!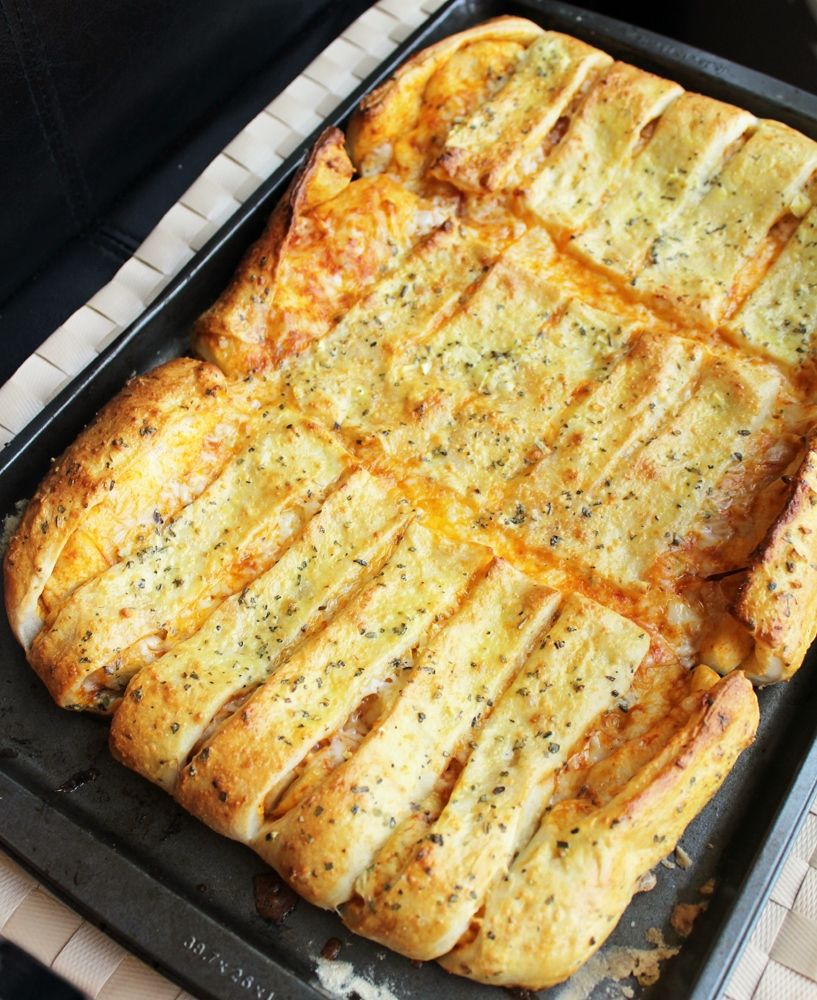 These are super easy and super tasty - you really can't go wrong with pizza dough and cheese. Most cheese-stuffed breadstick recipes have you wrapping individual pieces of dough around cheese, but I went the lazy route with these. All you have to do is roll pizza dough into a rectangle, top it with marinara sauce and shredded cheese, add a top layer of dough (brushed with an egg wash, seasonings, and parmesan), then bake and slice it into breadsticks. Served with marinara sauce for dipping, you get something that tastes like pizza but is more fun to eat!
Between eating these and watching the game, I was a happy girl on Sunday! Now I can't wait for the Super Bowl!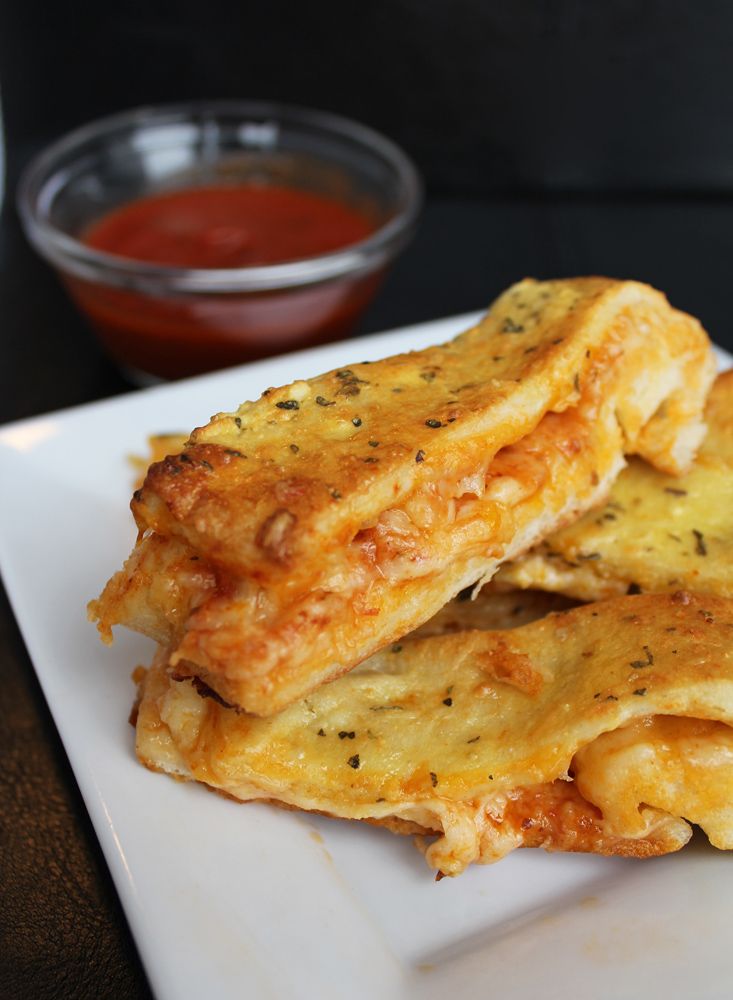 Pizza Stuffed Breadsticks
Makes about 20 breadsticks
1 ball of storebought frozen or refrigerated pizza dough (or 1 homemade pizza dough)
1/4 – 1/3 cup pizza/marinara sauce
200g brick of pizza mozzarella, shredded (about 2 cups)
2 tablespoons parmesan cheese
3/4 teaspoon dried oregano
Extra marinara sauce for dipping
Let pizza dough come to room temperature if using storebought dough.

Divide ball of dough in half.

Roll each half into a rectangle approximately 15"x10" on a floured surface.

If the dough won't stay stretched, let it rest then try again.

Transfer one dough rectangle to a greased or parchment-lined 15x10-inch baking sheet, stretching as needed to meet edges of pan.

Brush pizza sauce over the surface, then sprinkle evenly with mozzarella.

Place second dough rectangle over top, and fold the edges under the bottom layer of dough, pinching to seal all around.
Use a pizza cutter to cut dough into 20-21 breadsticks (I cut it crosswise into thirds first, then cut each third into 7 breadsticks).

Do not separate the breadsticks.
Mix egg, milk, parmesan, garlic, basil, and oregano in a small bowl.

Use a pastry brush to brush over the tops of the breadsticks.

You won't need to use all of it.

Bake in preheated oven for 15-20 minutes, until puffed and golden.

Recut along seams to separate breadsticks and serve warm with extra marinara sauce for dipping.
Note: Mennonite Girls Can Cook has some great step-by-step photos of her breadsticks if the above directions aren't clear - mine just used storebought dough, added marinara sauce in the middle layer, and used a little less cheese, but otherwise the steps were the same!
Note 2: (thanks to Genevieve for pointing this out in the comments): We loved these as is, but it could also be fun to try out different versions with various toppings stuffed in the middle! I imagine that diced pepperoni or veggies would make fun variations!