This past weekend, the temperature went up to 12
°
C (about 54
°
F for my American friends!) and it was glorious. The snow had all melted, I didn't need my winter jacket, and something about the spring-like air just made me so happy! Of course it was just a big tease and it's now back to being even colder than it was before, but that glimpse of Spring got me in the mood for lighter meals than the stews and chilis I've been enjoying lately.
This almost sauce-less pasta dish with lemon juice felt like a Spring-like dish, but the addition of cauliflower reminded me I still have a ways to go before I can add things like asparagus and peas in there!
Because there's not much of a sauce on this pasta, the mix-ins are really important! And this has plenty of mix-ins: along with the cauliflower and lemon juice, there are sauteed onions and garlic, capers, fresh parsley, parmesan cheese, and a toasted breadcrumb and walnut mixture that gets mixed throughout for a little added crunch.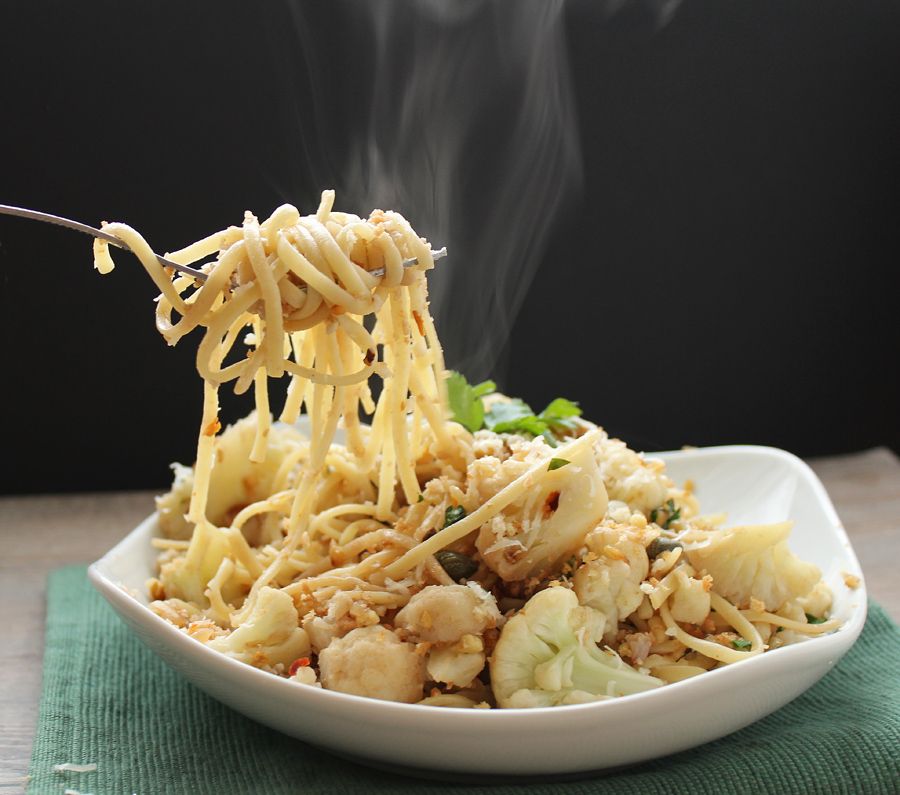 I was in a hurry to photograph this before the day's light disappeared so I hadn't tasted it yet when I took pictures. It definitely didn't disappoint - it was just what I was in the mood for and I loved how all the flavours combined, but as I ate, I thought of two extra add-ins that would have made it even better. Sliced kalamata olives would complement the salted, pickled flavour of the capers well, and golden raisins would add a nice burst of sweetness throughout. I added a handful of raisins to my leftovers today and loved it, and tomorrow I'm going to add olives! As always, taste and customize to your liking!
(Update: I didn't have kalamata olives in my fridge so I added green olives today and it was delicious!)
Cauliflower Linguine with Lemon and Capers
Adapted by combining recipes from William Sonoma and Clean Eating Magazine
2 tablespoons olive oil, divided
1/2 cup panko bread crumbs
1/4 cup chopped walnut pieces
1 head cauliflower, chopped into florets
3/4 teaspoon red pepper flakes, or to taste
1/4 cup chopped parsley, plus more for topping
1/3 cup grated parmesan cheese, plus more for topping
3 to 4 tablespoons lemon juice (or to taste)
Optional add-ins: Sliced Kalamata olives and/or golden raisins
Bring a large pot of salted water to a boil.

Add the pasta and cook according to package directions to bring it to al dente.

Drain the pasta, reserving 1 cup of the cooking water.
Meanwhile, heat 1 tablespoon olive oil in a large saucepan over medium heat.

Add garlic, bread crumbs, and walnuts.

Cook, stirring often, for 2-4 minutes, until bread crumbs are golden brown and toasted.

Remove and transfer to a small bowl.

Add remaining tablespoon of oil to the saucepan and heat over medium heat.

Add onion and sautee until golden brown, stirring occasionally, 5-6 minutes.

Add cauliflower, red pepper flakes, and salt.

Cook, stirring occasionally, for another 5-6 minutes.

At this point, the pasta should be ready.

Add

3/4 cup of the reserved pasta cooking water and cook until cauliflower is tender, 5 to 7 minutes, adding more cooking water if needed.

Add the pasta to the saucepan, and stir in the capers, parsley, parmesan, toasted breadcrumb mixture, and lemon juice.

Taste and season with more salt if needed, along with freshly ground pepper.

You can also add more lemon juice or throw in more capers if you like!
Serve immediately, topping each portion with additional parmesan cheese and parsley if desired.
Note: As I was eating this I thought that either golden raisins would have been a nice addition for a hint of sweetness, or Kalamata olives to complement the flavour of the capers.

Either ingredient would boost the overall flavour of the dish, and could be stirred in at the end along with the capers, etc., but it was also fine without them!