I know I just posted a buffalo sauce recipe, so I apologize to any buffalo-haters out there - I know it's not for everyone, but the boyfriend and I are huge buffalo sauce fans and these meatballs would go so well with the Super Bowl so I had to share them this week!

I actually made these for us to enjoy during the playoff games two weekends ago, so I can vouch that they go very well with football!
When I first thought of making buffalo-flavoured meatballs, I also came up with what I thought was a brilliant idea of stuffing blue cheese in the middle of them.

Again, I know blue cheese isn't for everyone, but if you're a fan of buffalo there's a good chance you like the buffalo-blue cheese combination (and if you don't think you do, you should give it a try!)

Of course, as soon as I started Googling I found that many other people had already had this brilliant idea long before me, but at least it confirmed that it would work!

I based my recipe on a combination of other similar ones, but used turkey instead of chicken because I just like it better, and left out the diced celery that a lot of recipes called for because I don't like having crunchy bits in my meatballs.

Instead I added garlic, onion, and a dash of worcestershire sauce for extra flavour, and with the addition of buffalo sauce and blue cheese, these tasted (and smelled!) amazing!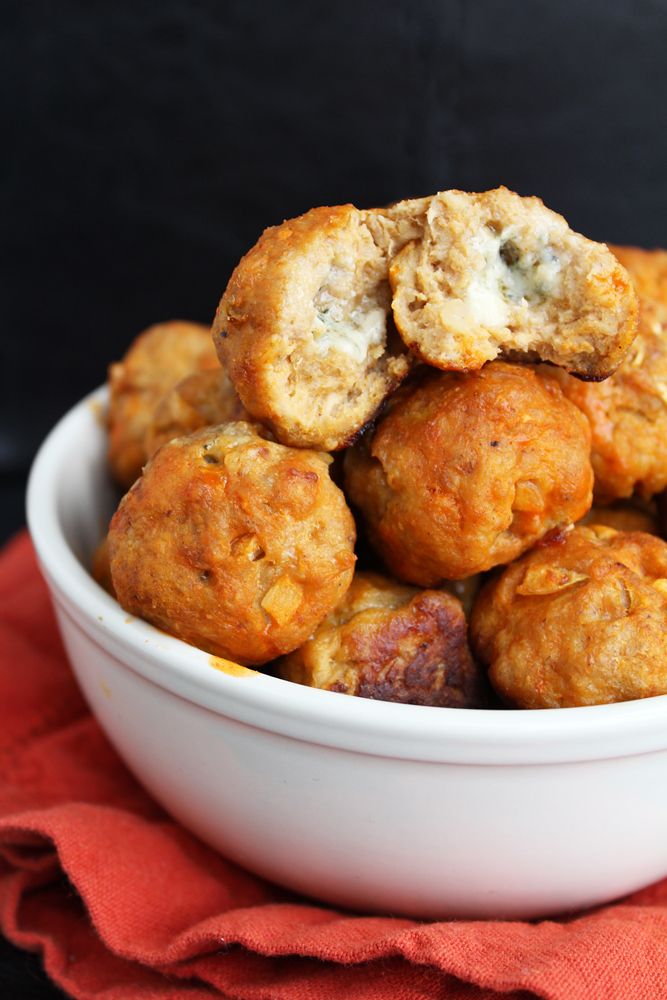 A lot of buffalo meatball recipes also call for coating them in a mixture of melted butter and hot sauce afterwards, but since we weren't planning on eating these on their own, I thought I'd save a few calories by just drizzling them with a little buffalo sauce after baking instead.

They were still delicious on their own, but even better as meatball subs!

Add a little light ranch dressing and some crumbled blue cheese (which I completely forgot in the picture below), and you have a Super Bowl worthy sandwich - or turn them into sliders for a lighter snack!
If you're starting to look for Super Bowl recipes and either want more buffalo ideas or want nothing to do with buffalo sauce, I've been collecting lots of both types of recipes on my Pinterest board!
Blue Cheese-Stuffed Buffalo Turkey Meatballs
1/4 teaspoon ground pepper
1/4 cup onion, minced (about half a yellow onion)
1 large egg, lightly beaten
1 teaspoon worcestershire sauce
1/4 cup buffalo sauce + more for drizzling
~1/3 cup crumbled blue cheese
Combine all ingredients for meatballs in a large bowl – turkey, breadcrumbs, salt, pepper, garlic, onion, egg, worcestershire, and 1/4 cup buffalo sauce.

Use your (clean) hands to mix everything together until well combined.
Form mixture into meatballs approximately 1 to 1.5" in size.

For each meatball, you'll roughly form a ball, then place a few crumbles of blue cheese in the center, then push the cheese to the center so it's covered by meat on all sides, and shape into a round ball, as shown in the pictures below.
Transfer all formed meatballs to a parchment-lined baking sheet and bake in preheated oven for 25-30 minutes, until cooked through.

Transfer meatballs to a bowl and drizzle with extra buffalo sauce to taste, tossing to lightly coat.
Serve warm as is, as sliders, or on a sub.

For our subs, we added lettuce, more buffalo sauce, light ranch dressing, and blue cheese crumbles.