I'm so excited to finally have a new recipe on the blog! I loved spending the holidays at home and having amazing meals cooked for me most nights, but it also feels good to be back in my own kitchen cooking again, especially using healthy ingredients after a bit of overindulgence over the holidays!
I love risotto, and while it's pretty easy to make, I don't always love standing over a hot stove stirring for half an hour. I had no idea that baked risotto existed until recently and was very eager to try it out as soon as possible!
This uses all the same ingredients and follows most of the same steps as regular risotto, but when you get to the part of slowly adding broth to the rice and stirring, you just pour it all in at once instead and bake it on the oven (see pic below).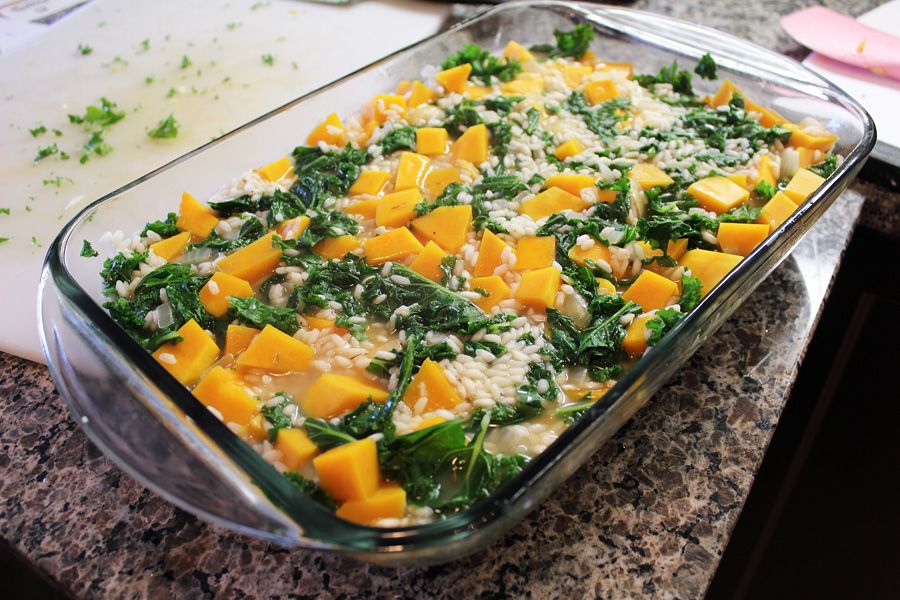 This version adds butternut squash and kale so it's healthy and tasty! I found that the texture doesn't turn out to be exactly as creamy as traditional risotto, but it was pretty close. I know the pictures somehow make it look like regular rice, but it was much creamier than that! I'd still make the regular version if I wanted to impress guests (or get a good arm workout), but this is a nice shortcut option to have for weeknight meals.
I completely forgot to add the parmesan cheese before taking these photos - it helps the rice stick together and adds flavour, so don't forget it!
Butternut Squash & Kale Baked Risotto
Serves about 6
Ingredients:
1 tablespoon olive oil
1 medium yellow onion, diced
2 garlic cloves, minced
1/2 teaspoon dried thyme
1-1/2 cups Arborio rice
Salt and pepper
1/2 cup dry white wine (I used Sauvignon Blanc)
4 cups peeled and diced butternut squash (from a small to medium 2 pound squash)
1 (900 mL) carton low-sodium chicken broth (substitute vegetable broth for vegetarian version)
1 bunch kale, tough stems removed, sliced crosswise into 1/2-inch strips
Grated parmesan cheese for serving
Directions:
Preheat oven to 400°F.
Heat the oil in a large saucepan over medium heat. Add onion and cook, stirring occasionally, for 5-6 minutes until softened. Add garlic and thyme and cook for 1 more minute, until fragrant. Stir in the rice and cook, stirring frequently, for 3 minutes. Season with salt and pepper.
Add wine and cook until almost absorbed, stirring often, about 2 minutes. Add the squash and broth and bring to a boil. Stir in the kale. Transfer to a 9x13 glass baking dish, cover with aluminum foil, and bake in preheated oven for about 25 minutes, until most of liquid is absorbed and rice is tender. Let sit for about 5 minutes before serving. Top each portion with grated parmesan cheese.
Note: The original recipe called for the use of a Dutch oven - that way you don't have to transfer the rice to a baking dish as you could just transfer the pot to the oven. I didn't have a Dutch oven where I was cooking this, but it still worked fine without one.