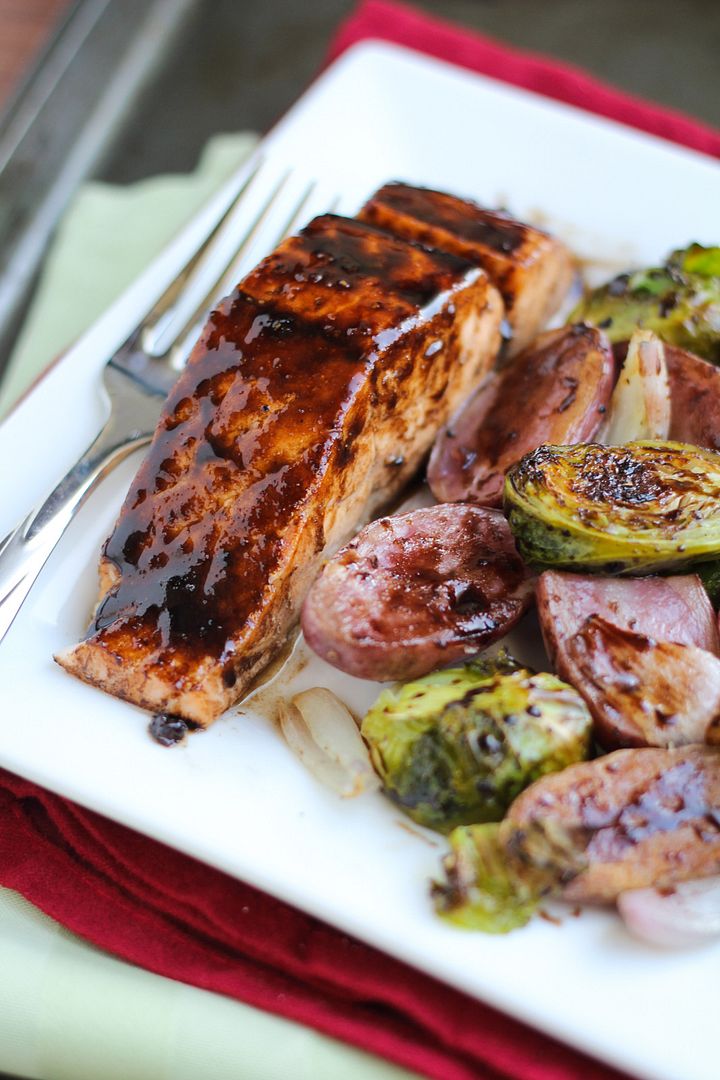 I know it's a little late for brussels sprouts season and most of you are probably too focused on asparagus right now to think about wintry vegetables, but I'm happy to eat brussels any time of year (and we don't have local asparagus here yet last time I checked)!
I can also enjoy a meal like this any time of year - roasted salmon, vegetables, and potatoes all tossed in an easy homemade glaze. There's nothing revolutionary about this dish and you've likely seen or made a version of it once or several times before, but it's a great recipe to have in your collection because it's simple, healthful, flavourful, and satisfying!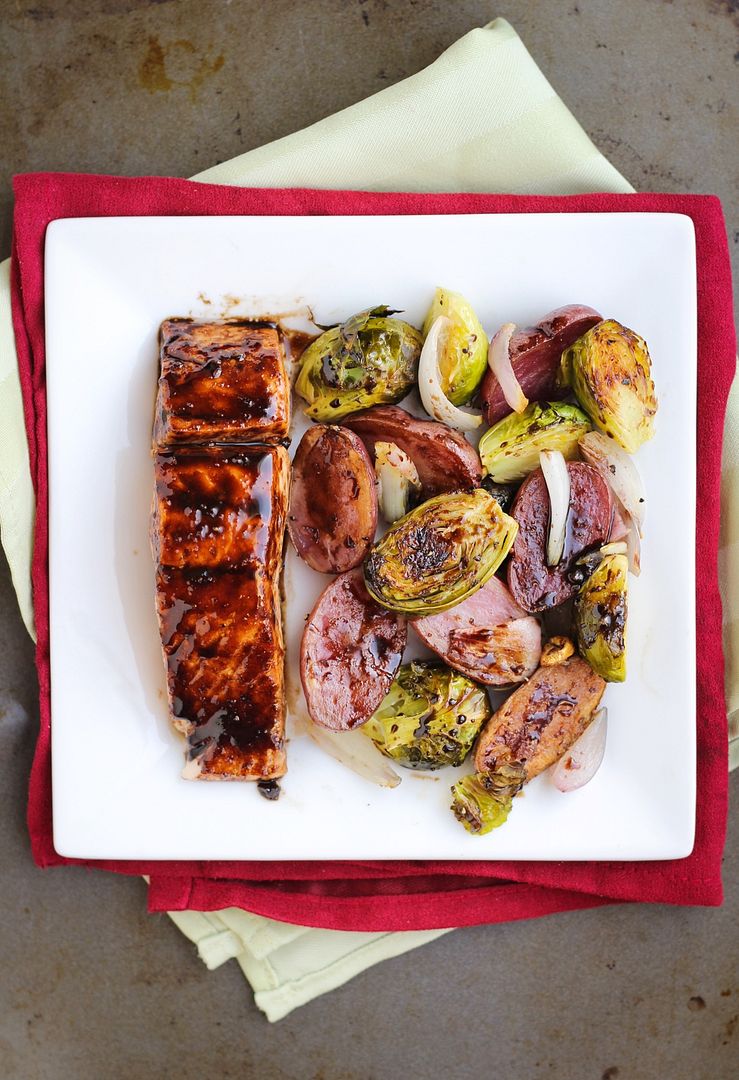 I love adding a glaze to salmon because that little extra step makes such a difference in flavour; I usually use whatever ingredients I have on hand but that often includes maple syrup. I also love tossing roasted brussels sprouts and potatoes in balsamic vinegar and eating them just like that. So I decided to combine those flavours together with a maple balsamic glaze that I brushed heavily on the salmon and lightly on some roasted brussels sprouts, potatoes, and shallots on the side.

I don't often like coordinating main dishes with side dishes because it involves too much work but everything about this dish flows easily together, doesn't take long or dirty too many dishes, and most importantly tastes so good you'll want to add it into your meal rotation no matter the time of year!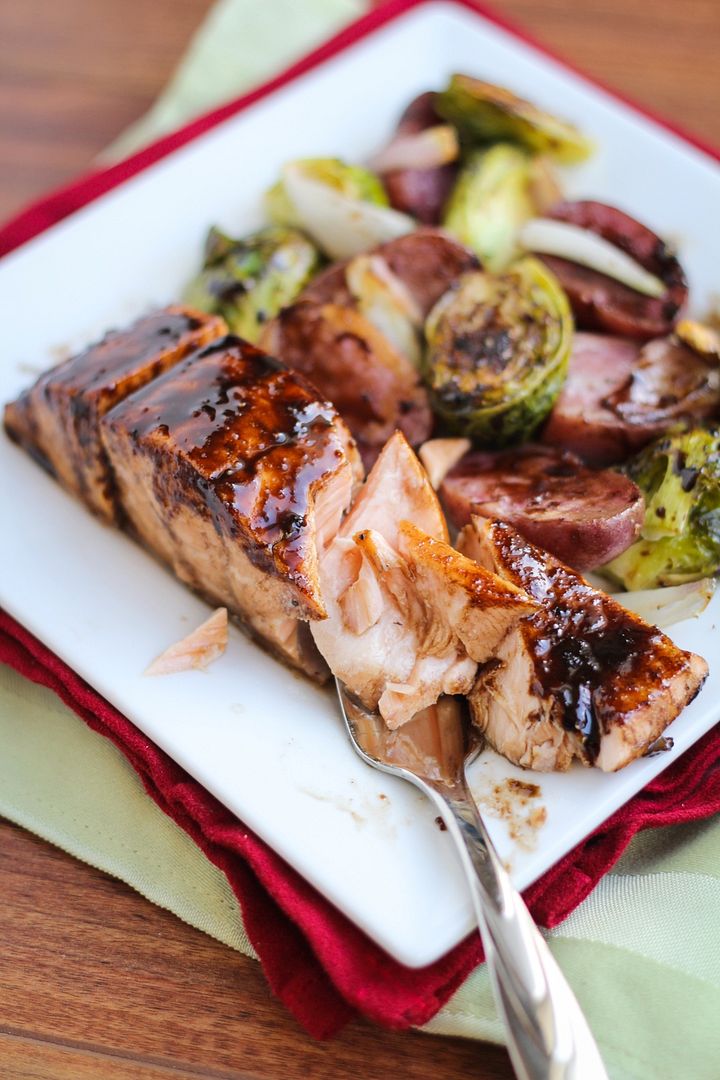 Maple Balsamic Roasted Salmon, Brussels Sprouts, & Potatoes
Serves 4
Ingredients:
For the roasted veggies:
1 lb brussels sprouts, stems trimmed and outer leaves removed, halved
1 lb baby potatoes or fingerling potatoes, halved
3-4 shallots, peeled and chopped
3-4 cloves of garlic, chopped
1-2 tablespoons olive oil
For the glaze:
1 teaspoon olive oil
1 clove garlic, minced
1/4 cup balsamic vinegar
2 tablespoons pure maple syrup
1 tablespoon Dijon mustard
~1/4 teaspoon each salt and pepper
1 lb or 4 fillets of salmon
Directions:
Preheat oven to 425°F.


Toss brussels sprouts, potatoes, shallots, and garlic with olive oil. Season with salt and pepper and spread in a single layer on a foil-lined baking sheet. Roast in preheated oven for 20-25 minutes.
Meanwhile, prepare glaze by heating 1 teaspoon olive oil or a light drizzle in a small saucepan over medium heat. Add garlic and cook for about 30 seconds. Add balsamic vinegar, maple syrup, Dijon, salt, and pepper. Let simmer, stirring often, and watching closely, until slightly thickened. This could take around 5 minutes. I don't reduce the glaze until it's completely thick; I remove it from the heat when it's thickened but still pourable.
Remove vegetables from oven and toss. Brush glaze over salmon fillets (you won't use all the glaze) and place on the same or a separate foil-lined pan, skin side down. Return salmon and vegetables to oven and roast for another 10-12 minutes or until salmon and vegetables are cooked through. Brush remaining glaze over salmon and roasted veggies. Season with salt and pepper if desired.