I'll have to make this post short as I'm not feeling well but still have to do all my Christmas wrapping and last minute preparations before the big day tomorrow (which hopefully I'll be feeling better for)! I just wanted to squeeze in one last Christmas recipe though as these cookies were probably my favourite thing I've made this season!
These cookies are inspired by a recipe I saw on
Baked By Rachel
, which I then went and changed almost everything about so I'm sure they're nothing like the original, but I absolutely loved my own version! They're puffy but chewy, with a nice strong gingerbread flavour and just the right amount of sweetness from the chocolate chips. I think these will be a new holiday favourite of mine!
I'd also like to take this time to wish everyone the very best of the holiday season, with lots of rest and relaxation, cheer and good times spent with family and friends, and of course, delicious food!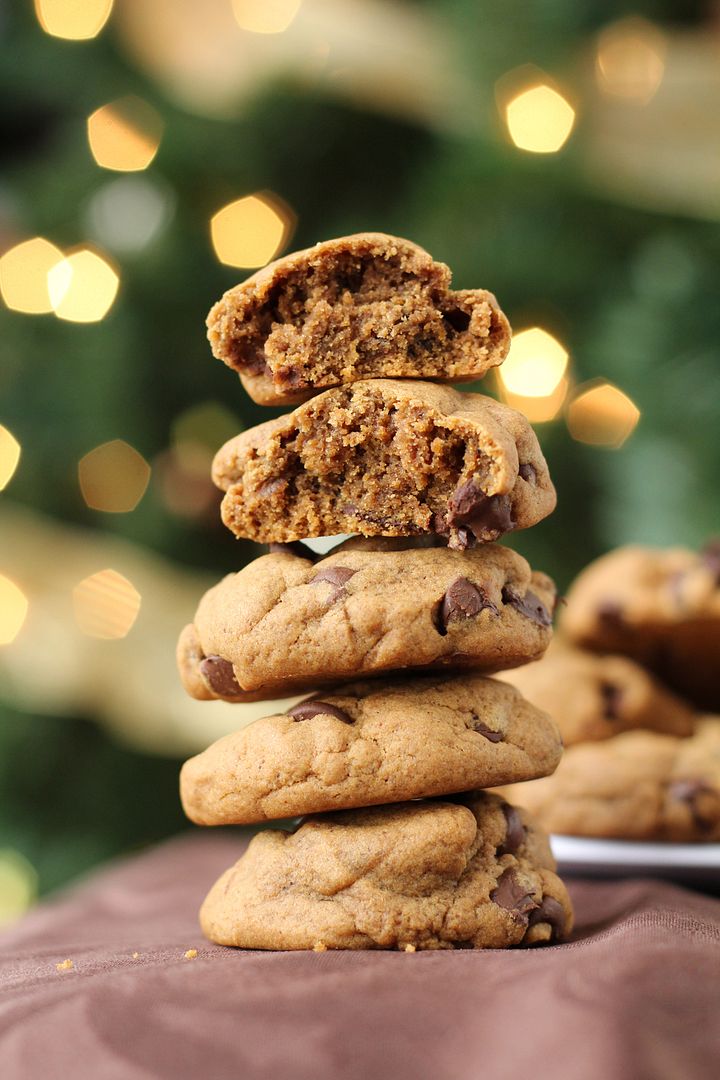 Gingerbread Chocolate Chip Cookies
Makes about 2 dozen cookies
Ingredients:
1/2 cup + 2 tablespoons unsalted butter, softened
1/4 cup sugar
1/4 cup dark brown sugar
1 large egg
1/4 cup molasses
1 teaspoon vanilla extract
2 cups all-purpose flour
1/2 teaspoon salt
1 teaspoon cinnamon
1/2 teaspoon nutmeg
1-1/2 teaspoons ground ginger
1/2 teaspoon cloves
1 tablespoon cocoa powder
3/4 teaspoon baking powder
1/2 teaspoon baking soda
3/4 cup semi-sweet chocolate chips
Directions:
In a large bowl, use a hand mixer or electric mixer to cream the butter and sugars until light and fluffy, about 2-3 minutes.
Add the egg and mix until combined.
Add molasses and vanilla and mix until combined.
In a separate bowl, whisk together the flour, salt, cinnamon, nutmeg, ginger, cloves, cocoa powder, baking powder, and baking soda.
Add the dry ingredients to the wet ingredients in 3-4 additions, mixing on low speed until each addition is just combined.
Stir in chocolate chips.
Cover dough and refrigerate for several hours until chilled through – this is important if you want the cookies to stay thick and puffy.
I chilled mine for about 3 hours.
Preheat oven to 350°F.
Scoop dough by about 1.5 tablespoons full and drop onto a parchment-lined baking sheet about 1 inch apart.
Because the dough will still be quite firm, I pressed the cookies slightly at the top to flatten them slightly.
Bake for 11-12 minutes.
Allow to rest on cookie sheet for 1-3 minutes, then transfer to a wire cooling rack to cool completely.
Store covered in a container.