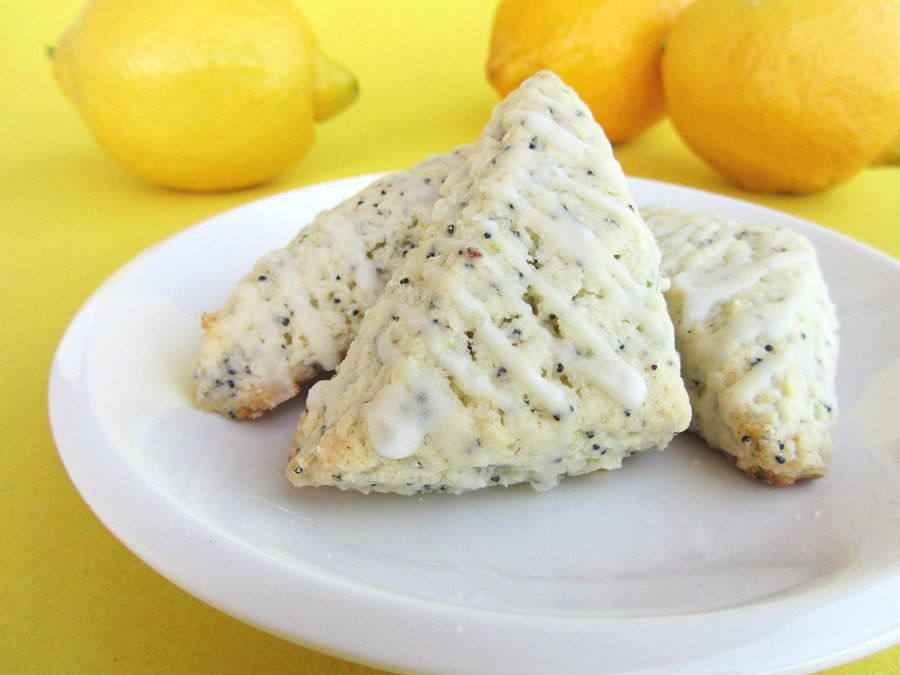 Last weekend seemed like the first weekend I spent at my own place in a long time after taking lots of little trips lately. It felt so nice to get back into a routine of going to the Farmer's Market, doing lots of cooking, shopping for new clothes, and even cleaning! But though I'm enjoying a routine for now, I know it won't be long before I start craving a vacation again. It's impossible to sit in a windowless cave of an office five days a week when it's so gorgeous outside!
Fortunately, you can always try to bring the sunshine and happy memories indoors with bright and sunny baked goods, like these adorable mini lemon poppy seed scones that are sure to put a smile on anyone's face!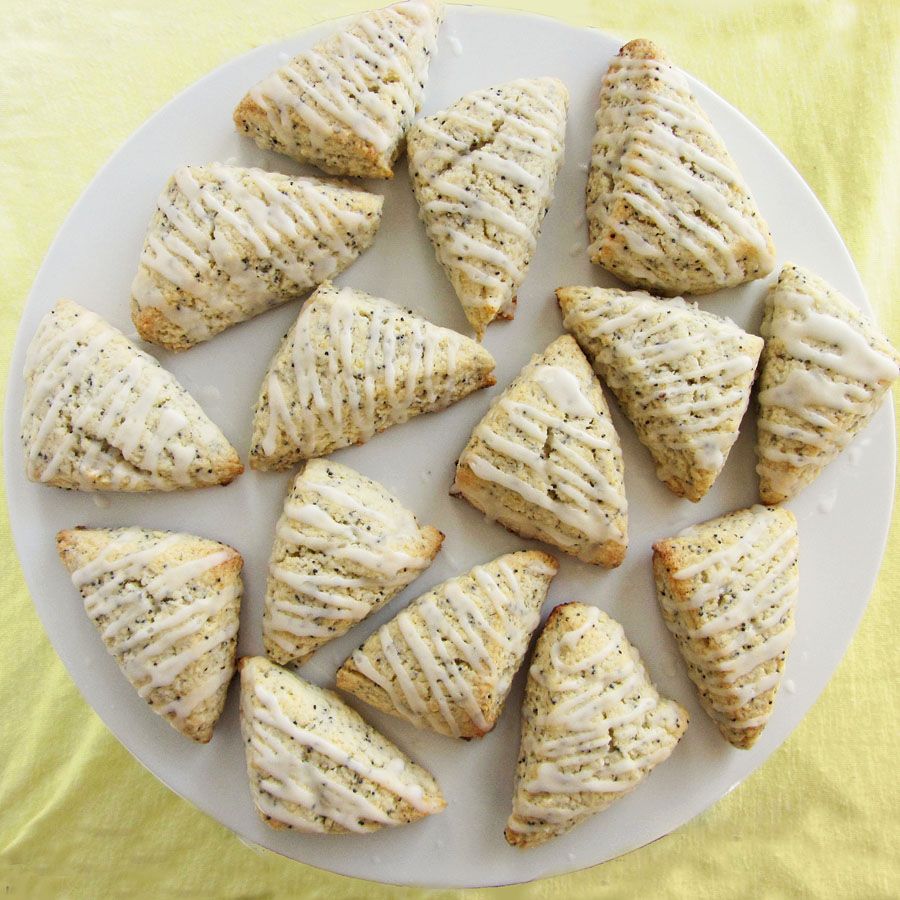 I love anything lemon poppy seed-flavoured. I love scones (though I try not to eat them too often). I love anything miniature. So after the success of my
mini toffee scones
a little while ago, I decided to make mini lemon poppy seed scones!
When I went to search for a base recipe for lemon poppy seed scones online, I was surprised to find that there weren't very many. I ended up choosing a recipe from
Bon Appetit
, who has never steered me wrong before, but I made a few adjustments to the recipe, like significantly increasing the amount of lemon juice and zest, and of course making them into mini-sized scones!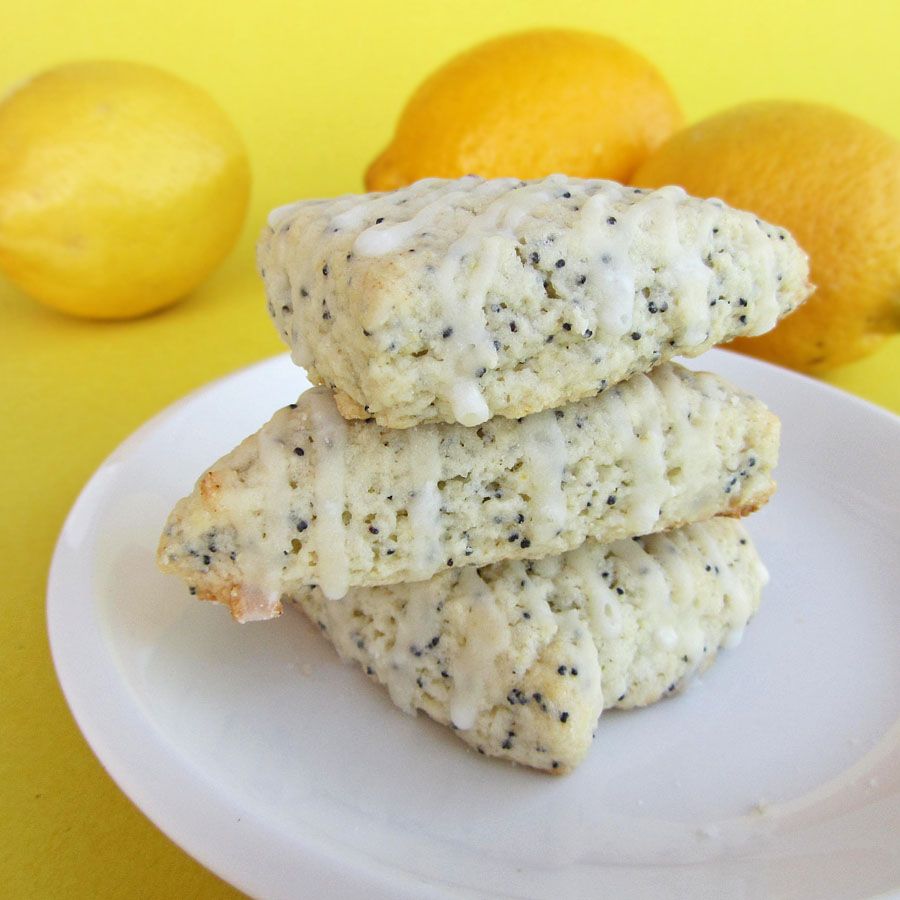 These turned out just as good, if not better, than I had hoped! They were light and fluffy with bursts of crunchy poppy seeds and a bright lemon flavour that's enhanced by the sweet lemon glaze on top. They're just like little bites of sunshine, and because they're a fraction of the size of regular scones, you don't have to feel too guilty about eating them!
While my scones have long since disappeared, today's sunshine has not so I'm off to go sit outside while the warm weather lasts!
Mini Lemon Poppy Seed Scones
Makes about 18 mini scones
Ingredients:
For the Scones:
3 cups all-purpose flour
1 cup sugar
3 tablespoons poppy seeds
1 tablespoon baking powder
1 tablespoon lemon zest
1 teaspoon kosher salt
1/2 cup + 2 tablespoons unsalted butter, chilled and cut into small pieces
1 large egg
1/4 cup fresh lemon juice
1/3 cup 10% cream
For the Glaze:
1/4 cup icing sugar
1 tablespoon fresh lemon juice
Directions:
Preheat oven to 375°F. Line a baking sheet with parchment paper.
In the large bowl of a food processor, mix together the dry ingredients (flour, sugar, poppy seeds, baking powder, lemon zest, and salt), pulsing a few times until combined. Add butter and pulse until mixture resembles coarse crumbs. Whisk egg and lemon juice together in a small bowl, then add to the food processor. Pulse until moist clumps form. Add the cream, and pulse just until the dough comes together.
Using floured hands, gather the dough into a ball and flatten into a 4x4-inch square on the parchment paper-lined baking sheet. Cut the square into three even rows and three even columns, forming 9 smaller squares. Cut each square in half diagonally to form two triangles, making a total of 18 triangles. (See
this post
for a similar example of forming mini scones).
Spread the triangles evenly across the baking sheet, and bake in the preheated oven until scones are golden brown, about 20 minutes. Transfer to a wire rack to cool.
To make the lemon glaze, whisk together the icing sugar and lemon juice until a pourable glaze forms. Once scones have cooled, use a spoon to drizzle icing over the scones (or transfer the icing to a ziplock bag, snip off the corner, and squeeze out). Serve immediately.