Now that I've seen my first official snowfall of the season and have broken out my winter hat and gloves, all I can think about are warm and cozy meals, and when it comes to comfort food, it doesn't get much better than mac and cheese!
But as you've probably guessed from the title, this is no ordinary mac and cheese! And even though it might sound a little weird, I promise that it works!
This mac and cheese has a ton of flavour going on – there's pumpkin puree, pumpkin beer, sautéed apples, caramelized onions, and smoked applewood cheddar cheese – and it all works together so well!
I can never decide if I prefer stovetop or baked mac and cheese, so I tried this both ways. I stopped after cooking it on the stovetop and dug in to test it out. You'll probably want to do the same thing because it's so hard to resist at this point, and I certainly wouldn't blame you!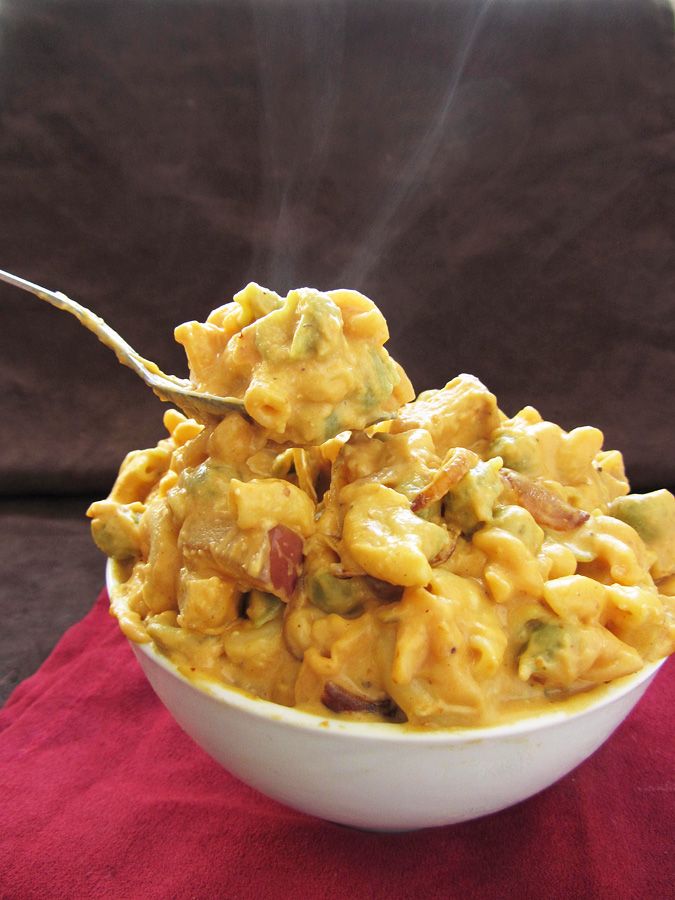 Or you could keep going; sprinkle some breadcrumbs on top and throw it in the oven so you get a crunchy topping with cheesy goodness underneath - it really just depends on how you like your mac and cheese. I loved it both ways!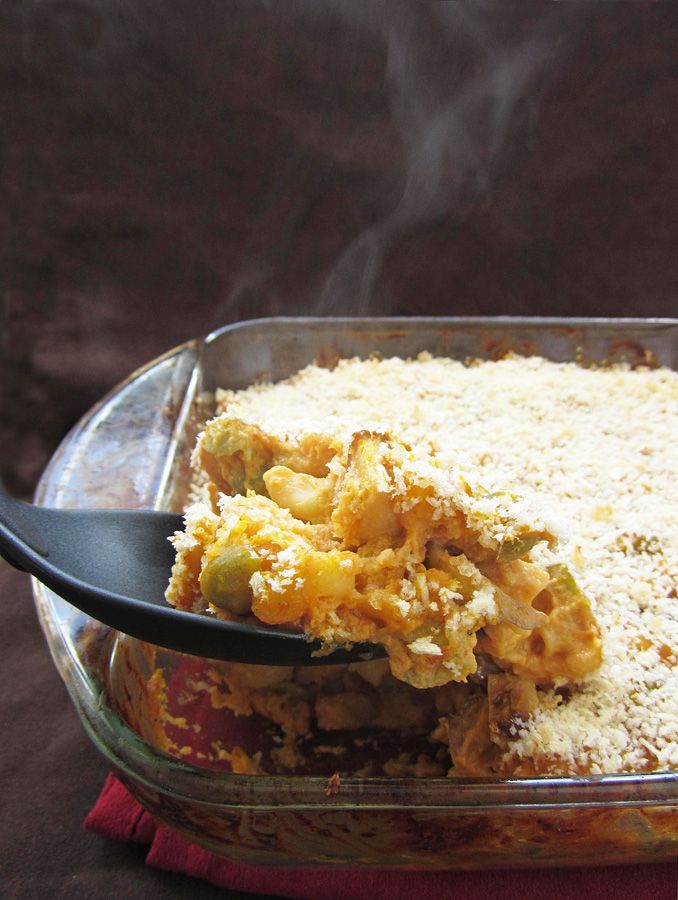 I loved that the dash of maple syrup and addition of apples added a touch of sweetness to cut the richness of the cheese, but there wasn't an apple in every bite so it was like a fun surprise every time you ate one! I also like the smokiness that the applewood smoked cheddar added, but if you don't like smoky cheeses (my sister complained about the smell every time I heated it up), you could just use a regular sharp cheddar cheese, or I think gruyere would work well too!
You're probably wondering why there are strange green things in my pasta, but that's just because I used this tri-colour vegetable pasta: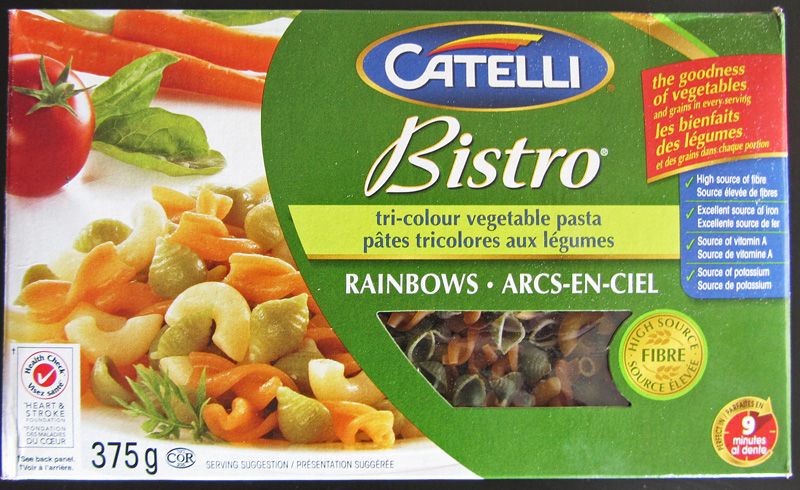 I realize this isn't exactly a healthy meal, but with the vegetable pasta instead of regular pasta, the addition of pumpkin, apples, and onions, and using low fat milk, I like to think that it's at least better for you than a lot of other mac and cheese recipes.
And I certainly had no problem finishing this whole dish by myself (though not all at once, of course!)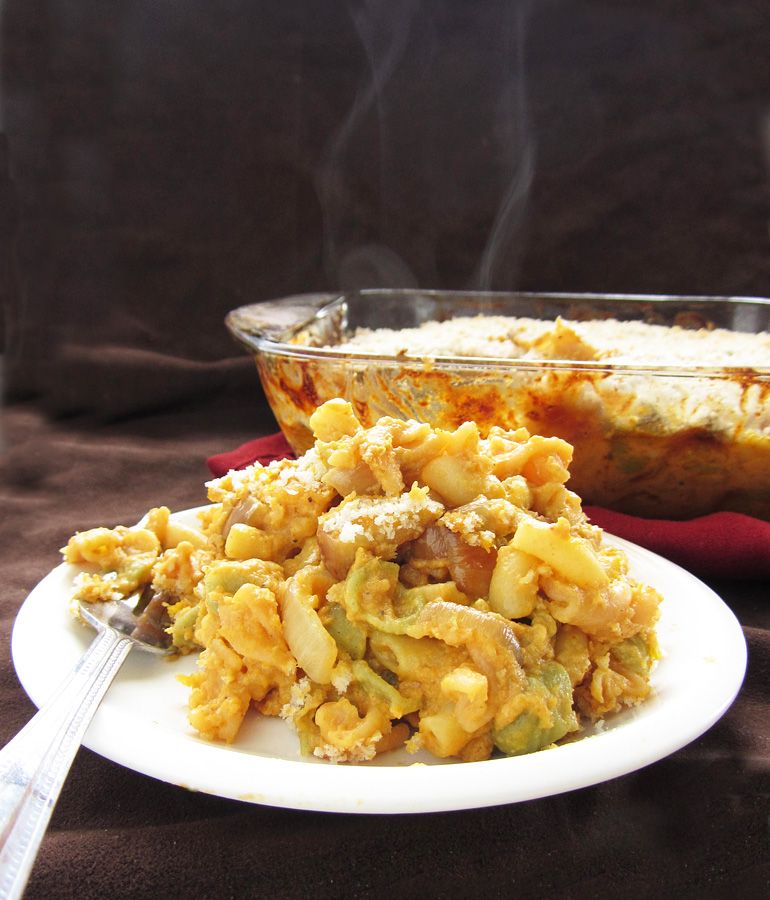 Pumpkin Mac & Cheese with Apples and Caramelized Onions
8oz dry macaroni pasta (I used tri-colour vegetable pasta)
1 large onion, thinly sliced
1 apple, diced (I used Red Delicious)
2 tablespoons unsalted butter
1-1/2 tablespoons all-purpose flour
1 tablespoon pure maple syrup
1/2 cup evaporated 2% milk (regular 2% milk would work too)
1/2 teaspoon mustard powder
1-1/4 cups grated sharp cheddar cheese (I used applewood smoked cheddar and I used 1-1/2 cups to use it up)
~1/4 cup panko bread crumbs, optional
Cook pasta in a large pot of salted boiling water, according to package directions.

Drain and set aside.
Meanwhile, heat olive oil in a large skillet over medium heat.

Add onions, stir to coat with oil, and let cook, stirring occasionally, about ten minutes.

Season with salt and pepper.

Let cook another 5 minutes or so and then add the chopped apples.

Continue to cook apples and onions, stirring occasionally, for an additional 15 minutes or so, until onions are caramelized and apples are softened and golden brown.

Set aside.
About ten minutes before your onions and apples are done cooking, you can start the roux.

Add butter to a medium saucepan and let melt over medium heat.

Add flour to the melted butter and whisk continuously for about a minute. Raise heat a bit and add the beer.

Reduce until almost evaporated and mixture is quite thick, then whisk in the maple syrup and milk.

Season with mustard powder, nutmeg, and salt and pepper.

Let cook until thick enough to coat the back of a spoon.

Whisk in the pumpkin then whisk in the grated cheese until incorporated.
Stir together the pasta, cheese sauce, onions, and apples.

At this point, you can serve the mac and cheese as is for a stovetop version, or you can bake it.

If you choose to bake it, spread it into an 8x8 glass baking dish and sprinkle breadcrumbs on top.

Bake in preheated oven for about 30 minutes, let cool slightly, then serve.