After a tease of summer-like weather last weekend, we've been making up for it all week here with rain, rain, and more rain. Just in time for the long weekend!
For us Canadians, this May long weekend is sort of the unofficial kickoff to summer, but almost invariably ends up being cold and rainy. So while soup isn't the type of recipe you would normally kick off a late May long weekend with, it's pretty appropriate for this wet and rainy spring weather we've been experiencing!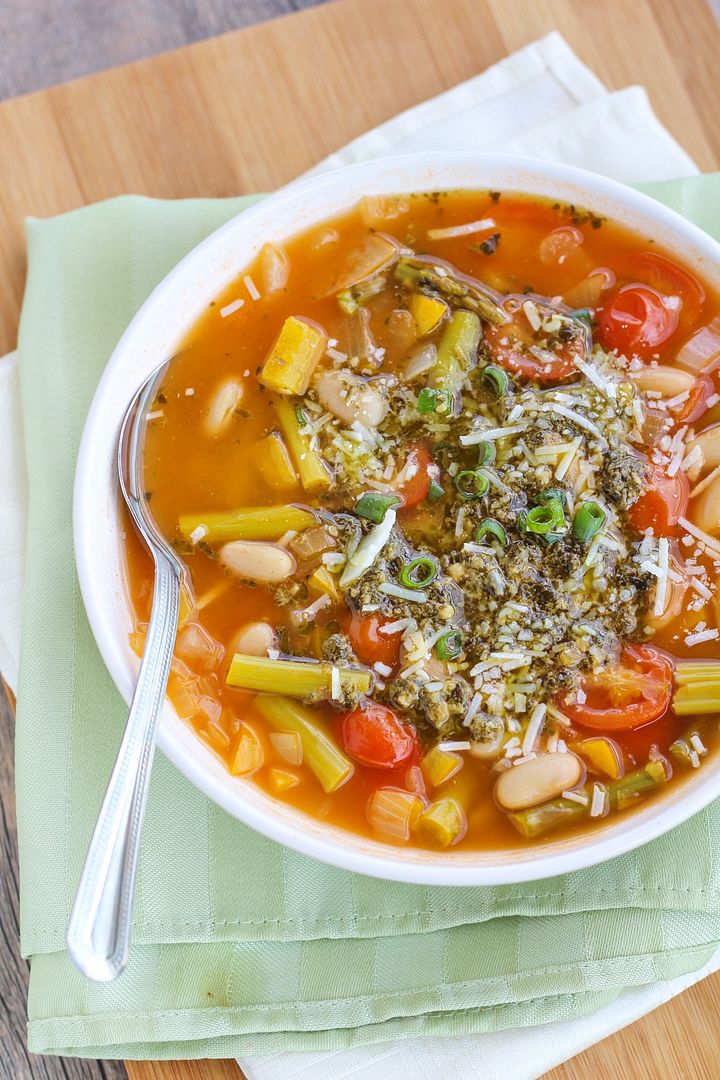 This is not a traditional minestrone soup, using asparagus and yellow peppers for some bright spring flavour along with the tomatoes, white beans for protein, no pasta, and with pesto and parmesan added in at the end for a boost of richness and flavour.
I realize now that my pictures don't really do this soup justice with the way I slightly overcooked my asparagus and then pretty much covered the whole bowl in pesto, but I do love pesto! This was the perfect type of comfort spring food that's needed this time of year as we patiently wait for summer to kick in for good - hopefully not that long now!
Spring Vegetable Minestrone Soup with White Beans and Pesto
Serves 4-6
Ingredients:
1 tablespoon olive oil
3 cloves garlic, minced
2 small yellow onions, peeled and diced
2 cups finely chopped yellow bell peppers, (about 1-1/2 peppers; red or orange would also work)
1 tablespoon tomato paste
1 cup halved grape tomatoes
1 (540mL) can cannellini or white kidney beans, rinsed and drained
6 cups vegetable broth (I use low-sodium broth)
1-1/2 cups chopped asparagus (half inch pieces; woody ends of asparagus removed)
Salt and pepper
For Topping:
~1 tablespoon prepared pesto per serving
Grated parmesan cheese
Chopped fresh basil, parsley, or green onion (optional)
Directions:
In a large saucepan, heat oil over medium heat.
Add garlic and sauté for 30 seconds.
Add onions and peppers and sauté for another 10 minutes, stirring often.
Add tomato paste and sauté for 30 seconds, stirring often.
Add grape tomatoes and sauté for another minute.
Add white beans and vegetable stock, bring to a boil, cover, and let simmer 10 minutes.
Add asparagus and simmer for another 5-10 minutes, or until all vegetables are tender (I did 10 minutes and my asparagus was a little overdone).
Season to taste with salt and pepper.
Divide among bowls and serve warm, topped with pesto, parmesan cheese, and herbs, if desired.
Season with additional salt and pepper if needed.