The (almost) return of summer means the return of burger season - one of my favourite foods! I still make them in the winter on the stovetop (and even in the summer I use the stovetop because I'm scared of bbqs), but there's something about summer that makes me crave burgers all the time.
I've never liked beef burgers though, and a regular beef patty with the standard toppings doesn't appeal to me much. Instead, I love experimenting with different chicken and turkey burgers - like
buffalo chicken and cheddar burgers
or
apple turkey burgers with caramelized onions and brie
- and veggie burgers, which are so customizable, like
lemon chickpea quinoa burgers
or
portabello mushroom burgers with roasted red peppers and provolone
!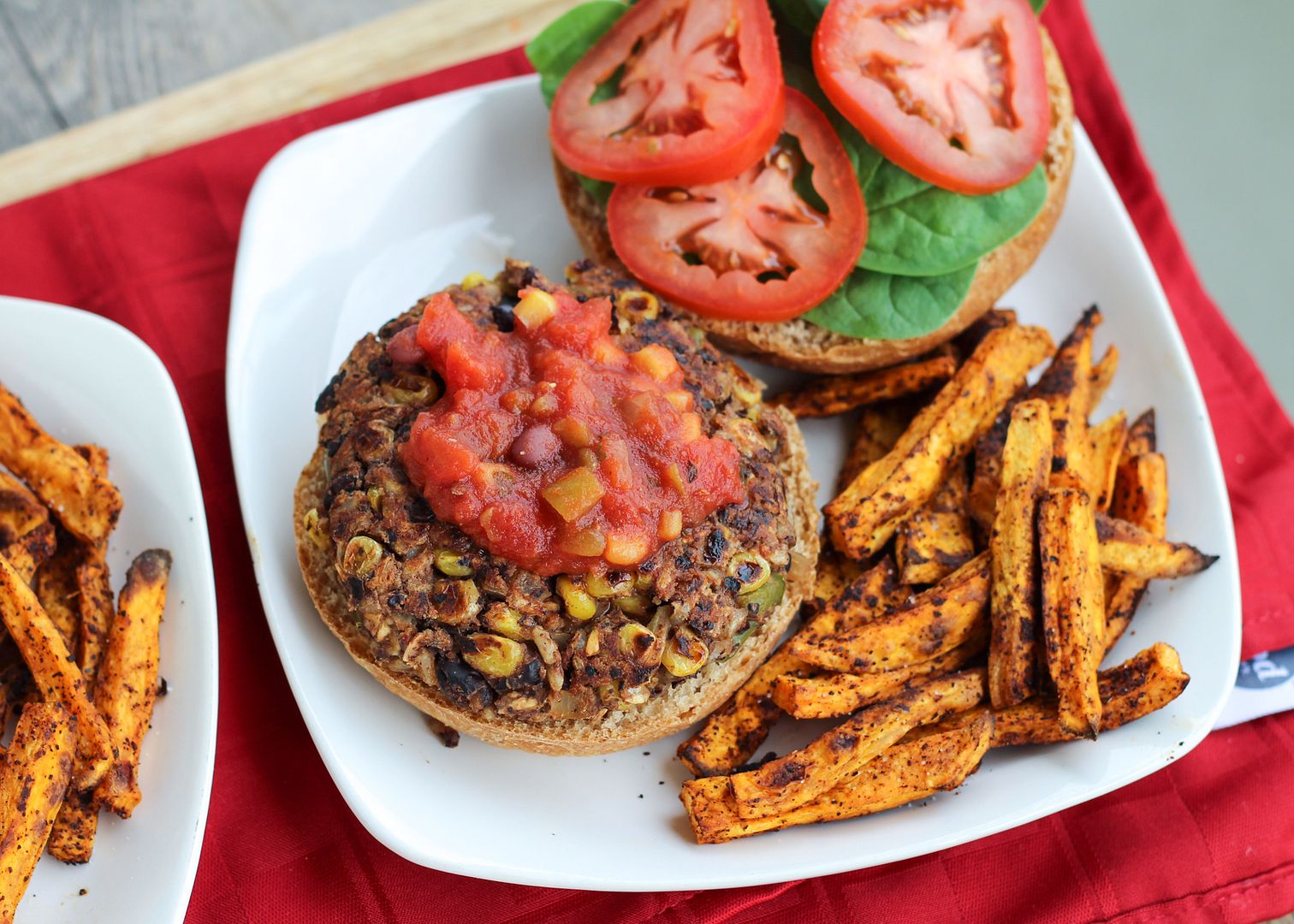 I love trying out new flavours and for my first veggie burgers of the post-winter season (it's hard to call this summer yet), I went with a Southwestern theme!
The veggie patties for these burgers are hearty and full of real veggies, just how I like them! The base is a mixture of brown rice, oats, and black beans for plenty of protein and fiber, and mixed in are some onions, garlic, peppers, corn, and plenty of spices for added nutrition and flavour.
Ryan and I ate these for dinner three nights in a row (another great thing about veggie burgers is getting a lot of food for a pretty low cost!) and ate them differently each night.
The first time I topped mine with salsa and served them with chipotle sweet potato fries as pictured, which made for a pretty spicy meal though I still loved it! The second night I added cheese on top, skipped the salsa, and used a light ranch dressing instead which was also awesome. And the third night I crumbled my patty up and served it over a big spinach salad which was a refreshing change!
If I had avocado I would have definitely added it to all three meals but avocados are so expensive these days I have to sadly try to limit my use of them.
You can eat these however you like and with whatever toppings you think sound good - hope you enjoy them as much as we did!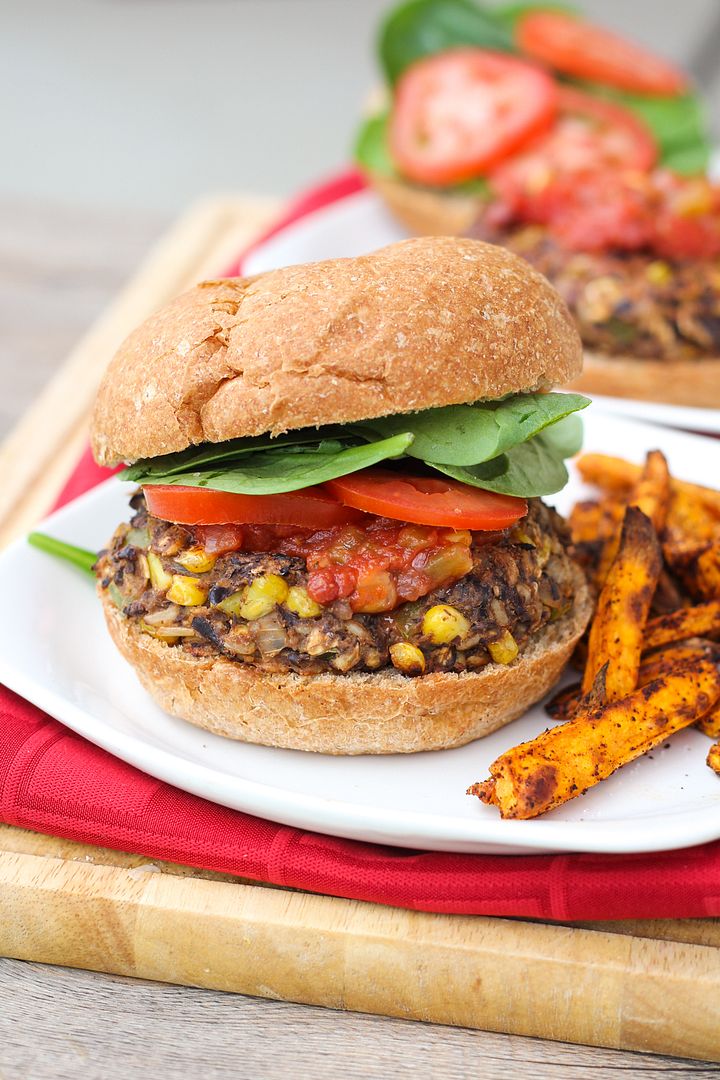 Southwestern Black Bean & Brown Rice Veggie Burgers
Makes 6 burgers
Ingredients:
For the Burgers:
1/2 cup uncooked whole grain brown rice – I used pre-cooked instant rice
1/2 cup rolled oats, divided
1 (540mL) can of no-salt added black beans, rinsed and drained
1 medium yellow onion, diced
1/2 cup diced bell peppers – I used half a green pepper but you could use a mixture of green and red
3 cloves garlic, minced
3/4 cup thawed frozen corn kernels
1 teaspoon ground cumin
1 teaspoon chili powder
1/4 teaspoon salt
1 teaspoon chipotle chili powder for added spice (or substitute paprika)
1 large egg, lightly beaten
For Topping:
6 whole wheat hamburger buns
Lettuce or spinach
Sliced tomatoes
Sliced ripe avocado
Salsa (optional)
Cheddar or Monterey jack cheese (optional)
Directions:
Cook the rice according to package directions.
Let drain well.
Pulse 1/4 cup oats in a food processor to form crumbs.
Keep remaining 1/4 cup of oats whole.
Transfer all oats to a large bowl.
Reserve 1/4 cup black beans and transfer remaining beans to the food processor.
Pulse until most of the beans are mashed (but not completely mushy).
Add to the large bowl with the oats.
Heat oil in a large skillet over medium-high heat.
Add onions and peppers and sauté until softened, 7-10 minutes, stirring occasionally.
Add garlic and sauté for another minute.
Add corn and reserved 1/4 cup of black beans and stir.
Add all spices and sauté for another minute, stirring.
Remove from heat and let cool slightly.
Add vegetable mixture and rice to the bowl with the oats and black beans.
Add whisked egg and stir mixture until combined.
Form into 6 large patties or 8 smaller ones, if desired (I made 6 patties).
Heat two large skillets over medium heat.
Spray with non-stick cooking spray or use a light amount of oil.
Add 3 patties per pan and cook about 5-6 minutes per side, turning carefully in between, until browned and cooked through.
If using cheese, add slices to the tops of the patties about a minute or two before they're done cooking to melt the cheese.
Remove from heat.
Add patties to buns and top with lettuce, tomatoes, avocado, salsa, or desired other toppings. You could also crumble the patties and serve them on salad!