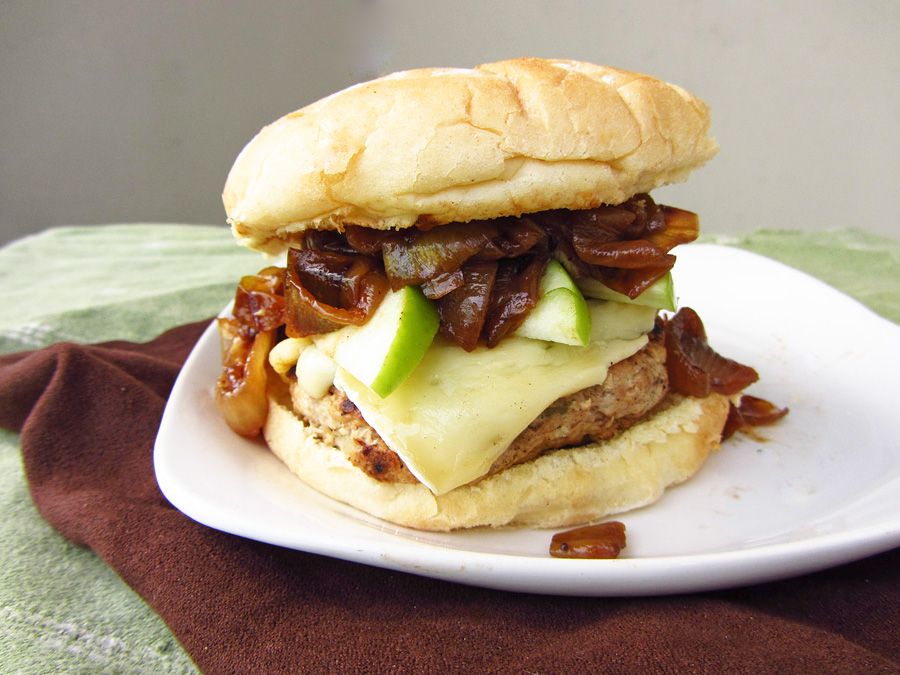 I love experimenting with different types of veggie burgers – from bean burgers to quinoa to even broccoli burgers! – but I also love a good meat burger once in a while.

While I can sometimes tolerate a beef burger, I MUCH prefer turkey burgers, which is a good thing as they're also a much healthier choice!

I've tried a lot of awesome turkey burger recipes in the past, like Thai peanut turkey burgers (which I really must make again) and BBQ pineapple burgers, but these apple ones might just be my new favourite!


These burgers are extra juicy with the addition of grated apple in the patties, then get tons of flavour from the toppings: crunchy apples, melted brie, and caramelized onions.

Each component works so well together to create a sophisticated but super easy burger – don't leave any of the toppings out!

The caramelized onions are the only time consuming part of this meal but they can easily be done in advance and reheated when it's time to eat.

And if you're vegetarian, I think these would work really well as a chickpea burger too!
What's your favourite type of burger?
Apple Turkey Burgers with Caramelized Onions and Brie
4 small yellow onions, peeled and sliced into half-moons (or 2 larger yellow onions)
2 granny smith apples, divided
Start by caramelizing the onions, as this step can take up to half an hour. Heat olive oil in a large skillet over medium heat. Add onions, stir to coat with oil, and season with salt and pepper. Spread onions out evenly across the pan and let cook, stirring occasionally, until onions are soft and caramelized, about 25-30 minutes. Don't stir the onions too often so they can brown, but don't leave them alone long enough to burn or stick to the pan. You may need to reduce the heat or add a splash of water to deglaze the pan a few times to prevent onions from burning. Once they're done, set aside in a small bowl. This step can be done ahead of time and onions can be warmed up in the microwave before topping burger.
Grate one apple for using in the turkey burger and keep the second apple aside for topping the burger later. Prepare turkey burgers by gently mixing ground turkey, grated apple, Dijon mustard, thyme, sage, and a sprinkle of salt and pepper in a bowl. Form into four patties, being careful not to overwork the mixture.
Heat a large skillet over medium-high heat and spray with cooking spray or drizzle with oil. Cook turkey burgers until cooked through (center no longer pink, juices run clear, internal temperature of 165°F), about 5 minutes per side. Add 2 slices of brie cheese to each burger about 2-3 minutes before it's done cooking so the brie can melt slightly.
Thinly slice the second apple. Top each bun with a turkey burger (with brie), sliced apples, and caramelized onions.