I hope all my Canadian readers out there had a great Thanksgiving weekend!
I enjoyed a fabulous Thanksgiving meal with my family - everyone pitched in with favourite classics like turkey and stuffing along with some new dishes like a spicy root vegetable curry. We had four different types of dips as an appetizer; turkey with homemade gravy, stuffing, cranberry sauce, scalloped potatoes, blue cheese and walnut salad, and the curry as our main meal; followed by pumpkin pie and a pumpkin cheesecake ice cream pie for dessert! I also contributed this
apple and pear sparkling sangria
and
sweet potato honey dinner rolls
. I was stuffed by the end of the night but had such a great evening spending time with my family, and I still enjoyed plenty of leftovers the next day!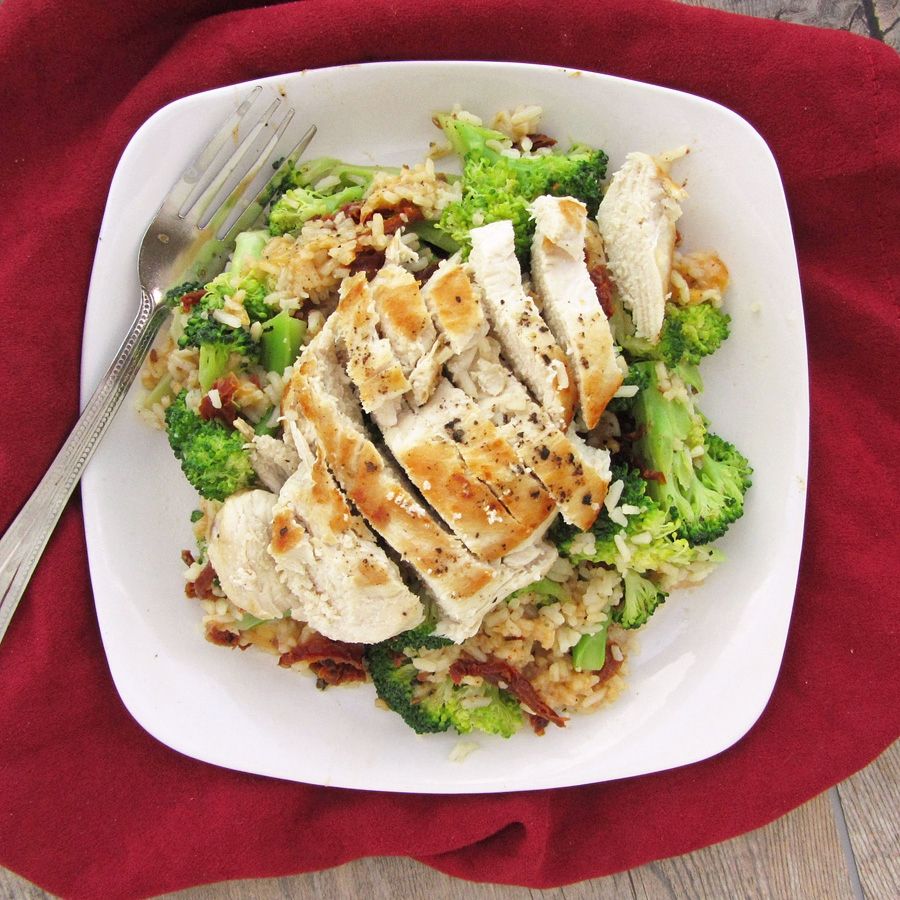 Now it's time to get back into regular weekday meals - and there's certainly nothing wrong with that, especially when it's something like this chicken with cheesy rice, broccoli, and sundried tomatoes!
This dish doesn't use too many ingredients, doesn't dirty many dishes, is reasonably healthy, and you might even have most of the ingredients in your house already. And of course, it's ridiculously good and so comforting!
As much as I love Thanksgiving dinner, I don't think I could handle more than two nights of it in a row; this, however, I could eat every night and still love just as much!
(Please ignore my horrendous slicing of the chicken in these pictures - the light was quickly fading outside so I was in a hurry to finish it so I could go take pictures!)
Chicken and Cheesy Rice with Broccoli and Sundried Tomatoes
Adapted from Heat Oven to 350, Originally from Cooks Illustrated

Best 30-Minute Meals
2 boneless, skinless chicken breasts
2 teaspoons vegetable oil
1/2 large head of broccoli, chopped into florets
2 oz (about 1/2 cup loosely packed) sundried tomatoes, not packed in oil (from a bag)
3/4 cup instant enriched white rice (feel free to use brown rice if you prefer)
3/4 cup low-sodium, fat-free chicken broth
1/2 cup shredded cheddar cheese
Trim any fat off the chicken breasts and season with salt and pepper.

Heat oil in a large nonstick skillet over medium-high heat.

Brown chicken well on one side, about 4-5 minutes, then transfer to a plate.
Meanwhile, bring water to a boil in a medium or large saucepan.

Add the broccoli florets and sundried tomatoes and blanch for 2 minutes.

Rinse with cold water and drain.

Chop sundried tomatoes into quarters, depending on the size.
After browning chicken, add rice and chicken broth to the skillet.

Nestle chicken into the rice with the browned side facing up.

Cover and cook over medium-low heat until liquid is absorbed, rice is cooked, and chicken is cooked through (thickest part of chicken registers 160 degrees), about 8-10 minutes.
Transfer chicken to a clean surface and slice into thin pieces.

Add the broccoli, sundried tomatoes, and cheddar into the rice mixture and mix until cheese is melted.

Season with salt and pepper to taste.

Divide rice mixture among plates and top with the sliced chicken.

Serve immediately.