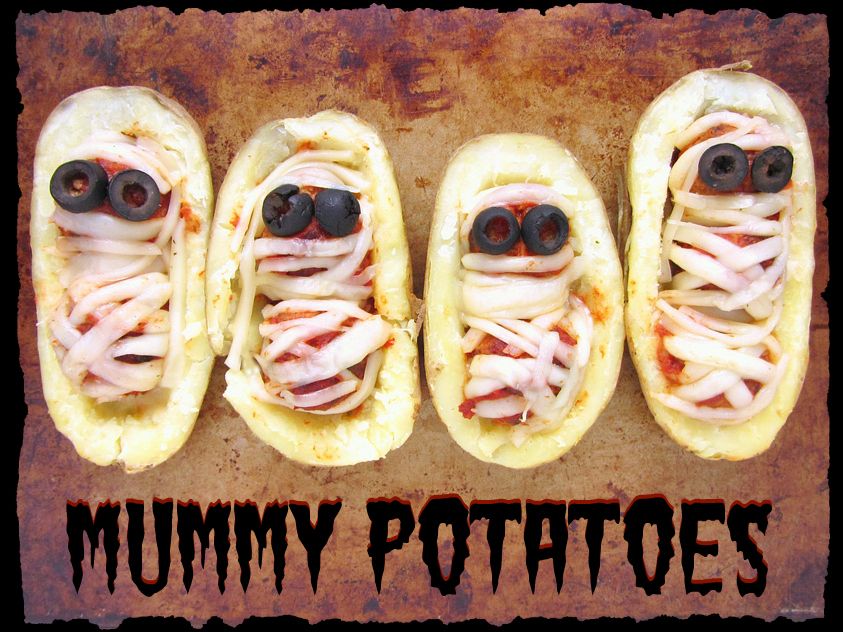 Every time a holiday rolls around, I promise myself I'll create lots of themed recipes to celebrate and my head starts filling up with ideas, but then I either get too busy (holidays often come with lots to do!) or I realize that every possible holiday-themed recipe has already been done and give up trying to think of something original.
This almost happened for Halloween - there are already so many fantastic recipe ideas out there that I didn't think I could possibly contribute something creative of my own. But I was still determined to share a Halloween recipe so I gave up trying to think of something original and started looking for ideas that just weren't as common. As soon as I found these "
terrifying twice-baked mummies
" from Betty Crocker, I knew I'd found a winner! Not only were they something I'd never seen before, they sounded like they would actually taste good too, unlike some recipes that are more for show (or are too creepy to eat)!
As an added bonus, they turned out to be super easy to make too! All you have to do is bake then hollow out some potatoes, fill them with meatballs, bandage them up with cheese, add a couple olives for eyeballs, and voila! The cutest little mummies you've ever seen!
The
original recipe
included pickles for feet, but I thought the mummy's feet should be wrapped up with the rest of it's body, plus I didn't really want pickles with my meatballs anyway! I also used black olives for the eyes instead of green pimiento stuffed olives so they would look more like hidden mummy eyes than bulging monster eyes, and I used string cheese so it would be easier to slice and bend around to form the bandages. If you want the mummy to be more enclosed in its coffin, you could only slice a bit off the top of a potato instead of halving it, as it looks like the original recipe did in its photo, but then you'd have to double the amount of potatoes you use, so it's up to you!
I was a little hesitant of how meatballs and potatoes would taste together, but they were actually delicious! Every bite had a bit of baked potato, meatball, tomato sauce, and cheese - so comforting and enough to fill your belly for a night of trick or treating or partying!
I'm hoping to find time to make one more Halloween recipe before the big day, but until then, you can also check out my
Pinterest board
for some inspiration!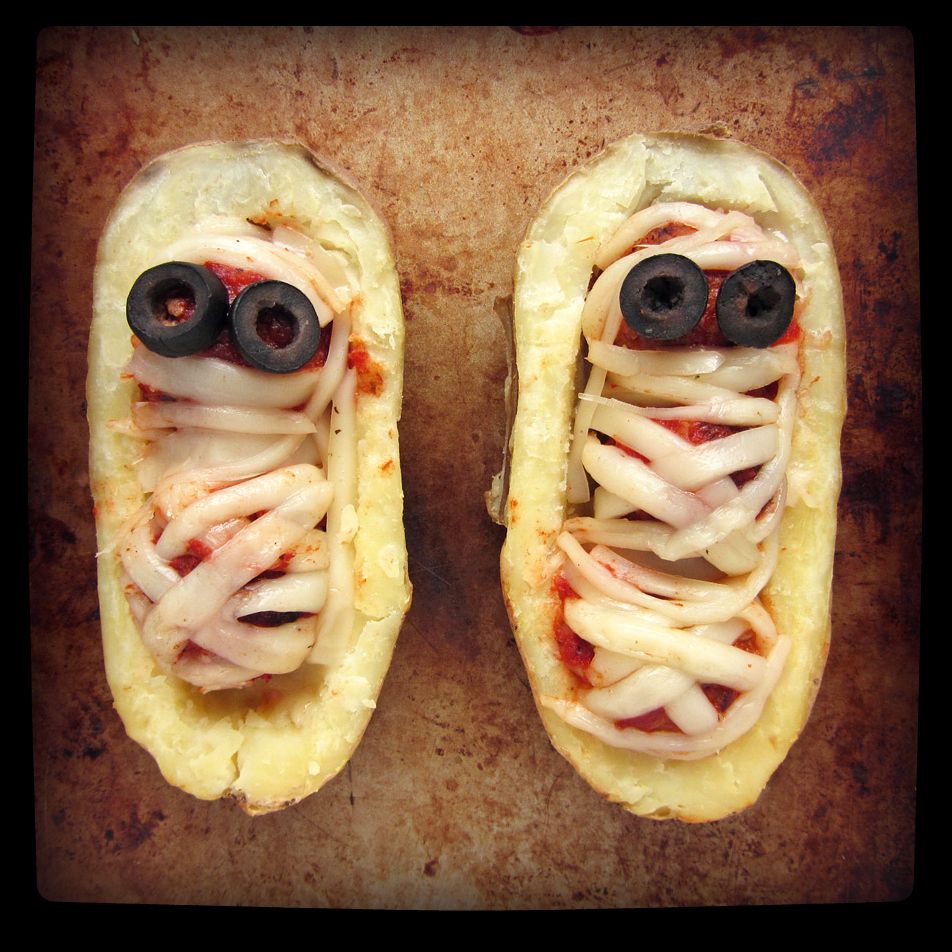 Mummy Potatoes with Meatballs
Adapted from
Betty Crocker
Serves 4 (makes 8 mummies)
Ingredients:
4 large russet potatoes
16-24 small cooked meatballs in sauce -
I made a batch of Giada's mini turkey meatballs* but you could use your own favourite storebought or homemade meatballs or veggie balls. The amount you need will depend on how many can fit in each potato (2-3)
6-8 part-skim mozzarella cheese strings (stringable cheese)
16 black olive slices
Extra sauce and parmesan for serving, if desired
Directions:
Preheat oven to 375
°F. Wrap each potato in foil and bake for about an hour, or until fork-tender. Let stand about 10 minutes until cool enough to handle.
Meanwhile, heat meatballs in sauce over medium-low heat on the stove. Slice each cheese string into as thin of slices as possible to use for the mummy "bandages".
When potatoes are done, cut each one in half lengthwise. Cut a thin (about 1/4 to 1/2 inch) border around the potato and scoop out the insides. I found it easiest to use my knife to cut out chunks of potato for better control because my ice cream scoop was too large. Reserve the potato you scoop out for another use.
When meatballs are heated through, transfer 2-3 meatballs to each hollowed out potato half, depending on how many fit. Wrap meatball "body" in cheese slices to resemble bandages, crossing cheese back and forth and tucking the ends into the potato. Add 2 black olive slices for the eyes at one end (see pictures).
Return potatoes and meatballs to the oven for 2-5 minutes so that cheese slightly melts. Serve immediately, with extra pasta sauce and parmesan cheese if desired.
----------
*Note: I made a few changes to Giada's meatball recipe: I squeezed the moisture out of the onion after I grated it, I added an extra 1/4 cup of seasoned breadcrumbs, reduced the salt, left out the Pecorino Romano, added a dash of Worcestershire sauce,
and used lean ground turkey instead of dark turkey. They were quite good! I made them a day ahead so the potatoes came together easily the next day, and I also had leftover meatballs.