I probably should have posted this recipe a little closer to Thanksgiving (which was this past weekend), because it would have tied in with it with perfectly, but I just haven't been very organized lately!
Canadian Thanksgiving is a celebration to give thanks for "
the bountiful harvest with which Canada has been blessed" (source), along with all the other good things in our lives, especially our family and friends.

I love that there is a holiday specifically dedicated to celebrating the harvest and all the amazing food we are lucky to have readily available here!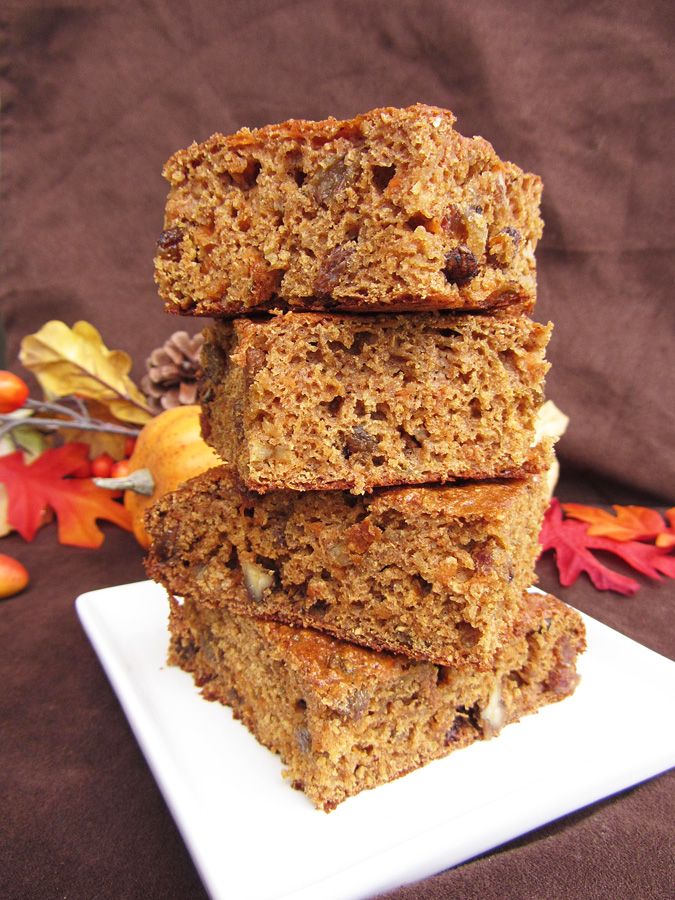 I'd love to tell you that I made this cake in honour of the harvest and Thanksgiving, but I honestly didn't make the connection until now.

Still, this harvest snack cake is a great way to celebrate fall food and flavours!
This cake is easy to make, will fill your kitchen with the smell of fall, and is full of good-for-you ingredients like carrots, apples, and walnuts.

Plus, it uses whole wheat flour and contains no butter or oil, so in my books that makes it a pretty healthy snack.

Of course, there's still sugar in it, so I'm not putting "healthy" in the title, but I certainly don't feel guilty about eating a piece for my snack every day!
Harvest Snack Cake
2 teaspoons baking powder
1/4 teaspoon ground ginger
1/2 cup unsweetened applesauce
1 teaspoon vanilla extract
3/4 cup grated apple (about 1 large apple – if one apple doesn't reach ¾ cup, you can increase the amount of carrots so total grated carrots + apples = 1.5 cups)
Preheat oven to 350
°F.

Line the bottom of a 13x9 baking pan with parchment paper and spray lightly with cooking spray. Soak your raisins in hot water for 5-10 minutes so they won't absorb the moisture from your cake during baking (drain your raisins before using them).
Whisk together the dry ingredients (flour to ginger) in a large bowl.

In a separate medium bowl, whisk the eggs, applesauce, and vanilla.

Add the wet ingredients to the dry ingredients and fold together with a spatula until just incorporated.

Fold in the carrots, apples, raisins, and walnuts.
Spread the batter evenly into the prepared pan, and bake in preheated oven for 30-35 minutes, or until toothpick inserted in the middle comes out clean.

Cool on a wire rack.
Note: I knew I wouldn't eat all of this in a few days, so I kept about half of the squares in the freezer and found that they froze well.