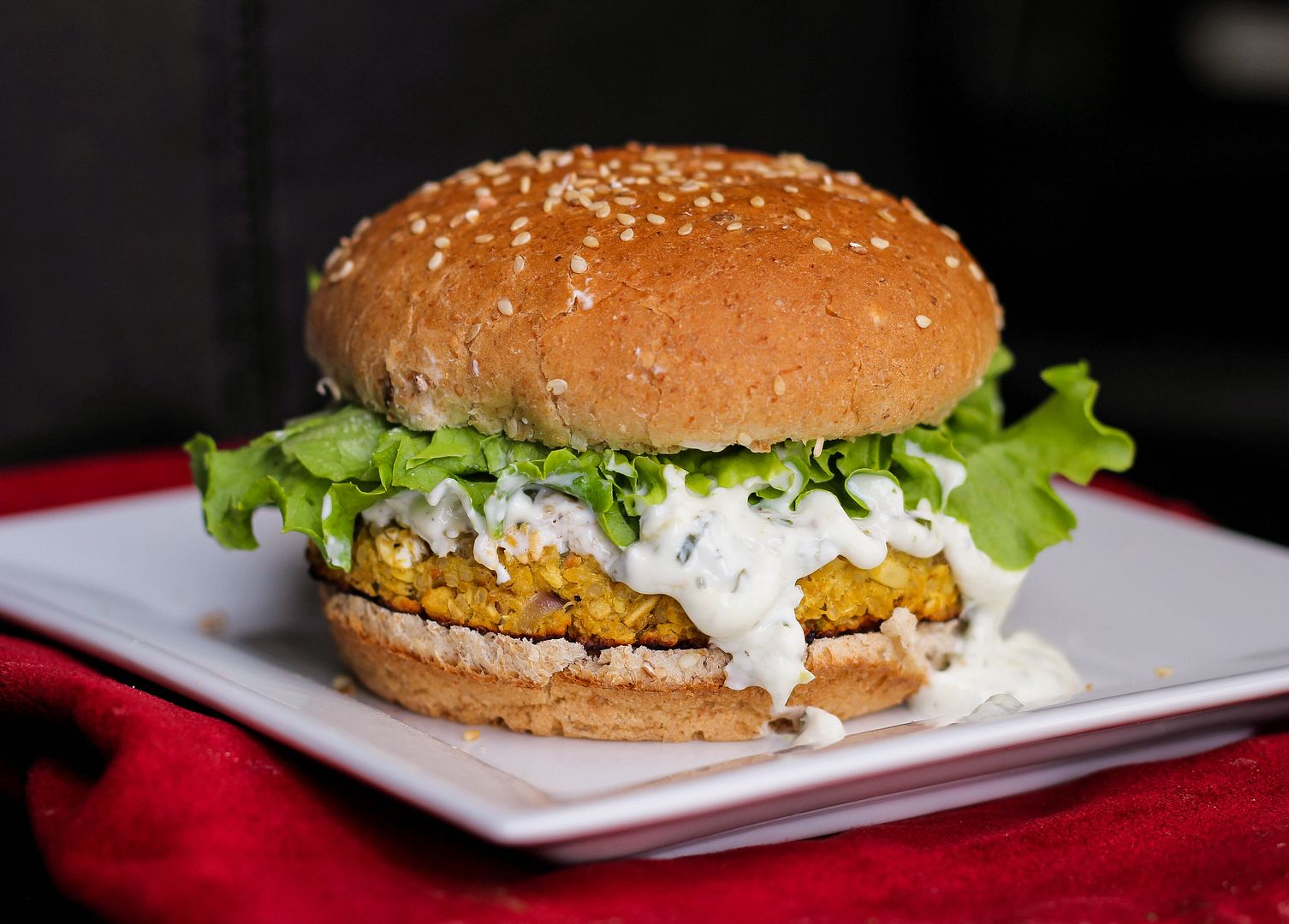 I love those free little newspaper/magazines that grocery stores put out to advertise their new products every season, mostly because I love anything that's free, but also because I'm always looking for new sources of inspiration for ingredients and recipes.
It's not often that I find a recipe I actually like in there, but when I saw these
lemon chickpea quinoa burgers
in the latest issue of
Inspired
(by Sobeys), I was intrigued because I've never seen anything quite like it.
So, I got right to work making my own version, with shallots instead of red onion, basil instead of parsley, more oats to firm the mixture up a bit, and a lemon yogurt sauce to serve with them.
I also refrained from processing the whole mixture to keep some texture in them, and I pan-fried my burgers instead of barbequing them (because I don't have a bbq), but I think they'd be firm enough to bbq if you want to give it a try!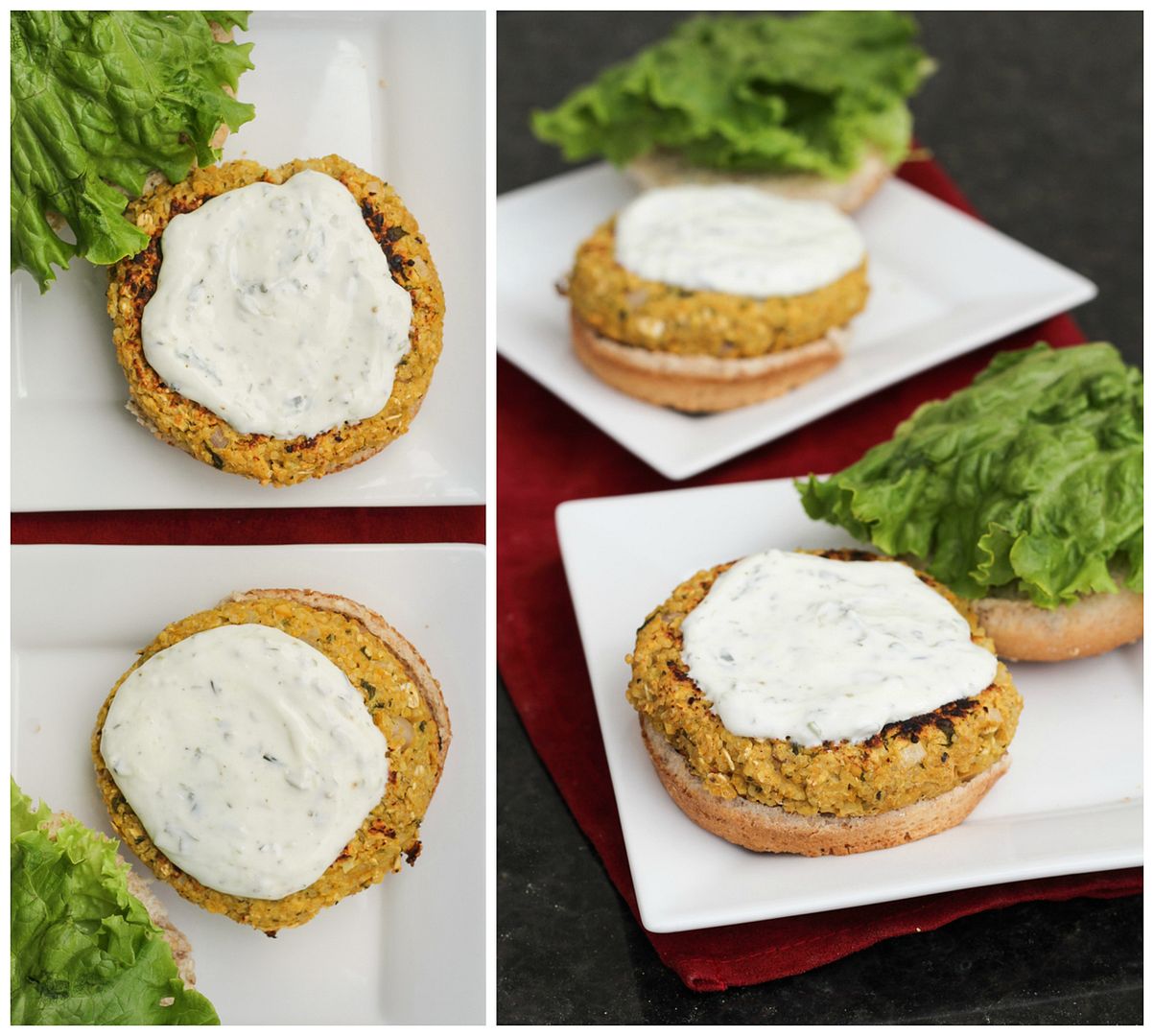 I loved the texture of the burgers, which held their shape and had a bit of crunch from the quinoa, and I loved the bright lemon flavour that really shone through in both the burgers and yogurt sauce. I also think they would work really well as cute little vegetarian sliders at a bbq!
And as far as burgers go, these are pretty darn healthy!
They're full of protein from the addition of chickpeas, quinoa, and Greek yogurt, as well as fiber from the oats and whole grain buns, and vitamins from the veggies and lemon.
After tasting them, I did think they needed a little something extra to balance out all the lemony-ness, so the next night I added feta cheese on top of the burger, and the saltiness of the feta was the perfect thing to balance out the sour lemon.
So don't leave out the feta!
(I had to take a quick shot the next night to document the feta since it wasn't in any of the other pictures. I went a little heavy with the feta, but a lot of it falls out anyway! The sauce is still there, on top of the lettuce):
Of course, the boyfriend said that these were good, but that next time I should maybe make them with buffalo or chipotle sauce instead of lemon (he's not much of a lemon person, except for lemon poppy seed bread).
But while these may not be much of a manly burger, I think the fact that he was willing to eat them for dinner three nights in a row shows that they're still pretty tasty!
Lemon Chickpea Quinoa Burgers
Makes 5 burgers
Ingredients:
For the Burgers:
1/4 cup uncooked quinoa
1 (540mL) can of chickpeas, drained and rinsed
1/2 cup rolled oats
1/4 cup minced shallot
2 garlic cloves, minced
1 tablespoon lemon zest
2 tablespoons fresh lemon juice
1 large egg, lightly beaten
1 teaspoon cumin
1/2 teaspoon salt
1/2 teaspoon pepper
2-3 tablespoons packed minced basil (or parsley if you like)
For the Sauce:
1/2 cup plain Greek yogurt
1 tablespoon fresh lemon juice
1 tablespoon minced basil
Salt and pepper
For Assembly:
5 whole grain hamburger buns
Lettuce
Feta cheese (low-fat, if desired)
Directions:
Bring 1/2 cup water to a boil.
Add quinoa, cover, reduce heat and let simmer 15 minutes.
Remove from heat and keep covered for 5 minutes.
Fluff with a fork and let cool slightly.
Meanwhile, add chickpeas to the bowl of a food processor or mini chopper and pulse until they are finely ground.
Transfer to a large bowl.
Add oats to same food processor and pulse a few times to break them down into fine crumbs (but not a powder).
Add to chickpeas in large bowl.
Add to the bowl the shallots, garlic, lemon zest, lemon juice, egg, cumin, salt, pepper, and basil.
Add quinoa.
Mix everything together with a large fork until well combined.
(note: leave the egg to mix in last if you want to be able to taste the mixture first and adjust seasonings or lemon juice to your liking). Divide and shape into 5 patties.
Heat a non-stick skillet over medium-high heat and cook patties for about 4-5 minutes per side.
Meanwhile, prepare yogurt sauce by mixing yogurt, lemon juice, and basil, and seasoning with salt and pepper to taste.
Assemble burgers with yogurt sauce, lettuce, and feta on whole grain buns.