Since I told you guys all about
the food we ate on Mother's Day
this year, it seems only fair that I share our Father's Day eats with you too!
Instead of making breakfast like we did on Mother's Day, we decided to go out for Father's Day breakfast to one of our dad's favourite spots,
Organic Works Bakery
. They have a great menu with all organic and gluten-free baked goods and cafe-like meals, including many vegetarian and vegan options, plus a really cool dining room to eat in with all different types of tables and chairs that almost make you feel like you're eating in a furniture store!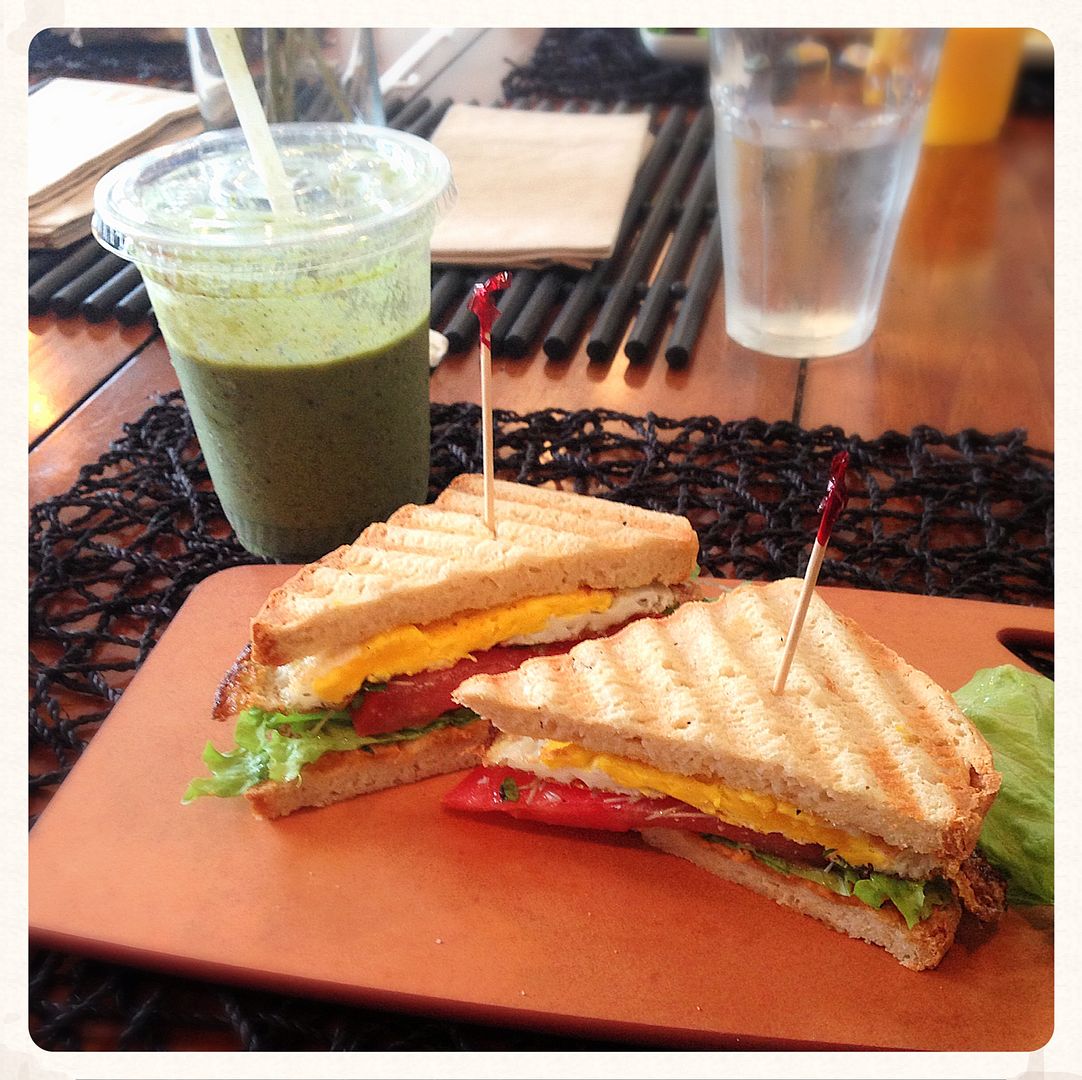 For my breakfast, I chose a fried egg sandwich on an amazing brown rice bread, along with a mango elixir smoothie that had coconut milk, mango, kale, banana, blueberries, lemon, ginger, dates, and a shot of camu camu, which apparently is some type of fruit that's super high in Vitamin C. I was hoping it would help me get rid of this nagging cold, and I think it actually helped - I'm feeling much better now!
The day started off cold and wet, but the sun broke through in the afternoon and it turned into a warm and sunny day that lasted through dinnertime so we could enjoy our meal outside. Almost as soon as we'd all finished eating and gone inside a crazy thunderstorm rolled in, so we were really lucky!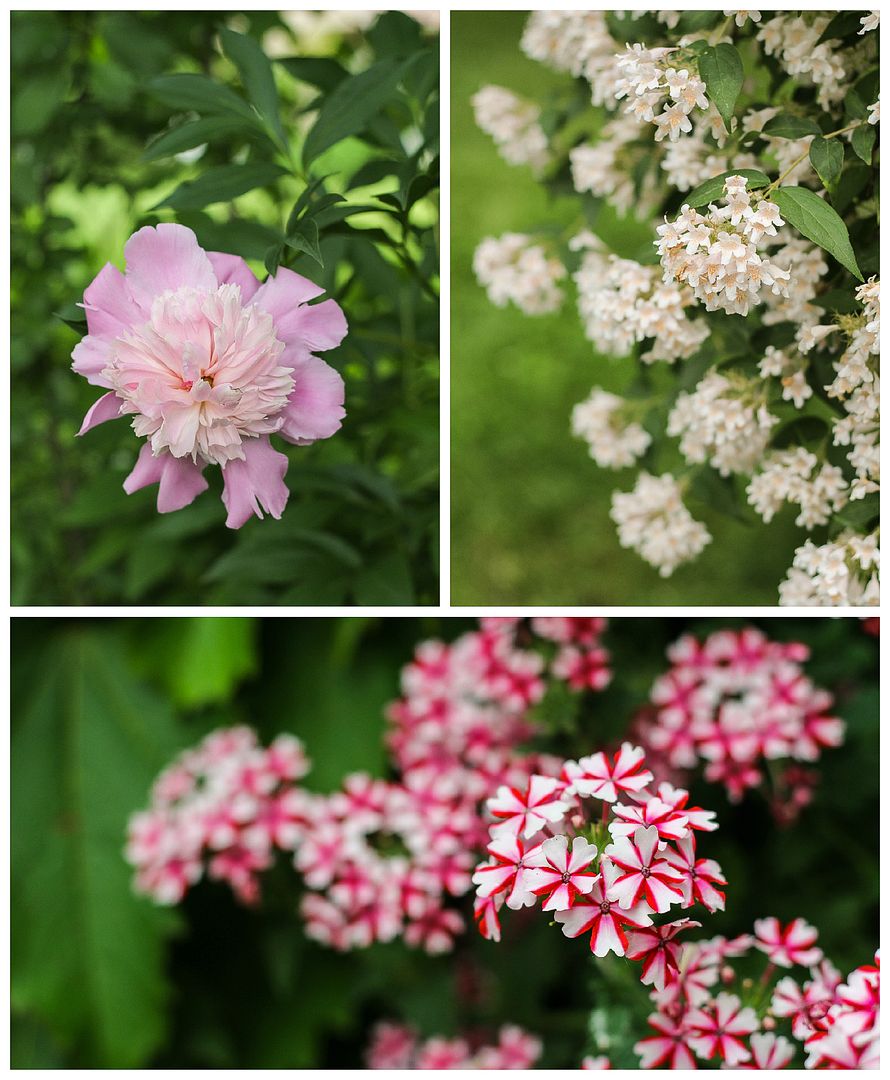 Our mom made a batch of delicious sangria for everyone to enjoy as we hung out in the backyard. Having a cocktail that everyone can enjoy together is always a great way to start an evening!
Then it was time for gifts! This year, we all pitched in a little to get our dad a fig tree, as he's been talking about wanting one for a while. We got a black jack fig tree, which should produce large, sweet, and juicy figs, assuming all goes well!
Every time I look at it I think I'll be reminded of my friend Courtney's food blog,
The Fig Tree
!
Another gift I gave to my dad was
The Flavor Bible
, which is basically a reference book that allows you to look up any ingredient and find a list of all other ingredients/flavours that go with it. My dad's an amazing chef and is often responsible for planning and cooking dinner, so I thought this would help inspire him! Annnd I may have to sneak peeks at it every time I go visit because I've wanted it for myself for a while too!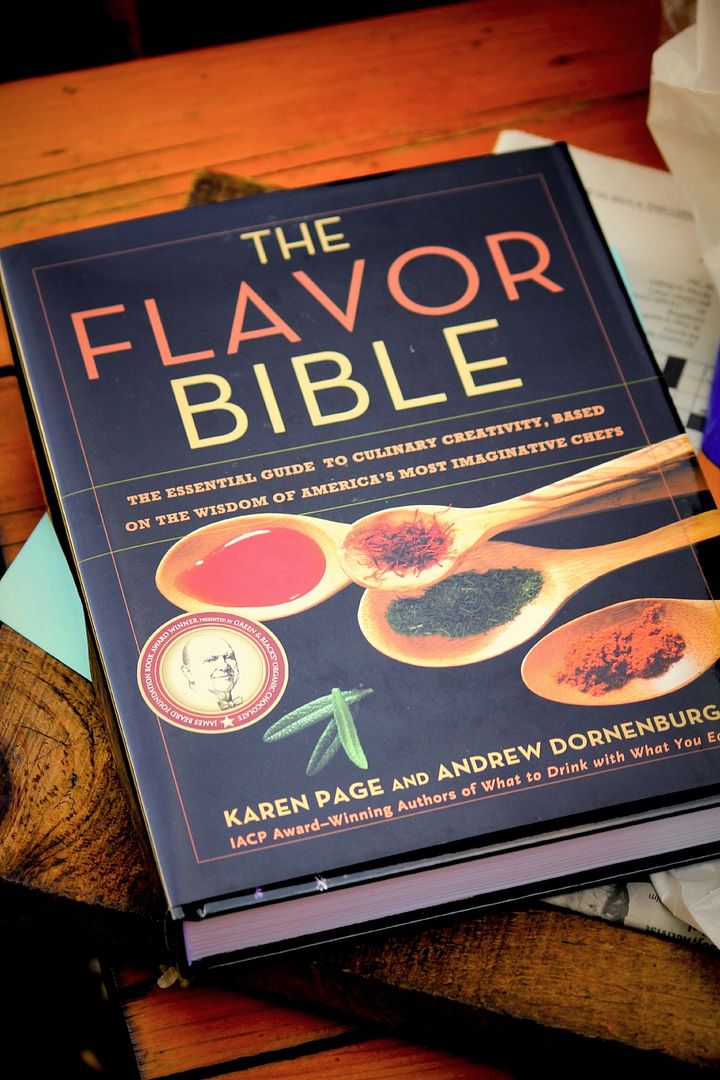 For dinner, we sort of went with a Middle Eastern-inspired menu for something a little different and special. I actually can't take credit for the majority of the meal - some was bought and the rest was prepared by my mom and sister; I only had to help with a couple components so I got off pretty easy this year!
The big salad pictured below was a fattoush salad that we bought from a Middle Eastern restaurant called
Barakat
to make things a little easier on everyone. I've been wanting to try fattoush after seeing a recipe for a southern version on
Eats Well With Others
recently, and I'm so glad I got to try it - I loved the lemony flavour and the crunch of the pita bread. If you're looking for an authentic recipe to try yourself,
Bon Appetit
and Jerusalem cookbook (as seen on
101 Cookbooks
) have versions that sound pretty similar to what we ate (or I'm open to suggestions for your favourite recipe!)
As another side dish, we made this cherry and herb salad from
Saveur magazine
.
It combined cherries, cilantro, walnuts, chiles, and a pomegranate molasses and lemon dressing for a simple but really tasty salad that also looked quite beautiful with the red and green colours (please forgive all the photos in this post that don't do the food justice - most of them were taken very quickly as we prepared the meal and some are just cellphone pics).
For bread, we served pita bread with baba ghanoush for dipping - both storebought again, but still good!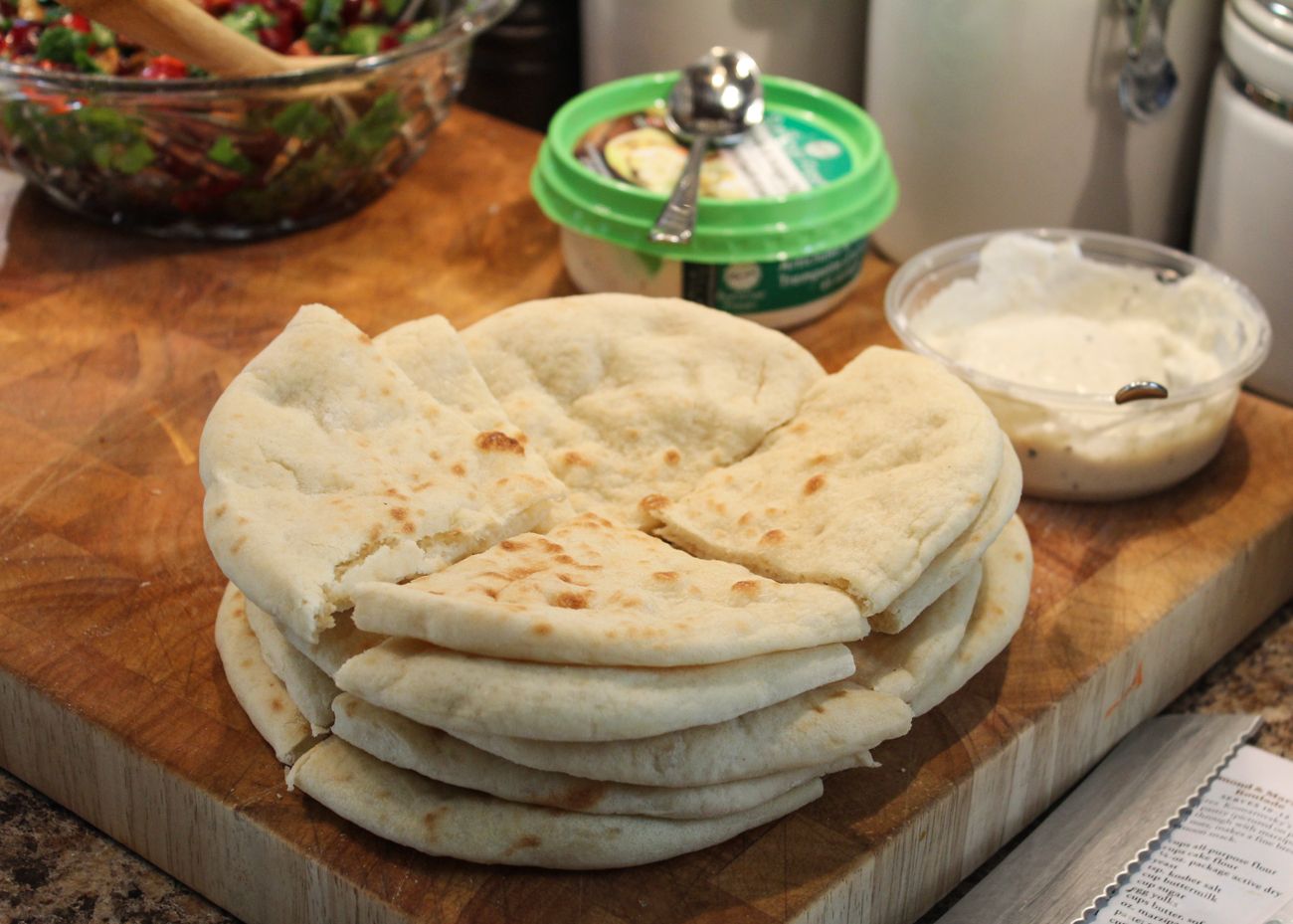 As what I guess would be called the main dish, we made dolma - or grape leaves stuffed with a vegetarian rice mixture - from the same issue of
Saveur
. The rice had a mixture of herbs, onions and garlic, apricots, raisins, lemon juice, and other ingredients that gave it lots of flavour (we used vegetable stock instead of chicken stock to make it vegetarian). The picture below makes it look disgusting, but I swear it was actually good!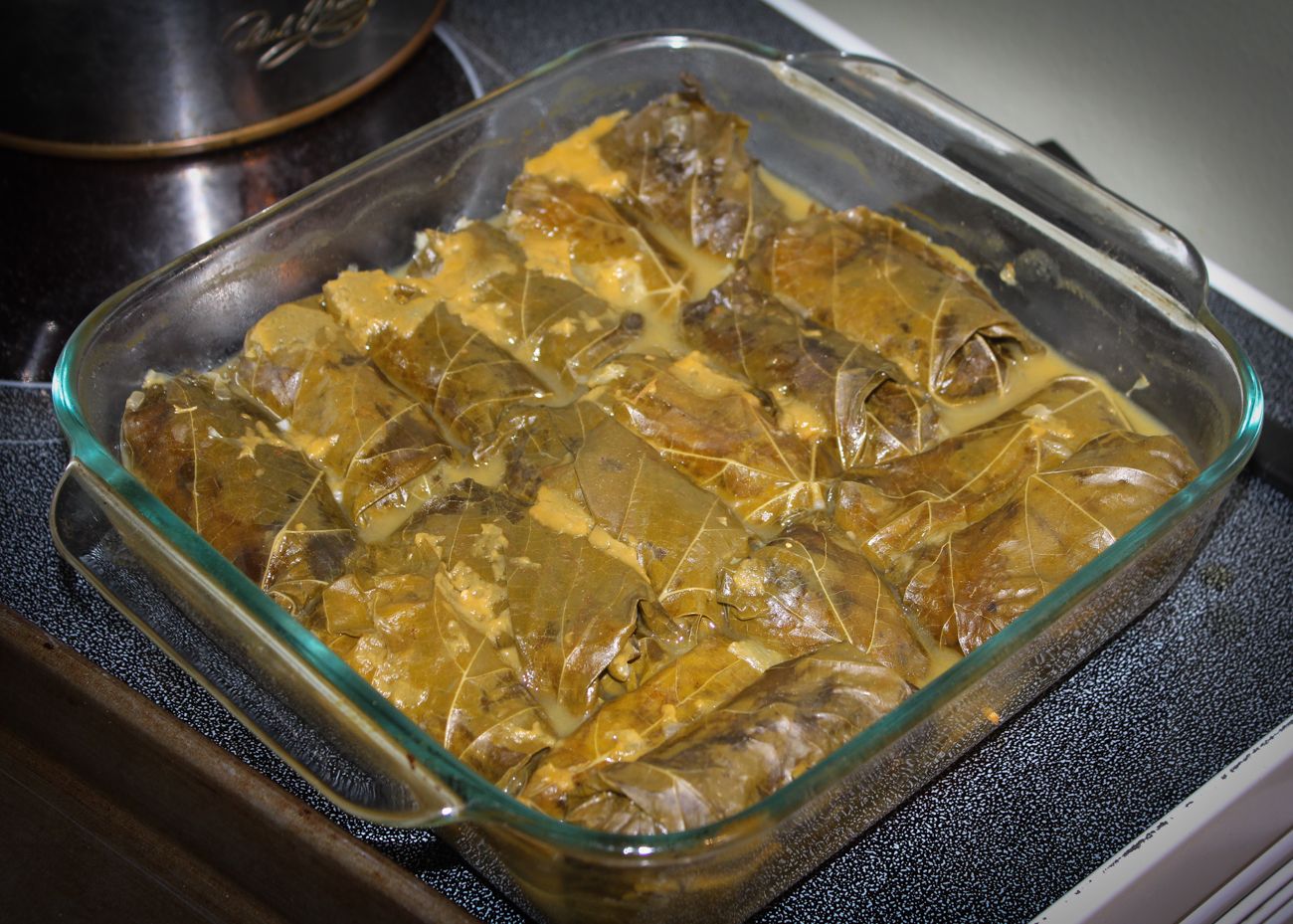 This was our first time making stuffed grape leaves and my sister and I had a bit of a hard time figuring out how much rice mixture to add and how to roll the leaves, so we're not sure if we did it right, but they at least stayed together! We all agreed that we liked the filling a lot better than the grape leaf itself though, so next time I'd save the effort of rolling it and just eat the rice mixture on its own!
The meal was so good that we even attracted a hungry little visitor who wanted to join the party :)
For dessert, our mom made her famous rhubarb sour cream pie, which I don't have the recipe for but it is everyone's favourite dessert! My sister
Genevieve
made a
rhubarb coconut milk ice cream
to go along with it, which was a bit on the runny side but still tasted good!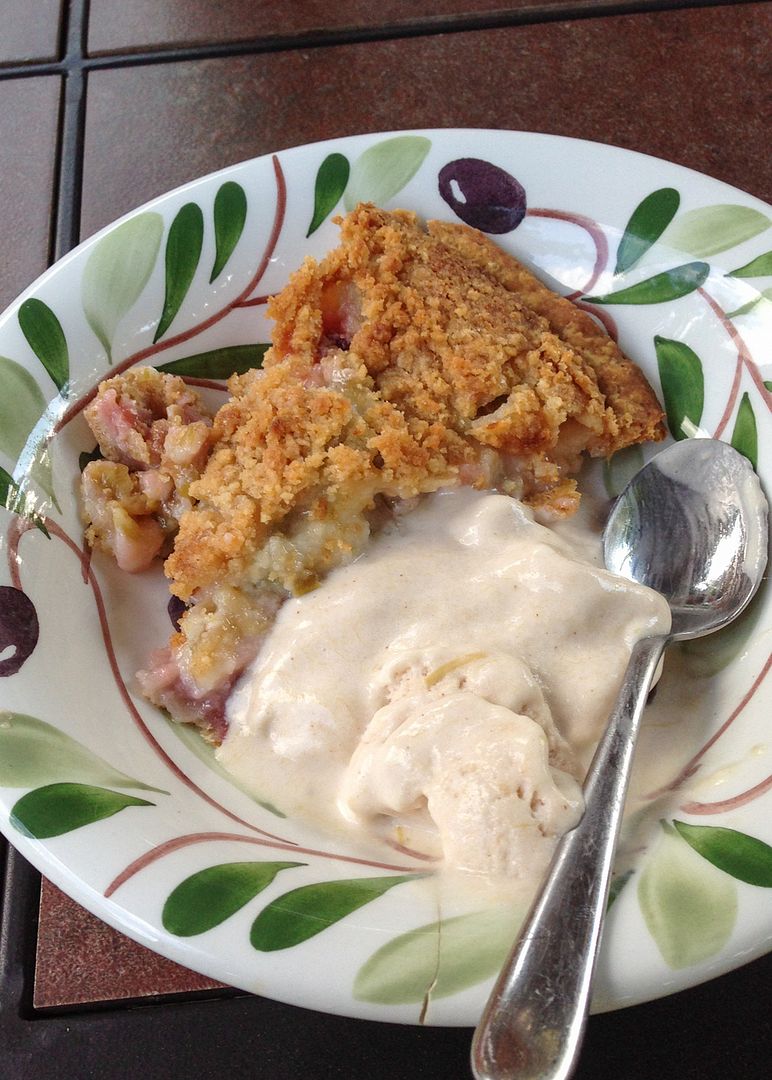 And that's it! I hope you all had as great a weekend as we did!