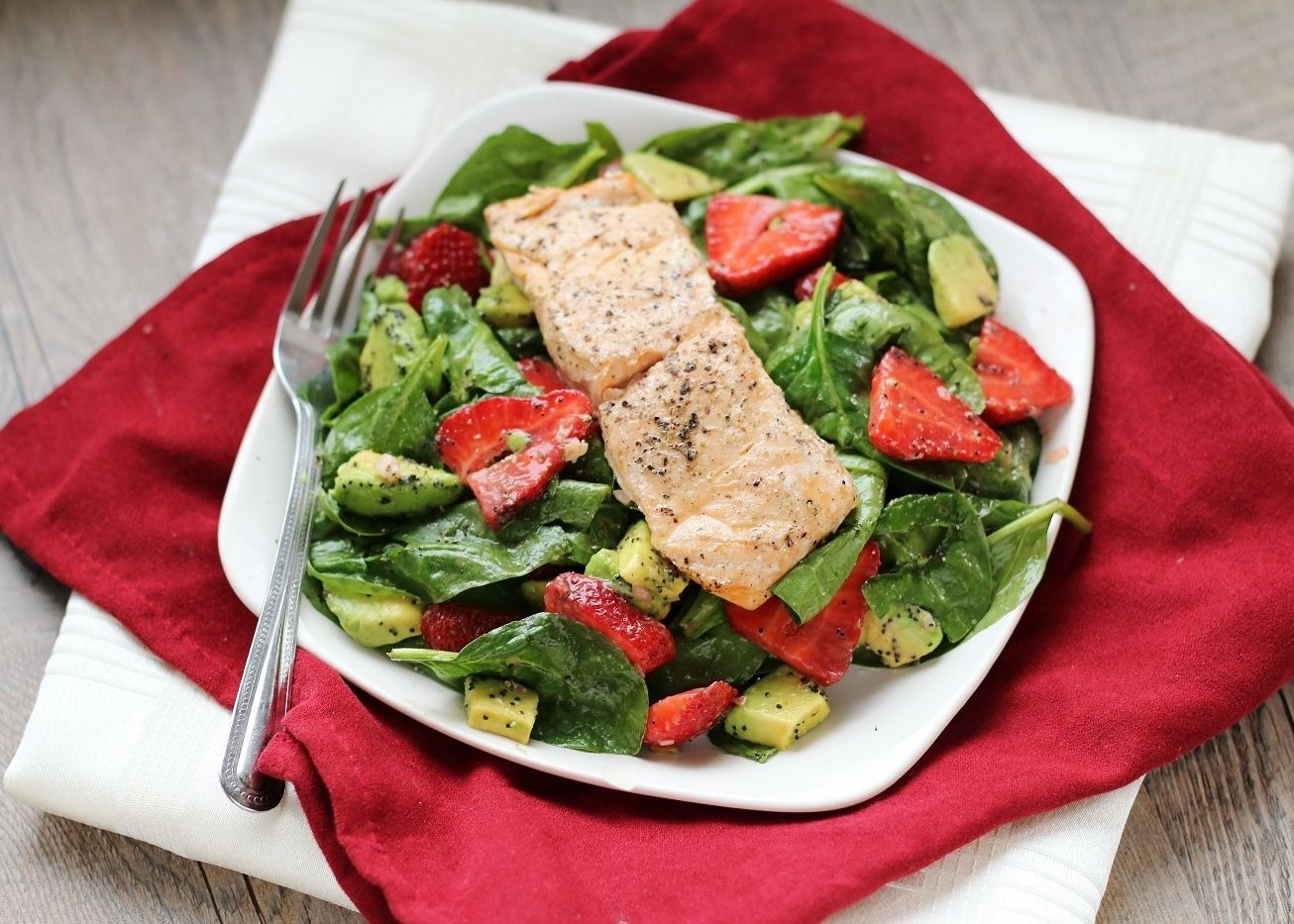 I never used to get a lot of colds other than the usual back-to-school cold that seems unavoidable and the odd winter cold, but in the past couple of years I feel like I have been getting sick ALL THE TIME.
I can't even count the number of colds I've had in the past year or the amount of cold medicine I've had to buy.
And I'm
once again sick this week, despite the fact that it's summer and I don't know anyone else that has a cold right now.
I don't know what I'm doing wrong – I eat lots of fruits and vegetables, exercise, take vitamins, and wash my hands regularly – so if you have any good tips for keeping viruses away, I'm all ears!
In the meantime, I'm taking even more vitamins, along with Echinacea and zinc lozenges, and just the other day I bought oil of oregano, which a couple people I know swear by for preventing colds (though I'm a little late for that at this stage!)
I'm also squeezing even more vitamins into my meals, like this salmon spinach salad with strawberries and avocado.
Though the combination of ingredients may seem a little strange, they all work really well together and are very nutritious, making this sort of like a superfood salad!
Spinach has plenty of antioxidants, iron, calcium, and vitamins; strawberries provide lots of Vitamin C, as well as fiber, antioxidants, and other good things; and while avocados and salmon are high in fat, it's the good kind of fat (that can lower your bad cholesterol and increase your good cholesterol), plus avocados are rich in potassium, fiber, folic acid, and Vitamin K, and salmon is full of protein, omega-3s, and Vitamins B and D.
Even the dressing is healthful from the addition of lime juice, shallot, and poppy seeds.
Bottom line: this salad is good for you, easy to make, tastes great, and will fill you up, making it a great summertime meal (whether you're prone to colds or not!)
Salmon Spinach Salad with Strawberries and Avocado
Makes 2 main course servings
Ingredients:
2 (5oz each) salmon fillets (preferably wild)
1 teaspoon olive oil
1 teaspoon fresh lime juice
Salt & Pepper
~4 cups baby spinach*
1-1/2 cups sliced strawberries
1 ripe avocado, cubed
For the Dressing:
2 tablespoons extra-virgin olive oil
1 tablespoon fresh lime juice
1/2 tablespoon white wine vinegar
1/2 tablespoon honey
1 tablespoon minced shallot
1 teaspoon poppy seeds
Directions:
Preheat oven to 400°F.
Place each salmon fillet skin side down on a piece of aluminum foil (on a baking sheet).
Rub each fillet with the olive oil and lime juice and season with salt and pepper.
Wrap each fillet with foil to form two packets.
Bake in preheated oven for about 25 minutes, until cooked through.
Be very careful opening packets after as hot steam will be released.
Let salmon cool slightly.
Meanwhile, add spinach, strawberries, and avocado to a large bowl, and prepare dressing by whisking together the oil, lime juice, vinegar, honey, shallot, and poppy seeds.
Toss salad with the dressing, then divide among two plates or bowls.
Place each cooked salmon fillet on top of each salad and serve.
*Note:
I used regular spinach from the market (pictured) but I think baby spinach works better (as written in the recipe).