As I mentioned in my last post for this mandarin quinoa salad (which is already my most popular recipe this year – note to self: keep posting quinoa recipes!), I've been trying out lots of different exercise classes this term in an effort to stay active.

Last Wednesday I tried my first AquaZumba class, which was the first time I've taken a class in the water since my swimming lessons days as a kid.

It was kind of what I expected in that our beautiful instructor looked unfairly cool doing all her dance moves at the side of the pool while I likely looked like a floundering sea monster attempting to keep up in the water, but it was also better than I expected in that I actually had a lot of fun (and loved the fact that I could exercise without sweating)!
The success of AquaZumba has now given me the courage to try out Aqua Fit, which I'm guessing won't be nearly as much fun.

I'm slightly dreading the idea that it might involve treading water, which I haven't done since swimming lessons because I hated it so much.

I could never seem to keep my head above water, and the swimming instructor would always tell us our homework while we were treading water at the end of class and I would panic because my ears would be underwater so I couldn't hear what they were saying.

But now that I'm older (and already have failing joints), I'm hoping my body will be a little more appreciative that I'm letting it work out in the water and won't fail me when it comes to the treading water part!
One of the nice things about water classes is that they make you super tired at the end of the night, giving you a good night's sleep.

They also make you super hungry, which is where having a big batch of this pasta salad in the fridge comes in handy!
This is just an easy vegetarian dish that's kind of like a salad, kind of like pasta, kind of like pasta salad, and kind of like pasta with salad.

With whole wheat pasta for fibre, lots of veggies for nutrients, chickpeas for protein, and some goat cheese for richness, it's a well-balanced dish that makes for great lunches (or post water workout meals) throughout the week!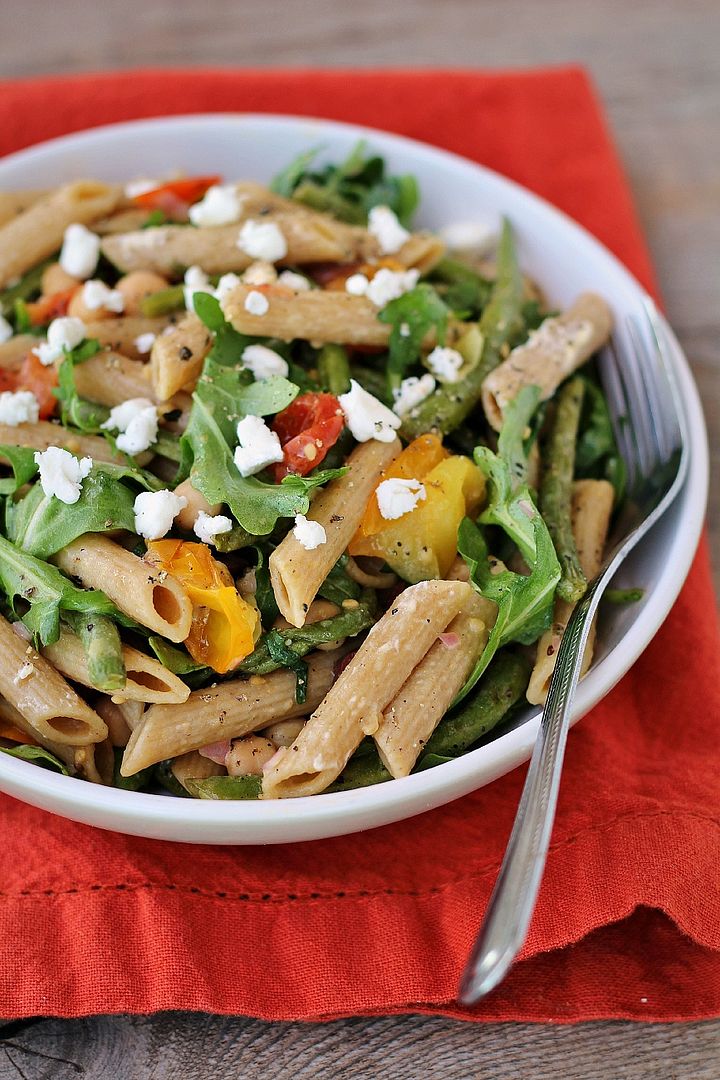 Arugula Pasta Salad with Chickpeas, Veggies, Olives, and Goat Cheese
Loosely based on a recipe from
Cooking Light
375g box of whole wheat penne
8 oz green beans, ends trimmed
1 pound halved cherry tomatoes, divided
4 tablespoon extra-virgin olive oil, divided
2 tablespoons minced shallots
2 tablespoons fresh lemon juice
1 tablespoon Dijon mustard
1/2 cup pitted sliced kalamata olives
1/2 cup (2 ounces) crumbled goat cheese
1 (540mL) can chickpeas, drained and rinsed
Cook pasta according to package directions.

Drain and set aside.
Meanwhile, toss green beans and half the cherry tomatoes with 1 tablespoon oil and season with salt and pepper.

Spread in an even layer on a foil-lined baking sheet and roast in preheated oven for 15-20 minutes.
Prepare the dressing by whisking the remaining 3 tablespoons oil with the shallots, lemon juice, Dijon mustard, basil, and honey in a small bowl.

Add salt and pepper to taste.
Combine cooked pasta, roasted vegetables, remaining fresh cherry tomatoes, olives, goat cheese, and chickpeas in a large bowl.

Mix in the arugula.

Add dressing and toss to coat.

Serve warm or chill for a cold pasta salad (though I preferred it warm).

Season with additional salt and pepper and top with additional goat cheese if desired.
*Note – the pictures are missing the additional fresh cherry tomatoes; I forgot to add them until after