This is the last recipe that I made during summertime but hadn't shared yet, and it's appropriate that I waited to post it until today considering the high is 34°C (93F) here, with a humidex of over 40°C (104F) – it feels hotter today than most days we had during real "summer"! Not that I'm complaining, because it's lovely to get one more blast of heat before it likely cools down for good. And I'm ready for that too – football started this past weekend (go niners!), my sister went apple picking, and there was a chill in the air but still sunny skies, all of which got me pretty excited for fall!
And while burgers are usually seen more as summertime food, the earthy, smoky flavours in this particular burger make it great for this transition period into fall!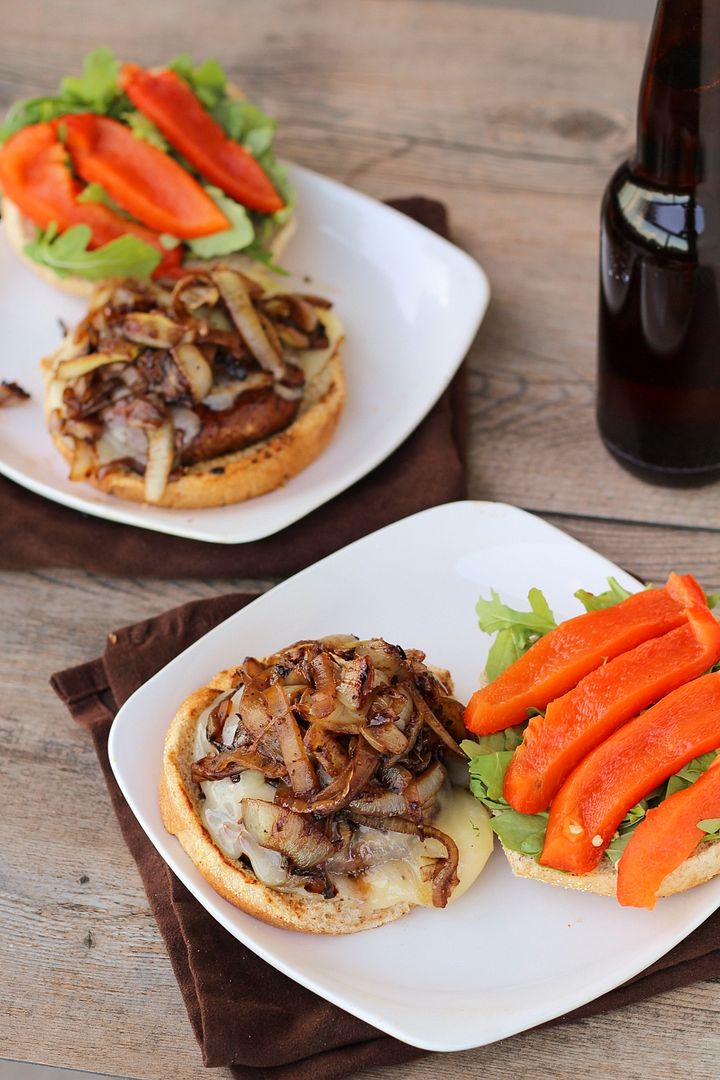 I've eaten portabella (or portobello, if that's how you like to spell it) burgers a few times before but had never made one myself until now. Portabella mushrooms make a great vegetarian substitute for burgers because they have a meaty texture and earthy taste, but without the fat that usually comes along with meat burgers!
Plus mushrooms make a great canvas for piling on flavourful toppings. For my version, I decided to complement the smoky, savoury flavour of the mushrooms with caramelized onions and a little provolone cheese, which I then balanced out with sweet roasted red peppers and peppery fresh arugula.
Not only was this burger pretty healthful, but it was also packed with flavour – I devoured mine and then immediately scolded myself for not making portabella burgers earlier!
A few tips I learned along the way: 1) Marinating the mushrooms beforehand gives them extra flavour, as otherwise mushrooms on their own can be somewhat bland; 2) Be sure to spray or oil your grill/pan because the mushrooms can be somewhat sticky!; and 3) Mushrooms shrink as they cook and release moisture – I chose large buns based on their size pre-cooking, but as you can see, they didn't fill the bun after cooking, so smaller buns would have been a better choice!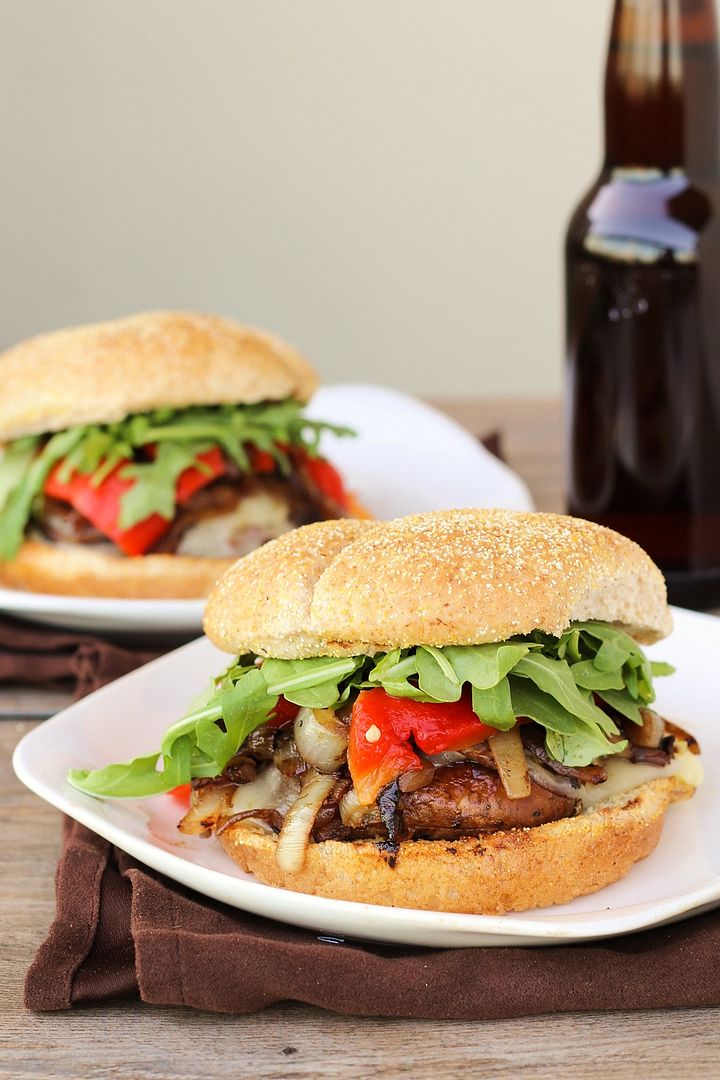 Don't wait as long as I did to try these if you haven't yet; and if you're already a mushroom burger fan, feel free to share your own cooking tips or favourite recipes!
If you're having as great as weather as we are here today, hope you get a chance to get outside and enjoy it!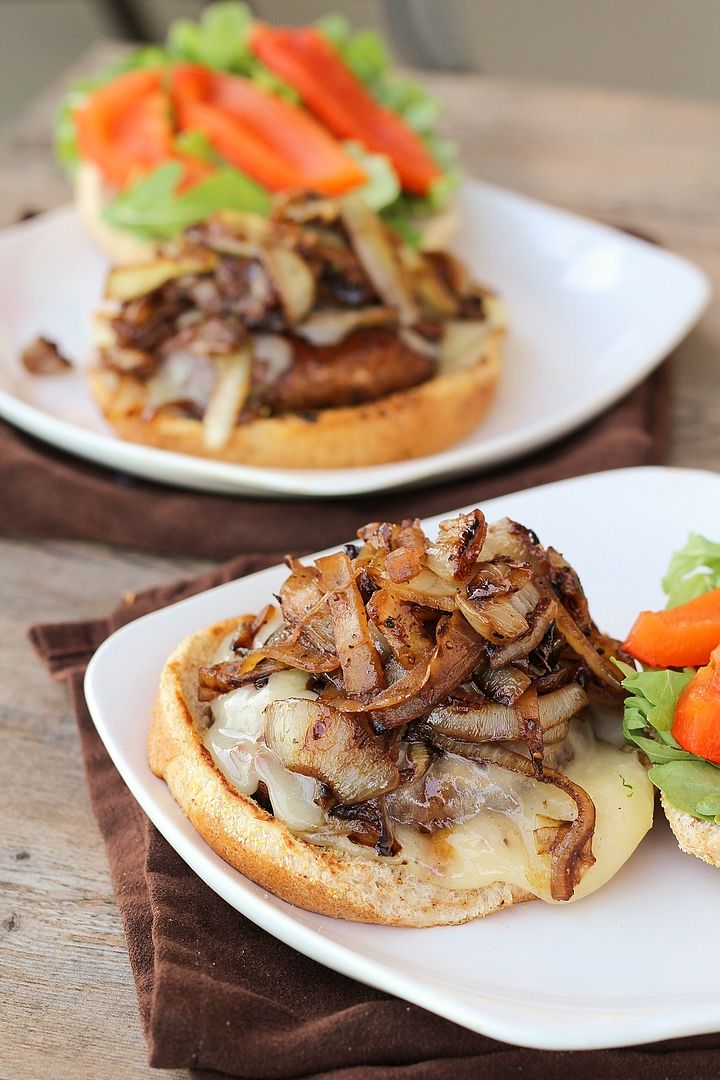 Portabella Mushroom Burgers with Provolone, Caramelized Onions, & Roasted Red Peppers
Makes 2 burgers
Ingredients:
For the Mushrooms:
2 portabella mushrooms
2 tablespoons balsamic vinegar
1 tablespoon olive oil
Pinch each dried basil and oregano
1 clove garlic, minced
Salt & Pepper
For the Toppings:
1 red bell pepper
1 tablespoon olive oil, divided
1 large or 2 small yellow onions, peeled and sliced into half moons
Salt and pepper
Splash of balsamic vinegar
2 large slices of provolone cheese (enough to cover the two mushrooms)
2 handfuls of baby arugula
2 whole wheat hamburger buns
Directions:
Preheat oven to broil.
Remove stems of mushrooms and scrape out the gills, if desired.
Whisk together the vinegar, oil, basil, oregano, garlic, and a bit of salt and pepper in a small bowl.
Add mushrooms and marinade to a bowl, tossing mushrooms to coat well.
Leave to marinate for 20-30 minutes.
Rub red pepper with a teaspoon of olive oil (don't use extra virgin olive oil as it has a lower smoke point.
Vegetable or canola oil would also work.)
Place on foil-lined baking sheet on the top rack of the oven.
Broil until dark blotches begin to appear on one side, then turn with tongs and repeat until all sides have black patches.
Amount of cooking time will vary depending on your oven and the size of your pepper; mine took around 15-20 minutes total.
When done, remove from oven and place in a bowl.
Cover tightly with saran wrap to let pepper steam (and loosen the skin) for about 15 minutes or until slightly cooled, then remove the skin, cut pepper in half, scrape out the seeds and membranes, and slice into strips.
*Note: If you're short on time, you can use storebought roasted red peppers in a jar.
I preferred to make my own to use less oil; it does take some time, but it can be done while you're marinating/cooking the mushrooms and caramelizing the onions so everything finishes in roughly the same amount of time.
Meanwhile, heat 2 tablespoons of oil in a large non-stick skillet over medium heat.
Add sliced onions, stir to coat with oil, and season with salt and pepper.
Spread onions out evenly across the pan and let cook, stirring occasionally, until onions are soft and caramelized, about 25-30 minutes. Don't stir the onions too often so they can brown, but don't leave them alone long enough to burn or stick to the pan. Add a splash of balsamic vinegar about 20 minutes into cooking to deglaze the pan and darken the onions.
When done, set aside in a small bowl.
When mushrooms are done marinating, heat a grill or indoor grill pan over medium heat.
Brush grate with oil or spray grill pan to prevent sticking, then place mushrooms on grill with gill sides up first.
Grill for 5-7 minutes per side or until tender, brushing with the marinade a few times.
In last 2 minutes of cooking, add provolone cheese on top of each mushroom to melt.
If desired, toast buns on grill for 1-2 minutes as well.
Assemble burgers by topping the provolone mushrooms with the caramelized onions, roasted red peppers, and arugula on whole wheat buns.
Season with additional salt and pepper if desired.