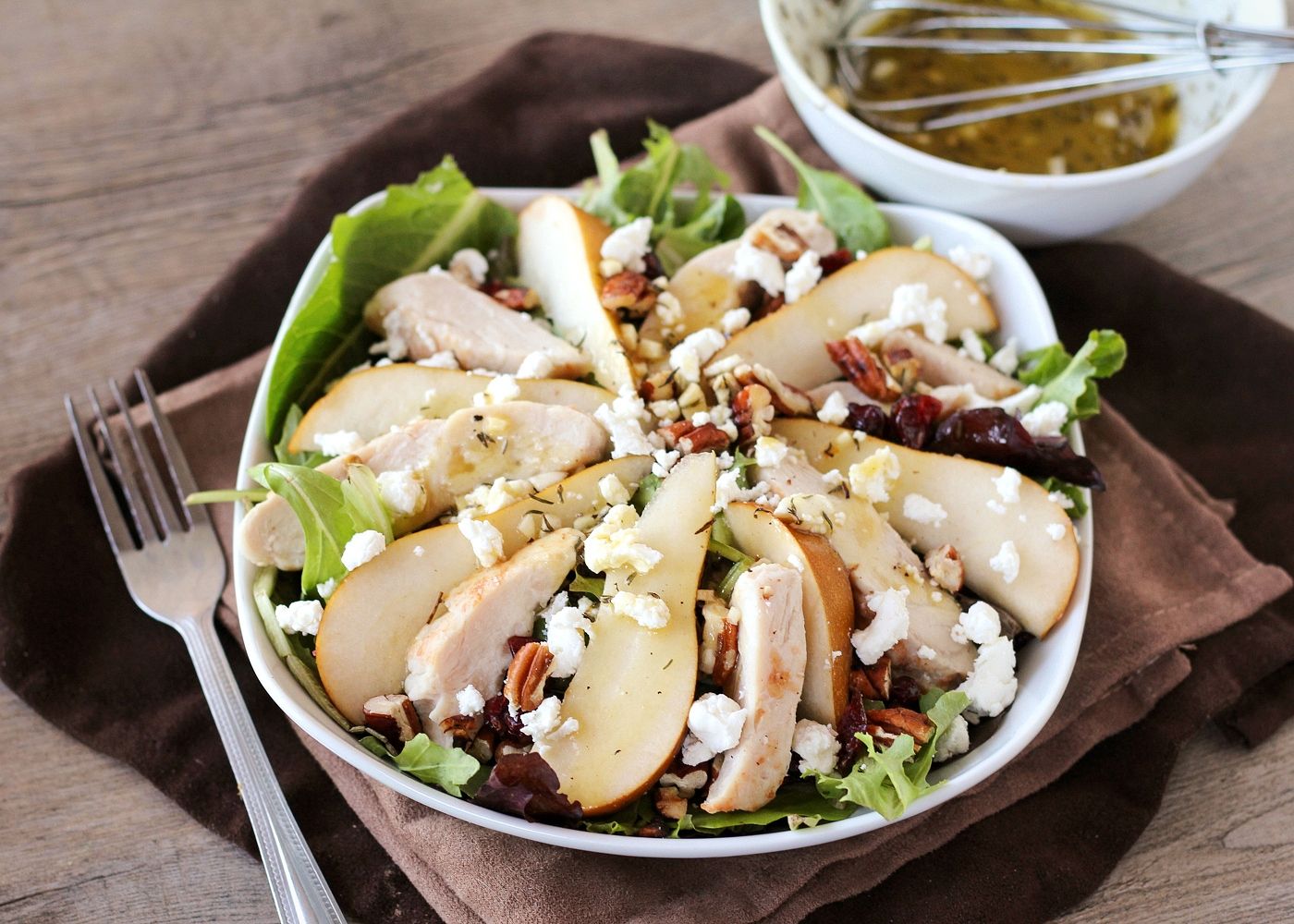 Now that fall has officially begun, I'm craving all things autumn: apples, pears, cranberries, squash, sweet potatoes, apple cider, warm drinks, and pumpkin everything, though I've had particular cravings for pumpkin baked goods and pumpkin pie. It's crazy to think that (Canadian) Thanksgiving is only a couple weeks away and I haven't made anything with pumpkin yet – I think that needs to change this weekend!
But before I start baking, my first venture into comforting fall dishes began a little healthier with this salad!
I've been wanting to try using beer in a vinaigrette for a while now - the house salad at a popular restaurant chain around here includes a beer dressing, and though you can't taste it, the idea of including beer in your dressing makes the idea of salad for dinner so much more exciting!
So I found a recipe for a
pear and walnut salad with wheat beer vinaigrette
from Vegetarian Times and used that as a base for the salad that I had in mind.
Wheat beer is pretty mild, but when you reduce it, it intensifies in flavour (which is why you don't want to start with a strong or bitter beer).
Once you add all the other ingredients for the dressing though, you'd have no idea there's beer in there, it just subtly enhances the flavour in a nice way that complements the other fall ingredients in the salad – including pears, goat cheese, pecans, cranberries, and chicken.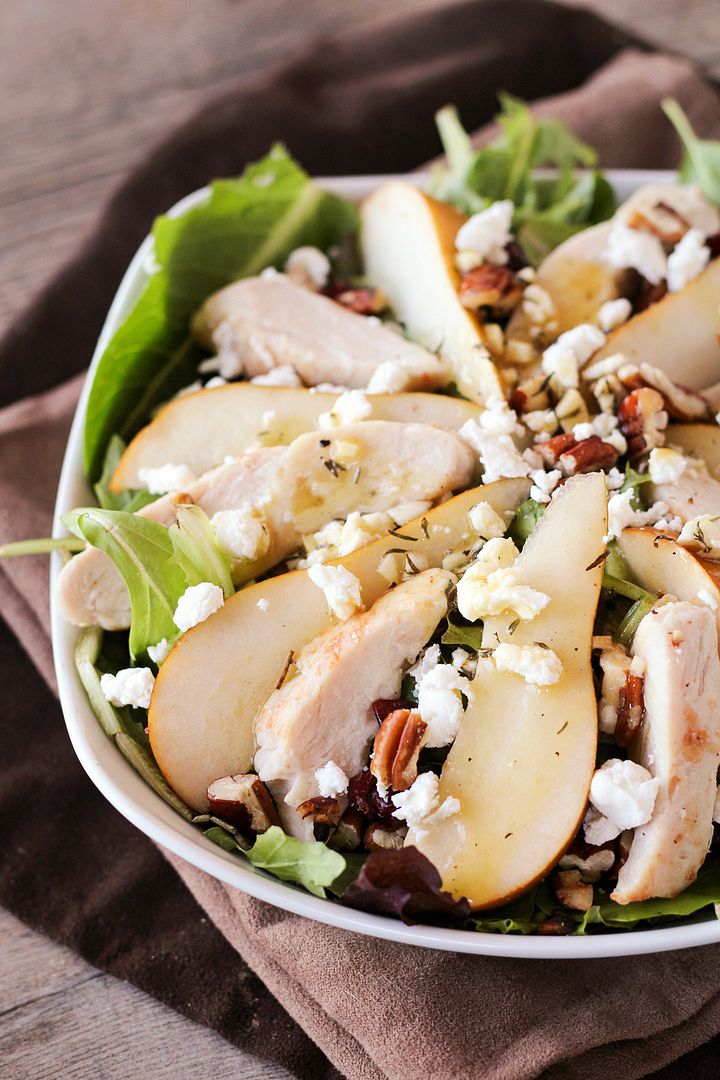 I loved this salad as is (and think it would be great for Thanksgiving!), but you could also make tons of substitutions to it to make it your own. Blue cheese instead of goat cheese would be delicious, or apples instead of pears, walnuts instead of pecans, spinach or arugula instead of mixed greens, or even leave out the chicken for a vegetarian side salad. You could also of course use any dressing you like if you don't keep beer in the house - a maple balsamic vinaigrette would probably taste great!
Hope you all enjoy the first official full weekend of fall!
Chicken, Pear, & Goat Cheese Salad with Wheat Beer Vinaigrette
Serves 4 as a main dish
Ingredients:
For the Dressing:
1/4 cup + 2 tablespoons wheat beer
1 tablespoon minced shallot
1/2 tablespoon honey
1/2 tablespoon Dijon mustard
2 tablespoons balsamic vinegar
1/4 cup extra virgin olive oil
1/4 teaspoon dried thyme (optional)
1/8 teaspoon each salt and pepper
For the Salad:
~4 cups mixed salad greens
2 chicken breasts, cooked and sliced
2 ripe bosc or red-skinned pears, halved, cored and thinly sliced
3 oz goat cheese, crumbled (or as an alternative you could use blue cheese)
1/4 cup toasted pecans or walnuts
1/4 cup dried cranberries
Directions:
Prepare the vinaigrette: Add wheat beer to a small saucepan, bring to a boil, and let simmer until reduced to 2 tablespoons (about 5-7 minutes).
Remove from heat and whisk in the remaining dressing ingredients (shallot through to pepper).
Set aside.
Prepare the salad: Divide greens among 4 plates or bowls.
Top each salad with sliced chicken and pears, and sprinkle pecans, cranberries, and goat cheese on top.
Drizzle each salad with the vinaigrette and serve immediately.
Note: All amounts are approximations - adjust based on your own tastes if desired.