Happy October!
I can't believe it's already October – I have absolutely no idea where September went (or the whole year, for that matter). I'm hoping this month goes a lot slower because fall is always over so quickly here and there are too many things to enjoy before they're gone, like the beautiful red and gold leaves on the trees, sunny weather with crisp air, being able to wear light jackets and boots before the parka and heavy boots come out for what feels like forever, and of course, pumpkin spice everything!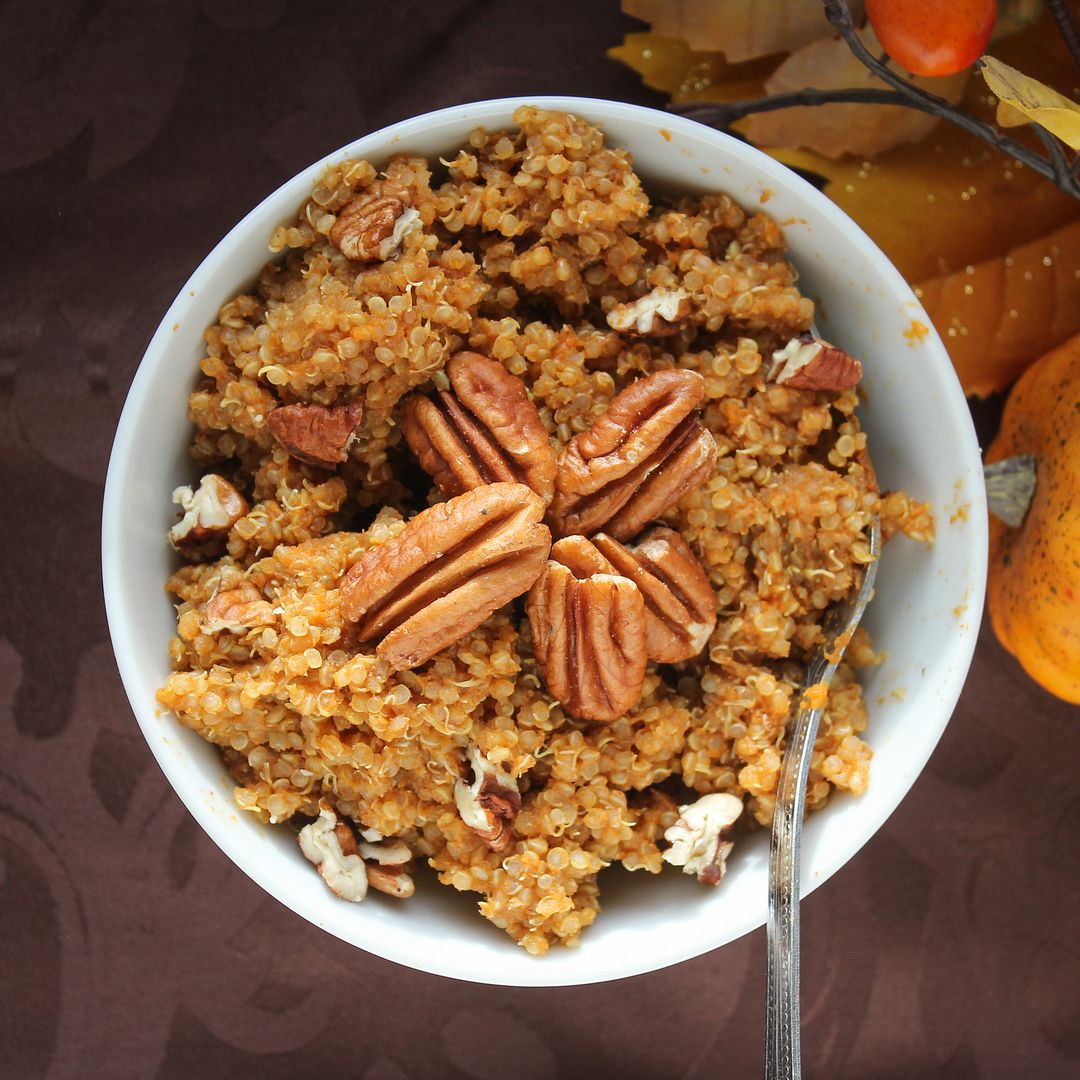 This is the first pumpkin recipe I've made this fall and I know I'll be making it several more times before the season's over!
I love pumpkin oatmeal, but replacing oats with quinoa retains the comforting porridge-like texture while adding lots of protein to give you energy to start your day! And because quinoa can be left alone while it cooks, it's still easy to make this on a weekday morning while you're getting ready for work or school.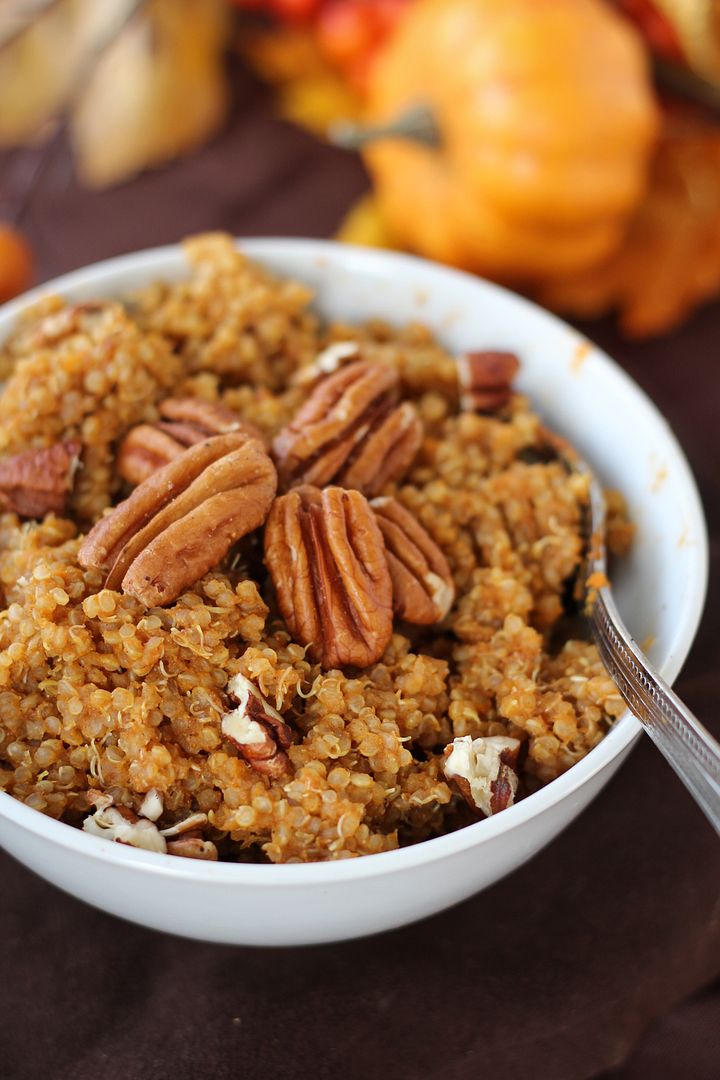 All you need to do to turn plain quinoa into this cozy pumpkin breakfast quinoa is replace some of the cooking water with milk, then stir in some pumpkin, vanilla, spices, a little maple syrup for sweetness, and top with some pecans for crunch.
If you usually add milk to your oatmeal, you can do the same with this breakfast quinoa too – your choice! And if you want this to be even more of a treat, feel free to throw in a spoonful of chocolate chips!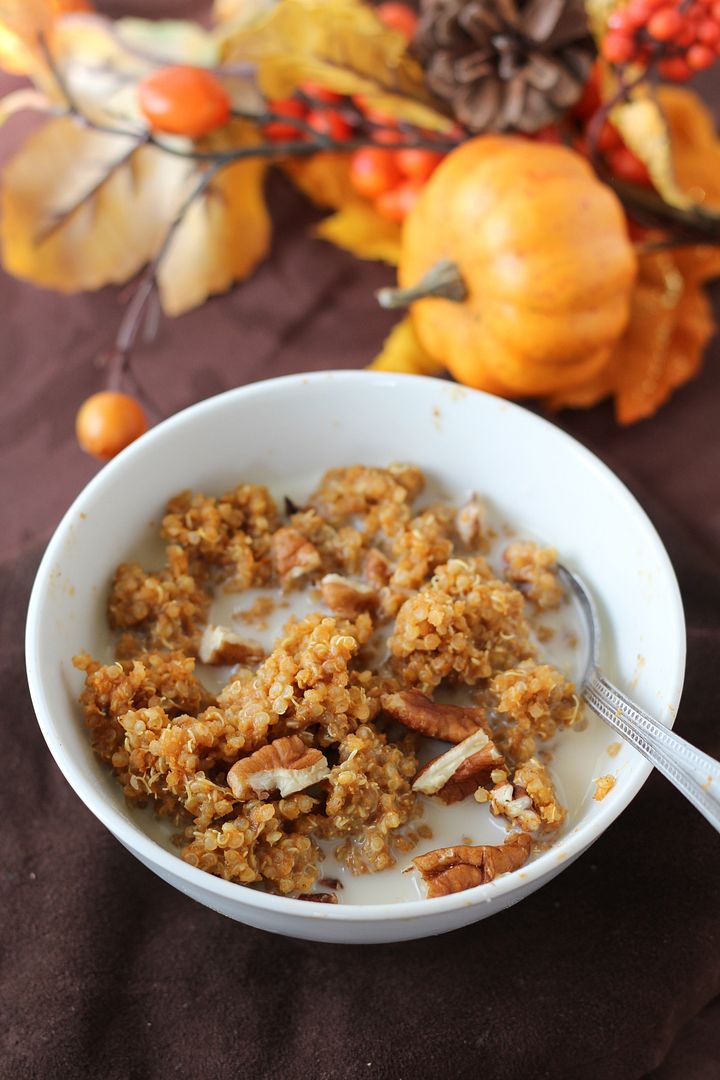 Pumpkin Spice Breakfast Quinoa
Makes 2 servings
Ingredients:
1/2 cup milk – I used almond milk but any milk will work
1/2 cup water
1/2 cup uncooked quinoa, rinsed and drained
1/4 cup + 2 tablespoons pumpkin puree
2 tablespoons pure maple syrup
1/2 teaspoon vanilla extract
1 teaspoon pumpkin pie spice
Pinch of salt
2-4 tablespoons chopped pecans
Directions:
Bring milk and water to a boil in a small to medium sized saucepan.
Add quinoa, cover, reduce heat to simmer, and let cook 15 minutes.
Remove from heat and let stand 5 minutes.
Uncover and fluff with a fork, then stir in the pumpkin, maple syrup, vanilla, pumpkin pie spice, and salt.
Taste and adjust any amounts to your liking (i.e. add more sweetness or spices).
Divide into two bowls (add milk if desired) and top with desired amount of pecans.