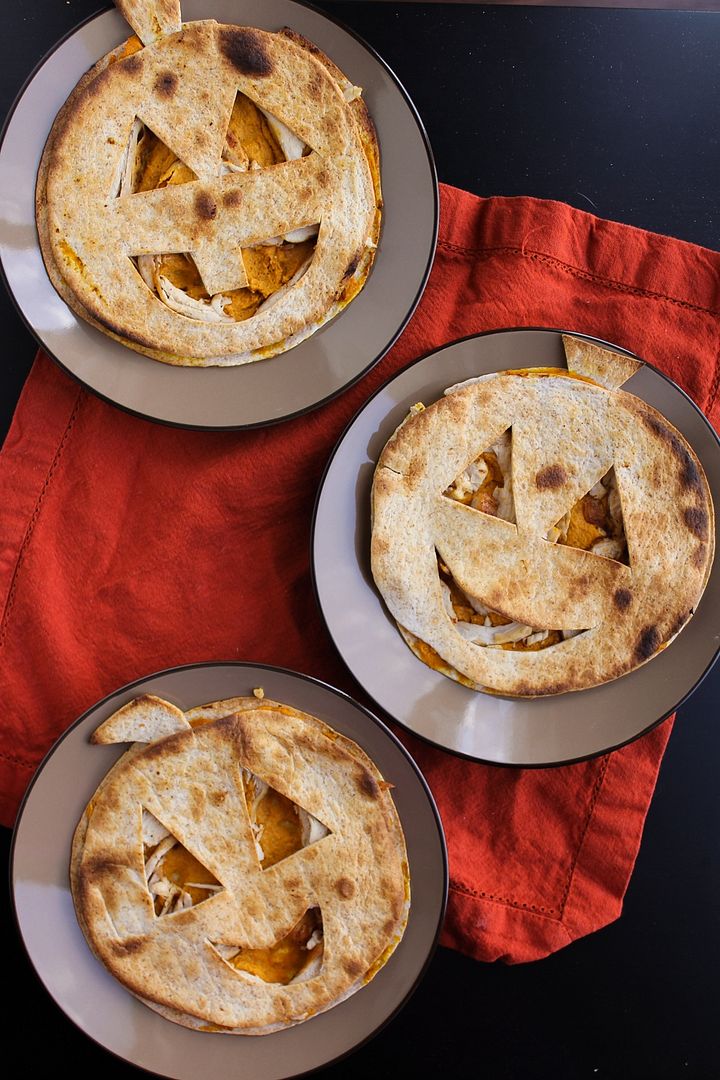 I cannot believe that Halloween is already tomorrow! October has flown by (like every other month this year) and I barely even thought about Halloween costumes or food ideas until this week. I have a party to go to tonight and I didn't even decide on a costume until yesterday when I went to the drugstore and chose a few devil accessories from the 40% off Halloween section, so I'm probably going to be the most unoriginal one there. I haven't had time to come up with Halloween food or dessert ideas either, which is disappointing because Halloween is the perfect excuse to get creative with your food!
I couldn't let the holiday pass without at least one Halloween recipe on my blog though, so I threw these pumpkin quesadillas together the other day - and I loved them!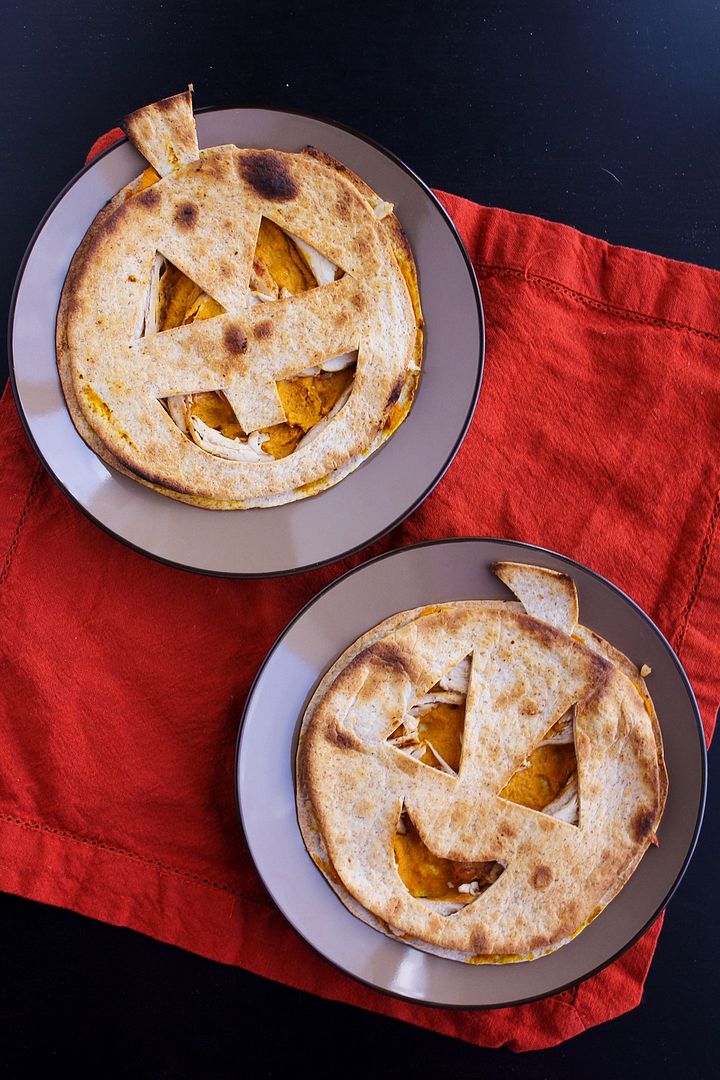 These quesadillas are filled with a creamy mixture of spiced pumpkin and goat cheese, along with some chicken for protein. That's it! Very few ingredients but they surprised me in how good they tasted, plus they were really easy to make. Carving a pumpkin face in a tortilla is WAY easier than carving an actual pumpkin, and you can throw multiple quesadillas under the broiler to quickly cook them and avoid having all the filling fall out through the holes like they would if you tried to cook them on a skillet.
These are perfect for Halloween night because you can easily prepare them for an early dinner before the kids head out trick or treating. You could also change up the filling to include whatever you want - I imagine kids would be much happier with a simple cheese-only version!
And if you're looking for more Halloween food ideas (since clearly I am not full of costume ideas), check out my
Pinterest board
. Hope everyone has a safe and happy Halloween tomorrow!
Pumpkin, Chicken, & Goat Cheese Quesadillas
Makes about 5 small quesadillas
Ingredients:
2 large (or 3 smaller) boneless skinless chicken breasts
A pinch each of chili powder, salt, and pepper for seasoning the chicken
1 cup canned pumpkin puree
1/4 cup + 1 tablespoon goat cheese
1 teaspoon cumin
1/2 teaspoon chili powder
Salt and pepper
10 small (6-inch) whole grain tortillas
Non-stick cooking spray
Directions:
Preheat broiler.
Trim chicken breasts of any fat and season on both sides with chili powder, salt, and pepper.
Heat a large skillet over medium-high heat and cook chicken breasts for about 5-6 minutes per side, or until cooked through completely.
Set aside.
Mix pumpkin, goat cheese, cumin, chili powder, and a pinch each of salt and pepper in a medium bowl.
Taste mixture and adjust any amounts to your liking.
Slice or shred chicken thinly.
Use a small knife to carve pumpkin faces into 5 of the tortillas - these will be the tops of the quesadillas.
Save the triangles you cut out from the eyes to be the pumpkin stems.
Spread about 1/4 cup of the pumpkin mixture onto each of the 5 bottom tortillas.
Top pumpkin mixture with shredded chicken, followed by the carved tortilla to form 5 complete pumpkin quesadillas. Insert the triangle in between the tortillas near the top, pressing it into the pumpkin mixture, to be the stem. Press the top tortilla gently onto the bottom tortilla to help them stick together.
Spray baking sheets with non-stick baking spray, carefully transfer quesadillas to baking sheets with carved face up, spray tops lightly with cooking spray, and broil on top rack of oven until warmed through and toasted spots begin to appear on top.
This should only take a few minutes – watch closely.
Transfer quesadillas carefully to plates as they won't stick together as much as regular quesadillas because of the goat cheese. Serve warm.