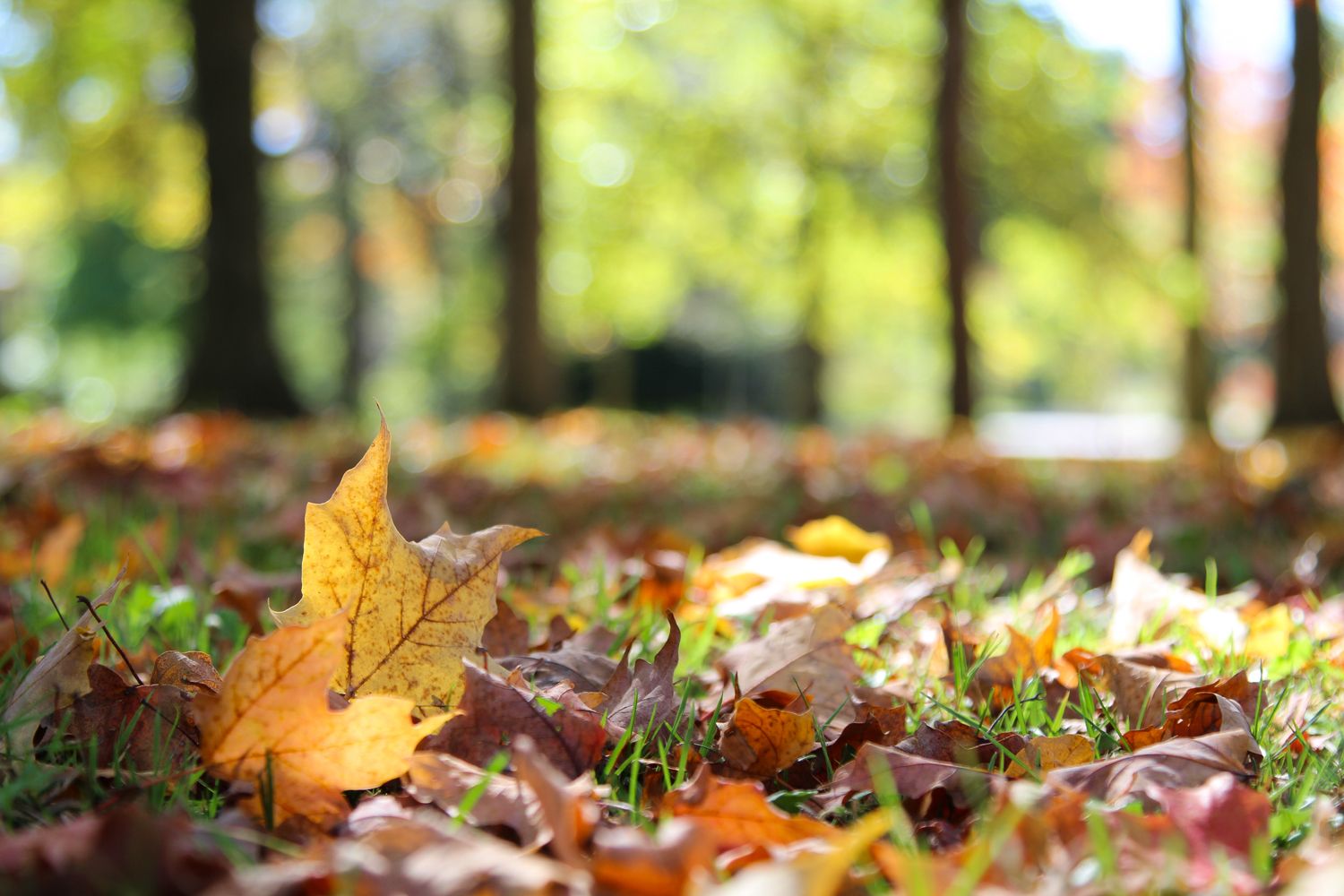 I can't believe my favourite month of October is already over and these gorgeous fall leaves have already almost all fallen!
This was a fantastic month though - here's a brief recap!
This month, Ryan and I spent a week up in Thunder Bay to visit his family and spend Thanksgiving with them, which was so wonderful. Here's a glimpse of the area, which is gorgeous:
We went to a farm full of pumpkins, where we took in the festival fall atmosphere and took some pics of our adorable little nephew.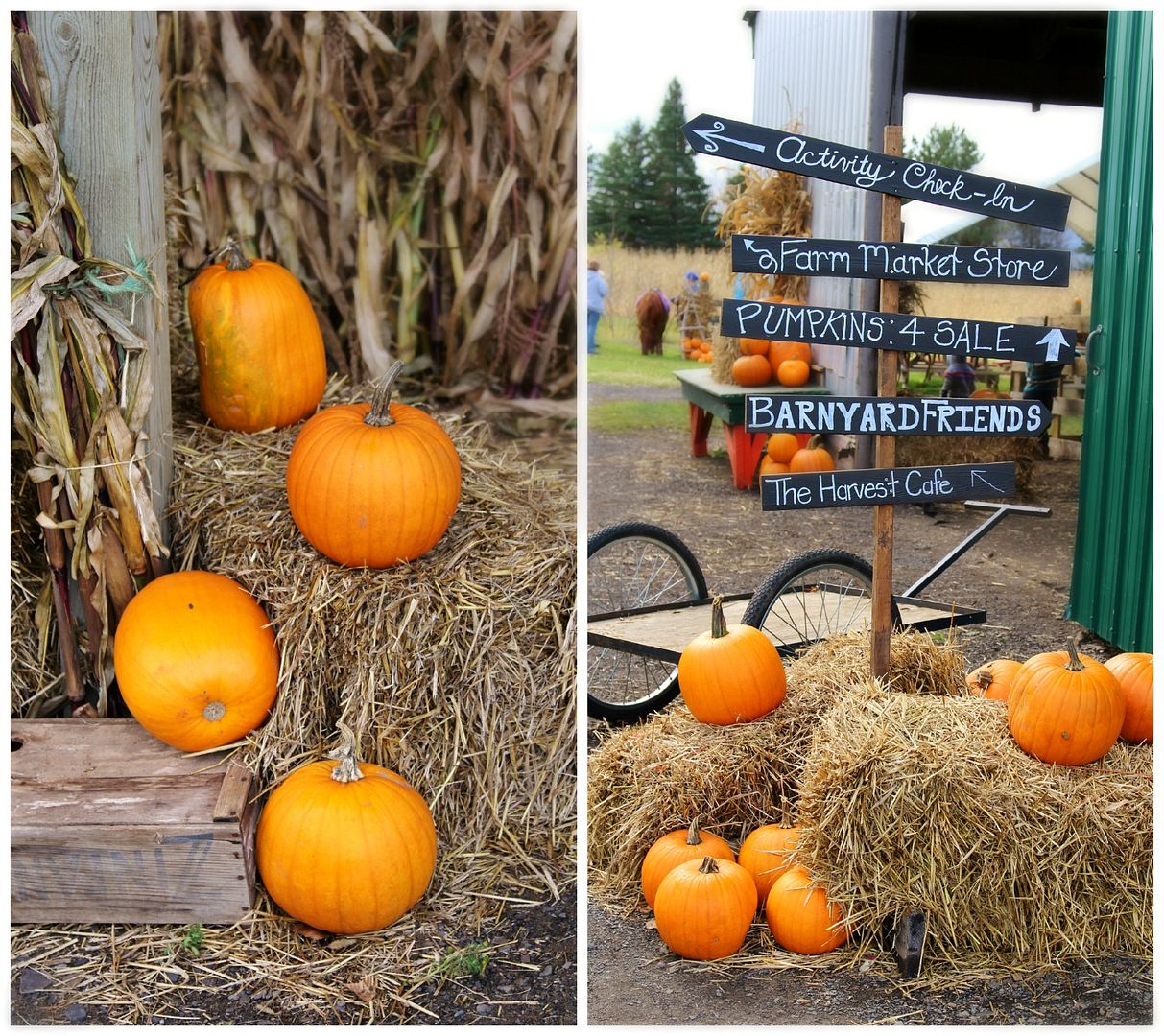 We also enjoyed this delicious pumpkin soup and gouda cheese biscuit there - the perfect meal for a chilly fall day!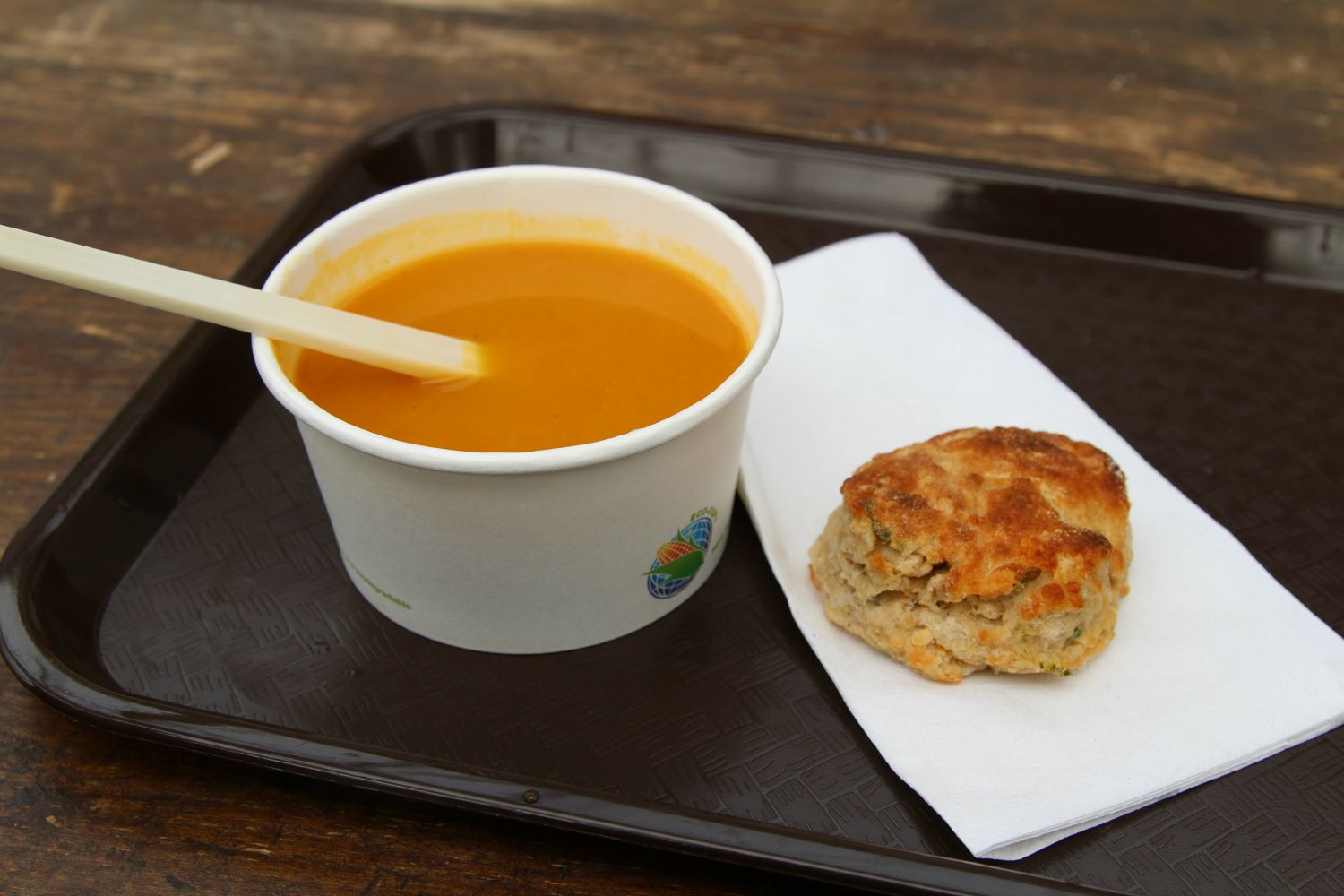 Earlier that week, we went for breakfast at
Made Fresh
, where we devoured these amazing pumpkin pancakes topped with candied pumpkin seeds and pumpkin spice whipped cream - heaven!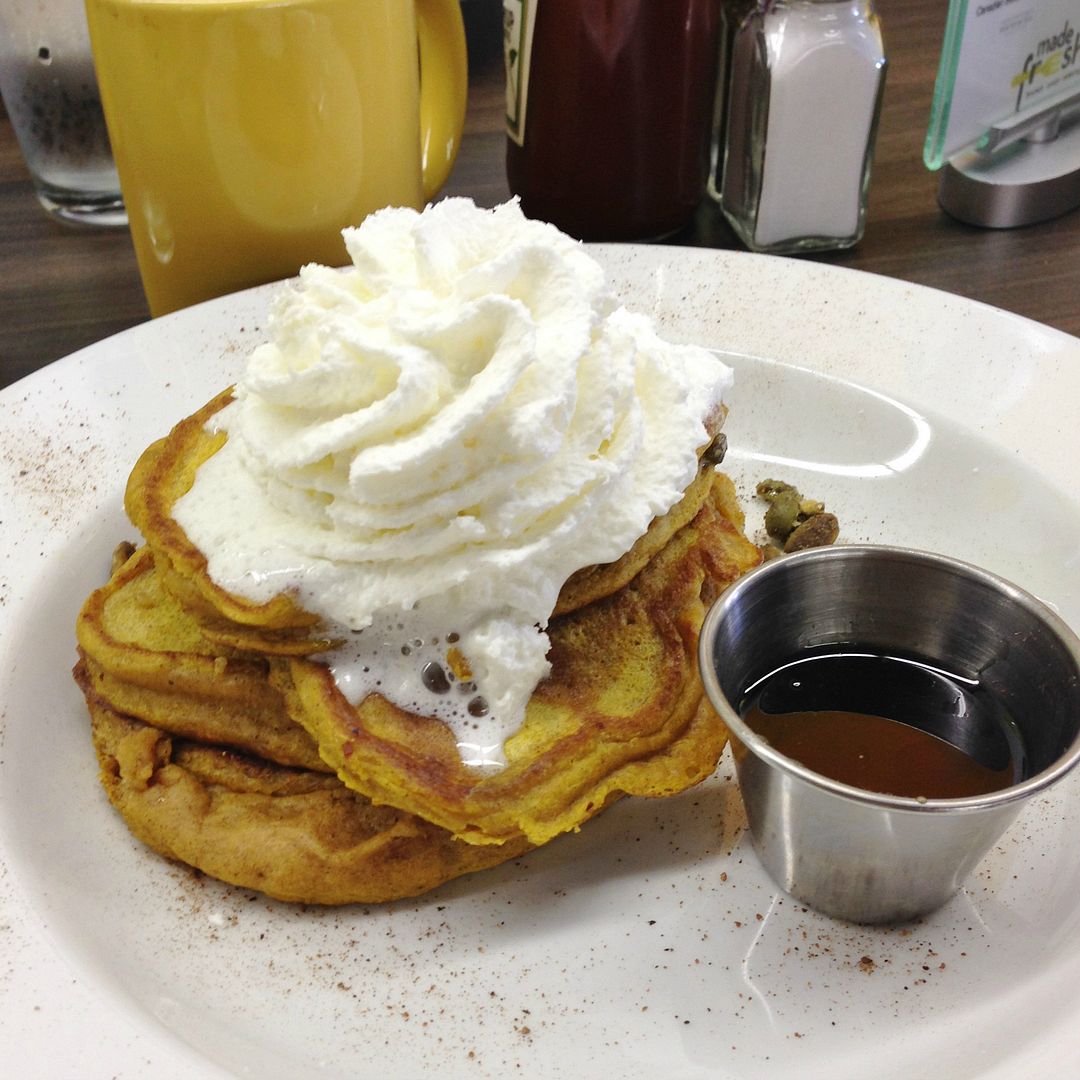 I also discovered a new favourite restaurant while we were there -
The Growing Season
- which I haven't stopped talking about since I returned. I just wish it wasn't so far away! The first time we went there for lunch I got the season sandwich: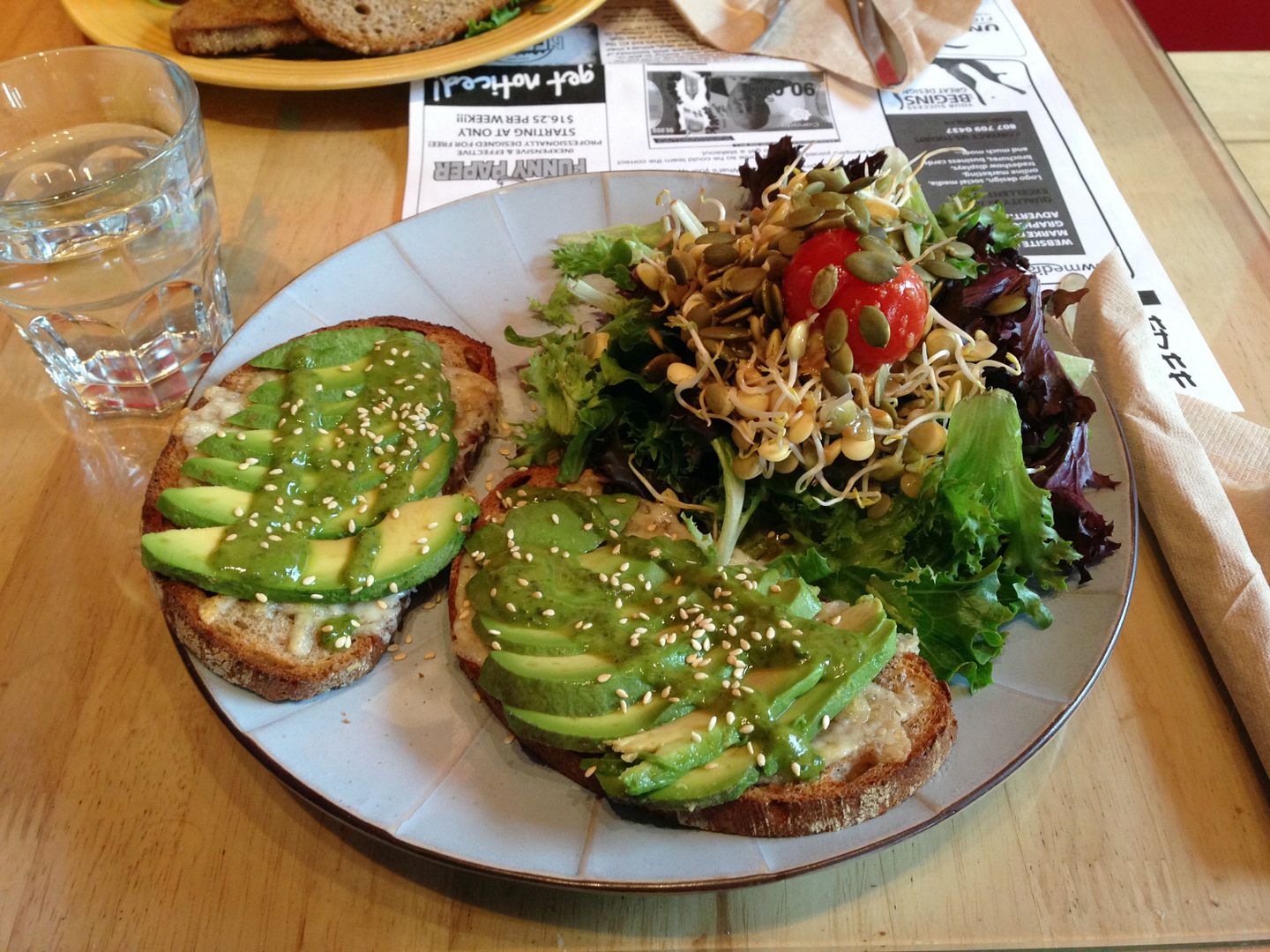 It had grilled local gouda cheese, avocado slices, and pesto drizzle on local bread, with a huge side salad with sprouted lentils, pumpkin seeds, and an amazing sesame dressing. All so good!
Ryan got the chipotle chicken "unwrap" with roasted chicken, red peppers, sesame snaps, and chipotle sauce on top of naan bread, and he loved it.
In fact, we loved our meals so much we went back later in the week!
This time I tried the venus rice bowl, which had brown rice, carrots, beets, sprouts, spinach, tofu, and almonds, all tossed in a tahini dressing. So good and good for you! I'm going to have to try to recreate some of these meals to have at home since I can't get them anymore!
Of course, my favourite meal of the week was Thanksgiving dinner!
This is actually a picture of my leftovers meal the next day, which is why the gravy looks a little funny, but it was all so, so good! We had turkey and gravy, stuffing, mashed sweet potatoes,
butternut squash gratin
, kale and broccoli salad, homemade cranberry sauce, and pierogies, which was a new-to-me but welcome addition to the meal! It was followed by my sister-"in-law"'s amazing pumpkin pie with tofu, which I don't have a picture of because I devoured it too quickly!
We also enjoyed tons of other amazing food that week as I was spoiled as usual and never had to cook for myself! I have tried a few dishes back at home this month, though.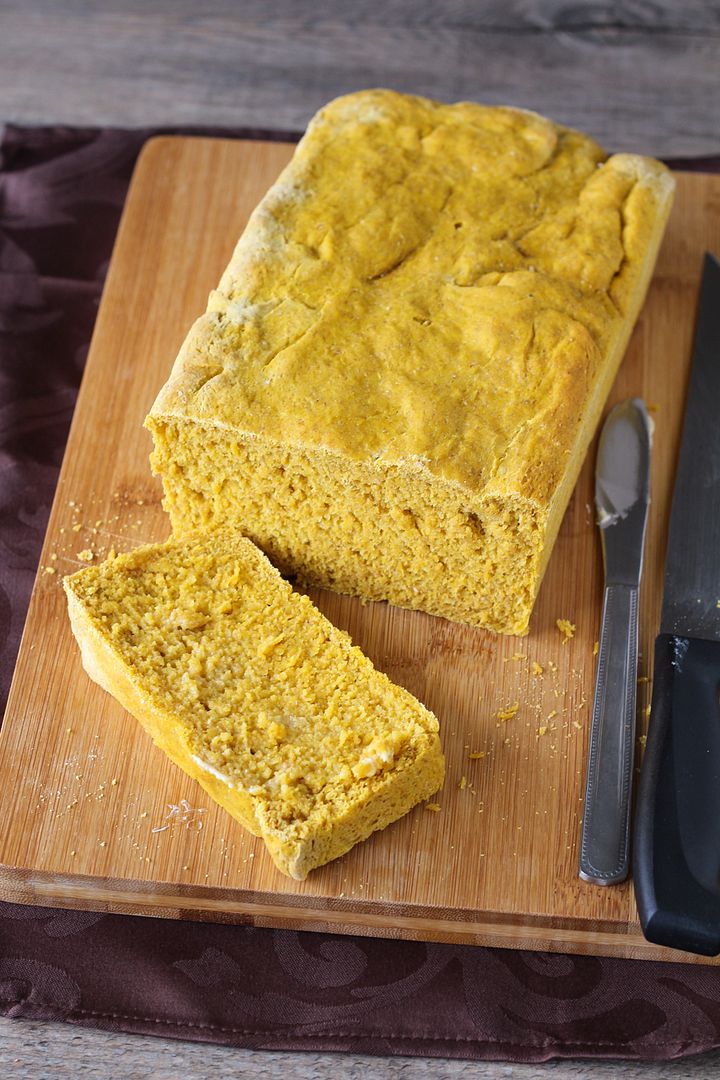 I made this
pumpkin yeast bread
earlier and am still enjoying the slices I kept in the freezer. I replaced some of the flour with whole wheat flour and the sugar with some maple syrup, so it may be my own fault but I found it was a little lacking in flavour. Nevertheless, it's still been a great base for peanut butter in the mornings!
Another not-so-successful recipe this month was a layered sweet potato torte: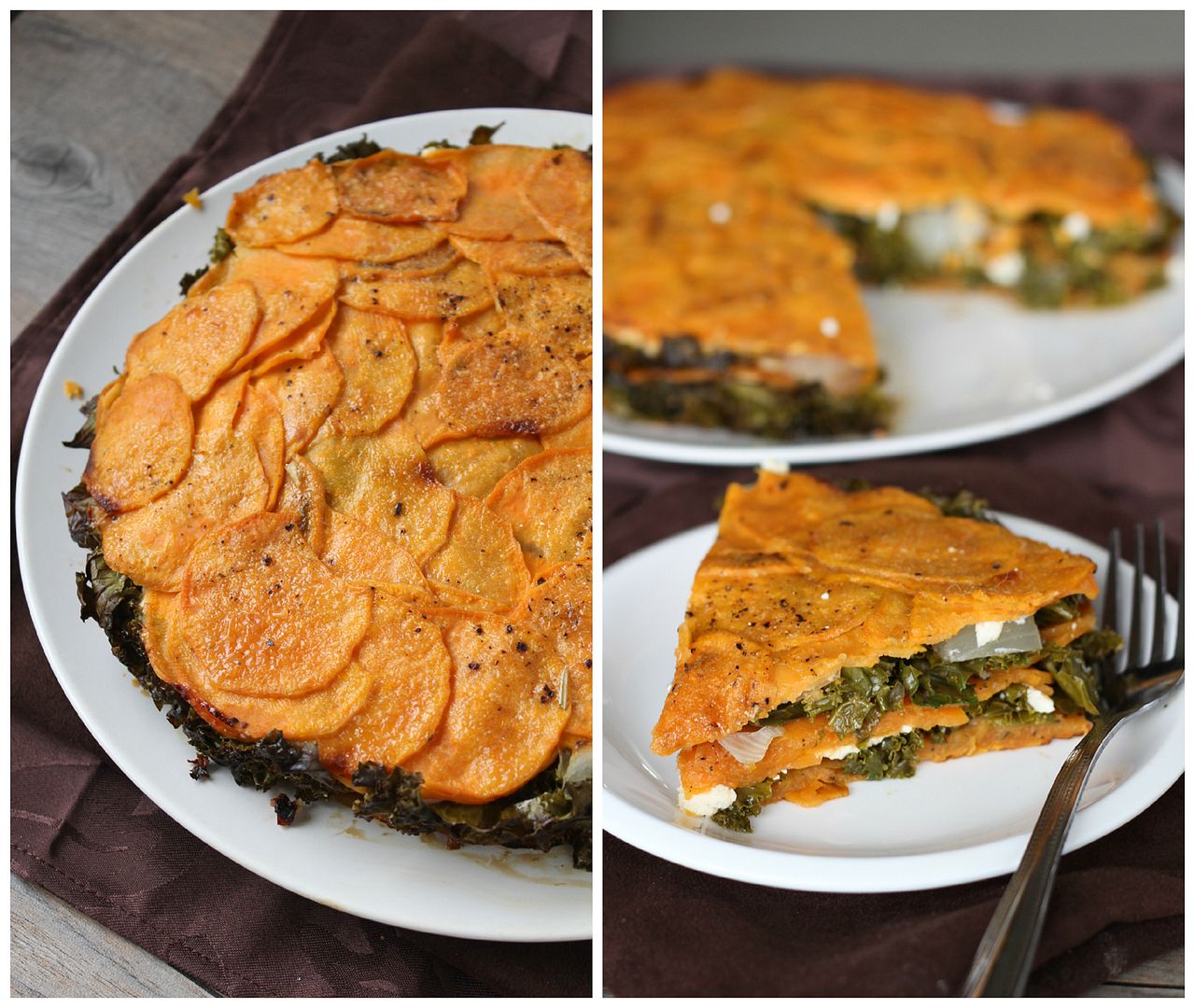 The original torte recipe from
Vegetarian Times
is made up of layers of sliced sweet potatoes, swiss chard, red onion, and blue cheese. I made a few changes, using kale instead of swiss chard, yellow onions instead of red, and goat cheese instead of blue cheese, and I didn't have a springform pan so I had to make less layers in a regular cake pan. Because of this, it didn't turn out as well as it should have - kale doesn't cook down the same way that swiss chard does (I should have known this) and goat cheese doesn't provide the same punch that blue cheese does. I think if I'd made this recipe as
originally written
, it would have been really good - in fact, my sister has made this a few times and loves it, so don't change anything if you give it a try!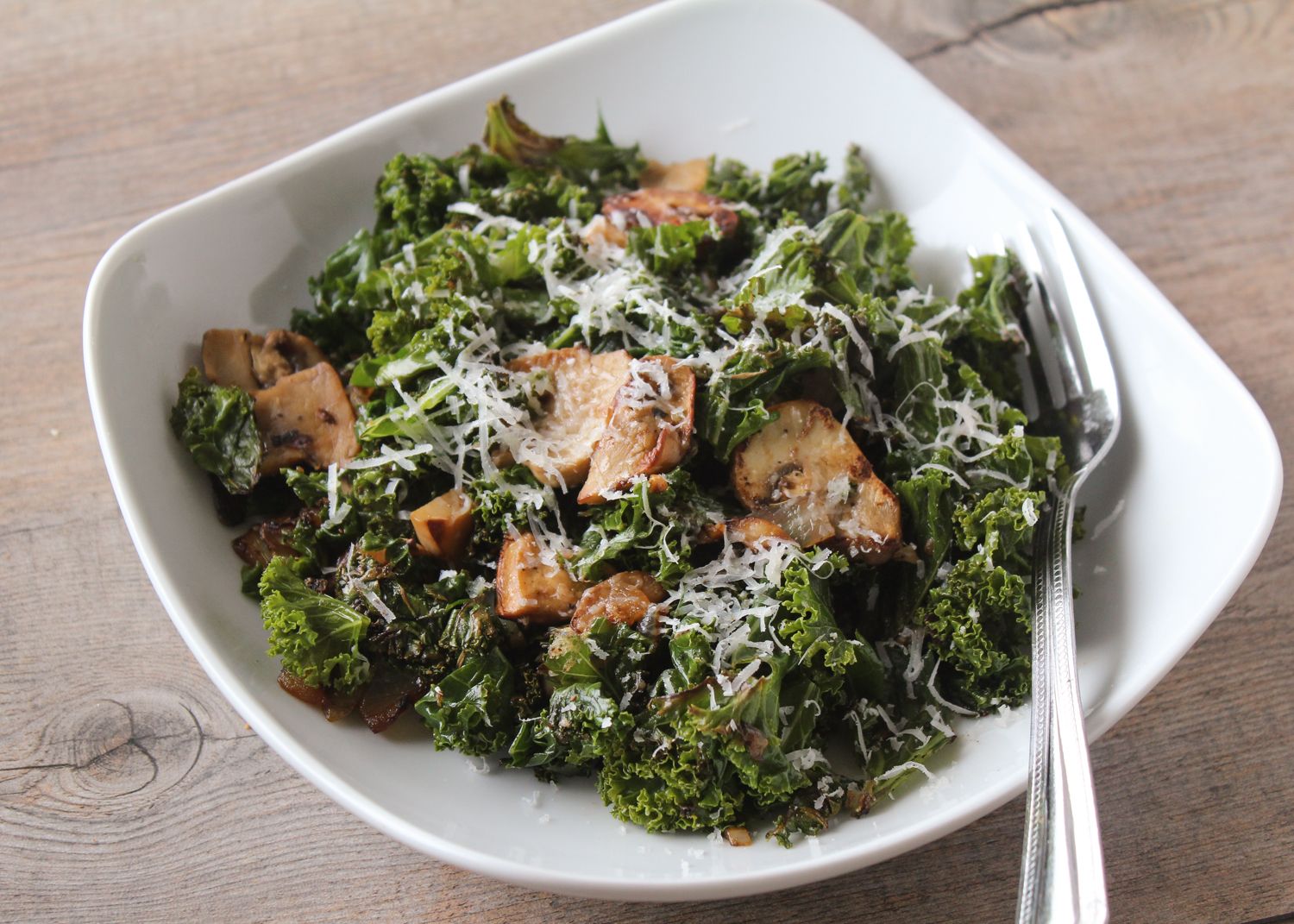 Otherwise, I've been making a lot of quick meals this month, and a lot involving kale. I've been eating a lot of kale salads and naan pizzas with kale, and pictured above is some sauteed kale with cooked mushrooms, garlic, onions, a big pinch of red pepper flakes, and some parmesan cheese. I made it just to use up some kale and mushrooms I had in the fridge but I ended up really liking it!
I'm also still on a big pumpkin kick, throwing it into my yogurt or smoothies in the morning along with some pumpkin pie spice. Yum!
In an effort to ward off cold season this month (so far, so good!), I've been taking shots of this homemade "immune booster" most nights, which contains a bunch of ingredients that are commonly cited as ways to fight off colds: unfiltered apple cider vinegar, raw ginger, garlic, onion, and horseradish, along with a big pinch of turmeric, a couple hot peppers, and a bit of raw honey (which I only included in one batch). It's roughly based on a recipe I found through Pinterest
here
, which is similar to
this "fire cider" recipe
. It's very spicy, vinegary, and garlicky, but I actually have come to kind of like it! I can make no claims as to its effectiveness and I'm not recommending it as an official cold-fighter for anyone, but I like to think I'm doing my immune system some good by consuming it, even if it's just a placebo effect!
And if you're still reading, I have one last piece of exciting news to share with you from this past month - I got engaged! My amazing boyfriend of almost six years took to me to a beautiful scenic spot on our trip up north earlier this month and proposed, and of course I said yes! I couldn't be more excited to start planning a wedding with the man I've known I would spend the rest of my life with for a long time now. It's hard getting used to the word fiance though!
As I said at the beginning, this was a pretty great month! :)