It seems like everyone has already moved on from pumpkin flavoured everything to gingerbread everything, myself included – I love Starbucks gingerbread lattes even more than pumpkin spice lattes and now that they have a molasses drizzle on them I can't resist getting one whenever I go near a Starbucks!
And now that there's starting to be a little snow in the air and on the ground, it's hard to resist getting in the holiday spirit already. I thought it was a little early still but the Santa Claus parade in my hometown is tomorrow, so I guess not!
I was just reading on
Averie Cooks
yesterday (in her post for these amazing looking
gingerbread molasses chocolate chip bars
) how bloggers so predictably go from pumpkin to gingerbread to peppermint every year, which is so true.
But part of what makes people go crazy for these flavours is how briefly we get to use them each year, so we have to make the most of them while we can!
Hopefully not everyone is ready to completely abandon pumpkin yet though, as I still have one more pumpkin recipe to share!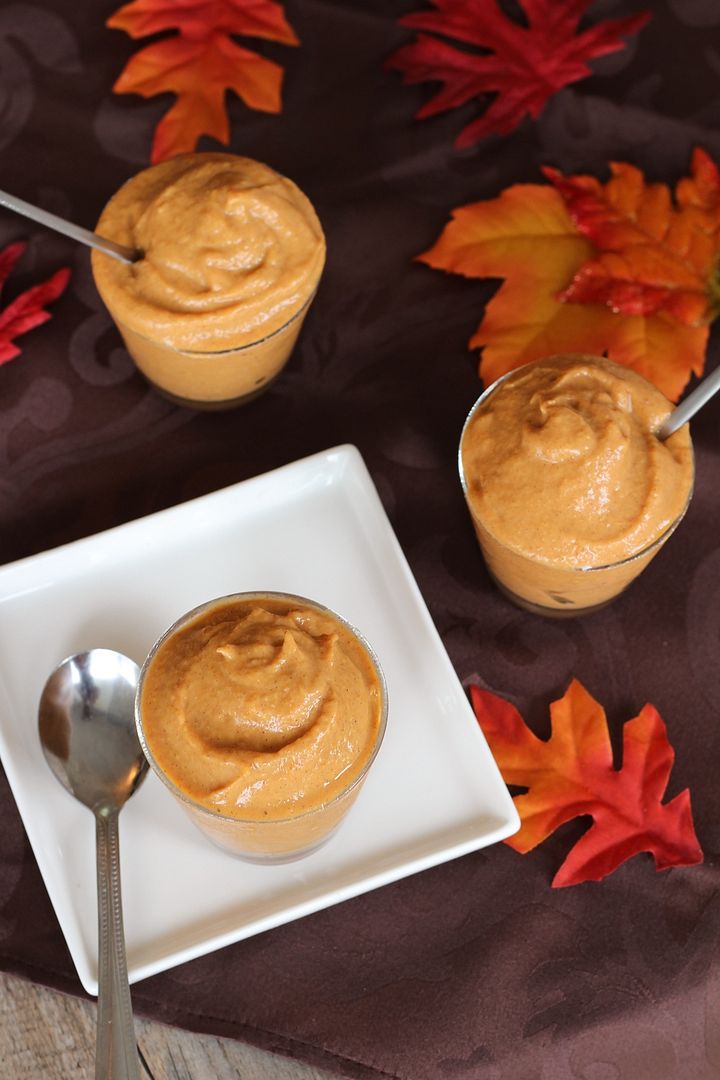 Pumpkin tofu mousse is probably not anything new to a lot of you, but this was the first time I'd tried it and it was so much better than I'd expected that I've already made it a few times this year! It's basically like pumpkin pie in mousse/pudding form with the added benefit of being pretty healthy! It's actually not as fluffy as regular mousse, but it's lighter than pudding so I wasn't sure what to call it - feel free to call it whatever you like!
This mousse or pudding or whatever you want to call it is super easy to make – just blend together some pumpkin puree, silken tofu (you won't taste it at all but it adds protein and makes everything light and fluffy!), a bit of pure maple syrup for sweetness, and some vanilla and pumpkin pie spices. I also added a little Greek yogurt to mine for a little extra flavour and thickness, but if you prefer to keep this vegan you could leave it out.
Hope you have room for a little more pumpkin in you, but if not, I will probably be moving on to holiday flavours pretty soon!
Pumpkin Tofu "Mousse"
Makes around 4 small servings (but serving size for something like this can vary)
Ingredients:
8oz silken tofu (usually about half a package), drained of all excess water (do your best to get as much water out as you can)
1 3/4 cup pumpkin puree (not pumpkin pie filling) – or one 15oz can
1/4 cup plain or vanilla low fat Greek yogurt
1/2 teaspoon vanilla extract
1/4 cup + 2 tablespoons pure maple syrup
1/2 teaspoon cinnamon
1/4 teaspoon ground ginger
1/4 teaspoon nutmeg
1/8 teaspoon cloves
1/8 teaspoon salt
Directions:
Add tofu and pumpkin to the large bowl of a food processor and process until smooth.
Add all remaining ingredients (leave the 2 tablespoons of maple syrup out for now), and process until well combined.
Taste and add as much of the remaining 2 tablespoons of maple syrup as desired to reach desired level of sweetness.
If desired, you could replace some of the maple syrup with brown sugar. Adjust any other spices as needed and according to preference.
Refrigerate for at least 1-2 hours before serving.
Keep refrigerated.
Water from the tofu may separate after a couple of days, just drain it or stir it back in before serving.