If you've been on Facebook or Instagram this morning, you've likely seen lots of pictures of snow – it seems like quite a few cities in both the US and Canada have experienced their first snowfall this week!
I usually split my time between two cities in Southern Ontario, and fortunately the one I'm in right now got less snow than the other one – just enough to coat all the leaves on the ground but not enough to stay on the sidewalks.
Even with only a light layer of snow though, it's still been freezing cold outside this week so it seems that winter has officially arrived!
With the colder weather, I've been craving warm and comforting food a lot more lately, and this pizza fit the bill perfectly!
It's full of hearty, savoury flavours including roasted sweet potatoes, caramelized onions, and a bold barbeque sauce in place of tomato sauce.
It might sound like a kind of strange combination, especially with the cheddar cheese, but trust me that it all works so well together!
When I brought up the idea for dinner a while ago to Ryan, he rejected it then because the idea of sweet potatoes on pizza was a little too out there for him, but I couldn't get the idea out of my head so I went ahead and made it the other day and even he admitted "it was really good". I would add one extra "really" on to that myself!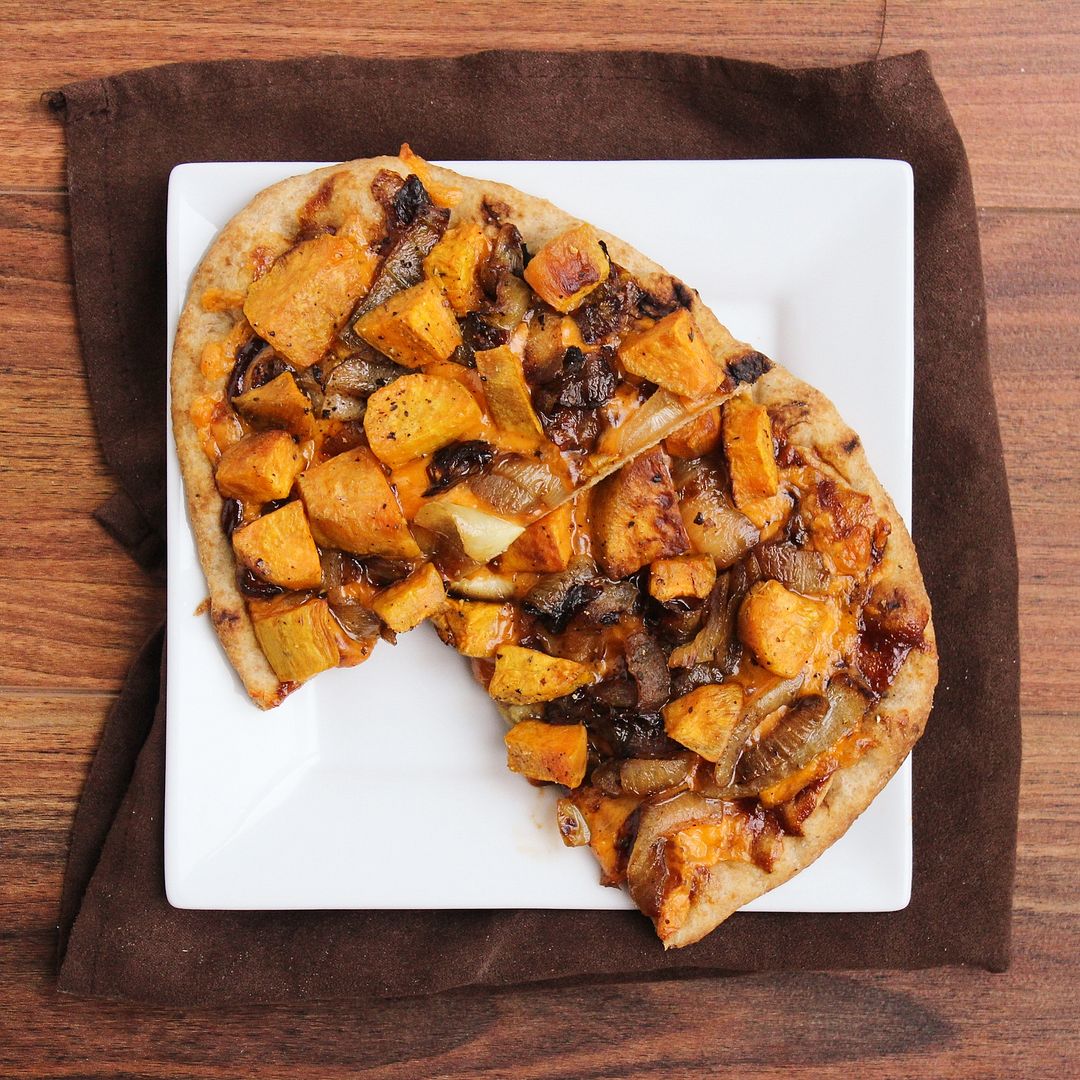 I know I've been making a lot of naan pizzas lately, and I swear I had intended to make this one a real pizza instead, but the store I went grocery shopping at didn't have any pizza dough (except for those pre-made circles of cardboard) and I didn't have time to make my own dough, so I grabbed some whole wheat naan.
But naan is cheaper than pizza dough (at least at my grocery stores) and allows you to make the perfect individual sized pizzas whenever you want, so I really love them!
If you're cooking for more than a couple people though (or don't like naan bread for some crazy reason), feel free to use regular pizza dough with the same toppings - the recipe I provide is more of a guide anyway so you can adapt it to whatever type of base you like!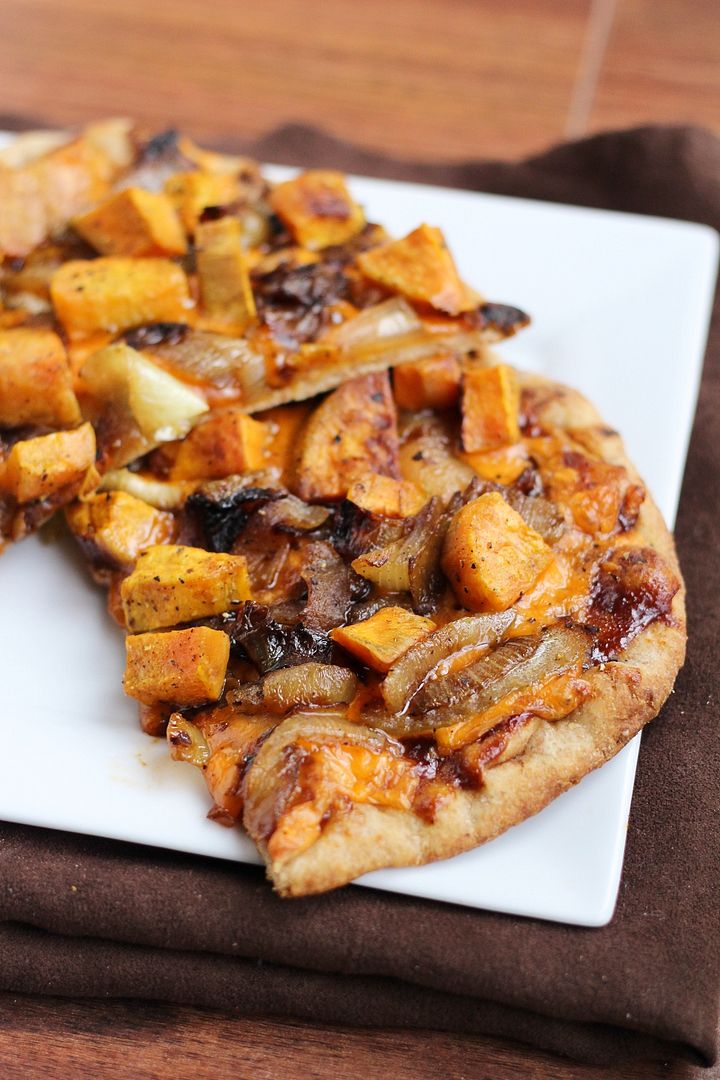 Sweet Potato & Caramelized Onion BBQ Cheddar Pizza
This is just a rough guide for a large pizza or 4 naan pizzas – all ingredients are estimates and can be adjusted as you see fit.
Ingredients:
1-2 tablespoons olive oil
2 medium sweet potatoes, peeled and chopped into about ½-inch pieces
Salt and pepper
2 large sweet onions, peeled and sliced into half moons
1/2 teaspoon sugar
1 ball of pizza dough or 4 pieces of whole wheat naan bread
Your favourite BBQ sauce (I used a bold bbq sauce – try to use a thicker one with flavour)
Shredded cheddar cheese
Directions:
Preheat oven to 375°F.
Toss sweet potatoes with a couple teaspoons of olive oil or enough to coat them, and season with salt and pepper. Spread in an even layer on a foil-lined baking sheet and roast in preheated oven for about 25-30 minutes, or until tender.
Meanwhile, heat another tablespoon of oil in a large skillet over medium heat.
Add onions, stir to coat with oil, and season with salt and pepper.
Spread onions out evenly across the pan and let cook, stirring only occasionally, until softened, about 15-20 minutes.
Add sugar (this is to help them caramelize; I don't always do this step), stir to coat, and let cook for an additional 10-15 minutes, stirring only occasionally.
Once they are caramelized to your liking, remove from pan and set aside.
Preheat oven to desired temperature for cooking your pizza – this depends on what type of dough you're using: a recipe for pizza dough will give cooking instructions, a storebought ball of pizza dough also will, and if you're making naan pizzas, I cook mine at 425°F for about 10-12 minutes.
Prepare pizzas by spreading a thin layer of bbq sauce as the base of the pizza, top with a thin layer of cheddar cheese (or desired amount of cheese), followed by the cooked sweet potatoes and onions.
Season lightly with salt and pepper if desired, and bake.
Serve warm.