Sorry I haven't posted very much lately! I had wanted to share a few Thanksgiving-y recipes before American Thanksgiving this week (even though we already had our Thanksgiving over a month ago, I always love an excuse to make comfort food!) but I just didn't have time. I did, however, make this amazing balsamic caramelized onion hummus last weekend so I'm selling it as a last-minute Thanksgiving appetizer idea for my American friends, but you can and should make it any other time you want!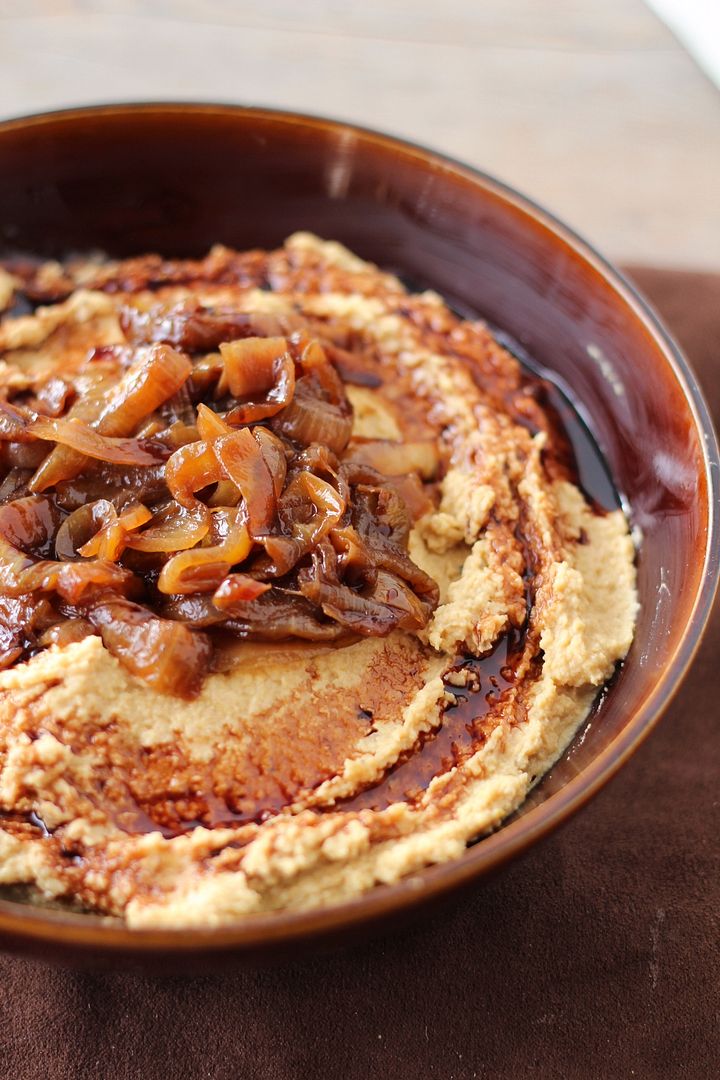 If you've read my blog for some time you know I love hummus, and especially trying new flavours of hummus. I try to make it myself when I can because it's usually cheaper and healthier (plus you get a much bigger batch than the tiny containers from the store!), but I often buy it too, especially when a new flavour catches my eye at the grocery store. The latest one to do so was
Summer Fresh
's caramelized onion hummus, which I completely devoured and then vowed to make my own version.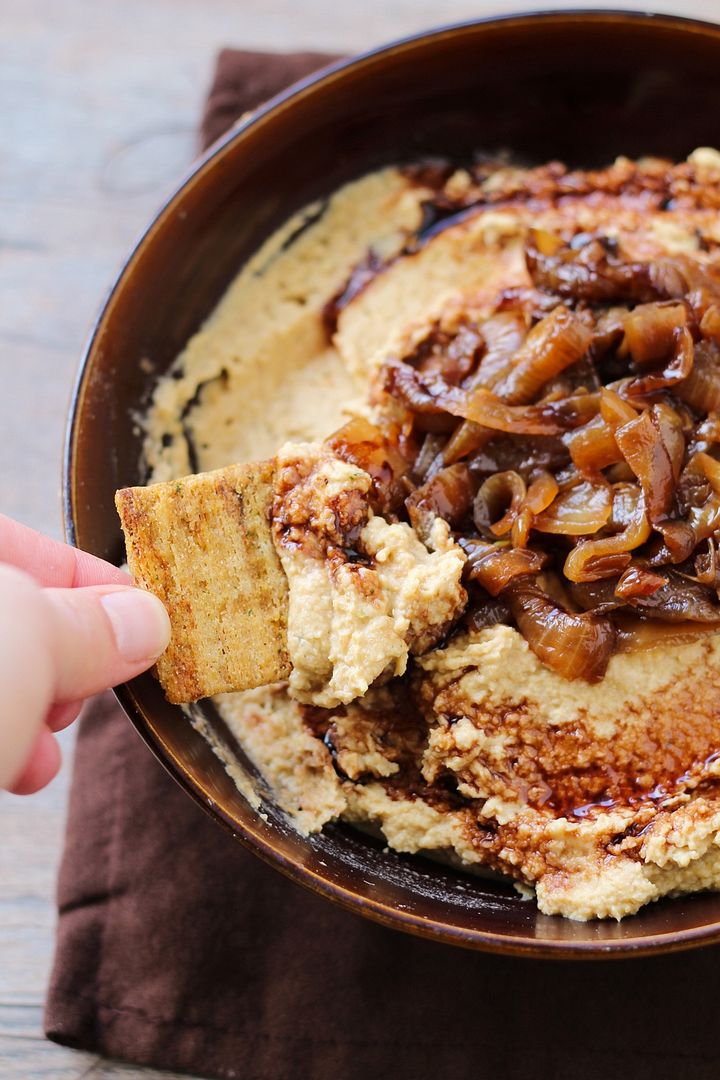 So I drew inspiration from the ingredient list on the container as well as a few recipes I easily found online to make my own recipe, and at the last minute decided to drizzle in a balsamic reduction to make it extra special!
I know I say this after every hummus I make, but I think this is my new favourite hummus! Caramelized onions are already one of my favourite things to add to any dish, but they work especially well blended into a creamy dip and complemented with the sweetness of the balsamic reduction. I left some caramelized onions whole too which gave the dip a nice added texture.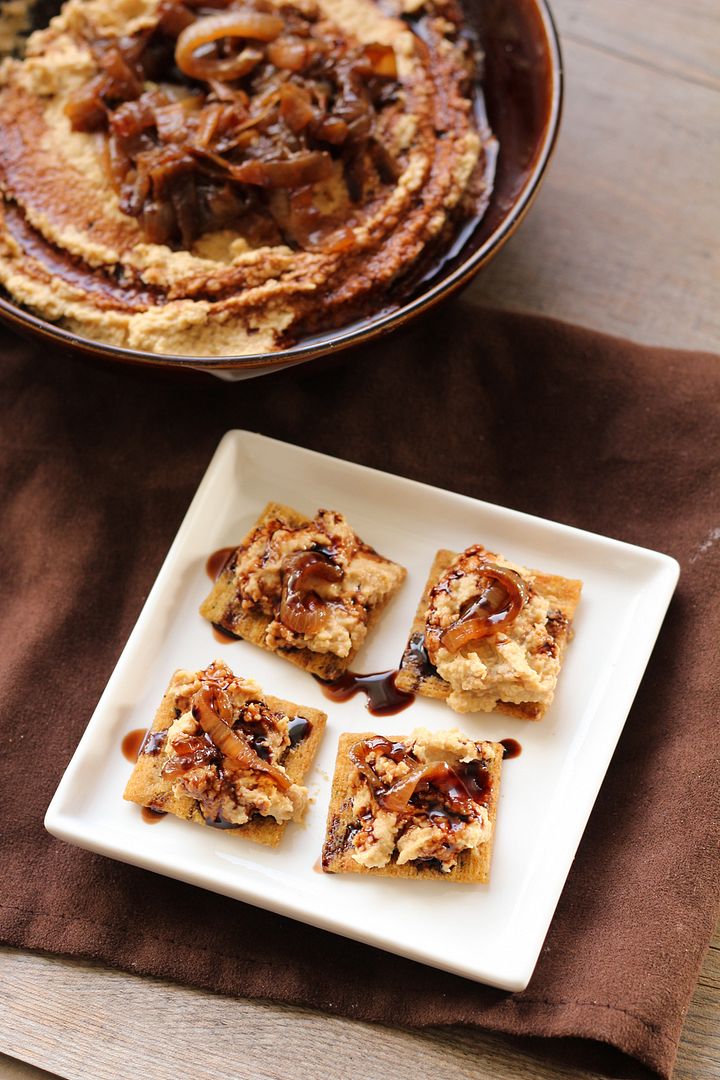 I ate mine with caramelized onion triscuits which obviously went perfectly well with the hummus. They made great dippers, but if you want to make this a bit of a fancier appetizer, you can spread some hummus on the crackers and top them with a little caramelized onions and balsamic drizzle.
A little more work but also a little prettier!
If you're celebrating Thanksgiving this week, I hope you have a wonderful time with family, friends, and food!
Balsamic Caramelized Onion Hummus
Ingredients:
2 teaspoons olive oil
2 medium yellow or sweet onions, thinly sliced
1-1/2 teaspoons brown sugar, divided
1/4 cup + 1 tablespoon balsamic vinegar, divided
1 (540mL) can chickpeas
3 tablespoons reserved liquid from can of chickpeas
3 tablespoons tahini
1 clove garlic, minced
1-1/2 to 2 tablespoons fresh lemon juice
1/2 teaspoon salt
1/4 teaspoon pepper
Directions:
Heat oil in a large non-stick skillet over medium heat.
Add onions and stir to coat with oil.
After about 5 minutes, season with a bit of salt.
Spread onions out evenly across the pan and let cook, stirring about every 3-4 minutes, until softened, about 20-30 minutes total.
In the last 5 minutes of cooking, add 1 teaspoon brown sugar and 1 tablespoon balsamic vinegar, and stir to coat.
Once they are caramelized to your liking, remove from pan.
Save a small amount of onions to top the hummus later, if desired.
Add the rest to the large bowl of a food processor.
Meanwhile, reserve about 3 tablespoons of liquid from the chickpea can and drain and rinse the rest of the chickpeas.
Add 1/4 cup balsamic vinegar to a small saucepan, bring to a boil, and let simmer until reduced to a thick, syrupy liquid, about 1-2 tablespoons worth.
Remove from heat and set aside.
Add to the food processor the chickpeas, liquid from the chickpea can, tahini, garlic, lemon juice, 1/2 teaspoon brown sugar, salt, and pepper.
Process until smooth.
Adjust any ingredient amounts to your liking, if necessary.
Serve hummus topped with reserved caramelized onions and drizzle with the balsamic reduction.