Last weekend was Ryan's last shift at the workplace he's been with for a very long time, so I wanted to make the day special by bringing in lots of treats for him to share with his coworkers (who have always been so appreciative of the baked goods I've dumped on them over the years - I'm going to miss not having them to bake for anymore!)
I couldn't decide between making cinnamon buns, red velvet cupcakes, or these brownies, so I went a little overboard and made all three. It was a lot of work, but definitely worth it! Of the three treats though, the one I definitely got the most comments on from everyone there was these chocolate peanut butter rice krispie brownies - people loved them!
I don't usually post recipes on here that I haven't either made up myself or adapted from the original source, and though I didn't change much with this recipe, I still felt that it deserved its own special post because of how popular they were! Not only did I want to make sure I could share them with you guys, but I need to make sure I remember them myself for the next time I need a crowd pleasing dessert!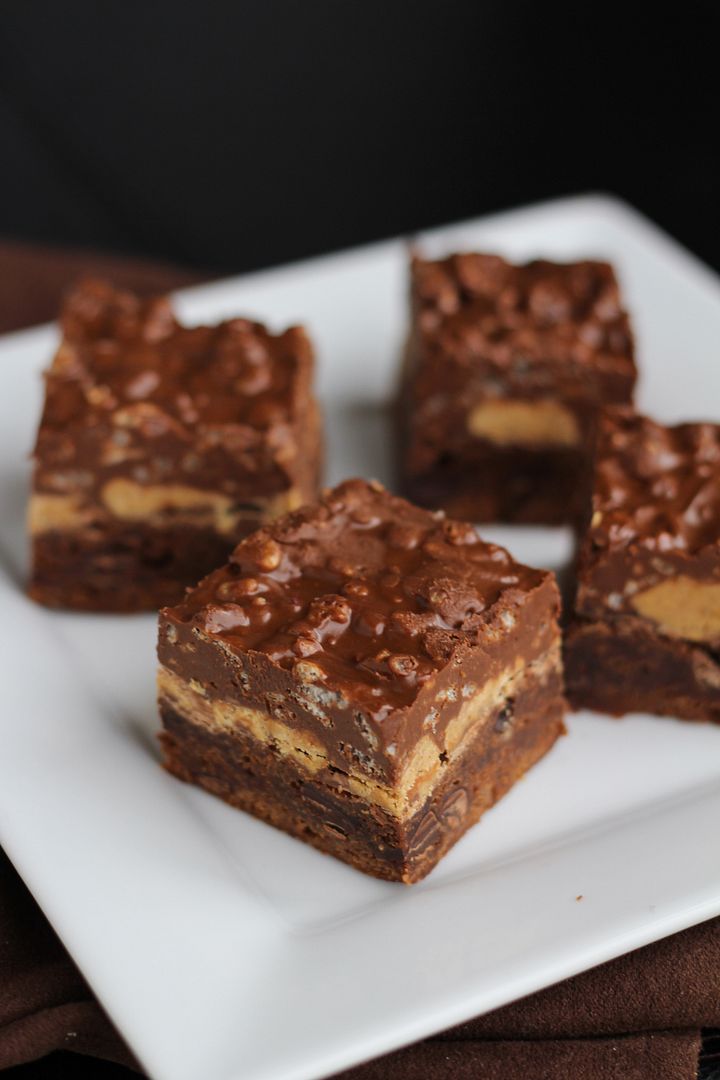 The recipe is one that I saw on
Love & Olive Oil
, though it's originally from the cookbook
Peanut Butter Comfort
by the author of the blog
Averie Cooks
(so be sure to check both blogs out - I love them!).
These decadent brownies are made up of a layer of rich chocolately brownies as the base, which are baked and cooled before being topped with chopped peanut butter cups and a few more chocolate chips, followed by a mixture of rice krispies coated in melted chocolate and peanut butter, which then firms up in the fridge. The result is a brownie that's both fudgy and crunchy with a lot of peanut butter and chocolate flavour!
And the best part is that the recipe makes a 9x13-inch pan's worth of brownies, and because they're pretty rich, you can cut them into really tiny squares to serve a big crowd - I got about 45 squares out of mine and they still disappeared pretty quickly!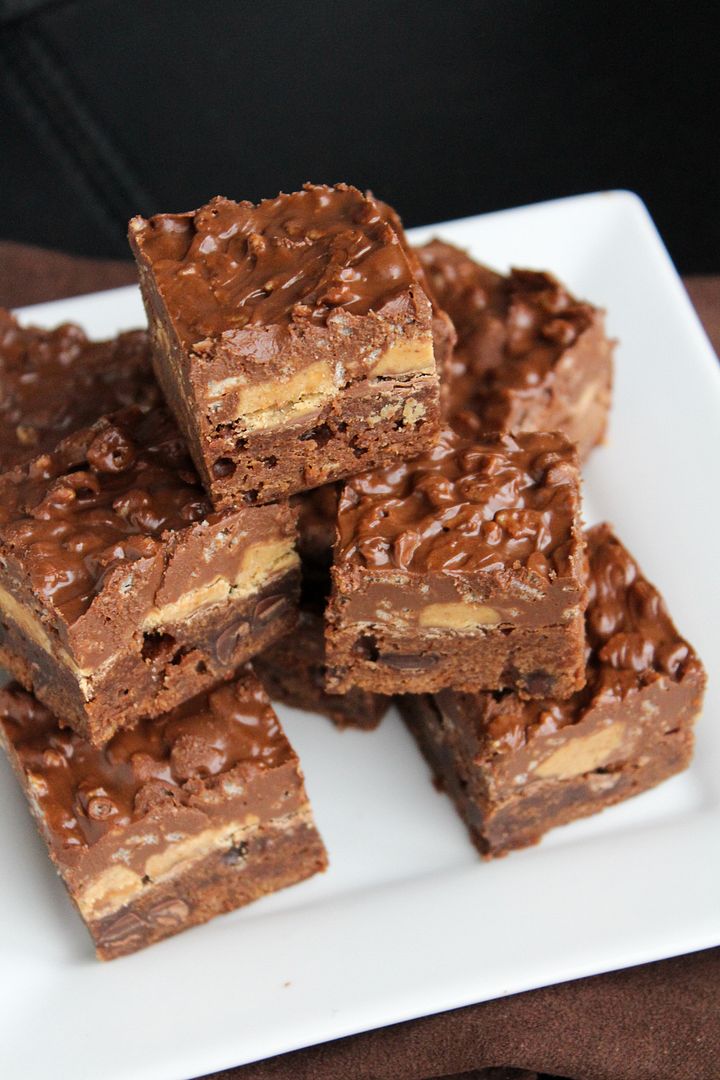 I realized after making these that they're pretty similar to the "better-than-crack brownies" that have been all over the web (see
here
for an example). I think the main differences are that there are no peanuts sprinkled over the brownie layer in this version, and this uses all semisweet chocolate instead of the milk chocolate I've seen in most better-than-crack brownies, which is a good choice because I think milk chocolate would make these way too sweet. I might try adding the chopped peanuts next time though because I think they'd add a nice crunch.
So I'm sorry if you've already seen a million versions of these already, but they're popular for a reason, so if you haven't tried them yet, let this be your reminder to make them for your next event!
Chocolate Peanut Butter Rice Krispie Brownies
To get the recipe
(originally from
Peanut Butter Comfort
)
please visit: Love & Olive Oil
Note:
The only small changes I made to the
recipe
were to increase the number of chopped peanut butter cups from 8 to 12 because I'd bought a package of 12 (for $2 from Walmart!) and this gave more coverage with the peanut butter cups. I then reduced the number of chocolate chips that are sprinkled along with the peanut butter cups by about half.
I also increased the amount of rice krispies by about half a cup.